Abstract
Purpose
To assess the therapeutic efficacy of external ventricular draining (EVD) and to predict the need for permanent shunts in infants with postinfective hydrocephalus (PIHC).
Methods
This is a retrospective study of infants diagnosed with PIHC and treated by EVD between January 2013 and December 2017 at the Children's Hospital of Fudan University. Clinical, laboratory, and imaging data were collected and analyzed to identify independent risk factors by logistic regression analyses. The predictor was evaluated using the area under the curve (AUC) of the receiver operating characteristic (ROC) curves.
Results
In total, 48 patients were identified, and 31 cases (64.5%) had a permanent shunt. EVD was effective in accelerating cerebrospinal fluid purification. In the permanent shunt group, the duration of EVD was significantly longer (28.5 ± 5.2 vs 14.9 ± 3.0 P < 0.05) and the frontal and occipital horn ratio (FOHR) at 7–10 days after EVD was significantly higher (0.57 ± 0.01 vs 0.48 ± 0.01 P < 0.001). The FOHR at 7–10 days after EVD predicts the need for a permanent shunt with an area under the ROC curve of 0.818.
Conclusion
EVD was effective for purification of CSF, whereas a permanent shunt was needed for more than half of the patients. The FOHR at 7–10 days after EVD may be a strong predictor for a permanent shunt.
Access options
Buy single article
Instant access to the full article PDF.
US$ 39.95
Tax calculation will be finalised during checkout.
Subscribe to journal
Immediate online access to all issues from 2019. Subscription will auto renew annually.
US$ 119
Tax calculation will be finalised during checkout.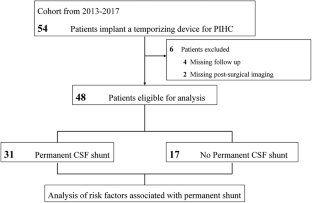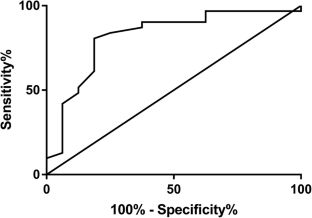 References
1.

Hsu M-H, Hsu J-F, Kuo H-C, Lai MY, Chiang MC, Lin YJ, Huang HR, Chu SM, Tsai MH (2018) Neurological complications in young infants with acute bacterial meningitis. Front Neurol 9:903. https://doi.org/10.3389/fneur.2018.00903

2.

Chu S-M, Hsu J-F, Lee C-W, Lien R, Huang HR, Chiang MC, Fu RH, Tsai MH (2014) Neurological complications after neonatal bacteremia: the clinical characteristics, risk factors, and outcomes. PLoS One 9:e105294. https://doi.org/10.1371/journal.pone.0105294

3.

Peros T, van Schuppen J, Bohte A, Hodiamont C, Aronica E, de Haan T (2020) Neonatal bacterial meningitis versus ventriculitis: a cohort-based overview of clinical characteristics, microbiology and imaging. Eur J Pediatr 179:1969–1977. https://doi.org/10.1007/s00431-020-03723-3

4.

Chatterjee S, Chatterjee U (2011) Overview of post-infective hydrocephalus. Childs Nerv Syst ChNS Off J Int Soc Pediatr Neurosurg 27:1693–1698. https://doi.org/10.1007/s00381-011-1557-z

5.

Gaderer C, Schaumann A, Schulz M, Thomale UW (2018) Neuroendoscopic lavage for the treatment of CSF infection with hydrocephalus in children. Childs Nerv Syst ChNS Off J Int Soc Pediatr Neurosurg 34:1893–1903. https://doi.org/10.1007/s00381-018-3894-7

6.

George T, Moorthy RK, Rajshekhar V (2019) Long tunnel external ventricular drain: an adjunct in the management of patients with infection associated hydrocephalus. Br J Neurosurg 33:659–663. https://doi.org/10.1080/02688697.2019.1667483

7.

Dorresteijn KRIS, Jellema K, van de Beek D, Brouwer MC (2019) Factors and measures predicting external CSF drain-associated ventriculitis: a review and meta-analysis. Neurology 93:964–972. https://doi.org/10.1212/WNL.0000000000008552

8.

McAllister JP, Williams MA, Walker ML et al (2015) An update on research priorities in hydrocephalus: overview of the third National Institutes of Health-sponsored symposium "Opportunities for Hydrocephalus Research: Pathways to Better Outcomes.". J Neurosurg 123:1427–1438. https://doi.org/10.3171/2014.12.JNS132352

9.

Simon TD, Kronman MP, Whitlock KB et al (2016) Variability in management of first cerebrospinal fluid shunt infection: a prospective multi-institutional observational cohort study. J Pediatr 179:185–191.e2. https://doi.org/10.1016/j.jpeds.2016.08.094

10.

van de Beek D, Brouwer M, Hasbun R, Koedel U, Whitney CG, Wijdicks E (2016) Community-acquired bacterial meningitis. Nat Rev Dis Primer 2:16074. https://doi.org/10.1038/nrdp.2016.74

11.

van de Beek D, de Gans J, Tunkel AR, Wijdicks EFM (2006) Community-acquired bacterial meningitis in adults. N Engl J Med 354:44–53. https://doi.org/10.1056/NEJMra052116

12.

O'Hayon BB, Drake JM, Ossip MG, Tuli S, Clarke M (1998) Frontal and occipital horn ratio: a linear estimate of ventricular size for multiple imaging modalities in pediatric hydrocephalus. Pediatr Neurosurg 29:245–249. https://doi.org/10.1159/000028730

13.

van de Beek D, Brouwer MC, Thwaites GE, Tunkel AR (2012) Advances in treatment of bacterial meningitis. Lancet Lond Engl 380:1693–1702. https://doi.org/10.1016/S0140-6736(12)61186-6

14.

Patra DP, Bir SC, Maiti TK, Kalakoti P, Cuellar H, Guthikonda B, Sun H, Notarianni C, Nanda A (2016) Role of radiological parameters in predicting overall shunt outcome after ventriculoperitoneal shunt insertion in pediatric patients with obstructive hydrocephalus. Neurosurg Focus 41:E4. https://doi.org/10.3171/2016.8.FOCUS16263

15.

Radhakrishnan R, Brown BP, Kralik SF, Bain D, Persohn S, Territo PR, Jea A, Karmazyn B (2019) Frontal occipital and frontal temporal horn ratios: comparison and validation of head ultrasound-derived indexes with MRI and ventricular volumes in infantile ventriculomegaly. AJR Am J Roentgenol 213:925–931. https://doi.org/10.2214/AJR.19.21261

16.

Oushy S, Parker JJ, Campbell K, Palmer C, Wilkinson C, Stence NV, Handler MH, Mirsky DM (2017) Frontal and occipital horn ratio is associated with multifocal intraparenchymal hemorrhages in neonatal shunted hydrocephalus. J Neurosurg Pediatr 20:432–438. https://doi.org/10.3171/2017.6.PEDS16481

17.

Anania P, Battaglini D, Balestrino A, D'Andrea A, Prior A, Ceraudo M, Rossi DC, Zona G, Fiaschi P (2020) The role of external ventricular drainage for the management of posterior cranial fossa tumours: a systematic review. Neurosurg Rev. https://doi.org/10.1007/s10143-020-01325-z

18.

Sorinola A, Buki A, Sandor J, Czeiter E (2019) Risk factors of external ventricular drain infection: proposing a model for future studies. Front Neurol 10:226. https://doi.org/10.3389/fneur.2019.00226

19.

Lewis A, Kimberly TW (2016) A retrospective analysis of cerebrospinal fluid drainage volume in subarachnoid hemorrhage and the need for early or late ventriculoperitoneal shunt placement. J Neurosurg Sci 60:289–295

20.

Wang JY, Amin AG, Jallo GI, Ahn ES (2014) Ventricular reservoir versus ventriculosubgaleal shunt for posthemorrhagic hydrocephalus in preterm infants: infection risks and ventriculoperitoneal shunt rate. J Neurosurg Pediatr 14:447–454. https://doi.org/10.3171/2014.7.PEDS13552

21.

Pedersen EMJ, Köhler-Forsberg O, Nordentoft M, Christensen RHB, Mortensen PB, Petersen L, Benros ME (2020) Infections of the central nervous system as a risk factor for mental disorders and cognitive impairment: a nationwide register-based study. Brain Behav Immun 88:668–674. https://doi.org/10.1016/j.bbi.2020.04.072

22.

Tan J, Kan J, Qiu G, Zhao D, Ren F, Luo Z, Zhang Y (2015) Clinical prognosis in neonatal bacterial meningitis: the role of cerebrospinal fluid protein. PLoS One 10:e0141620. https://doi.org/10.1371/journal.pone.0141620

23.

Peng H-L, Hu Y, Chen H-J, Song PP, Jiang L (2018) Risk factors for poor prognosis in children with refractory purulent meningitis and the discharge criteria. J Infect Public Health 11:238–242. https://doi.org/10.1016/j.jiph.2017.07.007
Materials availability
All materials were available.
Funding
There is no funding support for this research.
Ethics declarations
Conflict of interest
The authors declare no competing interests.
Ethics approval and consent to participate
This study was a clinical research. This study was approved by the institutional review board of Children's Hospital of Fudan University. Patient consent was not required.
Additional information
Publisher's note
Springer Nature remains neutral with regard to jurisdictional claims in published maps and institutional affiliations.
About this article
Cite this article
Zhang, Y., Zhao, R., Shi, W. et al. Predictor of a permanent shunt after treatment of external ventricular draining in pediatric postinfective hydrocephalus—a retrospective cohort study. Childs Nerv Syst (2021). https://doi.org/10.1007/s00381-021-05054-6
Received:

Accepted:

Published:
Keywords
Postinfective hydrocephalus (PIHC)

Permanent shunt

External ventricular draining

Frontal and occipital horn ratio (FOHR)