Abstract
Purpose
Early de-tethering procedures are performed on spinal dysraphisms to prevent neuro-urological deterioration caused by growth. Partial lipoma removal may cause delayed deterioration by re-tethering, while complete removal may increase the risk of postoperative worsening. The present study evaluates the risk of postoperative deterioration and the protective potential of intraoperative neurophysiological monitoring (IOM), with a special reference to the conus lipomas treated with the radical approach.
Methods
Forty toddlers (< 24 months) underwent complete perioperative neurological and urological assessment, including urodynamic study (UDS). The dysraphisms were subgrouped according to Pang's classification. IOM was applied in all patients: transcranial motor evoked potentials (tMep) combined with mapping were recorded in all cases while bulbocavernosus reflex (BCR) was evaluable just in 7 cases.
Results
At preoperative evaluation, 11 children already had UDS impairment and 2 had motor disturbances before neurosurgery. At 1-month follow-up, preoperative motor disturbances were stable, 7/11 UDS alterations normalized, and the remaining 4 were stable. At 6-month follow-up, all motor deficits and 8/11 preoperative UDS alterations had improved. Unfortunately, 7 children with previously normal UDS experienced a new impairment after surgery: 2/7 normalized while 5/7 did not recover. This postoperative permanent urodynamic impairment occurred in 4 chaotic lipoma (CLchaos) and in one terminal myelocystocele (TMC) that means a surgical deterioration rate of 22% for the high risk cases.
Conclusions
This small highly selected series confirms that early de-tethering may stop or revert the spontaneous neuro-urological deterioration: in fact, preoperative UDS impairment was frequent (27.5%) and improved in all the low surgical risk cases (limited dorsal myeloschisis, filar, transitional and dorsal lipomas). On the contrary, in CLchaos and TMC, early de-tethering was unable to revert preoperative UDS impairment, and radical surgery carried a high risk of new neuro-urological deterioration directly caused by the operation. In our experience, IOM had a protective role for motor functions, while it was less effective for the neuro-urological ones, probably due to the anesthesiology regimens applied. In conclusion, among the dysraphisms, CLchoas proved to be the worst enemy that often camouflages at MRI. Affording it without all possible IOM weapons carries a high risk to harm the patient.
We're sorry, something doesn't seem to be working properly.
Please try refreshing the page. If that doesn't work, please contact support so we can address the problem.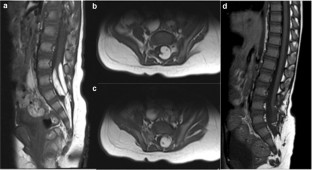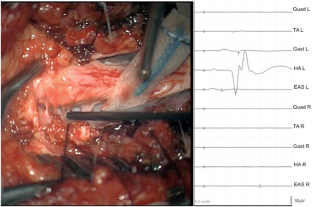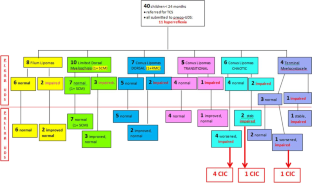 References
1.

Alsowayan O, Alzahrani A, Farmer JP, Capolicchio JP, Jednak R, El-Sherbiny M (2016) Comprehensive analysis of the clinical and urodynamic outcomes of primary tethered spinal cord before and after spinal cord untethering. J Pediatr Urol 12(5):285.e1–285.e5

2.

Beyazova M, Zinnuroglu M, Emmez H, Kaya K, Ozkose HZ, Baykaner MK, Erden Z, Orucoglu N, Ozturk GT, Erdogan Z (2010) Intraoperative neurophysiological monitoring during surgery for tethered cord syndrome. Turk Neurosurg 20(4):480–484

3.

Deletis V (2001) Neuromonitoring. In: McLone DG (ed) Pediatric neurosurgery: surgery of the developing nervous system. Saunders, Philadelphia, pp 1204–1213

4.

Garceau GJ (1953) The filum terminale syndrome (the cord traction syndrome). J Bone Joint Surg Am 35:711–716

5.

Hoving EW, Haitsma E, Oude Ophuis CMC, Journée HL (2011) The value of intraoperative neurophysiological monitoring in tethered cord syndrome. Childs Nerv Syst 27:1445–1452

6.

Kim SW, Ha JY, Lee YS et al (2014) Six-month postoperative urodynamic score: a potential predictor of long-term bladder function after detethering surgery in patients with tethered cord syndrome. J Urol 192(1):221–227

7.

Kothbauer K, Schmid UD, Seiler RW, Eisner W (1994) Intraoperative motor and sensory monitoring of the cauda equina. Neurosurgery. 34(4):702–707 discussion 707

8.

Kothbauer KF, Deletis V (2010) Intraoperative neurophysiology of the conus medullaris and cauda equine. Childs Nerv Syst 26:247–253

9.

Kothbauer KF, Novak K (2004) Intraoperative monitoring for tethered cord surgery: an update. Neurosurg Focus 16:E8

10.

Kulkarni AV, Pierre-Kahn A, Zerah M (2004) Conservative management of asymptomatic spinal lipomas of the conus. Neurosurgery. 54(4):868–873 discussion 873-875

11.

Legatt AD, Schroeder CE, Gill B, Goodrich JT (1992) Electrical stimulation and multichannel EMG recording for identification of functional neural tissue during cauda equina surgery. Childs Nerv Syst 8:185–189

12.

Pang D, Wilberger JE (1982) Tethered cord syndrome in adults. J Neurosurg 57:32–47

13.

Pang D, Zovickian J, Oviedo A (2009) Long-term outcome of total and near-total resection of spinal cord lipomas and radical reconstruction of the neural placode: part I -surgical technique. Neurosurgery. 65:511–529

14.

Pang D, Zovickian J, Oviedo A (2010) Long-term outcome of total of near-total resection of spinal cord lipomas and radical reconstruction of neural placode, part II: outcome analysis and preoperative profiling. Neurosurgery. 66:253–273

15.

Pang D (2015) Total resection of complex spinal cord lipomas: how, why, and when to operate? Neurol Med Chir (Tokyo) 55:695–721

16.

Paradiso G, Lee GYF, Sarjeant R et al (2006) Multimodality intraoperative neurophysiologic monitoring findings during surgery for adult tethered cord syndrome: analysis of a series of 44 patients with long-term follow-up. Spine (Phila Pa 1976) 31:2095–2102

17.

Podnar S (2008) The penilo-cavernosus reflex: comparison of different stimulation techniques. Neurourol Urodyn 27(3):244–248

18.

Rogers J (2013) Daytime wetting in children and acquisition of bladder control. Nurs Child Young People 25(6):26–33

19.

Rohde V, Krombach GA, Baumert JH, Kreitschmann-Andermahr I, Weinzierl M, Gilsbach JM (2003) Measurement of motor evoked potentials following repetitive magnetic motor cortex stimulation during isoflurane or propofol anaesthesia. Brit J Anaesth 91:487–492

20.

Sala F, Squintani G, Tramontano V et al (2013) Intraoperative neurophysiology in tethered cord surgery: techniques and results. Childs Nerv Syst 29(9):1611–1624

21.

Shinomiya K, Fuchioka M, Matsuoka T et al (1991) Intraoperative monitoring for tethered spinal cord syndrome. Spine. 16:1290–1294

22.

Skinner SA, Vodusek DB (2014) Intraoperative recording of the bulbocavernosus reflex. J Clin Neurophysiol 31:313–322

23.

Sloan T (2010) Anesthesia and intraoperative neurophysiological monitoring in children. Childs Nerv Syst 26(2):227–235

24.

Stavrinou P, Kunz M, Lehner M, Heger A, Müller-Felber W, Tonn JC, Peraud A (2011) Children with tethered cord syndrome of different etiology benefit from microsurgery—a single institution experience. Childs Nerv Syst 27(5):803–810

25.

Tuite GF, Thompson DNP, Austin PF, Bauer SB (2018 Mar) Evaluation and management of tethered cord syndrome in occult spinal dysraphism: recommendations from the international children's continence society. Neurourol Urodyn 37(3):890–903

26.

Valentini LG, Visintini S, Mendola C et al (2005) The role of intraoperative electromyographjc monitoring in lumbosacral lipomas. Neurosurgery. 2:315–323

27.

Valentini LG, Selvaggio G, Erbetta A et al (2013) Occult spinal dysraphism: lessons learned by retrospective analysis of 149 surgical cases about natural history, surgical indications, urodynamic testing, and intraoperative neurophysiological monitoring. Childs Nerv Syst 29(9):1657–1669

28.

Wen JG, Lu YT, Cui LG, Bower WF, Rittig S, Djurhuus JC (2015) Bladder function development and its urodynamic evaluation in neonates and infants less than 2 years old. Neurourol Urodyn 34(6):554–560

29.

Wykes V, Desai D, Thompson DNP (2012) Asymptomatic lumbosacral lipomas-a natural history study. Childs Nerv Syst 28:1731–1739

30.

Xenos C, Sgouros S, Walsh R, Hockley A (2000) Spinal lipomas in children. Pediatr Neurosurg 32:295–307
Ethics declarations
Conflict of interest
On behalf of all authors, the corresponding author states that there is no conflict of interest.
Additional information
Publisher's note
Springer Nature remains neutral with regard to jurisdictional claims in published maps and institutional affiliations.
About this article
Cite this article
Valentini, L.G., Babini, M., Cordella, R. et al. Early de-tethering: analysis of urological and clinical consequences in a series of 40 children. Childs Nerv Syst 37, 941–949 (2021). https://doi.org/10.1007/s00381-020-04838-6
Received:

Accepted:

Published:

Issue Date:
Keywords
Children

Intraoperative neurophysiological monitoring

Neurosurgery

Tethered cord

Urology