Abstract
Purpose
The issue of error of scientific publications has recently attracted the interest of medical researchers. However, there was no similar evaluation of errata in the field of neurosurgical literature. The aim of this study is to evaluate published errata in neurosurgical journals and to discuss the strategies that can be used in order to reduce errata frequency and to prevent their dissemination.
Methods
A literature search of error publication in 28 main neurosurgical journals was performed using PubMed (1990–2019). Extracted data included authors' name, chronology, country of origin, journal impact factor, subject area, research type, reason for published error, and source of responsibility.
Results
A total of 441 published errata were identified and analyzed. Most studies were published within the last 6 years. The majority of publications had one single reason for the published erratum. The mean amount of time between the original publication date of the paper and the published erratum was 6.72 months. The most common reason given for published erratum was that of authorship, followed by text content, figures, and tables. The mean published error rate was 0.81% (2014–2019).
Conclusion
Unlike other specialties, errors are infrequently observed in neurosurgical journals and mostly without altering the interpretation of study findings. However, improvement is still needed. With the development of online journal publishers and scientific social media platforms, new strategies must be studied in order to track and correct errors better and faster. Also, authors and publishers have to work better together in order to produce high-quality scientific papers.
Access options
Buy single article
Instant access to the full article PDF.
US$ 39.95
Tax calculation will be finalised during checkout.
Subscribe to journal
Immediate online access to all issues from 2019. Subscription will auto renew annually.
US$ 119
Tax calculation will be finalised during checkout.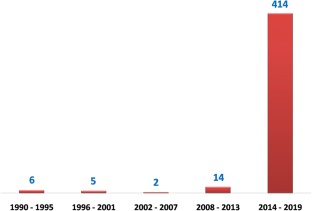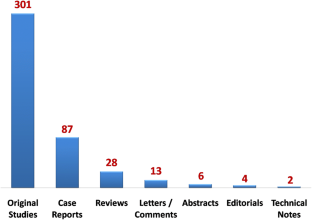 References
1.

Akhaddar A (2019) African contribution to the world neurosurgical literature during the past two decades (1999-2018) using PubMed database. World Neurosurg 126:314–321

2.

Altman DG (1998) Statistical reviewing for medical journals. Stat Med 17:2661–2674

3.

Castillo M, Northam M, Halm KE (2012) Postpublication errors in imaging-related journals. AJNR Am J Neuroradiol 33:1447–1448. https://doi.org/10.3174/ajnr.A3026

4.

COPE (Committee on Publication Ethics). Post-publication discussions and corrections. https://publicationethics.org/postpublication. Accessed 25 February, 2020

5.

Farrah K, Rabb D (2019) Errata for trial publications are not uncommon, are frequently not trivial, and can be challenging to access: a retrospective review. J Med Libr Assoc 107:187–193. https://doi.org/10.5195/jmla.2019.629

6.

Gasparyan AY, Ayvazyan L, Akazhanov NA, Kitas GD (2014) Self-correction in biomedical publications and the scientific impact. Croat Med J 55:61–72

7.

Hauptman JS, Chow DS, Martin NA, Itagaki MW (2011) Research productivity in neurosurgery: trends in globalization, scientific focus, and funding. J Neurosurg 115:1262–1272

8.

Hauptman PJ, Armbrecht ES, Chibnall JT, Guild C, Timm JP, Rich MW (2014) Errata in medical publications. Am J Med 127:779–785.e1. https://doi.org/10.1016/j.amjmed.2014.03.012

9.

https://support.jmir.org/hc/en-us/articles/115001301507-We-published-a-paper-in-JMIR-and-have-a-correction-What-is-the-process-of-publishing-a-corrigendum. Accessed 25 February, 2020

10.

ICMJE (International Committee of Medical Journal Editors). Corrections, retractions, republications and version control. http://www.icmje.org/recommendations/browse/publishing-and-editorial-issues/corrections-and-version-control.html. Accessed 25 February, 2020

11.

Leaphart DM, Cronley AC, Brothers TE (2019) Errors in reporting significant figures in surgical and medical journals in 2017. J Surg Res 243:567–573

12.

Molckovsky A, Vickers MM, Tang PA (2011) Characterization of published errors in high-impact oncology journals. Curr Oncol 18:26–32

13.

Prabhu VC, Swong K, Hendler G (2017) Publication metrics in neurosurgery. World Neurosurg 105:993–996

14.

Royle P, Waugh N (2004) Should systematic reviews include searches for published errata? Health Inf Libr J 21:14–20

15.

Strothmann M (2018) No bad publicity: the bibliometric advantage of corrected articles in PLOS ONE. Sci Tech Libr 37:394–408. https://doi.org/10.1080/0194262X.2018.1503990

16.

Teixeira da Silva JA, Dobránszki J (2017) Notices and policies for retractions, expressions of concern, errata and corrigenda: their importance, content, and context. Sci Eng Ethics 23:521–554

17.

Thomsen M, Resnik D (1995) The effectiveness of the erratum in avoiding error propagation in physics. Sci Eng Ethics 1:231–240

18.

Trikalinos TA (2009) Does it mean anything if your own name is wrong in your published paper? FASEB J 23:2345–2348

19.

United States National Library of Medicine. Errata, retractions, and other linked citations in PubMed. 2018. https://www.nlm.nih.gov/pubs/factsheets/errata.html. Accessed 25 February, 2020

20.

Williams CL, Casadevall A, Jackson S (2019) Figure errors, sloppy science, and fraud: keeping eyes on your data. J Clin Invest 129:1805–1807
Ethics declarations
Conflict of interest
The author declares that he/she has no conflict of interest.
Additional information
Publisher's note
Springer Nature remains neutral with regard to jurisdictional claims in published maps and institutional affiliations.
Electronic supplementary material
About this article
Cite this article
Akhaddar, A. Error publication (published erratum) in neurosurgical journals worldwide using PubMed during the last 30 years. Childs Nerv Syst 37, 637–643 (2021). https://doi.org/10.1007/s00381-020-04824-y
Received:

Accepted:

Published:

Issue Date:
Keywords
Bibliometrics

Correction

Neurosurgery

Publications