Abstract
Background
The standard level for lesioning in a functional posterior rhizotomy (FPR) ranges from L2 to S1/S2. Lesioning of the S1 and S2 rootlets strongly correlates with a reduction in ankle spasticity. In the Japanese population, the S2 root often shows the highest dorsal root action potentials (DAPs) in the afferent fibers of the pudendal nerve and is not lesioned to preserve postoperative urinary function. Thus, cutting of the S1 root plays a key role in reducing ankle spasticity in FPR. However, on rare occasions, even an S1 root may show high DAP in the afferent fibers of the pudendal nerve.
Purpose
The present, brief, technical note aimed to describe how an S1 root with a relatively high DAP in the afferent fibers of the pudendal nerve may be handed.
Methods
In the procedure, the S1 root is divided into several rootlets, and each rootlet is tested for the pudendal mapping. A train of electrical stimuli is delivered to each rootlet in the standard FPR. If electromyography (EMG) findings after electrical stimulation are highly abnormal while the pudendal mapping demonstrates no or a relatively low DAPs, the rootlet is cut. In contrast, even if the rootlet shows highly abnormal EMG findings, it is preserved if mapping demonstrates a relatively high DAP.
Conclusion
The S1 pudendal mapping is combined with EMG findings to achieve satisfactory reduction in ankle spasticity while preserving urological function.
This is a preview of subscription content, log in to check access.
Access options
Buy single article
Instant access to the full article PDF.
US$ 39.95
Price includes VAT for USA
Subscribe to journal
Immediate online access to all issues from 2019. Subscription will auto renew annually.
US$ 199
This is the net price. Taxes to be calculated in checkout.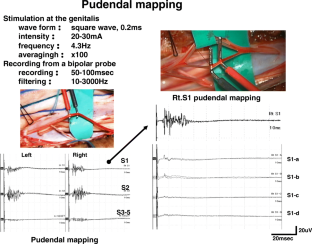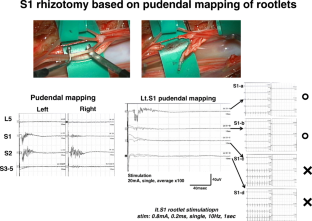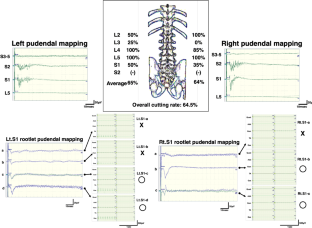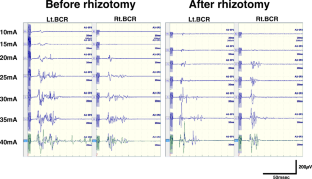 References
1.

Ailon T, Beauchamp R, Miller S, Mortenson P, Kerr JM, Hengel AR, Steinbok P (2015) Long-term outcome after selective dorsal rhizotomy in children with spastic cerebral palsy. Childs Nerv Syst 31:415–423

2.

Deletis V, Vodusek D, Abbott R, Epstein F, Turndorff H (1992) Intraoperative monitoring of the dorsal roots: minimizing the risk of iatrogenic micturition disorders. Neursurgery 30:72–75

3.

Galarza M, Fowler EG, Chipps L, Padden TM, Lazareff JA (2001) Functional assessment of children with cerebral palsy following limited (L4-S1) selective posterior rhizotomy – a preliminary report. Acta Neurochir 143:865–872

4.

Georgoulis G, Brinzeu A, Sindou M (2018) Dorsal rhizotomy for children with spastic diplegia of cerebral palsy origin: usefulness of intraoperative monitoring. J Neurosurg Pediatr 22:89–101

5.

Hurvitz E, Marciniak C, Daunter AK, Haapala HJ, Stibb SM, McCormick SF, Muraszko K, Gaebler-Spira D (2013) Functional outcomes of childhood dorsal rhizotomy in adults and adolescents with cerebral palsy. J Neurosurg Pediatrics 11:380–388

6.

Lang FF, Deletis V, Cohen HW, Valasquez L, Abbott R (1994) Inclusion of the S2 dorsal rootlets in functional posterior rhizotomy for spasticity in children with cerebral palsy. Neurosurgery 34:847–853

7.

Morota N (2007) Functional posterior rhizotomy: the Tokyo experience. Childs Nerv Syst 23:1007–1014

8.

Morota N (2010) Functional posterior rhizotomy for treatment of spasticity. No Shinkei Geka 38:209–228 [Japanese]

9.

Morota N (2019) Intraoperative neurophysiological monitoring of the bulbocavernosus reflex during surgery for conus spinal lipoma: what are the warning criteria? J Neurosurg Pediatr 23:639–647

10.

Morota N (2019) Clinically practical formula for preoperatively estimating the cutting rate of the spinal nerve root in a functional posterior rhizotomy. Childs Nerv Syst 35:665–672

11.

Morota N, Ihara S, Ogiwara H (2015) Neurosurgical management of childhood spasticity: functional posterior rhizotomy and intrathecal baclofen infusion therapy. Neuro Med Chir (Tokyo) 55:624–639

12.

Ogiwara H, Morota N (2014) Pudendal afferents mapping in posterior sacral rhizotomies. Neurosurgery 74:171–175

13.

Peacock WJ, Arens LJ (1982) Selective posterior rhizotomy for the relief of spasticity in cerebral palsy. S Afr Med J 62:119–124
Ethics declarations
Conflict of interest
The author declares that he has no conflict of interest.
Additional information
Publisher's note
Springer Nature remains neutral with regard to jurisdictional claims in published maps and institutional affiliations.
About this article
Cite this article
Morota, N. Pudendal mapping of S1 rootlets in a functional posterior rhizotomy: when an S1 posterior root shows a high pudendal dorsal action potential—a technical note. Childs Nerv Syst (2020). https://doi.org/10.1007/s00381-020-04751-y
Received:

Accepted:

Published:
Keywords
Rhizotomy

Pudendal mapping

S1 root

Dorsal action potential

Intraoperative neurophysiology