Abstract
Telecollaboration via web-based platforms has emerged as a tool to relieve constraints on the establishment of tumor boards for neurosurgical oncology. Challenging tumor cases arising in low- and middle-income countries may benefit from the use of such models. The case of a 5-year-old boy presenting in Western Kenya with a challenging tumor and symptomatic hydrocephalus was presented on a novel web platform to a multi-national audience of neurosurgeons. The treating neurosurgeon invited a physician network to review the case vignette and radiographic images. Respondents independently offered input during a prescribed response period. Three respondents provided surgical opinions during a 24-h response period. The treating neurosurgeon utilized the pooled input to determine a course of action for the patient. When a web-based platform is available, lone neurosurgeons in low-resource settings may nevertheless apply multi-national, multi-institutional perspectives to challenging oncology cases.
This is a preview of subscription content, log in to check access.
Access options
Buy single article
Instant access to the full article PDF.
US$ 39.95
Price includes VAT for USA
Subscribe to journal
Immediate online access to all issues from 2019. Subscription will auto renew annually.
US$ 199
This is the net price. Taxes to be calculated in checkout.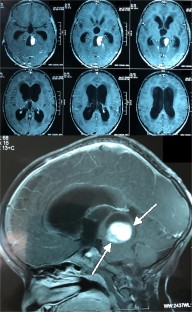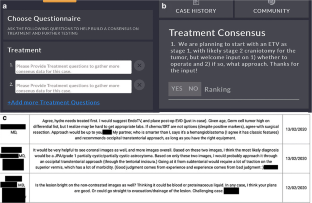 References
1.

Bell JS, Koffie RM, Rattani A, Dewan MC, Baticulon RE, Qureshi MM, Wahjoepramono EJ, Rosseau G, Park K, Nahed BV (2019) Global incidence of brain and spinal tumors by geographic region and income level based on cancer registry data. Journal of Clinical Neuroscience: Official Journal of the Neurosurgical Society of Australasia 66:121–127. https://doi.org/10.1016/j.jocn.2019.05.003

2.

Berlin L (2016) Medicolegal—malpractice and ethical issues in radiology. Reviewing radiologic examinations at tumor board meetings: should we do it for free or charge a fee? Am J Roentgenol 207:W99–W100. https://doi.org/10.2214/AJR.16.16648

3.

Bhatia R, Balogun O, Simonds H, Vanderpuye V, Shah MM, Yamoah K, Dominello M, Hanna N, Grover S Radiation therapy current practice capacity and needs assessment in Africa. In: Int J Radiat Oncol Biol Phys, 2019. vol 105(1). p E453

4.

Cancer ACoCCo (2020) Standards and resources. https://www.facs.org/quality-programs/cancer/coc/standards/2020.

5.

Charara RN, Kreidieh FY, Farhat RA, Al-Feghali KA, Khoury KE, Haydar A, Nassar L, Berjawi G, Shamseddine A, El Saghir NS (2017) Practice and impact of multidisciplinary tumor boards on patient management: a prospective study. J Glob Oncol 3:242–249. https://doi.org/10.1200/jgo.2016.004960

6.

Chekerov R, Denkert C, Boehmer D, Suesse A, Widing A, Ruhmland B, Giese A, Mustea A, Lichtenegger W, Sehouli J (2008) Online tumor conference in the clinical management of gynecological cancer: experience from a pilot study in Germany. Int J Gynecol Cancer 18:1–7. https://doi.org/10.1111/j.1525-1438.2007.00971.x

7.

Clark JM, Heifetz LJ, Palmer D, Brown LM, Cooke DT, David EA (2016) Telehealth allows for clinical trial participation and multimodality therapy in a rural patient with stage 4 non-small cell lung cancer. Cancer Treat Res Commun 9:139–142. https://doi.org/10.1016/j.ctarc.2016.09.005

8.

Dewan MC, Rattani A, Baticulon RE, Faruque S, Johnson WD, Dempsey RJ, Haglund MM, Alkire BC, Park KB, Warf BC, Shrime MG (2018) Operative and consultative proportions of neurosurgical disease worldwide: estimation from the surgeon perspective. J Neurosurg 130:1–9. https://doi.org/10.3171/2017.10.jns17347

9.

El Saghir NS, El-Asmar N, Hajj C, Eid T, Khatib S, Bounedjar A, Ajarim D, Shamseddine A, Geara F, Jazieh A, Azim HA, Abdelkader Y, Kattan J, Abulkhair O (2011) Survey of utilization of multidisciplinary management tumor boards in Arab countries. Breast 20(Suppl 2):S70–S74. https://doi.org/10.1016/j.breast.2011.01.011

10.

Heineman T, St John MA, Wein RO, Weber RS (2017) It takes a village: the importance of multidisciplinary care. Otolaryngol Clin N Am 50:679–687. https://doi.org/10.1016/j.otc.2017.03.005

11.

Henderson F Jr, Abdifatah K, Qureshi M, Perry A, Graffeo CS, Haglund MM, Olunya DO, Mogere E, Okanga B, Copeland WR III (2020) The College of Surgeons of East, Central, and Southern Africa: successes and challenges in standardizing neurosurgical training. World neurosurgery 136:172–177. https://doi.org/10.1016/j.wneu.2020.01.084

12.

Hollander JE, Carr BG (2020) Virtually perfect? Telemedicine for Covid-19. N Engl J Med 382:1679–1681. https://doi.org/10.1056/NEJMp2003539

13.

Kahn EN, La Marca F, Mazzola CA (2016) Neurosurgery and telemedicine in the United States: assessment of the risks and opportunities. World neurosurgery 89:133–138. https://doi.org/10.1016/j.wneu.2016.01.075

14.

Minges M, Adam L (2018) ICTs, LDCs and the SDGs: achieving universal and affordable internet in the least developed countries (LDCs). International Telecommunication Union. https://www.itu.int/dms_pub/itu-d/opb/ldc/D-LDC-ICTLDC-2018-PDF-E.pdf.

15.

Mukhopadhyay S, Punchak M, Rattani A, Hung YC, Dahm J, Faruque S, Dewan MC, Peeters S, Sachdev S, Park KB (2019) The global neurosurgical workforce: a mixed-methods assessment of density and growth. J Neurosurg 130:1–7. https://doi.org/10.3171/2018.10.Jns171723

16.

WHO (2004) Atlas: country resources for neurological disorders 2004: results of a collaborative study of the World Health Organization and the World Federation of Neurology. World Health Organization. https://apps.who.int/iris/handle/10665/43075.
Acknowledgments
The authors thank Dan Brodsky for making Virtual Board freely available to the Tenwek Mission Hospital and its supporters.
Ethics declarations
Conflict of interest
The authors declare that they have no conflict of interest.
Additional information
Publisher's note
Springer Nature remains neutral with regard to jurisdictional claims in published maps and institutional affiliations.
About this article
Cite this article
Henderson, F., Lepard, J., Seibly, J. et al. An online tumor board with international neurosurgical collaboration guides surgical decision-making in Western Kenya. Childs Nerv Syst (2020). https://doi.org/10.1007/s00381-020-04744-x
Received:

Accepted:

Published:
Keywords
Global neurosurgery

Resident education

Sub-Saharan Africa

Low- and middle-income countries

Tumor board

Neuro-oncology

Pediatric neurosurgery