Abstract
We report the unusual case of a 7-month-old girl presenting with congenital cervical dermal sinus tract in which the intradural tract was not detected on preoperative imaging and was identified intraoperatively. Considering possible devastating sequelae of infection, excision of dermal sinus tract might be justified even in the case with radiologically undetected intradural tract.
This is a preview of subscription content, log in to check access.
Access options
Buy single article
Instant access to the full article PDF.
US$ 39.95
Price includes VAT for USA
Subscribe to journal
Immediate online access to all issues from 2019. Subscription will auto renew annually.
US$ 199
This is the net price. Taxes to be calculated in checkout.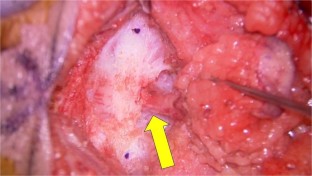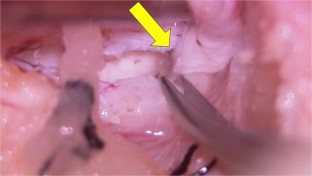 References
1.

Shen WC, Chiou TL, Lin TY (2000) Dermal sinus with dermoid cyst in the upper cervical spine: case note. Neuroradiology 42:51–53. https://doi.org/10.1007/s002340050013

2.

Wang KC, Yang HJ, Oh CW et al (1993) Spinal congenital dermal sinus--experience of 5 cases over a period of 10 years. J Korean Med Sci 8:341–347

3.

Ceddia A, Di Rocco C, Pastorelli G (1990) The congenital cervical dermal sinus. A clinical case report and review of the literature. Minerva Pediatr 42:553–558

4.

Simon JK, Lazareff JA, Diament MJ, Kennedy WA (2003) Intramedullary abscess of the spinal cord in children: a case report and review of the literature. Pediatr Infect Dis J 22:186–192. https://doi.org/10.1097/01.inf.0000048910.19136.49

5.

Dagcinar A, Konya D, Akakin A et al (2008) Congenital dermal sinus of the cervical spine in an adult. J Clin Neurosci Off J Neurosurg Soc Australas 15:73–76. https://doi.org/10.1016/j.jocn.2006.05.022

6.

Mrowczynski OD, Lane JR, Shoja MM et al (2018) Double dermal sinus tracts of the cervical and thoracic regions: a case in a 3-year-old child and review of the literature. Childs Nerv Syst ChNS Off J Int Soc Pediatr Neurosurg 34:987–990. https://doi.org/10.1007/s00381-017-3707-4

7.

Nicola Z, Antonio C, De Tommasi A (2014) Cervical dermal sinus complicated with intramedullary abscess in a child: case report and review of literature. Eur Spine J Off Publ Eur Spine Soc Eur Spinal Deform Soc Eur Sect Cerv Spine Res Soc 23(Suppl 2):192–196. https://doi.org/10.1007/s00586-013-2930-2

8.

Shah RK, Chaljub G, Swischuk LE (2003) Lower cervical dermal sinus tract and associated intraspinal abscess causing meningitis in a child. Emerg Radiol 10:160–162. https://doi.org/10.1007/s10140-003-0304-5

9.

Barkovich AJ, Edwards MS, Cogen PH (1991) MR evaluation of spinal dermal sinus tracts in children. AJNR Am J Neuroradiol 12:123–129

10.

Tisdall MM, Hayward RD, Thompson DNP (2015) Congenital spinal dermal tract: how accurate is clinical and radiological evaluation? J Neurosurg Pediatr 15:651–656. https://doi.org/10.3171/2014.11.PEDS14341

11.

Lee SM, Cheon J-E, Choi YH et al (2017) Limited dorsal myeloschisis and congenital dermal sinus: Comparison of clinical and MR imaging features. Am J Neuroradiol 38:176–182. https://doi.org/10.3174/ajnr.A4958

12.

Martínez-Lage JF, Almagro MJ, Ferri-Ñiguez B et al (2011) Spinal dermal sinus and pseudo-dermal sinus tracts: two different entities. Childs Nerv Syst ChNS Off J Int Soc Pediatr Neurosurg 27:609–616. https://doi.org/10.1007/s00381-010-1308-6
Additional information
Publisher's note
Springer Nature remains neutral with regard to jurisdictional claims in published maps and institutional affiliations.
About this article
Cite this article
Mukai, T., Usami, K., Ishisaka, E. et al. Radiologically occult cervical intradural dermal sinus tract: a case report and review of literature. Childs Nerv Syst (2020). https://doi.org/10.1007/s00381-020-04673-9
Received:

Accepted:

Published:
Keywords
Dermal sinus tract

Intradural tract

Cervical