Abstract
Purpose
Central nervous system (CNS) infections are significant causes of morbidities and mortalities in children with some being prone to the development of abscesses which can either be within the brain parenchyma or located in extracranial structures. We aimed to describe the clinical profile and outcome of children with cranial abscesses at the Obafemi Awolowo University Teaching Hospital Complex (OAUTHC).
Methods
Consecutive cases presenting at the Children Emergency Ward of OAUTHC Ile-Ife were recruited. The pattern of presentation, predisposing factors and outcome of these children were studied.
Results
Among the 641 children admitted within a 6-month period, six were diagnosed with cranial abscess giving a hospital prevalence of 0.9%. The mean duration of symptom prior to presentation was 12.7 ± 13.4 days. Five (83.3%) of the patients had intracranial abscesses which were multiple in two (33.3%) children. One patient had Pott's puffy tumour following frontal sinusitis. Surgical management was done for two (33.3%), and this was by craniotomy and evacuation. Two of the patients died with a case fatality rate of 33.3%.
Conclusion
Though uncommon, cranial abscesses remain life threatening in children especially in resource-poor settings. Early presentation and early treatment of local infections will improve outcome.
Access options
Buy single article
Instant access to the full article PDF.
US$ 39.95
Tax calculation will be finalised during checkout.
Subscribe to journal
Immediate online access to all issues from 2019. Subscription will auto renew annually.
US$ 119
Tax calculation will be finalised during checkout.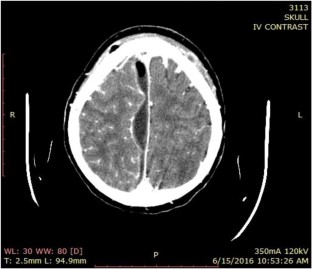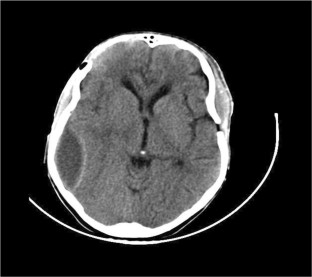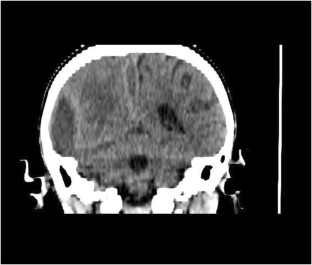 References
1.

Brook I (2004) Microbiology and management of brain abscesses in children. J Pediatr Neurol 2(3):125–130

2.

Theophilos F, Markakis E, Theophilos L, Dietz H (1985) Brain abscesses in children. Childs Nerv Syst 1:324–328

3.

Tekkok IH, Erbengi A (1990) Management of brain abscesses in children: a review of 130 cases over a period of 21 years. Childs Nerv Syst 8:411–416

4.

Moorthy RK, Rajshekhar V (2008) Management of brain abscess: an overview. Neurosurg Focus 24(6):E3

5.

Weinberg GA (2018) Brain abscess. Pediatrics in Review 39:5

6.

Sudhir SB (2017) Suppurative cranial complications of sinusitis, management with limited resources: a report of two cases with a review of the literature. JSM Allergy Asthma 2(2):1011

7.

Brouwer MC, Coutinho JM, van de Beek D (2014) Clinical characteristics and outcome of brain abscess: systematic review and meta-analysis. Neurology 82(9):806–813. https://doi.org/10.1212/WNL.0000000000000172

8.

Smith DM, Vossough A, Licht DJ (2015) Pediatric cavernous sinus thrombosis in children. A case series and review of literature. Neurology 85(9):763–769

9.

Rajwani KM, Desai K, Lew-Gor S (2014) Forehead swelling and frontal headache: Pott's puffy tumour. BMJ Case Rep. https://doi.org/10.1136/bcr-2013-202737

10.

Terui H, Numata I, Takata Y, Ogura M, Aiba S (2015) Pott's puffy tumor caused by chronic sinusitis resulting in Sinocutaneous fistula. JAMA Dermatol 151(11):1261–1263. https://doi.org/10.1001/jamadermatol.2015.0874

11.

Leotta N, Chaseling R, Duncan G, Isaacs D (2005) Intracranial suppuration. J Pediatr Child Health 41:508–512

12.

Mehnaz A, Syed AU, Saleem AS, Khalid CN (2006) Brain abscess in children. Ind J Pediatr 73(5):401–404

13.

Mankhambo L, Phiri A, Chiwaya K, Waluza J, Borgstein ES, Graham SM (2007) A case series of brain abscesses in Malawian children. Malawi Med J 19(3):122–125

14.

Ndubuisi CA, Ohaegbulam SC, Mezue WC, Chikani MC, Nkwerem SP, Ozor II (2017) Management of brain abscess: changing trend and experience in Enugu, Nigeria. Niger J Surg 23(2):106–110. https://doi.org/10.4103/njs.NJS_46_16

15.

Jimoh AO, Matthew M, Guga DA, Sale D, Giwa FJ, Aruna AA (2016) Intracranial abscesses in Ahmadu Bello University Teaching Hospital Zaria, Nigeria. AASCIT J Med 2(1):5–9

16.

Brouwer MC, Tunkel AR, McKhann GM, van de Beek D (2014) Brain abscess. N Engl J Med 371:447–456. https://doi.org/10.1056/NEJMra130163

17.

Krzysztofiak A, Zangari P, De Luca M, Villani A (2017) Brain abscesses: an overview in children. J Pediatr Infect Dis:1–4. https://doi.org/10.1055/s-0037-1615786

18.

Udayakumaran S, Onyia CU, Krishnakumar R (2017) Forgotten? Not yet—cardiogenic brain abscess in children—a case series based review. World Neurosurg. https://doi.org/10.1016/j.wneu.2017.07.144

19.

Nicolosi A, Hauser WA, Musicco M, Kurland LT (1991) Incidence and prognosis of brain abscess in a defined population: Olmsted County, Minnesota, 1935-1981. Neuroepidemiology 10(3):122–131

20.

Shahzadi S, Lozano AM, Bernstein M, Guha A, Tasker RR (1996) Stereotactic management of bacterial brain abscesses. Can J Neurol Sci 23:34–39
Ethics declarations
Conflict of interest
The authors declare that they have no conflict of interest.
Additional information
Publisher's note
Springer Nature remains neutral with regard to jurisdictional claims in published maps and institutional affiliations.
About this article
Cite this article
Olorunmoteni, O.E., Onyia, C.U., Elusiyan, J.B.E. et al. Intracranial abscesses in children at Ile-Ife, Nigeria: a case series and review of literature. Childs Nerv Syst 36, 1767–1771 (2020). https://doi.org/10.1007/s00381-020-04529-2
Received:

Accepted:

Published:

Issue Date:
Keywords
Brain abscess

Pott's puffy tumour

Children