Abstract
Introduction
Extended vertex craniectomy in sagittal synostosis (SS) and transposition craniectomy in severe deformational brachycephaly (DB) combined with mosaic-like cranioplasty (M-LC) have been performed in 17 and 24 infants from 2001 to 2003. The hitherto not well-known mechanisms of remodeling and effectiveness of M-LC is assessed by X-ray and anthropometry.
Methods
Follow-ups included skull radiograms preoperatively and 3 and 15 months postoperatively, which were analyzed by craniometry according to Haas, long-term anthropometry, and clinical follow-up till mean age of 7.6 and 7.4 years. Analysis included the following: time course of cephalic indexes (CI), sizes of distances (breadth, length, height) and modulus, and mean deviation of distances and modulus from the normal age- and sex-dependent values; evaluation of re-ossification of the operative defects covered by M-L C.
Results
CI in SS is normalized in early follow-up with stabilization thereafter; CI of DB is gradually normalized till late follow-up. Remodeling occurs in both disorders by active and passive mechanisms: increased growth of distances with preoperative minus and decreased growth of distances with surplus. The latter mechanism adds more to the postoperative remodeling. M-LC leads to concentric and final complete re-ossification of the defects.
Discussion
Significant remodeling of the skull vault is observed in both disorders by the demonstrated time course and mechanisms. M-LC does not hinder early remodeling and guarantees re-ossification of the defects.
This is a preview of subscription content, log in to check access.
Access options
Buy single article
Instant access to the full article PDF.
US$ 39.95
Price includes VAT for USA
Subscribe to journal
Immediate online access to all issues from 2019. Subscription will auto renew annually.
US$ 199
This is the net price. Taxes to be calculated in checkout.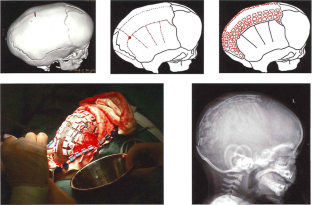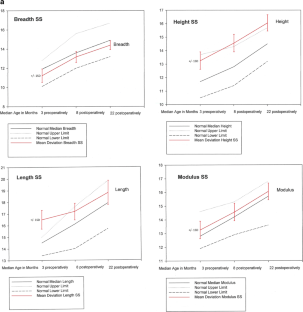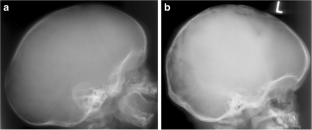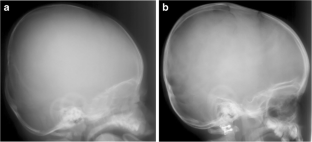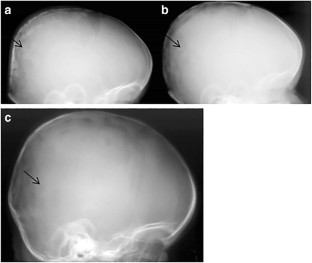 References
1.

Heller JB, Heller MM, Knoll B, Gabbay JS, Duncan C, Persing JA (2008) Intracranial volume and cephalic index outcomes for total calvarial reconstruction among non-syndromic sagittal synostosis patients. Plast Reconstr Surg 121:187–195

2.

Metzler P, Zemann W, Jacobsen C, Grätz KW, Obwegeser JA (2013) Post-operative cranial vault growth in premature sagittal craniosynostosis. J Craniofac Surg 24:146–193

3.

Kaiser G (1988) Sagittal synostosis—its clinical significance and the results of three different methods of craniectomy. Childs Nerv Syst 4:223–230

4.

Epstein N, Epstein F, Newman G (1982) Total vertex craniectomy for treatment of scaphocephaly. Childs Brain 9:309–316

5.

Fearon JA, McLaughlin EB, Kolar JC (2006) Sagittal craniosynostosis: surgical outcomes and long-term growth. Plast Reconstr Surg 117:532–541

6.

Teichgraeber JF, Baumgartner JE, Waller AL, Reis SM, Stafford MT, Hollinger LE, Gateno J, Xia JJ (2009) Microscopic minimally invasive approach to non-syndromic craniosynostosis. J Craniofac Surg 20:1492–1500

7.

Jimenez DF, Barone CM (2012) Endoscopic technique for sagittal synostosis. Childs Nerv Syst 28:1333–1339

8.

Mundinger GS, Rehim SA, Johnson O 3rd, Zhou J, Tong A, Wallner C, Dorafshar AH (2016) Distraction osteogenesis for surgical treatment of craniosynostosis: a systematic review. Plast Reconstr Surg 138:657–669

9.

Rodgers W, Glass GE, Schievano S, Borghi A, Rodriguez-Florez N, Tahim A, Angullia F, Breakey W, Knoops P, Tenhagen M, O'Hara J, Ponniah A, James G, Dunaway DJ, Jeelani NUO (2017) Spring-assisted cranioplasty for the correction of nonsyndromic scaphocephaly: a quantitative analysis of 100 consecutive cases. Plast Reconstr Surg 140:125–134

10.

Hutchison BL, Hutchison LAD, Thompson JMD, Mitchel EA (2005) Quantification of plagiocephaly and brachycephaly in infants using a digital photographic technique. Cleft Palate Craniofac J 42:539–547

11.

Kaiser GL (2013) Conspicuous and/or abnormal head shape. In: Kaiser GL (ed) Symptoms and signs in pediatric surgery. Springer, Heidelberg

12.

Farkas LG (1994) Anthropometry of the head and face, 2nd edn. Raven press, New York

13.

Kolar JC, Salter EM (1997) Craniofacial anthropometry. Charles C Thomas, Springfield

14.

Haas L (1952) Roentgenological skull measurements and their diagnostic applications. Am J Roentgenol 67:197–209

15.

Christofides EA, Steinmann ME (2010) A novel anthropometric chart for craniofacial surgery. J Craniofac Surg 21:352–335

16.

Hutchison BL, Hutchison LAD, Thompson JMD, Mitchell EA (2004) Plagiocephaly and brachycephaly in the first two years of life: a prospective cohort study. Pediatrics 114:970–980

17.

Graham JM Jr, Kreutzman J, Earl D, Halberg A, Samayoa C, Guo X (2005) Deformational brachycephaly in supine-sleeping infants. J Pediatr 146:253–257

18.

Agrawal D, Steinbok P, Cochrane DD (2006) Long-term anthropometric outcomes following surgery for isolated sagittal craniosynostosis. J Neurosurg 105(5 Suppl):357–360

19.

Thomas GP, Johnson D, Byren JC, Jayamohan J, Magdum SA, Richards PG, Wall SA (2015) Long-term morphological outcomes in nonsyndromic sagittal craniosynostosis: a comparison of 2 techniques. J Craniofac Surg 26:19–25

20.

Thwin M, Schultz TJ, Anderson PJ (2015) Morphological, functional and neurological outcomes of craniectomy versus cranial vault remodeling for isolated nonsyndromic synostosis of the sagittal suture: a systematic review. JBI Database System Rev Implement Rep 13:309–368

21.

Teichgraeber JF, Seymour-Dempsey K, Baumgartner JE, Xia JJ, Waller AL, Gateno J (2004) Molding helmet therapy in the treatment of brachycephaly and plagiocephaly. J Craniofac Surg 15:118–123

22.

Steinberg JP, Rawlani R, Humphries LS, Rawlani V, Vicari FA (2015) Effectiveness of conservative therapy and helmet therapy for positional cranial deformation. Plast Reconstr Surg 135:833–842

23.

Kolar JC, Salter EM, Weinberg SM (2010) Preoperative craniofacial dysmorphology in isolated sagittal synostosis: a comprehensive anthropometric evaluation. J Craniofac Surg 21:1404–1410

24.

van Lindert EJ, Siepel FJ, Delye H, Ettema AM, Bergé SJ, Maal TJJ, Borstlap WA (2013) Validation of cephalic index measurements in scaphocephaly. Childs Nerv Syst 29:1007–1014

25.

Wilbrand J-F, Bierther U, Nord T, Reinges M, Hahn A, Christophis P, Streckbein P, Kähling C, Howaldt H-P (2014) Percentile-based assessment of craniosynostosis. J Craniomaxillofac Surg 42:634–634

26.

Greene AK, Mulliken JB, Proctor MR, Rogers GF (2008) Pediatric cranioplasty using particulate calvarial bone graft. Plast Reconstr Surg 122:563–571

27.

Morritt DG, Yeh FJ, Wall SA, Richards PG, Jayamohan J, Johnson D (2010) Management of isolated sagittal synostosis in the absence of scaphocephaly: a series of eight cases. Plast Reconstr Surg 126:572–580

28.

Foster KA, Frim DM, McK MK (2008) Recurrence of synostosis following surgical repair of craniosynostosis. Plast Reconstr Surg 121:70e–76x
Acknowledgments
Prof. St. Berger MD, Head of Department of Pediatric Surgery of University Hospital Inselspital, Bern; Chr. Steffen, Dr. H. Tschäppeler MD, former Head, and Dr. R. Wolf MD, Head of Pediatric Radiology of University Institute of Diagnostic, Interventional and Pediatric Radiology; Dr. B. Liniger MD, Consultant of Craniofacial Anomalies, Department of Pediatric Surgery; Dr. V. Oesch MD, Head of Pediatric Surgery, Children's Hospital Aarau.
Ethics declarations
Conflict of interest
No financial support or benefits were given to the author from any source related to the scientific work reported in this article.
The author got the permission to perform the study "Visualization of Skull Remodeling and Re-ossification after Reconstructive Surgery and M-LC in Sagittal Synostosis and Severe Posterior DB (VSRRRSSDB)" and to publish it from the Cantonal Commission of Ethics Berne of Swiss Ethics on May 2, 2017.
Additional information
Publisher's note
Springer Nature remains neutral with regard to jurisdictional claims in published maps and institutional affiliations.
About this article
Cite this article
Kaiser, G.L., Steffen, C. Visualization of skull remodeling and re-ossification after reconstructive surgery and mosaic-like cranioplasty in sagittal synostosis and deformational brachycephaly1. Childs Nerv Syst 36, 1489–1498 (2020). https://doi.org/10.1007/s00381-020-04511-y
Received:

Accepted:

Published:

Issue Date:
Keywords
Scaphocephy/postural brachycephaly

Surgery

X-ray craniometry/anthropometry

Long-term skull transformation