Abstract
Background
Microcystic meningiomas are extra axial masses that are extremely rare in the pediatric population. Intraventricular meningiomas are also rarely seen.
Case Presentation
This case reports an 18-year-old boy who had an intraventricular mass on magnetic resonance imaging at the age of 12 years and had shown growth at a 6-year follow-up after subtotal resection. The mass was removed by total resection and pathological examination indicated microcystic meningioma.
Conclusion
The present case is the first pediatric intraventricular microcystic meningioma in the literature. We believe that this unique case presented with its radiological, pathological and clinical features will contribute to the literature.
This is a preview of subscription content, log in to check access.
Access options
Buy single article
Instant access to the full article PDF.
US$ 39.95
Price includes VAT for USA
Subscribe to journal
Immediate online access to all issues from 2019. Subscription will auto renew annually.
US$ 199
This is the net price. Taxes to be calculated in checkout.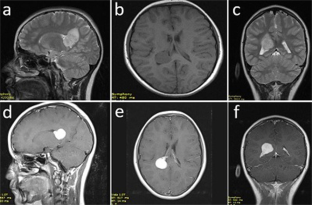 Abbreviations
MM:

Microcystic meningioma

WHO:

World Health Organization

MRI:

Magnetic resonance imaging

EMA:

Epithelial membrane antigen

IVMs:

Intraventricular meningiomas

PNET:

Primitive neuroectodermal tumor

SEGA:

Subependymal giant cell astrocytoma
References
1.

Bodian M, Lawson D (1953) Intracranial neoplastic diseases of childhood: a description of their natural history based on a clinico-pathological study of 129 cases. Br J Surg 40:368–392

2.

Dash C, Pasricha R, Gurjar H, Singh PK, Sharma BS (2016) Pediatric intraventricular meningioma: a series of six cases. J. Pediatr Neurosci 11(3):193–196. https://doi.org/10.4103/1817-1745.193356

3.

Delannes M, Maire JP, Sabatier J, Thillays F (2012) Stereotactic radiotherapy for intracranial meningioma. Cancer Radiother 16:79–89

4.

Dudley RWR, Torok MR, Randall S, Béland B, Handler MH, Mulcahy-Levy JM, Liu AK, Hankinson TC (2018) Pediatric versus adult meningioma: comparison of epidemiology, treatments, and outcomes using the surveillance, epidemiology, and end results database. J Neuro-Oncol 137(3):621–629. https://doi.org/10.1007/s11060-018-2756-1

5.

Glasier C, Husain M, Chadduck W, Boop F, Meningiomas in children (1993) MR and histophathologic findings. Am J Neuroradiol 14:237–242

6.

Grand S, Pasquier BM, Hoffmann DM, Krainik A, Ashraf A, Tropres IM, Dillworth K, Le Bas JF (2010) Perfusion MR imaging and 1H spectroscopy: their role in the diagnosis of microcystic and lipomatous meningiomas. J Neuroradiol 37:185–188

7.

Grujicic D, Cavallo LM, Somma T, Illic R, Milicevic M, Raicevic S, Gazibara MS, Villa A, Savic D, Solari D, Cappabianca P (2017) Intraventricular Meningiomas: a series of 42 patients at a single institution and literature review. World Neurosurg 97:178–188. https://doi.org/10.1016/j.wneu.2016.09.068

8.

Im SH, Wang KC, Kim SK, Oh CW, Kim DG, Hong SK, Kim NR, Chi JG, Cho BK, Childhood Meningioma (2011) Unusual location, atypical radiological findings, and favorable treatment outcome. Childs Nerv Syst 17:656–662

9.

Kotecha RS, Pascoe EM, Rushing EJ, Rorke-Adams LB, Zwerdling T, Gao X, Li X, Greene S, Amirjamshidi A, Kim SK, Lima MA, Hung PC, Lakhdar F, Mehta N, Liu Y, Devi BI, Sudhir BJ, Lund-Johansen M, Gjerris F, Cole CH, Gottardo NG (2011) Meningiomas in children and adolescents: a meta-analysis of individual patient data. Lancet Oncol 12:1229–1239

10.

Manwaring J, Ahmadian A, Stapleton S, Gonzalez-Gomez I, Rodriguez L, Carey C, Tuite GF (2013) Pediatric microcystic meningioma: a clinical, histological, and radiographic case-based review. Childs Nerv Syst 29:361–365

11.

Mendiratta SS, Rosenblum JA, Strobos RJ (1967) Congenital meningioma. Neurology 17:914–918

12.

Michaud J, Gagne F, Microcystic meningioma (1983) Clinicopathologic report of eight cases. Arch Pathol Lab Med 107:75–80

13.

Muley KD, Shaikh ST, Deopujari CE, Andar UB (2017) Primary intraventricular meningiomas in children—experience of two cases with review of literature. Childs Nerv Syst 33:1589–1594

14.

Ohtani K, Kanamori M, Omodaka S, Yonezawa S, Kawaguchi T, Takazawa H, Kurotaki H, Nakamura K, Tanaka T, Sasaki T, Nisima M (2011) Two cases with a cystic meningioma in childhood. Jpn J Neurosurg 20;6:463–468

15.

Okechi H, Albright AL (2012) Intraventricular meningioma: case report and literatüre review. Pediatr Neurosurg 48(1):30–34. https://doi.org/10.1159/000341176

16.

Perry A, Giannini C, Raghavan R, Scheithauer BW, Banerjee R, Margraf L, Bowers DC, Lytle RA, Newsham IF, Gutmann D (2001) Aggressive phenotyppic and genotypic features in pediatric NF-2 associated meningiomas: a clinicopathologic study of 53 cases. J Neuropahtol Exp Neurol 60:994–1003

17.

Perry A, Louis D.N, Budka H, von Deimling A, Sahm F, Rushing E. J, Mawrin C, Claus E. B, Loeffler J, Sadetzki S. Meningioma. In: Ellison D, Lover S, Chimelli L, Harding B. N, Lowe J, Vinters H. V (ed) (2004) A reference text of CNS pathology, Neuropathology (2nd edition): Mosby

18.

Perry A, Stafford SL, Scheithauer BW (1997) Meningioma grading: an analysis of histologic parameters. Am J Surg Pathol 21:1455–1465

19.

Suh DY, Mapstone T (2001) Pediatric supratentorial intraventricular tumors. Neurosurg Focus 10 (6): Article 4

20.

Yao YT (1994) Clinicopathologic analysis of 615 cases of meningioma with special reference to recurrence. J Formos Med Assoc 93:145–152
Ethics declarations
Conflict of interest
On behalf of all authors, the corresponding author states that there is no conflict of interest.
Additional information
Publisher's note
Springer Nature remains neutral with regard to jurisdictional claims in published maps and institutional affiliations.
About this article
Cite this article
Sahinoglu, M., Karabagli, P., Karabagli, H. et al. Intraventricular microcystic meningioma in a child: a case report. Childs Nerv Syst 36, 1539–1543 (2020). https://doi.org/10.1007/s00381-019-04472-x
Received:

Accepted:

Published:

Issue Date:
Keywords
Intraventricular

Meningioma

Microcystic

Pediatric brain tumor