Abstract
Ripple mapping can make the visualization of activation conduction on a 3-dimensional voltage map and is useful tool for scar-related organized atrial tachycardia (AT). This study sought to assess the efficacy of ripple mapping for interpreting reentrant circuits and critical isthmus in postoperative ATs. 34 consecutive patients with a history of mitral valve surgery (mean age, 54.5 ± 12.4 years) underwent high density (HD) RM during ATs with CARTO3v4 CONFIDENSE system. The voltage activation threshold was determined by RM over a bipolar voltage map. The identification of underlying mechanisms and ablation setting was based on RM without reviewing activation mapping. A total of 41 ATs (35 spontaneous, 6 induced) were characterized. 39 reentry circuits were successfully mapped (cycle length, 256 ± 43 ms). Of the 41 ATs, 28 were confirmed by ripple mapping alone (68%), and 12 (29%) by ripple mapping and entrainment mapping. Of 12 ATs in the left atrium, 9 (75%) needed entrainment to confirm, compared with 5 (17.8%) in the right atrium. Primary endpoint after initial ablation set was achieved in 32 of the 34 patients (94.1%). Freedom from atrial arrhythmias was 79.4% after the follow-up of 12 ± 5 months. Of the seven patients with recurrence, three underwent the repeated catheter ablation. Ripple mapping precisely delineated reentrant circuits in post-cardiac surgery AT resulting in a high success rate of ablation. Entrainment maneuvers remain useful for elucidation of complex AT circuits.
Access options
Buy single article
Instant access to the full article PDF.
US$ 39.95
Tax calculation will be finalised during checkout.
Subscribe to journal
Immediate online access to all issues from 2019. Subscription will auto renew annually.
US$ 79
Tax calculation will be finalised during checkout.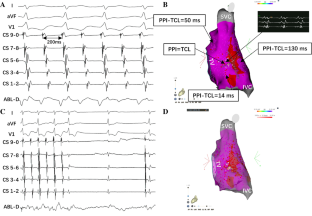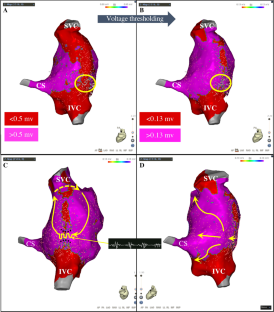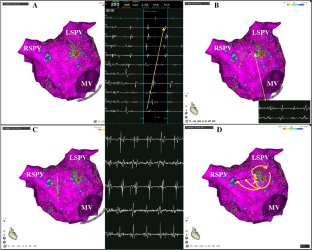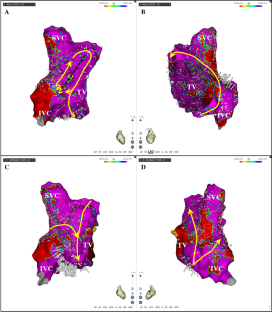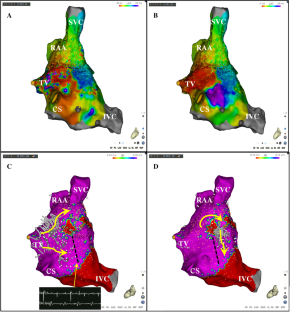 References
1.

Creswell LL, Schuessler RB, Rosenbloom M, Cox JL (1993) Hazards of postoperative atrial arrhythmias. Ann Thorac Surg 56(3):539–549

2.

Avila P, Oliver JM, Gallego P, Gonzalez-Garcia A, Rodriguez-Puras MJ, Cambronero E, Ruiz-Cantador J, Campos A, Peinado R, Sarnago F, Yotti R, Fernández-Avilés F (2017) Natural history and clinical predictors of atrial tachycardia in adults with congenital heart disease. Circ Arrhythm Electrophysiol 10(9):e005396

3.

Wu J, Deisenhofer I, Ammar S, Fichtner S, Reents T, Zhu P, Jilek C, Kolb C, Hess C, Hessling G (2013) Acute and long-term outcome after catheter ablation of supraventricular tachycardia in patients after the Mustard or Senning operation for D-transposition of the great arteries. Europace 15(6):886–891

4.

Walsh EP, Cecchin F (2007) Arrhythmias in adult patients with congenital heart disease. Circulation 115(4):534–545

5.

Nakagawa H, Shah N, Matsudaira K, Overholt E, Chandrasekaran K, Beckman KJ, Spector P, Calame JD, Rao A, Hasdemir C, Otomo K, Wang Z, Lazzara R, Jackman WM (2001) Characterization of reentrant circuit in macroreentrant right atrial tachycardia after surgical repair of congenital heart disease: isolated channels between scars allow "focal" ablation. Circulation 103(5):699–709

6.

Pap R, Kohari M, Makai A, Bencsik G, Traykov VB, Gallardo R, Klausz G, Zsuzsanna K, Forster T, Sághy L (2012) Surgical technique and the mechanism of atrial tachycardia late after open heart surgery. J Interv Card Electrophysiol 35(2):127–135

7.

Del Carpio MF, Buescher TL, Asirvatham SJ (2010) Three-dimensional mapping of cardiac arrhythmias: what do the colors really mean? Circ Arrhythm Electrophysiol 3(6):e6-11

8.

Ju W, Yang B, Chen H, Zhang F, Gu K, Yu J, Li M, Yang G, Cao K, Chen M (2014) Mapping of focal atrial tachycardia with an uninterpretable activation map after extensive atrial ablation: tricks and tips. Circ Arrhythm Electrophysiol 7(4):598–604

9.

Rav-Acha M, Ng CY, Heist EK, Rozen G, Chalhoub F, Kostis WJ, Ruskin J, Mansour M (2016) A novel annotation technique during mapping to facilitate the termination of atrial tachycardia following ablation for atrial fibrillation. J Cardiovasc Electrophysiol 27(11):1274–1281

10.

Linton NW, Koa-Wing M, Francis DP, Kojodjojo P, Lim PB, Salukhe TV, Whinnett Z, Davies DW, Peters NS, O'Neill MD, Kanagaratnam P (2009) Cardiac ripple mapping: a novel three-dimensional visualization method for use with electroanatomic mapping of cardiac arrhythmias. Heart Rhythm 6(12):1754–1762

11.

Luther V, Linton NW, Koa-Wing M, Lim PB, Jamil-Copley S, Qureshi N, Ng FS, Hayat S, Whinnett Z, Davies DW, Peters NS, Kanagaratnam P (2016) A prospective study of ripple mapping in atrial tachycardias: a novel approach to interpreting activation in low-voltage areas. Circ Arrhythm Electrophysiol 9(1):e003582

12.

Luther V, Cortez-Dias N, Carpinteiro L, de Sousa J, Balasubramaniam R, Agarwal S, Farwell D, Sopher M, Babu G, Till R, Jones N, Tan S, Chow A, Lowe M, Lane J, Pappachan N, Linton N, Kanagaratnam P (2017) Ripple mapping: initial multicenter experience of an intuitive approach to overcoming the limitations of 3D activation mapping. J Cardiovasc Electrophysiol 28(11):1285–1294

13.

Jaïs P, Matsuo S, Knecht S, Weerasooriya R, Hocini M, Sacher F, Wright M, Nault I, Lellouche N, Klein G, Clémenty J, Haïssaguerre M (2009) A deductive mapping strategy for atrial tachycardia following atrial fibrillation ablation: importance of localized reentry. J Cardiovasc Electrophysiol 20(5):480–491

14.

Takigawa M, Derval N, Frontera A, Martin R, Yamashita S, Cheniti G, Vlachos K, Thompson N, Kitamura T, Wolf M, Massoullie G, Martin CA, Al-Jefairi N, Amraoui S, Duchateau J, Klotz N, Pambrun T, Denis A, Sacher F, Cochet H, Hocini M, Haïssaguerre M, Jais P (2018) Revisiting anatomic macroreentrant tachycardia after atrial fibrillation ablation using ultrahigh-resolution mapping: implications for ablation. Heart Rhythm 15(3):326–333

15.

Xue Y, Liu Y, Liao H, Zhan X, Fang X, Deng H, Wang F, Huang W, Liang Y, Wei W, Huang Y, Liao Z, Shehata M, Wang X, Wu S (2018) Evaluation of electrophysiological mechanisms of post-surgical atrial tachycardias using an automated ultra-high-density mapping system. JACC Clin Electrophysiol 4(11):1460–1470

16.

Luther V, Sikkel M, Bennett N, Guerrero F, Leong K, Qureshi N, Ng FS, Hayat SA, Sohaib SMA, Malcolme-Lawes L, Lim E, Wright I, Koa-Wing M, Lefroy DC, Linton NWF, Whinnett Z, Kanagaratnam P, Davies DW, Peters NS, Lim PB (2017) Visualizing localized reentry with ultra-high density mapping in iatrogenic atrial tachycardia: beware pseudo-reentry. Circ Arrhythm Electrophysiol 10(4):e004724

17.

Luther V, Agarwal S, Chow A, Koa-Wing M, Cortez-Dias N, Carpinteiro L, De Sousa J, Balasubramaniam R, Farwell D, Jamil-Copley S, Srinivasan N, Abbas H, Mason J, Jones N, Katritsis G, Lim PB, Peters NS, Qureshi N, Whinnett Z, Linton NWF, Kanagaratnam P (2019) Ripple-AT study: a multicenter and randomized study comparing 3D mapping techniques during atrial tachycardia ablations. Circ Arrhythm Electrophysiol 12(8):e007394

18.

Kalman JM, Olgin JE, Saxon LA, Fisher WG, Lee RJ, Lesh MD (1996) Activation and entrainment mapping defines the tricuspid annulus as the anterior barrier in typical atrial flutter. Circulation 94(3):398–406

19.

Strisciuglio T, Vandersickel N, Lorenzo G, Van Nieuwenhuyse E, El Haddad M, De Pooter J, Kyriakopoulou M, Almorad A, Lycke M, Vandekerckhove Y, Tavernier R, Duytschaever M, Knecht S (2020) Prospective evaluation of entrainment mapping as an adjunct to new-generation high-density activation mapping systems of left atrial tachycardias. Heart Rhythm 17(2):211–219

20.

Pathik B, Lee G, Nalliah C, Joseph S, Morton JB, Sparks PB, Sanders P, Kistler PM, Kalman JM (2017) Entrainment and high-density three-dimensional mapping in right atrial macroreentry provide critical complementary information: entrainment may unmask "visual re-entry" as passive. Heart Rhythm 14(10):1541–1549
Ethics declarations
Conflict of interest
The authors declare that they have no conflict of interest.
Additional information
Publisher's Note
Springer Nature remains neutral with regard to jurisdictional claims in published maps and institutional affiliations.
Supplementary Information
Below is the link to the electronic supplementary material.
Supplementary file1 (MP4 2935 KB)
Supplementary file2 (MP4 2602 KB)
Supplementary file3 (MP4 3723 KB)
Supplementary file4 (MP4 17835 KB)
Supplementary file5 (MP4 5922 KB)
Supplementary file6 (MP4 8085 KB)
Supplementary file7 (MP4 2750 KB)
Supplementary file8 (MP4 11500 KB)
About this article
Cite this article
Shen, W., Liu, Y., Bai, J. et al. Ripple mapping-guided atrial tachycardia ablation following open-heart surgery. Heart Vessels (2021). https://doi.org/10.1007/s00380-021-01772-8
Received:

Accepted:

Published:
Keywords
Atrial tachycardia

Ripple mapping

Catheter ablation

Cardiac surgery