Abstract
A 15N tracing incubation study was carried out using a sandy loam soil without (control) and with field-aged biochar (biochar) to investigate the mechanisms underlying the effects of field-aged biochar on nitrous oxide (N2O) emissions. During the incubation, carried out at 40%, 60%, and 80% water-filled pore space (WFPS), cumulative N2O emission decreased from 24.13–26.40 μg N kg−1 in the control soil to 18.27–23.94 μg N kg−1 in the biochar soil, with a reduction of 9.3–24.3%. The contribution of autotrophic nitrification to total N2O production was 81.8–87.6% in the control soil under 40–80% WFPS, which was significantly reduced by field-aged biochar to 67.1–78.6%. Under 60% WFPS, the gross rates of autotrophic nitrification and gross mineralization were reduced from 11.95 and 4.43 μg N g−1 d−1, respectively, in the control soil to 7.32 and 0.60 μg N g−1 d−1, respectively, in the biochar soil. The field-aged biochar increased the NH4+ immobilization rate by 440%, primarily by immobilizing NH4+ into the recalcitrant organic N pool. Both the turnover rate of NH4+ mineralization-immobilization and the ratio of nitrification to NH4+ immobilization were reduced under biochar amendment, consequently lowering the supply of NH4+ for nitrifiers. In addition, compared with the control soil, the gross rate of NH4+ adsorption was significantly higher in the biochar soil. Taken together, our results suggest that field-aged biochar contributes to mitigating N2O emissions, primarily by decreasing the autotrophic nitrification rate through a reduced NH4+ supply due to increased mineral N immobilization and adsorption and lowered organic N mineralization.
Access options
Buy single article
Instant access to the full article PDF.
US$ 39.95
Tax calculation will be finalised during checkout.
Subscribe to journal
Immediate online access to all issues from 2019. Subscription will auto renew annually.
US$ 119
Tax calculation will be finalised during checkout.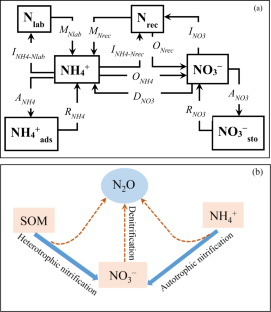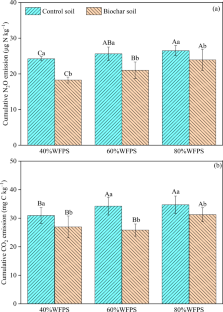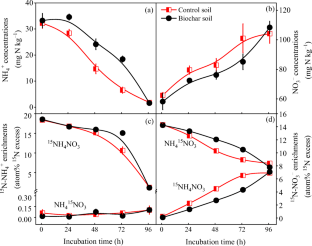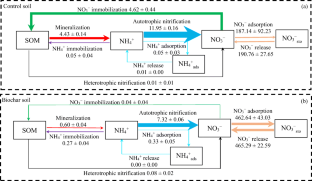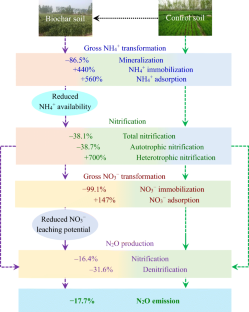 References
Andersen AJ, Petersen SO (2009) Effects of C and N availability and soil-water potential interactions on N2O evolution and PLFA composition. Soil Biol Biochem 41:1726–1733

Bruun EW, Ambus P, Egsgaard H, Hauggaard-Nielsen H (2012) Effects of slow and fast pyrolysis biochar on soil C and N turnover dynamics. Soil Biol Biochem 46:73–79

Bruun EW, Müller-Stöver D, Ambus P, Hauggaard-Nielsen H (2011) Application of biochar to soil and N2O emissions: potential effects of blending fast-pyrolysis biochar with anaerobically digested slurry. Eur J Soil Sci 62:581–589

Butterbach-Bahl K, Baggs E M, Dannenmann M, Kiese R, Zechmeister-Boltenstern S (2013) Nitrous oxide emissions from soils: how well do we understand the processes and their controls? Phil. Trans R Soc Lond B 368:20130122

Cao Y, Zhong M, Gong H, Lu G (2013) Determining 15N abundance in ammonium, nitrate and nitrite in soil by measuring nitrous oxide produced. Acta Pedol Sin 50:113−119 (in Chinese)

Case SDC, McNamara NP, Reay DS, Stott AW, Grant HK, Whitaker J (2015) Biochar suppresses N2O emissions while maintaining N availability in a sandy loam soil. Soil Biol Biochem 81:178–185

Case SDC, McNamara NP, Reay DS, Whitaker J (2012) The effect of biochar addition on N2O and CO2 emissions from a sandy loam soil - the role of soil aeration. Soil Biol Biochem 51:125–134

Cavigelli MA, Robertson GP (2000) The functional significance of denitrifier community composition in a terrestrial ecosystem. Ecology 81:1402–1414

Cayuela ML, Sánchez-Monedero MA, Roig A, Hanley K, Enders A, Lehmann J (2013) Biochar and denitrification in soils: when, how much and why does biochar reduce N2O emissions? Sci Rep 3:1732

Cayuela ML, van Zwieten L, Singh BP, Jeffery S, Roig A, Sánchez-Monedero MA (2014) Biochar's role in mitigating soil nitrous oxide emissions: a review and meta-analysis. Agric Ecosyst Environ 191:5–16

Chen J, Chen D, Xu Q, Fuhrmann JJ, Li L, Pan G, Li Y, Qin H, Liang C, Sun X (2018) Organic carbon quality, composition of main microbial groups, enzyme activities, and temperature sensitivity of soil respiration of an acid paddy soil treated with biochar. Biol Fertil Soils 55:185–197

Chen Z, Ding W, Xu Y, Müller C, Rütting T, Yu H, Fan J, Zhang J, Zhu T (2015) Importance of heterotrophic nitrification and dissimilatory nitrate reduction to ammonium in a cropland soil: evidences from a 15N tracing study to literature synthesis. Soil Biol Biochem 91:65–75

Chinese Soil Taxonomy Research Group (2001) Chinese soil taxonomy. Science Press, Beijing-New York

Clough TJ, Condron LM, Kammann C, Müller C (2013) A review of biochar and soil nitrogen dynamics. Agronomy 3:275–293

Cox GM, Gibbons JM, Wood ATA, Craigon J, Ramsden SJ, Crout NMJ (2006) Towards the systematic simplification of mechanistic models. Ecol Model 198:240–246

Dempster DN, Jones DL, Murphy DV (2012) Organic nitrogen mineralisation in two contrasting agro-ecosystems is unchanged by biochar addition. Soil Biol Biochem 48:47–50

Duan P, Zhang X, Zhang Q, Wu Z, Xiong Z (2018) Field-aged biochar stimulated N2O production from greenhouse vegetable production soils by nitrification and denitrification. Sci Total Environ 642:1303–1310

Fan C, Duan P, Zhang X, Shen H, Chen M, Xiong Z (2020) Mechanisms underlying the mitigation of both N2O and NO emissions with field-aged biochar in an Anthrosol. Geoderma 364:114178

Fungo B, Lehmann J, Kalbitz K, Thionģo M, Tenywa M, Okeyo I, Neufeldt H (2019) Ammonia and nitrous oxide emissions from a field Ultisol amended with tithonia green manure, urea, and biochar. Biol Fertil Soils 55:135–148

Harter J, Krause HM, Schuettler S, Ruser R, Fromme M, Scholten T, Kappler A, Behrens S (2014) Linking N2O emissions from biochar-amended soil to the structure and function of the N-cycling microbial community. The ISME Journal 8:660–674

Hansen V, Müller-Stöver D, Ahrenfeldt J, Holm JK, Henriksen UB, Hauggaard-Nielsen H (2015) Gasification biochar as a valuable by-product for carbon sequestration and soil amendment. Biomass Bioenergy 72:300–308

Huygens D, Rütting T, Boeckx P, Van Cleemput O, Godoy R, Müller C (2007) Soil nitrogen conservation mechanisms in a pristine south Chilean Nothofagus forest ecosystem. Soil Biol Biochem 39:2448–2458

IPCC (2014) IPCC 2014: climate change 2014: synthesis report. In: Pachauri RK, Meyer LA (Eds), Contribution of Working Groups I, II and III to the Fifth Assessment Report of the Intergovernmental Panel on Climate Change. IPCC, Geneva, Switzerland 151 pp

Kamau S, Karanja NK, Ayuke FO, Lehmann J (2019) Short-term influence of biochar and fertilizer-biochar blends on soil nutrients, fauna and maize growth. Biol Fertil Soils 55:661–673

Kammann CI, Schmidt HP, Messerschmidt N, Linsel S, Steffens D, Muller C, Koyro HW, Conte P, Joseph S (2015) Plant growth improvement mediated by nitrate capture in co-composted biochar. Sci Rep 5:11080

Liao X, Niu Y, Liu D, Chen Z, He T, Luo J, Lindsey S, Ding W (2020) Four-year continuous residual effects of biochar application to a sandy loam soil on crop yield and N2O and NO emissions under maize-wheat rotation. Agric Ecosyst Environ 302:107109

Lin Y, Ding W, Liu D, He T, Yoo G, Yuan J, Chen Z, Fan J (2017) Wheat straw-derived biochar amendment stimulated N2O emissions from rice paddy soils by regulating the amoA genes of ammonia-oxidizing bacteria. Soil Biol Biochem 113:89–98

Liu H, Ding Y, Zhang Q, Liu X, Xu J, Li Y, Di H (2019) Heterotrophic nitrification and denitrification are the main sources of nitrous oxide in two paddy soils. Plant Soil 445:39–53

Liu Q, Zhang Y, Liu B, Amonette JE, Lin Z, Liu G, Ambus P, Xie Z (2018) How does biochar influence soil N cycle? A meta-analysis. Plant Soil 426:211–225

Lu R (2000) Methods of soil and agro-chemical analysis. China Agricultural Science and Technology Press, Beijing

Lu W, Ding W, Zhang J, Li Y, Luo J, Bolan N, Xie Z (2014) Biochar suppressed the decomposition of organic carbon in a cultivated sandy loam soil: a negative priming effect. Soil Biol Biochem 76:12–21

Luo X, Chen L, Zheng H, Chang J, Wang H, Wang Z, Xing B (2016) Biochar addition reduced net N mineralization of a coastal wetland soil in the Yellow River Delta, China. Geoderma 282:120–128

Mia S, Singh B, Dijkstra FA (2017) Aged biochar affects gross nitrogen mineralization and recovery: a 15N study in two contrasting soils. GCB Bioenergy 9:1196–1206

Mirsky SB, Lanyon LE, Needelman BA (2008) Evaluating soil management using particulate and chemically labile soil organic matter fractions. Soil Sci Soc Am J 72:180–185

Müller C, Rütting T, Abbasi MK, Laughlin RJ, Kammann C, Clough TJ, Sherlock RR, Kattge J, Jäger HJ, Watson CJ, Stevens RJ (2009) Effect of elevated CO2 on soil N dynamics in a temperate grassland soil. Soil Biol Biochem 41:1996–2001

Müller C, Rütting T, Kattge J, Laughlin RJ, Stevens RJ (2007) Estimation of parameters in complex 15N tracing models by Monte Carlo sampling. Soil Biol Biochem 39:715–726

Müller C, Stevens RJ, Laughlin RJ (2004) A 15N tracing model to analyse N transformations in old grassland soil. Soil Biol Biochem 36:619–632

Nelissen V, Rütting T, Huygens D, Staelens J, Ruysschaert G, Boeckx P (2012) Maize biochars accelerate short-term soil nitrogen dynamics in a loamy sand soil. Soil Biol Biochem 55:20–27

Niu Y, Chen Z, Müller C, Zaman MM, Kim D, Yu H, Ding W (2017) Yield-scaled N2O emissions were effectively reduced by biochar amendment of sandy loam soil under maize-wheat rotation in the North China Plain. Atmos Environ 170:58–70

Niu Y, Luo J, Liu D, Müller C, Zaman M, Lindsey S, Ding W (2018) Effect of biochar and nitrapyrin on nitrous oxide and nitric oxide emissions from a sandy loam soil cropped to maize. Biol Fertil Soils 54:645–658

Prinn RG, Weiss RF, Arduini J, Arnold T, DeWitt HL, Fraser PJ, Ganesan AL, Gasore J, Harth CM, Hermansen O, Kim J, Krummel PB, Li S, Loh ZM, Lunder CR, Maione M, Manning AJ, Miller BR, Mitrevski B, Mühle J, O'Doherty S, Park S, Reimann S, Rigby M, Saito T, Salameh PK, Schmidt R, Simmonds PG, Steele LP, Vollmer MK, Wang RH, Yao B, Yokouchi Y, Young D, Zhou L (2018) History of chemically and radiatively important atmospheric gases from the Advanced Global Atmospheric Gases Experiment (AGAGE). Earth Syst Sci Data 10:985–1018

Prommer J, Wanek W, Hofhansl F, Trojan D, Offre P, Urich T, Schleper C, Sassmann S, Kitzler B, Soja G, Hood-Nowotny RC (2014) Biochar decelerates soil organic nitrogen cycling but stimulates soil nitrification in a temperate arable field trial. PLoS One 9:e86388

Rütting T, Clough TJ, Müller C, Lieffering M, Newton PCD (2010) Ten years of elevated atmospheric carbon dioxide alters soil nitrogen transformations in a sheep-grazed pasture. Glob Change Biol 16:2530–2542

Rütting T, Müller C (2007) 15N tracing models with a Monte Carlo optimization procedure provide new insights on gross N transformations in soils. Soil Biol Biochem 39:2351–2361

Sánchez-García M, Roig A, Sánchez-Monedero MA, Cayuela ML (2014) Biochar increases soil N2O emissions produced by nitrification-mediated pathways. Front Environ Sci 2:1–10

Schimel JP, Balser TC, Wallenstein M (2007) Microbial stress-response physiology and its implications for ecosystem function. Ecology 88:1386–1394

Song Y, Li Y, Cai Y, Fu S, Luo Y, Wang H, Liang C, Lin Z, Hu S, Li Y, Chang SX (2019) Biochar decreases soil N2O emissions in Moso bamboo plantations through decreasing labile N concentrations, N-cycling enzyme activities and nitrification/denitrification rates. Geoderma 348:135–145

Spokas KA, Reicosky DC (2009) Impacts of sixteen different biochars on soil greenhouse gas production. Ann Envir Sci 2:179–193

Teutscherova N, Vazquez E, Masaguer A, Navas M, Scow KM, Schmidt R, Benito M (2017) Comparison of lime- and biochar-mediated pH changes in nitrification and ammonia oxidizers in degraded acid soil. Biol Fertil Soils 53:811–821

Thomson AJ, Giannopoulos G, Pretty J, Baggs EM, Richardson DJ (2012) Biological sources and sinks of nitrous oxide and strategies to mitigate emissions. Philos T R Soc B 367:1157–1168

van Zwieten L, Kimber S, Morris S, Chan KY, Downie A, Rust J, Joseph S, Cowie A (2009) Effects of biochar from slow pyrolysis of papermill waste on agronomic performance and soil fertility. Plant Soil 327:235–246

Wan YJ, Ju XT, Ingwersen J, Schwarz U, Stange CF, Zhang FS, Streck T (2009) Gross nitrogen transformations and related nitrous oxide emissions in an intensively used calcareous soil. Soil Sci Soc Am J 73:102–112

Wang J, Xiong Z, Kuzyakov Y (2016) Biochar stability in soil: meta-analysis of decomposition and priming effects. GCB Bioenergy 8:512–523

Wang Z, Zong H, Zheng H, Liu G, Chen L, Xing B (2015) Reduced nitrification and abundance of ammonia-oxidizing bacteria in acidic soil amended with biochar. Chemosphere 138:576–583

Weldon S, Rasse DP, Budai A, Tomic O, Dörsch P (2019) The effect of a biochar temperature series on denitrification: which biochar properties matter? Soil Biol Biochem 135:173–183

Wunderlin P, Mohn J, Joss A, Emmenegger L, Siegrist H (2012) Mechanisms of N2O production in biological wastewater treatment under nitrifying and denitrifying conditions. Water Res 46:1027–1037

Xie Y, Yang C, Ma E, Tan H, Zhu T, Müller C (2020) Biochar stimulates NH4+ turnover while decreasing NO3− production and N2O emissions in soils under long-term vegetable cultivation. Sci Total Environ 737:140266

Yanai Y, Toyota K, Okazaki M (2007) Effects of charcoal addition on N2O emissions from soil resulting from rewetting air-dried soil in short-term laboratory experiments. Soil Sci Plant Nutr 53:181–188

Yu L, Homyak PM, Kang X, Brookes PC, Ye Y, Lin Y, Muhammad A, Xu J (2019) Changes in abundance and composition of nitrifying communities in barley (Hordeum vulgare L.) rhizosphere and bulk soils over the growth period following combined biochar and urea amendment. Biol Fertil Soils 56:169–183

Zhang A, Cheng G, Hussain Q, Zhang M, Feng H, Dyck M, Sun B, Zhao Y, Chen H, Chen J, Wang X (2017) Contrasting effects of straw and straw-derived biochar application on net global warming potential in the Loess Plateau of China. Field Crop Res 205:45–54

Zhang JB, Müller C, Cai ZC (2015) Heterotrophic nitrification of organic N and its contribution to nitrous oxide emissions in soils. Soil Biol Biochem 84:199–209

Zhou F, Shang Z, Ciais P, Tao S, Piao S, Raymond P, He C, Li B, Wang R, Wang X, Peng S, Zeng Z, Chen H, Ying N, Hou X, Xu P (2014) A new high-resolution N2O emission inventory for China in 2008. Environ Sci Technol 48:8538–8547
Acknowledgements
Funding for this work was provided by the National Natural Science Foundation of China (31561143011, 41730753), IAEA Coordinated Research Project (RAS 45083), and the Frontier Project from the Institute of Soil Science, Chinese Academy of Sciences (No. ISSASIP1607). The study was carried out in collaboration with the German Science Foundation Research Unit DASIM (Denitrification in Agricultural Soils: Integrated Control and Modelling at Various Scales) (DFG FOR 2337).
Additional information
Publisher's note
Springer Nature remains neutral with regard to jurisdictional claims in published maps and institutional affiliations.
About this article
Cite this article
Liao, X., Müller, C., Jansen-Willems, A. et al. Field-aged biochar decreased N2O emissions by reducing autotrophic nitrification in a sandy loam soil. Biol Fertil Soils (2021). https://doi.org/10.1007/s00374-021-01542-8
Received:

Revised:

Accepted:

Published:
Keywords