Abstract
Palar Basin in India's southeastern margin is an intracratonic rift basin characterized by a very steep continental slope (gradient, 3°–78°). Recently acquired high-resolution swath bathymetry data from the region documented various geomorphic features on the slope of the Palar Basin, and canyons are most prominent among them. Twenty submarine canyons, grouped as the Palar Canyon System (PCS), have been mapped and identified for the first time in this study. The geological element that controls PCS's development presents a morphological framework for canyons developed in extremely steep continental slopes, which are rare on continental margins elsewhere. In contrast to many other submarine canyons, the short and low sinuosity canyons in the Palar Basin (1) traverse a large fault (escarpment) exposed up to 1300 m high, (2) erode into a relatively steep margin, and (3) create downstream features akin to the subaerial origin. Because of these unusual characteristics, the environment presents a wide range of possibilities to discuss the processes involved in their origin, evolution, the controlling factors, and sedimentary activity. The present-day PCS architecture implies that the early stages of canyon formation were shaped by bottom–up retrogressive landslides initiated from the disintegrative failures in the oversteepened slope. The evolution of PCS corresponds to the orientation and relative displacement of the fault escarpment, where the movement of the fault generates canyon activity in response to maintaining slope equilibrium. In addition to the fault movement, downward eroding gravity flows and failures along the flanks aid in the canyon shaping processes. For canyons truncated by a large fault, we propose an upslope/bottom–up model of canyon formation that initiates near the steep fault escarpment and incises downslope and propagates upslope to breach the shelf edge. PCS also comprises ellipsoidal depressions and asymmetric bedforms at the downstream reaches of the canyons, classified as "plunge pools" and "mega dunes," respectively. Seven plunge pools (> 65 m deep) formed at the mouth of some of the canyons are interpreted to reflect the impact of confined high momentum gravity flows, whereas the wave train of mega dunes extending for 10 km opposite to the mouth of a canyon points to the activity of repeated hydraulic jumps in the region.
Access options
Buy single article
Instant access to the full article PDF.
US$ 39.95
Tax calculation will be finalised during checkout.
Subscribe to journal
Immediate online access to all issues from 2019. Subscription will auto renew annually.
US$ 79
Tax calculation will be finalised during checkout.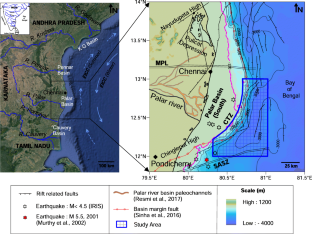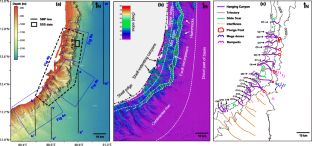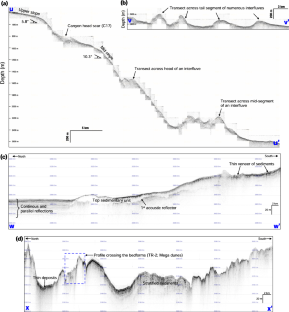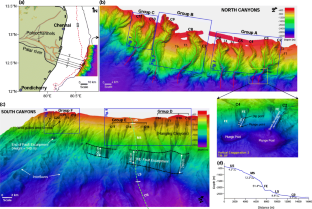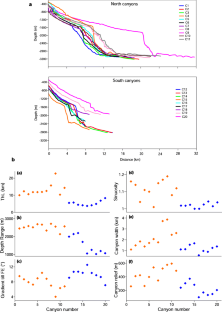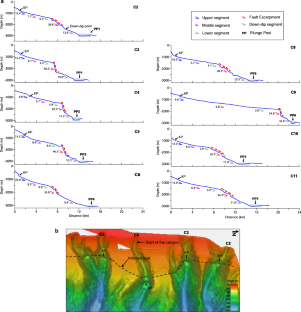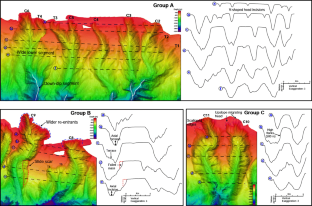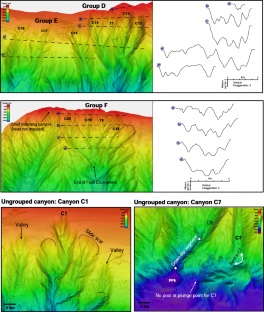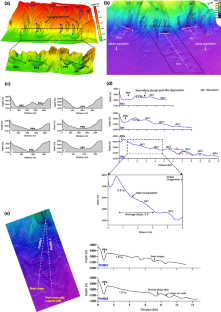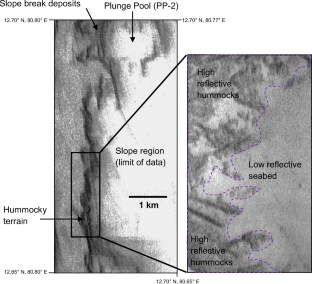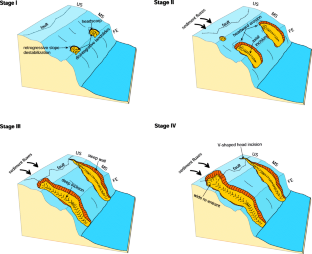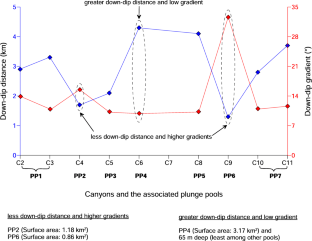 References
Absar A, Subramanian KS, Narasimhan TN (1991) Paleochannels of the Palar River west of Madras City; possible implications for vertical movement discussion and reply. Q J Geol Min Metall Soc India 37(2):184–186

Achyuthan H, Nagalakshmi T (2009) Quaternary stratigraphy of the Koratallaiyar-Cooum Basin. J Geol Soc India 7:683–696

Adams EW, Schlager W (2000) Basic types of submarine slope curvature. J Sediment Res 70:814–828

Anderson JE, Cartwright J, Drysdall SJ, Vivian N (2000) Controls on turbidite sand deposition during gravity-driven extension of a passive margin: examples from Miocene sediments in Block 4, Angola. Mar Pet Geol 17:1165–1203

Antobreh AA, Krastel S (2006) Morphology, seismic characteristics and development of Cap Timiris Canyon, offshore Mauritania: a newly discovered canyon preserved-off a major arid climatic region. Mar Pet Geol 23:37–59

Bastia R, Radhakrishna M, Nayak S (2011) Identification and characterization of marine geohazards in the deep water eastern offshore of India: constraints from multibeam bathymetry, side scan sonar and 3D high-resolution seismic data. Nat Hazards 57:107–120

Baztan J, Berné S, Olivet JL, Rabineau M, Aslanian D, Gaudin M, Réhault JP, Canals M (2005) Axial incision: the key to understand submarine canyon evolution (in the western Gulf of Lion). Mar Pet Geol 22(6-7):805–826

Becker JJ, Sandwell DT, Smith WHF, Braud J, Binder B, Depner J, Fabre D, Factor J, Ingalls S, Kim SH, Ladner R, Marks K, Nelson S, Pharaoh A, Trimmer R, Von Rosenberg J, Wallace G, Weatherall P (2009) Global bathymetry and elevation data at 30 arc seconds resolution: SRTM30_PLUS. Mar Geod 32(4):355–371

Bharali B, Srivastava SK, Ravi Chandran V (1992) Seismo-stratigraphic analysis of Cretaceous–Tertiary sequence of the Mahanadi offshore basin. In: Recent geoscientific studies in the Bay of Bengal and the Andaman Sea. Geological Survey of India, Special Publications, 29, pp 247–254

Bourget J, Zaragosi S, Ellouz-Zimmermann NADINE, Mouchot N, Garlan T, Schneider JL, Lanfumey V, Lallemant S (2011) Turbidite system architecture and sedimentary processes along topographically complex slopes: the Makran convergent margin. Sedimentology 58(2):376–406

Cacchione DA, Pratson LF, Ogston AS (2002) The shaping of continental slopes by internal tides. Science 296:724–727

Canals M, Puig P, de Madron XD, Heussner S, Palanques A, Fabres J (2006) Flushing submarine canyons. Nature 444:354–357

Cartigny MJ, Ventra D, Postma G, van Den Berg JH (2014) Morphodynamics and sedimentary structures of bedforms under supercritical-flow conditions: new insights from flume experiments. Sedimentology 61:712–748

Clague DA, Moore JG (2002) The proximal part of the giant submarine Wailau landslide, Molokai, Hawaii. J Volcanol Geotherm Res 113(1-2):259–287

Clark IR, Cartwright JA (2009) Interactions between submarine channel systems and deformation in deepwater fold belts: examples from the Levant Basin, Eastern Mediterranean sea. Mar Pet Geol 26:1465–1482

Collier JS, Brown CJ (2005) Correlation of sidescan backscatter with grain size distribution of surficial seabed sediments. Mar Geol 214:431–449

Covault JA, Kostic S, Paull CK, Ryan HF, Fildani A (2014) Submarine channel initiation, filling and maintenance from seafloor geomorphology and morphodynamic modelling of cyclic steps. Sedimentology 61:1031–1054

Cronin BT, Kenyon NH, Woodside JM, Ivanov M, den Bezemer T, Millington J, Van Der Wal A, Limonov A (1995) Views of the Andarax submarine canyon: a meandering system on an active tectonic margin. In: Pickering KT, Hiscott N, Smith R, Kenyon NH (eds) Atlas of deep water environments architectural style in turbidite systems. Chapman and Hall, London, pp 84–88

Curray JR, Emmel FJ, Moore DG, Raitt RW (1982) Structure, tectonics, and geological history of the northeastern Indian Ocean. In: Nairn AEM, Stehli FG (eds) Ocean basins and margins, vol 6. Plenum Press, New York, pp 399–450

Daly RA (1936) Origin of submarine "canyons". Am J Sci 31:401–420

Fagherazzi S, Sun T (2003) Numerical simulations of transportational cyclic steps. Comput Geosci 29(9):1143–1154

Farre JA, Mcgregor BA, Ryan WBF, Robb JM, Stanley DJ, Moore GT (1983) Breaching the shelfbreak; passage from youthful to mature phase in submarine canyon evolution. In: The shelf break; critical interface on continental margins. Special Publication, Society of Economic Paleontologists and Mineralogists 33:25–39

Faruque BM, Vaz GG, Mohapatra GP (2014) The continental shelf of eastern India. Geol Soc Lond Mem 41:221–229

Fernandes L, Bhosle NB, Matondkar SGP, Bhushan R (2009) Seasonal and spatial distribution of particulate organic matter in the Bay of Bengal. J Mar Syst 77:137–147

Ferry JN, Mulder T, Parize O, Raillard S (2005) Concept of equilibrium profile in deep-water turbidite systems: effects of local physiographic changes on the nature of sedimentary process and the geometries of deposits. In: Hodgson DM, Flint SS (eds) Submarine slope systems: processes and products. Geological Society of London, Special Publication London, pp 181–193

Gamberi F, Marani M (2007) Downstream evolution of the Stromboli slope valley (southeastern Tyrrhenian Sea). Mar Geol 243(1-4):180–199

Gamberi F, Breda A, Mellere D (2017) Depositional canyon heads at the edge of narrow and tectonically steepened continental shelves: comparing geomorphic elements, processes and facies in modern and outcrop examples. Mar Pet Geol 87:157–170

Georgiopoulou A, Cartwright JA (2013) A critical test of the concept of submarine equilibrium profile. Mar Pet Geol 41:35–47

Gingele FX, Deckker PD, Hillenbrand CD (2004) Late Quaternary terrigenous sediments from the Murray Canyons area, offshore South Australia and their implications for sea level change, palaeoclimate and palaeodrainage of the Murraye Darling Basin. Mar Geol 212:183–197

Goff JA (2001) Quantitative classification of canyon systems on continental slopes and a possible relationship to slope curvature. Geophys Res Lett 28:4359–4362

Goff JA, Olson HC, Duncan CS (2000) Correlation of side-scan backscatter intensity with grain-size distribution of shelf sediments, New Jersey margin. Geo-Mar Lett 20:43–49

Gong CL, Wang YM, Zhu WL, Li WG, Xu Q, Zhang JM (2011) The Central Submarine Canyon in the Qiongdongnan Basin, northwestern South China Sea: architecture, sequence stratigraphy, and depositional processes. Mar Pet Geol 28:1690–1702

Gopalakrishna VV, Johnson Z, Salgaonkar G, Nisha K, Rajan CK, Rao RR (2005) Observed variability of sea surface salinity and thermal inversions in the Lakshadweep Sea during contrast monsoons. Geophys Res Lett 32:L18605

Green AN, Goff JA, Uken R (2007) Geomorphological evidence for upslope canyon forming processes on the northern KwaZulu-Natal shelf, South Africa. Geo-Mar Lett 27:399–409

Han W, McCreary JP (2001) Modeling salinity distributions in the Indian Ocean. J Geophys Res 106:859–877

Harris PT, Whiteway T (2011) Global distribution of large submarine canyons: geomorphic differences between active and passive continental margins. Mar Geol 285:69–86

Harris PT, Barrie JV, Conway KW, Greene HG (2014a) Hanging canyons of Haida Gwaii, British Columbia, Canada: fault-control on submarine canyon geomorphology along active continental margins. Deep-Sea Research Part II: Topical Studies in Oceanography 104:83–92

Harris PT, MacMillan-Lawler M, Rupp J, Baker EK (2014b) Geomorphology of the oceans. Mar Geol 352:4–24

He Y, Zhong G, Wang L, Kuang Z (2014) Characteristics and occurrence of submarine canyon-associated landslides in the middle of the northern continental slope, South China Sea. Marine and Petroleum Geology 57:546–560

Heiniö P, Davies RJ (2009) Trails of depressions and sediment waves along submarine channels on the continental margin of Espirito Santo Basin, Brazil. Geol Soc Am Bull 121(5-6):698–711

Higgins S, Overeem I, Rogers K, Kalina E (2018) River link-ing in India: downstream impacts on water discharge and suspended sediment transport to deltas. Elem Sci Anth 6:20

Hofstra M (2016) The stratigraphic record of submarine channel-lobe transition zones. PhD thesis. University of Leeds.

Hughes Clarke JE (1994) Toward remote seafloor classification using the angular response of acoustic backscattering: a case study from multiple overlapping GLORIA data. IEEE J Ocean Eng 19:364–374

Hüneke H, Mulder T (2011) Deep-sea sediments (Eds.), Developments in sedimentology: 63. Elsevier, Amsterdam.

Integrated Hydrological Data Books (2012) Hydrological Data Directorate Information Systems Organisation, Water Planning and Projects Wing, Central Water Commission (CWC), New Delhi.

Jobe ZR, Lowe DR, Uchytil SJ (2011) Two fundamentally different types of submarine canyons along the continental margin of Equatorial Guinea. Mar Pet Geol 28:843–860

Komar PD (1971) Hydraulic jumps in turbidity currents. Bull Geol Soc Am 82:1477–1487

Kostic S (2011) Modeling of submarine cyclic steps: controls on their formation, migration, and architecture. Geosphere 7:294–304

Lal NK, Siawal A, Anil KK (2009) Evolution of east coast of India - a plate tectonic reconstruction. J Geol Soc India 73:249–260

Lasitha S, Twinkle D, John Kurian P, Harikrishnan PR (2019) Geophysical evidence for marine prolongation of the Palghat-Cauvery shearsystem into the offshore Cauvery basin, Eastern continental margin of India. J Asian Earth Sci 184:103981

Lee SE, Talling PJ, Ernst GGJ, Hogg AJ (2002) Occurrence and origin of submarine plunge pools at the base of the US continental slope. Mar Geol 185(3-4):363–377

Li J, Li W, Alves TM, Michele R, Wenhuan Z, Jie S, Mitchell Neil C, Wu S (2019) Different origins of seafloor undulations in a submarine canyon system, northern South China Sea, based on their seismic character and relative location. Mar Geol 413:99–111

Li S, Li W, Alves Tiago M, Jiliang W, Yingci F, Jie S, Jian L, Wu S (2020) Large-scale scours formed by supercritical turbidity currents along the full length of a submarine canyon, northeast South China Sea. Mar Geol 424:106158

Mauffrey MA, Urgeles R, Berné S, Canning J (2017) Development of submarine canyons after the Mid-Pleistocene transition on the Ebro margin, NW Mediterranean: the role of fluvial connections. Quat Sci Rev 158:77–93

Mazumder S, Pangtey KKS, Mitra DS (2013) Delineation of a possible subsurface ridge in Onshore Palar Basin based on morphotectonic studies and its implications. 10th Biennial international conference & exposition, Kochi, Society of Petroleum Geophysicists:1–6

Mazumder S, Tep B, Pangtey KKS, Mitra DS (2019) Basement tectonics and shear zones in Cauvery Basin (India): implications in hydrocarbon exploration. In: Mukherjee S (ed) Tectonics and structural geology: Indian context. Springer International Publishing, Switzerland, pp 279–311

Meleddu A, Deiana G, Paliaga EM, Samuele T, Orrù PE (2016) Continental shelf and slope geomorphology: marine slumping and hyperpycnal flows (Sardinian southern continental margin, Italy). Geogr Fis Din Quat 183-192

Micallef A, Mountjoy JJ, Barnes PM, Canals M, Lastras G (2014a) Geomorphic response of submarine canyons to tectonic activity: insights from the Cook Strait canyon system, New Zealand. Geosphere 10(5):905–929

Micallef A, Ribó M, Canals M, Puig P, Lastras G, Tubau X (2014b) Space-for-time substitution and the evolution of a submarine canyon-channel system in a passive progradational margin. Geomorphology 221:34–50

Migeon S, Savoye B, Faugeres JC (2000) Quaternary development of migrating sediment waves in the Var deep-sea fan: distribution, growth pattern, and implication for levee evolution. Sediment Geol 133:265–293

Mitchell NC (2006) Morphologies of knickpoints in submarine canyons. Geol Soc Am Bull 118:589–605

Morais P, Borges TC, Carnall V, Terrinha P, Cooper C, Cooper R (2007) Trawl-induced bottom disturbances off the south coast of Portugal: direct observations by the 'Delta' manned submersible on the Submarine Canyon of Portimão. Mar Ecol 28:112–122

Mountjoy JJ, Barnes PM, Pettinga JR (2009) Morphostructure and evolution of submarine canyons across an active margin: Cook Strait sector of the Hikurangi Margin, New Zealand. Mar Geol 260:45–68

Mulder T, Alexander J (2001) The physical character of subaqueous sedimentary density currents and their deposits. Sedimentology 48:269–299

Mulder T, Savoye B, Syvitski JPM (1997) Numerical modelling of a mid-sized gravity flow: the 1979 Nice turbidity current (dynamics, processes, sediment budget and seafloor impact). Sedimentology 44(2):305–326

Muñoz A, Elvira E, León C, Acosta J, Jiménez P (2017) Examples of sediment waves in and around submarine canyons of the North Alboran Sea. In: Atlas of bedforms in the Western Mediterranean. Springer International Publishing Switzerland, pp 247–252

Murthy KSR, Subrahmanyam V, Subrahmanyam AS, Murty GPS, Sarma KVLNS (2010) Land-ocean tectonics (LOTs) and the associated seismic hazard over the Eastern Continental Margin of India (ECMI). Nat Hazards 55(2):167–175

Murthy KSR, Subrahmanyam AS, Subrahmanyam V (2012) Tectonics of the Eastern Continetal Margin of India. New Delhi, The Energy and Resources Institute (TERI), 184p

Murty GPS, Subrahmanyam AS, Murthy KSR, Sarma KVLNS (2002) Evidence of fault reactivation off pondicherry coast from marine geophysical data. Curr Sci 83(12):1446–1449

Mutti E, Normark WR (1987) Comparing examples of modern and ancient turbidite systems: problems and concepts. In: Leggett JK, Zuffa GG (eds) Marine clastic sedimentology: concepts and case studies. Graham and Trotman, London, pp 1–38

Narasimham TN (1990) Paleochannels of Palar River west of Madras city possible implication of vertical movement. J Geol Soc India 136:471–474

Normark WR, Carlson PR (2003) Giant submarine canyons: is size any clue to their importance in the rock record? Geol Soc Am Spec Pap 370:175–190

Obelcz J, Brothers D, Chaytor J, ten Brink U, Ross SW, Brooke S (2014) Geomorphic characterization of four shelf-sourced submarine canyons along the U.S. Mid-Atlantic continental margin. Deep-Sea Research Part II: Topical Studies in Oceanography 104:106–119

Oiwane H, Tonai S, Kiyokawa S, Nakamura Y, Suganuma Y, Tokuyama H (2011) Geomorphological development of the Goto Submarine Canyon, northeastern East China Sea. Mar Geol 288:49–60

Palanques A, Garcia-Ladona E, Gomis D, Martin J, Marcos M, Pascual A, Puig P, Gili JM, Emelianov M, Monserrat S, Guillen J, Tintore J, Segura M, Jordi A, Ruiz S, Basterretxea G, Font J, Blasco D, Pages F (2005) General patterns of circulation, sediment fluxes and ecology of the Palamo's (LaFonera) submarine canyon, northwestern Mediterranean. Prog Oceanogr 66:89–119

Palanques A, Puig P, Latasa M, Scharek R (2009) Deep sediment transport induced by storms and dense shelf-water cascading in the north western Mediterranean basin. Deep-Sea Research Part I: Oceanographic Research Papers 56:425–434

Paull CK, Caress DW, Ussler W III, Lundsten E, Meiner-Johnson M (2011) High-resolution bathymetry of the axial channels within Monterey and Soquel submarine canyons, offshore central California. Geosphere 7:1077–1101

Piper DJW (2005) Late Cenozoic evolution of the continental margin of eastern Canada. Nor J Geol 85:305–318

Pirmez C, Beaubouef RT, Friedman GM, Mohrig DC (2000) Equilibrium profile and base-level in submarine channels: examples from Late Pleistocene systems and implications for the architecture of deepwater reservoirs. In: Weimer P, Slatt RM, Coleman JM, Rosen NC, Nelson H, Bouma AH, Stytzen MJ, Lawrence DT (eds) Deep-water reservoirs of the world. Gulf Coast Section SEPM, Houston, Texas, pp 782–805

Powell MAC, Roots SR, Veevers JJ (1988) Pre-breakup continental extension in East Gondwanaland and the early opening of the eastern Indian Ocean. Tectonophysics 155:261–283

Prabhakar KN, Zutshi PL (1993) Evolution of southern part of Indian east coast basins. J Geol Soc India 41:215–230

Prakash R S, Ramasamy S, Varghese NM (2018) Provenance of the Gondwana sediments, Palar Basin, Southern India. Arabian Journal of Geosciences, v. 11:163.

Pratson LF, Coakley BJ (1996) A model for the headward erosion of submarine canyons induced by downslope eroding sediment flows. Geol Soc Am Bull 108:225–234

Pratson LF, Ryan WBF, Mountain GS, Twitchell DC (1994) Submarine canyon initiation by downslope-eroding sediment flows: evidence in late Cenozoic strata on the New Jersey continental slope. Geol Soc Am Bull 106:395–412

Pratson LF, Nittrouer CA, Wiberg PL, Steckler MS, Cacchione DA, Fulthorpe CS, Driscoll NW, Paola C, Fedeles JJ (2007) Seascape evolution on clastic continental shelves and slopes. In: Nitrouer CA, Austin JA, Field ME, Kravitz JH, Syvitski JPM, Wiberg PL (eds) Continental-margin sedimentation: from sediment transport to sequence stratigraphy, IAP Special Publication 37. Blackwell Publishing, Oxford, pp 339–380

Puga-Bernabéu Á, Webster JM, Beaman RJ, Guilbaud V (2011) Morphology and controls on the evolution of a mixed carbonate–siliciclastic submarine canyon system, Great Barrier Reef margin, north-eastern Australia. Mar Geol 289(1-4):100–116

Puig P, Ogston AS, Mullenbach BL, Nittrouer CA, Parsons JD, Sternberg RW (2004) Storm-induced sediment gravity flows at the head of the Eel submarine canyon, northern California margin. J Geophys Res 109:C03019

Quattrini AM, Nizinski MS, Chaytor JD, Demopoulos AWJ, Roark EB, France SC, Moore JA, Heyl T, Auster PJ, Kinlan B, Ruppel C, Elliott KP, Kennedy BRC, Lobecker E, Skarke A, Shank TM (2015) Exploration of the canyon-incised continental margin of the Northeastern United States reveals dynamic habitats and diverse communities. PLoS ONE 10(10):e0139904

Ramasamy SM, Kumanan CJ, Selvakumar R, Saravanavel J (2011) Remote sensing revealed drainage anomalies and related tectonics of South India. Tectonophysics 501:41–51

Ramasamy SM, Vijay A, Dhinesh S (2018) Geo-anthropogenic aberrations and Chennai floods: 2015, India. Nat Hazards 92:443–477

Rangaraju MK, Agarwal A, Prabhakar KN (1993) Tectono-stratigraphy, structural styles, evolutionary model and hydrocarbon prospects of Cauvery and Palar Basins, India. In: Biswas et al (eds) Proc. 2nd Seminar on Petroliferous Basins of India, vol 1. Indian Petroleum Publishers, Dehradun-248001, India, pp 371–388

Resmi MR, Achyuthan H, Jaiswal MK (2017) Middle to late Holocene paleochannels and migration of the Palar River, Tamil Nadu: implications of neotectonic activity. Quat Int 443:211–222

Sastri VV, Sinha RN, Singh G, Murti KVS (1973) Stratigraphy and tectonics of the sedimentary basins on the East coast of India. Am Assoc Pet Geol Bull 57:655–678

Sastri VV, Venkatachala BS, Narayanan V (1981) The evolution of the east coast of India. Palaeogeogr Palaeoclimatol Palaeoecol 36:23–54

Schnyder JSD, Eberli GP, Betzler C, Wunsch M, Lindhorst S, Schiebel L, Mulder T, Ducassou E (2018) Morphometric analysis of plunge pools and sediment wave fields along western Great Bahama Bank. Mar Geol 397:15–28

Schott FA, McCreary JP (2001) The monsoon circulation of the Indian Ocean. Prog Oceanogr 51(1):1–123

Shanmugam G (2016) Slides, slumps, debris flows, turbidity currents and bottom currents. Elsevier Inc.

Shepard FP, Dill RF (1966) Submarine canyons and other sea valleys. Rand McNally, Chicago, Illinois, USA, p 381

Shetye SR, Gouveia AD, Shankar D, Shenoi SSC, Vinayachandran PN, Sundar D, Michael GS, Nampoothiri G (1996) Hydrography and circulation in the western Bay of Bengal during the northeast monsoon. J Geophys Res 101:14,011–14,025

Sinha ST, Nemčok M, Choudhuri M, Sinha N, Rao DP (2016) The role of break-up localization in microcontinent separation along a strike-slip margin: the East India-Elan Bank case study. Geological Society, London, Special Publications 431(1):95

Soulet Q, Migeon S, Gorini C, Rubino JL, Raisson F, Bourges P (2016) Erosional versus aggradational canyons along a tectonically-active margin: the northeastern Ligurian margin (western Mediterranean Sea). Mar Geol 382:17–36

Sundaresh MMR, Seelam JK, Gaur AS (2014) Shoreline changes along Tamil Nadu coast: a study based on archaeological and coastal dynamics perspective. Indian J Geo-Mar Sci 43(7):1167–1176

Symons WO, Sumner EJ, Talling PJ, Cartigny MJB, Clare MA (2016) Large-scale sediment waves and scours on the modern seafloor and their implications for the prevalence of supercritical flows. Mar Geol 371:130–148

Talling PJ, Allin J, Armitage DA, Arnott RWC, Cartigny MJB, Clare MA, Felletti F, Covault JA, Girardclos S, Hansen E, Hill PR, Hiscott RN, Hogg AJ, Clarke JH, Jobe ZR, Malgesini G, Mozzato A, Naruse H, Parkinson S, Peel FJ, Piper DJW, Pope E, Postma M, Rowley P, Sguazzini A, Stevenson CJ, Sumner EJ, Sylvester Z, Watts C, Xu J (2015) Key future directions for research on turbidity currents and their deposits. J Sediment Res 85:153–169

Twinkle D, Rao GS, Radhakrishna M, Murthy KSR (2016) Crustal structure and rift tectonics across the Cauvery-Palar Basin, eastern continental margin of India based on seismic and potential field modelling. J Earth Syst Sci 125:329–342

Vairavan V (1993) Tectonic history and hydrocarbon prospects of Palar and Pennar basins. In: Biswas et al (eds) Proc. 2nd Seminar on Petroliferous Basins of India, pp 389–396

Vinayachandran PN, Shetye SR (1991) The warm pool in the Indian Ocean. Proc Indian Acad Sci Earth Planet Sci 100(2):165–115

Wiles E, Green A, Watkeys M, Botes R, Jokat W (2019) Submarine canyons of NW Madagascar: a first geomorphological insight. Deep-Sea Res II 161:5–15

Wynn RB, Stow DAV (2002) Classification and characterisation of deep-water sediment waves. Mar Geol 192(1-3):7–22

Wynn RB, Kenyon NH, Stow DAV, Masson DG, Weaver PPE (2002) Characterization and recognition of deep-water channel-lobe transition zones. AAPG Bull 86(8):1441–1462

Yatheesh V (2020) Structure and tectonics of the continental margins of India and the adjacent deep ocean basins: current status of knowledge and some unresolved problems. International Union of Geological Sciences 43(1):586–608

Yu HS, Hong E (2006) Shifting submarine canyons and development of a foreland basin in SW Taiwan: controls of foreland sedimentation and longitudinal sediment transport. J Asian Earth Sci 27(6):922–932

Zhong GF, Cartigny MJB, Kuang ZG, Wang LL (2015) Cyclic steps along the South Taiwan Shoal and West Penghu submarine canyons on the northeastern continental slope of the South China Sea. Geol Soc Am Bull 127:804–824
Acknowledgements
The authors are grateful to the Director of the National Centre for Polar and Ocean Research (NCPOR), Goa, for the encouragement and support to carry out this work. The authors are also thankful to the Ministry of Earth Sciences (MoES), New Delhi, for their financial support through the "Geoscientific Studies of Exclusive Economic Zone" programme under Grant No. MoES/EC/EEZ/32/2012-PC-II. We would like to express our sincere thanks to Editor-in-Chief Dr. Andrew Green, reviewers Dr. Aggeliki Georgiopoulou and Dr. Vittorio Maselli, and an anonymous reviewer for their constructive comments and suggestions, which greatly improved the quality of the manuscript. We are extremely grateful to Dr. Venkatarathnam Kolla for providing valuable inputs to improve the manuscript during his visit to NCPOR. Last but not least, we sincerely thank the shipboard scientific party, officers, and crew members of RV-MGS Sagar for their assistance in collecting the data. This is NCPOR contribution number J-95/2020-21.
Ethics declarations
Competing interests
The authors declare no competing interests.
Additional information
Publisher's note
Springer Nature remains neutral with regard to jurisdictional claims in published maps and institutional affiliations.
About this article
Cite this article
Susanth, S., Kurian, P.J., Bijesh, C.M. et al. Controls on the evolution of submarine canyons in steep continental slopes: geomorphological insights from Palar Basin, southeastern margin of India. Geo-Mar Lett 41, 14 (2021). https://doi.org/10.1007/s00367-021-00685-9
Received:

Accepted:

Published: