Abstract
The present study used shallow high-resolution seismic surveys to characterize the architecture and stratigraphic evolution of the last depositional sequence of the São Francisco Delta (SFDS). The sequence was accumulated within a bathymetric low (BL) on the shelf located in front of the São Francisco river. This antecedent topography provided additional accommodation of tens of meters in comparison with the rest of the shelf. The BL and its sediment-trapping effect allowed the accumulation of a complete stratigraphic record of the eustatic sea-level rise since the Last Glacial Maximum (LGM). The SFDS comprises six stratigraphic units. Because cores and radiocarbon dates are not available for this study area, the depth of occurrence of the top and base of each unit and their lateral relationships with wave-cut terraces carved into the BL walls were used in an effort to tentatively tie the mapped units to known eustatic sea-level curves available in the literature. Results suggest that major episodes of accumulation occurred during intervals of reduced rates in sea-level rise. The lower five units mapped accumulated in a large bay-estuarine protected environment, which resulted from the inundation of the BL. Only the topmost unit (the present clinoform) accumulated in an open ocean environment when sea level reached approximately its present position after 8 ka and the whole shelf was flooded. The most important delta backstepping event was probably associated with Meltwater Pulse 1B, which followed the Younger Dryas and produced one of the most significant stratal surfaces of the SFDS. Among the existing wave-dominated deltas in the Brazilian coast only, the São Francisco was able to construct a well-developed sigmoidal muddy clinoform in an otherwise very shallow shelf subjected to high wave-energy levels. This was only possible because of the existence of a bathymetric low in front of the river mouth, which illustrates the role that antecedent topography might play in providing larger amount of available accommodation space called in this paper of additional accommodation.
This is a preview of subscription content, log in to check access.
Access options
Buy single article
Instant access to the full article PDF.
US$ 39.95
Tax calculation will be finalised during checkout.
Subscribe to journal
Immediate online access to all issues from 2019. Subscription will auto renew annually.
US$ 79
Tax calculation will be finalised during checkout.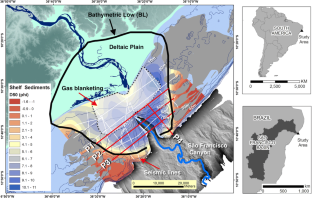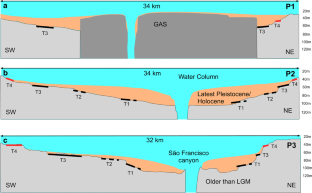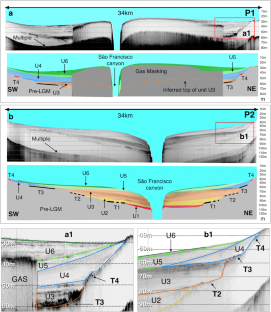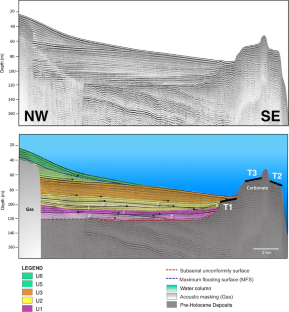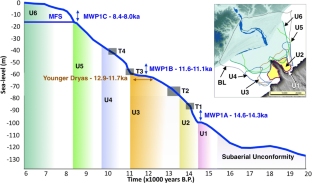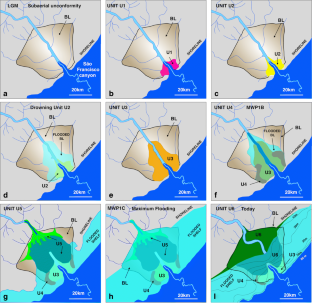 References
Abdul NA, Mortlock RA, Wright JD, Fairbanks RG (2016) Younger Dryas sea level and meltwater pulse 1B recorded in Barbados reef crest coral Acropora palmata. Paleoceanography 31:330–344. https://doi.org/10.1002/2015PA002847

Amorosi A, Bruno L, Campo B, Morelli A, Rossi V, Scarponi D, Hong W, Bohacs KM, Drexler TM (2017) Global sea-level control on local parasequence architecture from the Holocene record of the Po Plain, Italy. Mar Pet Geol 87:99–111. https://doi.org/10.1016/j.marpetgeo.2017.01.020

Angulo RJ, Lessa GC (1997) The Brazilian sea-level curves: a critical review with emphasis on the curves from Paranaguá and Cananéia regions. Mar Geol 140:141–166. https://doi.org/10.1016/S0025-3227(97)00015-7

Anthony EJ (2015) Wave influence in the construction, shaping and destruction of river deltas: a review. Mar Geol 361:53–78. https://doi.org/10.1016/j.margeo.2014.12.004

Banks KW, Riegl BM, Shinn EA, Piller WE, Dodge RE (2007) Geomorphology of the Southeast Florida continental reef tract (Miami-Dade, Broward, and Palm Beach Counties, USA). Coral Reefs 26:617–633. https://doi.org/10.1007/s00338-007-0231-0

Bard E, Hamelin B, Arnold M, Montaggioni L, Cabioch G, Faure G, Rougerie F (1996) Deglacial sea-level record from Tahiti corals and the timing of global meltwater discharge. Lett Nat 382:241–244. https://doi.org/10.1038/382241a0

Bard E, Hamelin B, Delanghe-Sabatier D (2010) Deglacial Meltwater pulse 1B and Younger Dryas sea levels revisited with boreholes at Tahiti. Science 327:1235–1237. https://doi.org/10.1126/science.1180557

Bird MI, Fifield LK, Teh TS, Chang CH, Shirlaw N, Lambeck K (2007) An inflection in the rate of early mid-Holocene eustatic sea-level rise: a new sea-level curve from Singapore. Estuar Coast Shelf Sci 71:523–536. https://doi.org/10.1016/j.ecss.2006.07.004

Bittencourt ACSP, Dominguez JML, Fontes LCS, Sousa DL, Silva IR, da Silva FR (2007) Wave refraction, river damming, and episodes of severe shoreline erosion: the São Francisco River Mouth, Northeastern Brazil. J Coast Res 23(4):930–938. https://doi.org/10.2112/05-0600.1

Blanchon P (2011) Meltwater pulses. In: Hopley D (ed) Encyclopedia of modern coral reefs. Encyclopedia of Earth Sciences Series. Springer, Dordrecht. https://doi.org/10.1007/978-90-481-2639-2

Blanchon P, Shaw J (1995) Reef drowning during the last deglaciation: evidence for catastrophic sea-level rise and ice-sheet collapse. Geology 23(1):4–8. https://doi.org/10.1130/0091-7613(1995)023<0004:RDDTLD>2.3.CO

Blanchon P, Jones B, Ford DC (2002) Discovery of a submerged relic reef and shoreline off Grand Cayman: further support for an early Holocene jump in sea level. Sediment Geol 147:253–270. https://doi.org/10.1016/S0037-0738(01)00143-9

Bortolin E, Weschenfelder J, Cooper A (2019) Holocene evolution of Patos Lagoon, Brazil: the role of antecedent topography. J Coast Res 35(2):357–368. https://doi.org/10.2112/JCOASTRES-D-17-00195.1

Boski T, Bezerra FHR, Pereira LF, Souza AM, Maia RP, Lima-Filho FP (2015) Sea-level rise since 8.2 ka recorded in the sediments of the Potengi-Jundiai Estuary, NE Brasil. Mar Geol 365:1–13. https://doi.org/10.1016/j.margeo.2015.04.003

Cainelli C (1992) Sequence stratigraphy, canyons and gravity mass-flow deposits in the Piaçabuçu Formation, Sergipe-Alagoas Basin, Brazil. Thesis, The University of Texas at Austin, 234p

Cainelli C (1994) Shelf processes and canyon/channel evolution controlling turbidite systems: examples from the Sergipe-Alagoas Basin, Brazil. GCSSEPM Submarine Fans and Turbidite Systems – Sequence Stratigraphy, Reservoir Architecture and Production Characteristics Gulf of Mexico and International 15:4–7. https://doi.org/10.5724/gcs.94.15.0053

Carlson AE (2013) The Younger Dryas climate event. In: Elias SA (ed) The encyclopedia of quaternary science, vol 3. Elsevier, Amsterdam, pp 126–134

Catuneanu O, Galloway WE, Kendall CGSC, Miall AD, Posamentier WH, Strasser A, Tucker ME (2011) Sequence stratigraphy: methodology and nomenclature. Newslett Stratigr 44/3:173–245. https://doi.org/10.1127/0078-0421/2011/0011

CBHSF (2016) Plano de Recursos Hídricos da Bacia Hidrográfica do rio São Francisco. http://www.saofrancisco.cbh.gov.br/Accessed 15 November 2019

Coleman JM, Wright LD (1975) Modern river deltas: variability of processes and sand bodies. Deltas models for exploration Houston Geological Society 99–150

de Araújo HAB, Dominguez JML, Machado AJ, Rangel AGAN (2018) Benthic foraminifera distribution in a deltaic clinoform (São Francisco delta, eastern Brazil): a reference study. J Mar Syst 186:1–16. https://doi.org/10.1016/j.jmarsys.2018.05.004

Deschamps P, Durand N, Bard E, Hamelin B, Camoin G, Thomas AL, Henderson GM, Okuno J, Yokoyama Y (2012) Ice-sheet collapse and sea-level rise at the Bølling warming 14,600 years ago. Nature 483:559–564. https://doi.org/10.1038/nature10902

Dominguez JML (1996) The São Francisco strandplain: a paradigm for wave-dominated deltas? In: De Batist M, Jacobs P (eds) Geology of Siliciclastic Shelf Seas, Geological Society Special Publication 117:217–231. https://doi.org/10.1144/GSL.SP.1996.117.01.13

Dominguez JML, da Silva RP, Nunes AS, Freire AFM (2013) The narrow, shallow, low-accommodation shelf of central Brazil: sedimentology, evolution, and human uses. Geomorphology 203:46–59. https://doi.org/10.1016/j.geomorph.2013.07.004

Escobar NFC, Dominguez JML, Zucchi MR, Azevedo AEG, Rangel AGAN, Rebouças RC (2019) Organic matter in the São Francisco deltaic clinoform (Eastern Brazil). Geo-Marine Letters (this volume)

Fairbanks RG (1989) A 17,000-year glacio-eustatic sea level record: influence of glacial melting rates on the Younger Dryas event and deep-ocean circulation. Nature 342:637–642

Fontes LC, Kowsmann RO, Puga-Barnabéu A (2017) Geologia e geomorfologia da bacia de Sergipe-Alagoas. PETROBRAS. – São Cristovão: Editora UFS, 2017.265p. il. – (Coleção Projeto Marseal; v. 1)

Garcia-Gil S, Vilas F, Garcia-Garcia A (2002) Shallow gas features in incised-valley fills (Ría de Vigo, NW Spain): a case study. Cont Shelf Res 22:2303–2315. https://doi.org/10.1016/S0278-4343(02)00057-2

Gilbert GK (1885) The topographic features of lake shores: United States Geological Survey to the Secretary of the Interior by J.W. Powell (1883–1884)69–123

Green AN, Cooper JAG, Salzmann L (2014) Geomorphic and stratigraphic signals of postglacial meltwater pulses on continental shelves. GeoScienceWorld, Geol 42:151–154. https://doi.org/10.1130/G35052.1

Guimarães JK (2010) Evolução do delta do rio São Francisco – estratigrafia do Quaternário e relações morfodinâmicas. Thesis, Universidade Federal da Bahia, 127p

Hanebuth TJJ, Voris HK, Yokoyama Y, Saito Y, Okuno J (2011) Formation and fate of sedimentary depocentres on Southeast Asia's Sunda Shelf over the past sea-level cycle and biogeographic implications. Earth Sci Rev 104:92–110. https://doi.org/10.1016/j.earscirev.2010.09.006

Harris PT, Heap AD, Marshall JF, McCulloch M (2008) A new coral reef province in the Gulf of Carpentaria, Australia: colonisation, growth and submergence during the early Holocene. Mar Geol 251:85–97. https://doi.org/10.1016/j.margeo.2008.02.010

Harrison S, Smith DE, Glasser NF (2019) Late Quaternary meltwater pulses and sea level change. J Quat Sci 34:1–15. https://doi.org/10.1002/jqs.3070

Hernández-Molina FJ, Somoza L, Rey J, Pomar L (1994) Late Pleistocene-Holocene sediments on the Spanish continental shelves: model for very high resolution sequence stratigraphy. Mar Geol 120:129–174. https://doi.org/10.1016/0025-3227(94)90057-4

Hernández-Molina FJ, Fernández-Salas LM, Lobo F, Somoza L, Díaz-del-Río V, Alveirinho Dias JM (2000) The infralittoral prograding wedge: a new large-scale progradational sedimentary body in shallow marine environments. Geo-Mar Lett 20:109–117. https://doi.org/10.1007/s003670000040

Hori K, Saito Y (2007) Classification, architecture, and evolution of large-river Deltas. Large Rivers: Geomorphology and Management Chapter 6:75–96. https://doi.org/10.1002/9780470723722.ch6

Jervey MT (1988) Quantitative geological modeling of siliciclastic rock sequences and their seismic expression. In: Wilgus CK, Hastings BS, Kendall CGStC, Posamentier HW, Ross CA, Van Wagoner JC (eds) Sea-level changes: an integrated approach. Society of Economic Paleontologists and Mineralogists (SEPM) Special Publication 42:47–69. https://doi.org/10.2110/pec.88.01.0047

Kirkpatrick LH, Green AN (2018) Antecedent geologic control on nearshore morphological development: the wave dominated, high sediment supply shoreface of southern Namibia. Mar Geol 403:34–47. https://doi.org/10.1016/j.margeo.2018.05.003

Liu JP, Milliman JD, Gao S, Cheng P (2004) Holocene development of the Yellow River's subaqueous delta, North Yellow Sea. Mar Geol 209:45–67. https://doi.org/10.1016/j.margeo.2004.06.009

Martin L, Dominguez JML, Bittencourt ACSP (2003) Fluctuating Holocene Sea levels in eastern and southeastern Brazil: evidence from multiple fossil and geometric indicators. J Coast Res 19:101–124 ISSN 0749-0208

Martinez-Martos M, Galindo-Zaldivar J, Lobo FJ, Pedrera A, Ruano P, Lopez-Chicano M, Ortega-Sánchez M (2016) Buried marine-cut terraces and submerged marine-built terraces: the Carchuna-Calahonda coastal area (southeast Iberian Peninsula). Geomorphology 264:29–40. https://doi.org/10.1016/j.geomorph.2016.04.010

Medeiros PRP, Knoppers BA, Dos Santos Júnior RC, de Souza WFL (2007) Aporte fluvial e dispersão de matéria particulada em suspensão na zona costeira do rio São Francisco (SE/AL). Geochim Bras 2:212–231. https://doi.org/10.21715/gb.v21i2.268

Milli S, D'Ambrogi C, Bellotti P, Calderoni G, Carboni MG, Celant A, Di Bella L, Di Rita F, Frezza V, Magri D, Pichezzi RM, Ricci V (2013) The transition from wave-dominated estuary to wave-dominated delta: the Late Quaternary stratigraphic architecture of Tiber River deltaic succession (Italy). Sediment Geol 284–285:159–180. https://doi.org/10.1016/j.sedgeo.2012.12.003

Nascimento AA (2017) Estrutura da macrofauna bentônica de fundo inconsolidado na plataforma continental de Sergipe, Nordeste do Brasil. Thesis, Universidade Federal da Bahia, 101p

Patruno S, Hampson GJ, Jackson CAL (2015) Quantitative characterisation of deltaic and subaqueous clinoforms. Earth Sci Rev 142:79–119. https://doi.org/10.1016/j.earscirev.2015.01.004

Peltier WR (2007) Postglacial coastal evolution. Ice-ocean-solid earth interactions in a period of rapid climate change. In: Harff et al. (editors), Coastline changes: interrelation of climate and geological processes. Geol Soc Am Spec Pap 426:5–28. https://doi.org/10.1130/2007.2426(02)

Purdy EG, Gischler E, Lomando AJ (2003) The Belize margin revisited. 2. Origin of Holocene antecedent topography. Int J Earth Sci (Geol Rundsch) 92:552–572. https://doi.org/10.1007/s00531-003-0325-z

Ribeiro RF (2018) Evolução e geomorfologia do cânion do São Franciscoe do talude adjacente, com base em dados de batimetria multifeixe. Master's Dissertation, Universidade Federal da Bahia, 75p

Stanley DJ, Warne AG (1994) Worldwide initiation of Holocene marine deltas by deceleration of sea-level rise. Science 265:228–231. https://doi.org/10.1126/science.265.5169.228

Summerhayes CP, Fainstein R, Ellis JP (1976) Continental margin off Sergipe and Alagoas, northeastern Brazil: a reconnaissance geophysical study of morphology and structure. Mar Geol 20:345–361. https://doi.org/10.1016/0025-3227(76)90112-2

Ta TKO, Nguyen VL, Tateishi M, Kobayashi I, Saito Y, Nakamura T (2002) Sediment facies and Late Holocene progradation of the Mekong River Delta in Bentre Province, southern Vietnam: an example of evolution from a tide-dominated to a tide- and wave-dominated delta. Sediment Geol 152:313–325. https://doi.org/10.1016/S0037-0738(02)00098-2

Tamura T, Saito Y, Sieng S, Ben B, Kong M, Sim I, Choup S, Akiba F (2009) Initiation of the Mekong River delta at 8 ka: evidence from the sedimentary succession in the Cambodian lowland. Quat Sci Rev 28:327–344. https://doi.org/10.1016/j.quascirev.2008.10.010

Tanabe S, Saito Y, Sato Y, Suzuki Y, Sinsakul S, Tiyapairach S, Chaimanee N (2003) Stratigraphy and Holocene evolution of the mud-dominated Chao Phraya delta, Thailand. Quat Sci Rev 22:789–807. https://doi.org/10.1016/S0277-3791(02)00242-1

Tanabe S, Saito Y, Vu QL, Hanebuth TJJ, Ngo QL, Kitamura A (2006) Holocene evolution of the Song Hong (Red River) delta system, northern Vietnam. Sediment Geol 187:29–61. https://doi.org/10.1016/j.sedgeo.2005.12.004

Törnqvist TE, González JL, Newson LA, van der Borg K, de Jong AFM, Kurnik CW (2004) Deciphering Holocene sea-level history on the U.S. Gulf Coast: a high-resolution record from the Mississippi Delta. Geol Soc Am Bull 116:1026–1039. https://doi.org/10.1130/B2525478.1

Trenhaile AS (2002) Rock coasts, with particular emphasis on shore platforms. Geomorphology 48:7–22. https://doi.org/10.1016/S0169-555X(02)00173-3

Valle MM (2018) Caracterização das feições sedimentares da plataforma de Alagoas, com base em levantamento aerobatimétrico LiDAR. Master's Dissertation, Universidade Federal de Pernambuco, 95p

Van Wagoner JC, Mitchum RM, Campion KM, Rahmanian VD (1990). Siliciclastic sequences in well logs, cores and outcrops: concepts for high-resolution correlation of time and Facies. AAPG, Methods in exploration series, vol. 7, 55 p. https://doi.org/10.1306/Mth7510

Vital, H (2014) The north and northeast Brazilian tropical shelves. In: Chiocci F L, Chivas, AR (eds) Continental shelves of the world: their evolution during the last Glacio-Eustatic cycle. Geological Society, London, Memoirs, 41, 35–46. https://doi.org/10.1144/M41.4

Zecchin M, Catuneanu O (2013) High-resolution sequence stratigraphy of clastic shelves I: units and bounding surfaces. Mar Pet Geol 39:1–25. https://doi.org/10.1016/j.marpetgeo.2012.08.015

Zecchin M, Ceramicola S, Gordini E, Deponte M, Critelli S (2011) Cliff overstep model and variability in the geometry of transgressive erosional surfaces in high-gradient shelves: the case of the Ionian Calabrian margin (southern Italy). Mar Geol 281:43–48. https://doi.org/10.1016/j.margeo.2011.02.003

Zecchin M, Ceramicola S, Lodolo E, Casalbore D, Chiocci FL (2015) Episodic, rapid sea-level rises on the central Mediterranean shelves after the Last Glacial Maximum: a review. Mar Geol 369:212–223. https://doi.org/10.1016/j.margeo.2015.09.002
Acknowledgments
AGAN Rangel and JML Dominguez also thank CNPq for a research fellowship. We would also like to express our gratitude to two anonymous reviewers, whose comments greatly improved the quality of the manuscript.
Funding
This paper is a contribution of the following research grants: CAPES/PNPD (No. 2983/2010) and inctAmbTropic, CNPq/FAPESB Processes: 565054/2010-4, 8936/2011, and 465634/2014-1.
Additional information
Publisher's note
Springer Nature remains neutral with regard to jurisdictional claims in published maps and institutional affiliations.
About this article
Cite this article
Rangel, A., Dominguez, J.M.L. Antecedent topography controls preservation of latest Pleistocene-Holocene transgression record and clinoform development: the case of the São Francisco delta (eastern Brazil). Geo-Mar Lett 40, 935–947 (2020). https://doi.org/10.1007/s00367-019-00609-8
Received:

Accepted:

Published:

Issue Date: