Abstract
Fruit-feeding pteropodid bats roost under varying light conditions. Some roost in trees with high exposure to daylight (> 1000 lx), while others roost in dark caves (< 0.1 lx). To understand the effect of ambient light intensity and moon phase on flight activity, we examined flight times across five lunar cycles in three pteropodid species whose roosts differ in daylight exposure. We found significant interspecific differences in flight emergence and termination times. All species initiated flights after sunset but Rousettus leschenaultii, which typically roosts in caves, delayed emergence (40 ± 11 min) more than the two tree-roosting species Pteropus giganteus (16 ± 6 min) and Cynopterus sphinx (19 ± 7 min). R. leschenaultii terminated flights earlier (30 ± 7 min before sunrise) than P. giganteus (11 ± 11 min) and C. sphinx (16 ± 10 min). All individuals from P. giganteus and C. sphinx roosts emerged within less than an hour, while emergence times were more spread out in the R. leschenaultii colony. Peak emergence times differed across moon phases in the cave-roosting R. leschenaultii but not in the other species. Flight activity in R. leschenaultii is restricted to comparatively lower light levels than the tree-roosting species. The observed interspecific differences suggest that bat species, sharing same landscapes may respond differently to light pollution.
Access options
Buy single article
Instant access to the full article PDF.
US$ 39.95
Tax calculation will be finalised during checkout.
Subscribe to journal
Immediate online access to all issues from 2019. Subscription will auto renew annually.
US$ 119
Tax calculation will be finalised during checkout.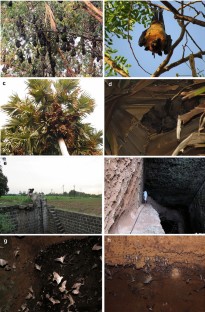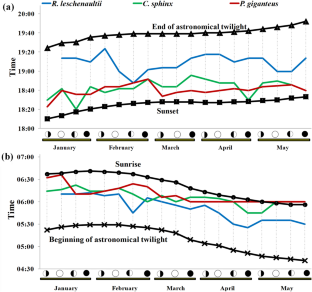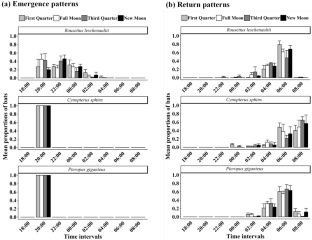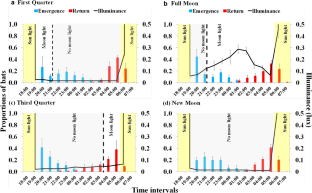 References
Altringham JD, Hammond L, McOwat T (1996) Bats: biology and behaviour. Oxford University Press, Oxford

Appel G, López-Baucells A, Magnusson WE, Bobrowiec PED (2017) Aerial insectivorous bat activity in relation to moonlight intensity. Mamm Biol Z Für Säugetierkd 85:37–46. https://doi.org/10.1016/j.mambio.2016.11.005

Bates PJJ, Harrison DL (1997) Bats of the Indian Subcontinent. Harrison Zoological Museum

Bolshakov CV, Chernetsov N, Mukhin A, Bulyu VN, Kosarev V, Ktitorov P, Leoke D, Tsvey A (2007) Time of nocturnal departures in European robins, Erithacus rubecula, in relation to celestial cues, season, stopover duration and fat stores. Anim Behav 74:855–865. https://doi.org/10.1016/j.anbehav.2006.10.024

Börk KS (2006) Lunar phobia in the greater fishing bat Noctilio leporinus (Chiroptera: Noctilionidae). Rev Biol Trop 54:1117–1123

Bradbury JW, Nottebohm F (1969) The use of vision by the little brown bat, Myotis lucifugus, under controlled conditions. Anim Behav 17:480–485. https://doi.org/10.1016/0003-3472(69)90150-X

Burnham KP, Anderson DR (2002) AIC differences, Δi. Model Sel Multimodel Inference 2:70–71

Crespo RF, Linhart SB, Burns RJ, Mitchell GC (1972) Foraging behavior of the common vampire bat related to moonlight. J Mammal 53:366–368. https://doi.org/10.2307/1379175

Cronin TW, Warrant EJ, Greiner B (2006) Celestial polarization patterns during twilight. Appl Opt 45:5582. https://doi.org/10.1364/AO.45.005582

Elangovan V, Marimuthu G (2001) Effect of moonlight on the foraging behaviour of a megachiropteran bat Cynopterus sphinx. J Zool 253:347–350. https://doi.org/10.1017/S0952836901000310

Erkert HG (1978) Sunset-related timing of flight activity in neotropical bats. Oecologia 37:59–67

Erkert HG (1982) Ecological aspects of bat activity rhythms. In: Kunz TH (ed) Ecology of bats. Springer, Boston, pp 201–242

Fenton MB, Ratcliffe JM (2010) Bats. Curr Biol 20:R1060–R1062. https://doi.org/10.1016/j.cub.2010.10.037

Fleming TH (1982) Foraging strategies of plant-visiting bats. In: Kunz TH (ed) Ecology of bats. Springer, Boston, pp 287–325. https://doi.org/10.1007/978-1-4613-3421-7_8

Fleming TH, Heithaus ER (1986) Seasonal foraging behavior of the frugivorous bat Carollia perspicillata. J Mammal 67:660–671. https://doi.org/10.2307/1381127

Fleming TH, Geiselman C, Kress WJ (2009) The evolution of bat pollination: a phylogenetic perspective. Ann Bot 104:1017–1043. https://doi.org/10.1093/aob/mcp197

Funakoshi K, Kunisaki T, Watanabe H (1991) Seasonal changes in activity of the northern ryukyu fruit bat Pteropus dasymallus dasymallus. J Mammal Soc Jpn 16:13–25. https://doi.org/10.11238/jmammsocjapan.16.13

Hengjan Y (2011) Seasonal variation in emergence and activity pattern at roosting site of lyle's flying Pteropus lylei Andersen, 1908 at Pho, Chachoengsao province. Thesis, Chulalongkorn University

Hölker F, Wolter C, Perkin EK, Tockner K (2010) Light pollution as a biodiversity threat. Trends Ecol Evol 25:681–682

Jones G, Teeling E (2006) The evolution of echolocation in bats. Trends Ecol Evol 21:149–156. https://doi.org/10.1016/j.tree.2006.01.001

Julien-Laferrière D (1997) The influence of moonlight on activity of woolly opossums (Caluromys philander). J Mammal 78:251–255. https://doi.org/10.2307/1382659

Karlsson BL, Eklöf J, Rydell J (2006) No lunar phobia in swarming insectivorous bats (family Vespertilionidae): Lunar phobia in insectivorous bats. J Zool 256:473–477. https://doi.org/10.1017/S0952836902000511

Kumar R, Prasad DN, Elangovan V (2018) The effect of seasonal changes on emergence behaviour of the Indian flying fox, Pteropus giganteus. Proc Zool Soc. https://doi.org/10.1007/s12595-018-0269-8

Kunz TH, McCracken GF (1996) Tents and harems: apparent defence of foliage roosts by tent-making bats. J Trop Ecol 12:121–137. https://doi.org/10.1017/S0266467400009342

Lockard RB, Owings DH (1974) Moon-related surface activity of bannertail (Dipodomys spectabilis) and fresno (D. nitratoides) kangaroo rats. Anim Behav 22:262–273. https://doi.org/10.1016/S0003-3472(74)80078-3

Marimuthu G (1984) Seasonal changes in the precision of the circadian clock of a tropical bat under natural photoperiod. Oecologia 61:352–357. https://doi.org/10.1007/BF00379634

Mello MAR, Kalko EKV, Silva WR (2013) Effects of moonlight on the capturability of frugivorous phyllostomid bats (Chiroptera: Phyllostomidae) at different time scales. Zool Curitiba 30:397–402. https://doi.org/10.1590/S1984-46702013000400005

Menaker M (1968) Extraretinal light perception in the sparrow. I. Entrainment of the biological clock. Proc Natl Acad Sci USA 59:414–421

MMohd-Ridwan AR-R, Ahmad Tahir NFD, Eshak MHB, Csorba G, Gorfol T, Khan FA, Anwarali JM-D (2018) Bats assemblage and lunar phase effect on bat activity at mixed dipterocarp forest, Gunung Gading National Park, Sarawak, Borneo. Sains Malays 47:1349–1357. https://doi.org/10.17576/jsm-2018-4707-01

Mori E, Nourisson DH, Lovari S, Romeo G, Sforzi A (2014) Self-defence may not be enough: moonlight avoidance in a large, spiny rodent. J Zool 294:31–40. https://doi.org/10.1111/jzo.12145

Morrison DW (1978) Lunar phobia in a neotropical fruit bat, Artibevs jamaicensis (Chiroptera: Phyllostomidae). Anim Behav 26:852–855. https://doi.org/10.1016/0003-3472(78)90151-3

Morrison DW (1980) Foraging and day-roosting dynamics of canopy fruit bats in panama. J Mammal 61:20–29. https://doi.org/10.2307/1379953

Musila S, Bogdanowicz W, Syingi R, Zuhura A, Chylarecki P, Rydell J (2019) No lunar phobia ininsectivorous bats in Kenya. Mamm Biol 95:77–84. https://doi.org/10.1016/j.mambio.2019.03.002

Nair GN, Elangovan V, Subbaraj R (1998) Influence of moonlight on the foraging behaviour of the Indian short-nosed fruit bat Cynopterus sphinx: radiotelemetry studies. Curr Sci 74:688–689

Narendra A, Reid SF, Hemmi JM (2010) The twilight zone: ambient light levels trigger activity in primitive ants. Proc R Soc B Biol Sci 277:1531–1538. https://doi.org/10.1098/rspb.2009.2324

Negraeff OE, Brigham RM (1995) The influence of moonlight on the activity of little brown bats (Myotis lucifugus). Z Saugetierkunde 60:330–336

Neuweiler G (2000) The biology of bats. Oxford University Press, Oxford

Nowak RM, Walker EP, Kunz TH, Pierson ED (1994) Walker's bats of the world. JHU Press, Baltimore

Orbach DN, Fenton B (2010) Vision impairs the abilities of bats to avoid colliding with stationary obstacles. PLoS ONE 5:e13912. https://doi.org/10.1371/journal.pone.0013912

Pohl H (1976) Proportional effect of light on entrained circadian rhythms of birds and mammals. J Comp Physiol 112:103–108. https://doi.org/10.1007/BF00612678

Pratas-Santiago LP, Gonçalves ALS, Nogueira AJA, Spironello WR (2017) Dodging the moon: the moon effect on activity allocation of prey in the presence of predators. Ethology 123:467–474. https://doi.org/10.1111/eth.12617

R Core Team (2018) R: a language and environment for statistical computing. R Foundation for statistical computing, Vienna, Austria. https://www.R-project.org/. Accessed 29 Feb 2020

Rathinakumar A, Cantor M, Senthilkumar K, Vimal P, Kaliraj P, Marimuthu G (2017) Social grooming among Indian short-nosed fruit bats. Behaviour 154:37–63. https://doi.org/10.1163/1568539X-00003410

Saldaña-Vázquez RA, Munguía-Rosas MA (2013) Lunar phobia in bats and its ecological correlates: a meta-analysis. Mamm Biol Z Für Säugetierkd 78:216–219. https://doi.org/10.1016/j.mambio.2012.08.004

Singaravelan N, Marimuthu G (2002) Moonlight inhibits and lunar eclipse enhances foraging activity of fruit bats in an orchard. Curr Sci 82:1020–1022

Subbaraj R, Chandrashekaran MK (1977) 'Rigid' internal timing in the circadian rhythm of flight activity in a tropical bat. Oecologia 29:341–348. https://doi.org/10.1007/BF00345807

Sudhakaran MR, Doss PS (2012) Food and foraging preferences of three pteropodid bats in southern India. J Threat Taxa 4:2295–2303

Sudhakaran MR, Swamidoss DP, Parvathiraj P (2012) Emergence and returning activity in the Indian flying fox, Pteropus giganteus (Chiroptera: Pteropodidae). Int J Geogr Geol 1:1

Time and date.com, India (2019) Sunrise and sunset times for 2017. https://www.timeanddate.com/sun/india/. Accessed 25 Dec 2019

Usman K, Habersetzer J, Subbaraj R, Gopalkrishnaswamy G, Paramanadam K (1980) Behaviour of bats during a lunar eclipse. Behav Ecol Sociobiol 7:79–81. https://doi.org/10.1007/BF00302522

Vanlalnghaka C, Keny VL, Satralkar MK, Pujari PD, Joshi DS (2005) Social entrainment in the old frugivorous bats, Rousettus leschenaulti from the Lonar crater. Biol Rhythm Res 36:453–461. https://doi.org/10.1080/09291010500287568

Vanlalnghaka C, Keny VL, Satralkar MK, Kasture MS, Shivagaje AJ, Barnabas RJ, Dilip S (2006) Entrainment and phase shifts in frugivorous bats (Rousettus leschenaulti ): effect of light in roosts. Biol Rhythm Res 37:45–50. https://doi.org/10.1080/09291010500480759

Vásquez DA, Grez AA, Pedro R-S (2020) Species-specific effects of moonlight on insectivorous bat activity in central Chile. J Mamm 101(5):1356–63

Wai-Ping V, Fenton MB (1989) Ecology of spotted bat (Euderma maculatum) roosting and foraging behavior. J Mamm 70:617–622. https://doi.org/10.2307/1381434

Welbergen JA (2006) Timing of the evening emergence from day roosts of the grey-headed flying fox, Pteropus poliocephalus: the effects of predation risk, foraging needs, and social context. Behav Ecol Sociobiol 60:311–322. https://doi.org/10.1007/s00265-006-0167-3

Welbergen JA (2008) Variation in twilight predicts the duration of the evening emergence of fruit bats from a mixed-species roost. Anim Behav 75:1543–1550. https://doi.org/10.1016/j.anbehav.2007.10.007

Witting W, Mirmiran M, Bos NPA, Swaab DF (1993) Effect of light intensity on diurnal sleep-wake distribution in young and old rats. Brain Res Bull 30:157–162. https://doi.org/10.1016/0361-9230(93)90053-E

Yovel Y, Geva-Sagiv M, Ulanovsky N (2011) Click-based echolocation in bats: not so primitive after all. J Comp Physiol A 197:515–530
Acknowledgements
We thank two anonymous reviewers for constructive comments on an earlier version of the manuscript. We thank Prof. Marimuthu and Prof. Muthuchezhian, Madurai Kamaraj University for access to the roost in the Center for Biodiversity and Forestry Studies. We also acknowledge landowner Perumalsamy and villagers of Adaikkampatti, Vadapazhanji and Venkatachalapuram in Madurai and Theni for their hospitality during the study. We thank IISERTVM, the Swedish Research Council (2012-2212) and Council for Scientific and Industrial Research (CSIR), India for funding.
Ethics declarations
Conflict of interest
The authors declare that they have no conflict of interest.
Additional information
Publisher's Note
Springer Nature remains neutral with regard to jurisdictional claims in published maps and institutional affiliations.
Supplementary Information
Below is the link to the electronic supplementary material.
About this article
Cite this article
Murugavel, B., Kelber, A. & Somanathan, H. Light, flight and the night: effect of ambient light and moon phase on flight activity of pteropodid bats. J Comp Physiol A 207, 59–68 (2021). https://doi.org/10.1007/s00359-020-01461-3
Received:

Revised:

Accepted:

Published:

Issue Date:
Keywords
Pteropodids

Ambient light

Twilight zones

Moon phases

Flight activity