Abstract
A flow visualization technique using dilute solutions of tobacco mosaic virus (TMV) is described. Rod-shaped TMV-particles align with shear, an effect that produces a luminous interference pattern when the TMV solution is viewed between crossed polarizers. Attractive features of this technique are that it is both transparent to the naked eye and benign to fish. We use it here to visualize the evolution and decay of the flows that they produce. We also report that dilute solutions of Kalliroscope are moderately birefringent and so may similarly be used for qualitative in situ flow visualizations.
Access options
Buy single article
Instant access to the full article PDF.
US$ 39.95
Tax calculation will be finalised during checkout.
Subscribe to journal
Immediate online access to all issues from 2019. Subscription will auto renew annually.
US$ 119
Tax calculation will be finalised during checkout.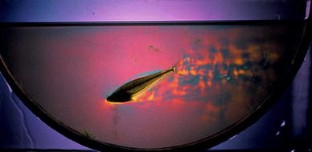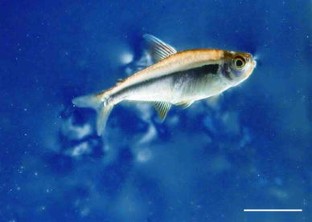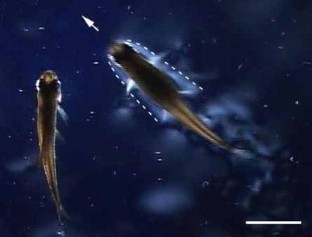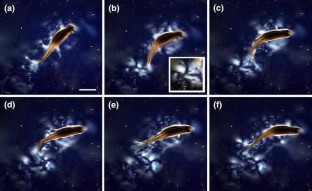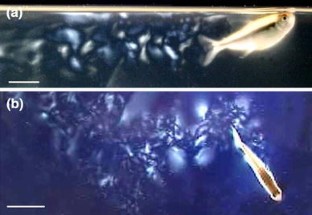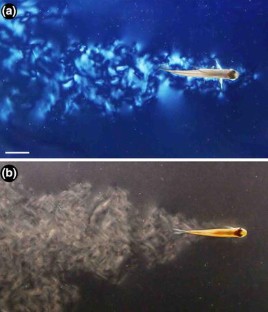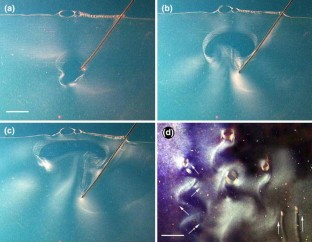 References
Alcock ED, Sadron CL (1935) An optical method for measuring the distribution of velocity gradients in a two-dimensional flow. J Appl Phys 6:92–95

Andersen EJ, McGillis WR, Grosenbaugh MA (2001) The boundary layer of swimming fish. J Exp Biol 204:81–102

Bartol IK, Patterson MR, Mann R (2001) Swimming mechanics and behavior of the shallow-water brief squid Lolliguncula brevis. J Exp Biol 204:3655–3682

Bawden FC, Pirie NW, Bernal JD, Fankuchen I (1936) Liquid crystalline substances from virus-infected plants. Nature 138:1051

Boedtker H, Simmons NS (1958) The preparation and characterization of essentially uniform tobacco mosaic virus p. J Am Chem Soc 80:2550–2556

Binnie AM (1945) A double-refraction method of detecting turbulence in liquids. Proc Phys Soc 57:390–402

Cerf R, Scheraga HA (1952) Flow birefringence in solutions of macromolecules. Chem Rev 51:185–261

Dabiri JO, Colin SP, Costello JH, Gharib M (2005) Flow patterns generated by oblate medusan jellyfish: field measurements and laboratory analyses. J Exp Biol 208:1257–1265

Diesselhorst VH, Freundlich H (1916) Uber schlierenbildung in kolloiden losungen und ein verfahren die gestalt von kolloidteilschen festzustellen. Physik Zeitschr 17:117–128

Dorgan KM, Jumars PA, Johnson B, Boudreau BP, Landis E (2005) Burrow elongation by crack propagation. Nature 433:475

Drucker EG, Lauder GV (1999) Locomotor forces on a swimming fish: three-dimensional vortex wake dynamics quantified using digital particle image velocimetry. J Exp Biol 202:2393–2412

Fiedler H, Nottmeyere K (1985) Schlieren photography of water flow. Exp Fluids 3:145–151

Freundlich H (1926) Colloid and capillary chemistry. (trans: Hatfield HS). E.P. Dutton and Co., New York, pp 403–408

Goreau TJF, Goreau PDE, Goreau CSH (1993) On the nature of things: the scientific photography of Fritz Goro. Aperture Books, New York, pp 74–75

Full R, Yamauchi A, Jindrich D (1995) Maximum single leg force production: cockroaches righting on photoelastic gelatin. J Exp Biol 198:2441–2452

Hu DL, Chan B, Bush JWM (2003) The hydrodynamics of water strider locomotion. Nature 424:663–666

Humphrey RH (1922) Demonstration of the double refraction due to motion of a vanadium pentoxide sol, and some applications. Proc Phys Soc Lond 35:217–218

Maxwell JC (1873) On double refraction in a viscous fluid in motion. Proc Roy Soc (Lond) 22:46

McCutchen CW (1977) Froude propulsive efficiency of a small fish, measured by wake visualization. In: Pedley T (ed) Scale effects in animal locomotion. Academic Press, London, pp 339–363

Merzkirch W (1974) Flow Visualization. Academic Press, New York

Muller UK, Van den Heuvel BLE, Stamhuis EJ, Videler JJ (1997) Fish foot prints: morphology and energetics of the wake behind a continuously swimming mullet (Chelon labrosus Risso). J Exp Biol 200:2893–2906

Pindera JT, Krishnamurthy AR (1978) Characteristic relations of flow birefringence. Exp Mech 18:1–10

Prados JW, Peebles FN (1958) Two-dimensional laminar-flow analysis utilizing a birefringent liquid. AIChE J 5:225–234

Peterlin A (1976) Optical effects in flow. Annu Rev Fluid Mech 8:35–55

Pih H (1980) Birefringent-fluid-flow method in engineering. Exp Mech 20:437–444

Rosen M (1959) Water flow about a swimming fish. NOTS Technical Publication. U.S. Naval Ordnance Test Station, China Lake

Spedding GR, Hedenstrőm A, Rosén M (2003) Quantitative studies of the wakes of freely-flying birds in a low turbulence wind tunnel. Exp Fluids 34:291–303

Stamhuis EJ, Videler JJ (1995) Quantitative flow analysis around aquatic animals using laser sheet particle image velocimetry. J Exp Biol 198:283–294

Stone HA, Stroock AD, Ajdari A (2004) Engineering flows in small devices: microfluidics toward a lab-on-a-chip. Ann Rev Fluid Mech 36:381–411

Squires TM, Quake SR (2005) Microfluidics: fluid physics on the nanoliter scale. Rev Mod Phys 77:977–1026

Sutera SP (1960) Streaming birefringence as a hydrodynamic research tool. PhD. thesis, Cal Inst Tech

Takahashi WN, Rawlins TE (1933) Rod-shaped particles in tobacco mosaic virus demonstrated by stream double refraction. Science 77:26–27

Videler JJ, Stamhuis EJ, Povel GDE (2004) Leading-edge vortex lifts swifts. Science 306:1960–1962

Videler JJ, Muller UK, Stamhuis EJ (1999) Aquatic vertebrate locomotion: wakes from body waves. J Exp Biol 202:3423–3430

Wada E (1954) Effect of rate of shear on viscosity of a dilute linear polymer and of tobacco mosaic virus in solution. J Poly Sci 14:305–307

Wayland H (1960) Streaming birefringence of rigid macromolecules in geneal two-dimensional laminar flow. J Chem Phys 33:769–773

Welsh RE (1955) Studies on the aggregation reactions and basic dye binding of tobacco mosaic virus. J Gen Physiol 39:437–471

Zocher H (1921) Ueber Sole mit nichtkugeligen Teilchen [Sols with non-spherical particles]. Zeitschrift für physikalische Chemie 98:293–337
Acknowledgments
We thank L. Mendel and B. Chan for assistance with experiments. TMV was kindly donated by S. Winter and M. Schönfelder of German Collection of Microorganisms and cell cultures (DSMZ). We thank Rudi Strickler and Gerald Stubbs for helpful conversations about the limitations of fluid visualization techniques and the physical properties of TMV respectively. T.G. gratefully acknowledges many conversations with the late F. W. Goro about the original photographs. We dedicate this paper to the memory of his pioneering work. J.W.M.B. gratefully acknowledges the financial support of the NSF.
Electronic supplementary material
Below is the link to the electronic supplementary material.
About this article
Cite this article
Hu, D.L., Goreau, T.J. & Bush, J.W.M. Flow visualization using tobacco mosaic virus. Exp Fluids 46, 477–484 (2009). https://doi.org/10.1007/s00348-008-0573-6
Received:

Revised:

Accepted:

Published:

Issue Date:
Keywords
Vortex

Flow Visualization

Tobacco Mosaic Virus

Vanadium Pentoxide

Lead Edge Vortex