Zusammenfassung
Hintergrund
Die postoperative Endophthalmitis gehört zu den gefürchtetsten Komplikationen nach einem intraokularen Eingriff. Eine rasche Diagnose sowie Therapieeinleitung sind entscheidend für die Visusprognose, die zudem von den ursächlichen Keimen abhängt. Trotz neuer Erkenntnisse über Prävention und Epidemiologie der Endophthalmitis beruht ein Großteil der Evidenz für die Therapie auf einer einzigen Studie, der Early Vitrectomy Study (EVS), die am Anfang der 1990er-Jahre durchgeführt wurde. In der EVS zeigte sich, dass eine Vitrektomie mit intravitrealer Antibiose erst ab einem Visus von Lichtschein oder schlechter einer alleinigen intravitrealen Antibiose überlegen ist. Systemische Antibiotika hatten keinen positiven Effekt auf den Endvisus. Seitdem haben sich die chirurgischen Techniken weiterentwickelt und auch die medikamentösen Optionen erweitert. Zudem untersuchte die EVS nur Endophthalmitiden nach Kataraktchirurgie und kann somit streng genommen keine Behandlungsempfehlung für Endophthalmitiden anderer Genese abgeben.
Ziel
In dieser Übersicht soll auf die aktuelle Evidenz für die Therapie der postoperativen Endophthalmitis stratifiziert nach der jeweiligen Genese eingegangen werden.
Schlussfolgerungen
Viele Erkenntnisse aus der EVS scheinen bis heute ihre Gültigkeit bewahrt zu haben. Angesichts der Verfeinerung der chirurgischen Techniken, neuer Behandlungsmöglichkeiten, insbesondere der heutzutage zahlreich durchgeführten intravitrealen Medikamenteneingaben und teilweise neuen Antibiotika, wäre es wünschenswert, wenn neue kontrollierte Studien zur Behandlung der Endophthalmitis durchgeführt werden würden.
Abstract
Background
Postoperative endophthalmitis is among the most feared complications encountered after intraocular surgery. A prompt diagnosis and initiation of treatment are crucial for the visual prognosis, which also depends on the causative microorganism. Despite advances in prevention and the availability of more epidemiological data, most of the evidence for treatment dates back to a single study, the early vitrectomy study (EVS) carried out in the early 1990s. The EVS showed that vitrectomy with intravitreal antibiotics was superior to intravitreal antibiotics alone, only when visual acuity was light perception or below. The addition of systemic antibiotics did not have any benefits. Over the last 30 years, however, surgical techniques have continued to evolve and the medicinal options have also been expanded. Moreover, the EVS examined only endophthalmitis after cataract surgery and strictly speaking the results cannot be transferred to endophthalmitis from other causes.
Objective
This review discusses the current evidence for the different treatment modalities of the most important types of postoperative endophthalmitis.
Conclusion
The EVS provided important guidelines for the initial management of endophthalmitis and these guidelines remain relevant to this day; however, in view of the refinement of surgical techniques, novel treatment options, especially the nowadays continuously growing number of intravitreal injections and even some new antibiotics, it would be desirable if new controlled trials addressing the treatment of endophthalmitis would be performed.
Access options
Buy single article
Instant access to the full article PDF.
US$ 39.95
Tax calculation will be finalised during checkout.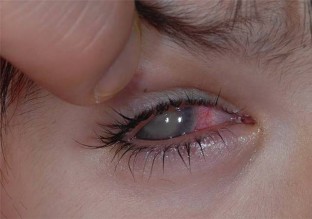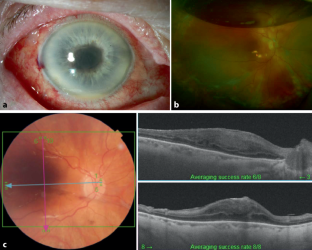 Literatur
1.

Kamalarajah S, Silvestri G, Sharma N et al (2004) Surveillance of endophthalmitis following cataract surgery in the UK. Eye (Lond) 18(6):580–587. https://doi.org/10.1038/sj.eye.6700645

2.

Hernandez-Bogantes E, Navas A, Naranjo A et al (2019) Toxic anterior segment syndrome: a review. Surv Ophthalmol 64(4):463–476. https://doi.org/10.1016/j.survophthal.2019.01.009

3.

Kuriyan AE, Sridhar J, Flynn HW et al (2017) Endophthalmitis caused by corynebacterium species: clinical features, antibiotic susceptibility, and treatment outcomes. Ophthalmol Retina 1(3):200–205. https://doi.org/10.1016/j.oret.2016.11.007

4.

Wang L‑C, Yang C‑M (2005) Sterile endophthalmitis following intravitreal injection of triamcinolone acetonide. Ocul Immunol Inflamm 13(4):295–300. https://doi.org/10.1080/09273940590951007

5.

Kwok AKH, Hui M, Pang CP et al (2002) An in vitro study of ceftazidime and vancomycin concentrations in various fluid media: Implications for use in treating endophthalmitis. Invest Ophthalmol Vis Sci 43(4):1182–1188

6.

Kuhn F, Gini G (2005) Ten years after... are findings of the endophthalmitis vitrectomy study still relevant today? Graefes Arch Clin Exp Ophthalmol 243(12):1197–1199

7.

Doft BH, Kelsey SF, Wisniewski SR (1998) Additional procedures after the initial vitrectomy or tap-biopsy in the endophthalmitis vitrectomy study. Ophthalmology 105(4):707–716. https://doi.org/10.1016/S0161-6420(98)94028-3

8.

Choi EY, Han JY, Lee H et al (2019) Impact of antibiotic resistance of pathogens and early vitrectomy on the prognosis of infectious endophthalmitis: a 10-year retrospective study. Graefes Arch Clin Exp Ophthalmol 257(4):805–813. https://doi.org/10.1007/s00417-019-04261-x

9.

Endophthalmitis Vitrectomy Study Group (1995) Results of the endophthalmitis vitrectomy study. A randomized trial of immediate vitrectomy and of intravenous antibiotics for the treatment of postoperative bacterial endophthalmitis. Arch Ophthalmol 113(12):1479–1496

10.

Pershing S, Lum F, Hsu S et al (2020) Endophthalmitis after cataract surgery in the United States: a report from the intelligent research in sight registry, 2013–2017. Ophthalmology 127(2):151–158. https://doi.org/10.1016/j.ophtha.2019.08.026

11.

Creuzot-Garcher C, Benzenine E, Mariet AS et al (2016) Incidence of acute postoperative endophthalmitis after cataract surgery - a nationwide study in France from 2005 to 2014. Ophthalmology 123(7):1414–1420. https://doi.org/10.1016/j.ophtha.2016.02.019

12.

Bisorca-Gassendorf L, Boden KT, Szurman P et al (2020) Postoperative Endophthalmitis im Spiegel der Literatur. Ophthalmologe. https://doi.org/10.1007/s00347-020-01271-7

13.

Aguilar HE, Meredith TA, Shaarawy A, Kincaid M, Dick J (1995) Vitreous cavity penetration of ceftazidime after intravenous administration. Retina 15(2):154–159. https://doi.org/10.1097/00006982-199515020-00012

14.

Sharma T, Kamath MM, Kamath MG, Nayak RR, Bairy KL, Musmade PB (2015) Aqueous penetration of orally and topically administered moxifloxacin. Br J Ophthalmol 99(9):1182–1185. https://doi.org/10.1136/bjophthalmol-2014-306502

15.

Ng JQ, Morlet N, Pearman JW et al (2005) Management and outcomes of postoperative endophthalmitis since the endophthalmitis vitrectomy study: the endophthalmitis population study of western Australia (EPSWA)'s fifth report. Ophthalmology 112(7):1199–1206. https://doi.org/10.1016/j.ophtha.2005.01.050

16.

Becker SL, Bisorca-Gassendorf L, Boden KT et al (2020) Mikrobiologische und infektiologische Aspekte der postoperativen Endophthalmitis. Ophthalmologe. https://doi.org/10.1007/s00347-020-01287-z

17.

Dossarps D, Bron AM, Koehrer P et al (2015) Endophthalmitis after intravitreal injections: incidence, presentation, management, and visual outcome. Am J Ophthalmol 160(1):17–25.e1. https://doi.org/10.1016/j.ajo.2015.04.013

18.

Rayess N, Rahimy E, Storey P et al (2016) Postinjection endophthalmitis rates and characteristics following intravitreal bevacizumab, ranibizumab, and aflibercept. Am J Ophthalmol 165:88–93. https://doi.org/10.1016/j.ajo.2016.02.028

19.

Baudin F, Benzenine E, Mariet A‑S et al (2018) Association of acute endophthalmitis with Intravitreal injections of corticosteroids or anti-vascular growth factor agents in a nationwide study in France. JAMA Ophthalmol 136(12):1352–1358. https://doi.org/10.1001/jamaophthalmol.2018.3939

20.

Yannuzzi NA, Freund KB (2019) Brolucizumab: evidence to date in the treatment of neovascular age-related macular degeneration. Clin Ophthalmol 13:1323–1329. https://doi.org/10.2147/OPTH.S184706

21.

Chronopoulos A, Schwarz P, Fornoff L et al (2019) Vitrektomie bei Endophthalmitis. Ophthalmologe 116:746–752. https://doi.org/10.1007/s00347-018-0816-8

22.

Simunovic MP, Rush RB, Hunyor AP, Chang AA (2012) Endophthalmitis following intravitreal injection versus endophthalmitis following cataract surgery: clinical features, causative organisms and post-treatment outcomes. Br J Ophthalmol 96(6):862–866. https://doi.org/10.1136/bjophthalmol-2011-301439

23.

McCannel CA (2011) Meta-analysis of endophthalmitis after intravitreal injection of anti-vascular endothelial growth factor agents: causative organisms and possible prevention strategies. Retina 31(4):654–661. https://doi.org/10.1097/IAE.0b013e31820a67e4

24.

Al-Torbak AA, Al-Shahwan S, Al-Jadaan I, Al-Hommadi A, Edward DP (2005) Endophthalmitis associated with the Ahmed glaucoma valve implant. Br J Ophthalmol 89(4):454–458. https://doi.org/10.1136/bjo.2004.049015

25.

Al Rashaed S, Arevalo F, Al Sulaiman S et al (2016) Endophthalmitis trends and outcomes following glaucoma surgery at a tertiary eye care hospital in Saudi Arabia. J Glaucoma 25(2):e70–e75. https://doi.org/10.1097/IJG.0000000000000261

26.

Mady RJ, Holland BK, Bhagat N, Zarbin MA, Fechtner RD, Khouri AS (2015) Intraocular pressure outcomes after endophthalmitis associated with glaucoma surgery. J Glaucoma 24(2):122–126. https://doi.org/10.1097/IJG.0b013e31829da1cf

27.

Zheng CX, Moster MR, Khan MA et al (2017) Infectious endophthalmitis after glaucoma drainage implant surgery. Retina 37(6):1160–1167. https://doi.org/10.1097/IAE.0000000000001329

28.

Bissig A, Rivier D, Zaninetti M, Shaarawy T, Mermoud A, Roy S (2008) Ten years follow-up after deep sclerectomy with collagen implant. J Glaucoma 17(8):680–686. https://doi.org/10.1097/IJG.0b013e318182ed9e

29.

Seuthe A‑M, Januschowski K, Mariacher S et al (2018) The effect of canaloplasty with suprachoroidal drainage combined with cataract surgery—1-year results. Acta Ophthalmol 96(1):e74–e78. https://doi.org/10.1111/aos.13393

30.

Busbee BG, Recchia FM, Kaiser R et al (2004) Bleb-associated endophthalmitis: clinical characteristics and visual outcomes. Ophthalmology 111(8):1495–1503. https://doi.org/10.1016/j.ophtha.2004.01.028

31.

Gedde SJ, Scott IU, Tabandeh H et al (2001) Late endophthalmitis associated with glaucoma drainage implants. Ophthalmology 108(7):1323–1327. https://doi.org/10.1016/S0161-6420(01)00598-X

32.

Park JC, Ramasamy B, Shaw S, Ling RHL, Prasad S (2014) A prospective and nationwide study investigating endophthalmitis following pars plana vitrectomy: clinical presentation, microbiology, management and outcome. Br J Ophthalmol 98(8):1080–1086. https://doi.org/10.1136/bjophthalmol-2013-304486

33.

Tran KD, Yannuzzi NA, Si N et al (2018) Clinical features, antimicrobial susceptibilities, and treatment outcomes of patients with culture positive endophthalmitis after penetrating keratoplasty. Am J Ophthalmol Case Rep 9:62–67. https://doi.org/10.1016/j.ajoc.2018.01.011

34.

Chen JY, Jones MN, Srinivasan S, Neal TJ, Armitage WJ, Kaye SB (2015) Endophthalmitis after penetrating keratoplasty. Ophthalmology 122(1):25–30. https://doi.org/10.1016/j.ophtha.2014.07.038

35.

Bor E, Kremer I (2011) Endophthalmitis and wound dehiscence following late removal of penetrating keratoplasty sutures. Ophthalmic Surg Lasers Imaging 42(3):234–240. https://doi.org/10.3928/15428877-20110224-03

36.

Fontana L, Moramarco A, Mandarà E, Russello G, Iovieno A (2019) Interface infectious keratitis after anterior and posterior lamellar keratoplasty. Clinical features and treatment strategies. A review. Br J Ophthalmol 103(3):307–314. https://doi.org/10.1136/bjophthalmol-2018-312938

37.

Borkar DS, Wibbelsman TD, Buch PM et al (2019) Endophthalmitis rates and clinical outcomes following penetrating and endothelial keratoplasty. Am J Ophthalmol 205:82–90. https://doi.org/10.1016/j.ajo.2019.05.004

38.

Maalouf F, Abdulaal M, Hamam RN (2012) Chronic postoperative endophthalmitis: a review of clinical characteristics, microbiology, treatment strategies, and outcomes. Int J Inflam 2012:6–11. https://doi.org/10.1155/2012/313248

39.

Kim CH, Chen MF, Coleman AL (2017) Adjunctive steroid therapy versus antibiotics alone for acute endophthalmitis after intraocular procedure. Cochrane Database Syst Rev 2(2):CD12131. https://doi.org/10.1002/14651858.CD012131.pub2

40.

Moisseiev E, Abbassi S, Park SS (2017) Intravitreal dexamethasone in the management of acute endophthalmitis: a comparative retrospective study. Eur J Ophthalmol 27(1):67–73. https://doi.org/10.5301/ejo.5000866

41.

Park SS, Samiy N, Ruoff K, D'Amico DJ, Sullivan Baker A (1995) Effect of Intravitreal dexamethasone in treatment of pneumococcal endophthalmitis in rabbits. Arch Ophthalmol 113(10):1324. https://doi.org/10.1001/archopht.1995.01100100112040

42.

De Kaspar HM, Ta CN, Engelbert M, Mette M, Thiel M, Kampik A (2008) Effects of intravitreal corticosteroid in the treatment of staphylococcus aureus-induced experimental endophthalmitis. Retina 28(2):326–332. https://doi.org/10.1097/IAE.0b013e3181237cf8

43.

Chiquet C, Cornut PL, Benito Y et al (2008) Eubacterial PCR for bacterial detection and identification in 100 acute postcataract surgery endophthalmitis. Invest Ophthalmol Vis Sci 49(5):1971–1978. https://doi.org/10.1167/iovs.07-1377

44.

Chiquet C, Aptel F, Combey-De Lambert A et al (2016) Occurrence and risk factors for retinal detachment after pars plana vitrectomy in acute postcataract bacterial endophthalmitis. Br J Ophthalmol 100(10):1388–1392. https://doi.org/10.1136/bjophthalmol-2015-307359

45.

Pinarci EY, Yesilirmak N, Bayar SA, Sizmaz S, Akkoyun I, Yilmaz G (2013) The results of pars plana vitrectomy and silicone oil tamponade for endophthalmitis after intravitreal injections. Int Ophthalmol 33(4):361–365. https://doi.org/10.1007/s10792-012-9702-6

46.

Doft BM, Kelsey SF, Wisniewski SR (2000) Retinal detachment in the endophthalmitis vitrectomy study. Arch Ophthalmol 118(12):1661–1665. https://doi.org/10.1001/archopht.118.12.1661

47.

Kaynak S, Öner FH, Koçak N, Çingil G (2003) Surgical management of postoperative endophthalmitis: comparison of 2 techniques. J Cataract Refract Surg 29(5):966–969. https://doi.org/10.1016/S0886-3350(02)01892-8

48.

Nagpal M, Jain P, Nagpal K (2012) Pars plana vitrectomy with or without silicone oil endotamponade in surgical management of endophthalmitis. Asia Pac J Ophthalmol 1(4):216–221. https://doi.org/10.1097/apo.0b013e31826000cd

49.

Soheilian M, Mazareei M, Mohammadpour M, Rahmani B (2006) Comparison of silicon oil removal with various viscosities after complex retinal detachment surgery. BMC Ophthalmol 6:1–6. https://doi.org/10.1186/1471-2415-6-21

50.

Dave VP, Joseph J, Jayabhasker P, Pappuru RR, Pathengay A, Das T (2019) Does ophthalmic-grade silicone oil possess antimicrobial properties? J Ophthalmic Inflamm Infect. https://doi.org/10.1186/s12348-019-0187-6

51.

Örnek N, Apan T, Oǧurel R, Örnek K (2014) Comparison of the antimicrobial effect of heavy silicone oil and conventional silicone oil against endophthalmitis-causing agents. Indian J Ophthalmol 62(4):388–391. https://doi.org/10.4103/0301-4738.126994

52.

Leung EH, Stout JT (2019) Antibiotics and antifungals in silicone oil. Int J Retin Vitr 5(1):1–5. https://doi.org/10.1186/s40942-019-0199-2
Ethics declarations
Interessenkonflikt
L. Mautone, C. Skevas und M.S. Spitzer geben an, dass kein Interessenkonflikt besteht.
Für diesen Beitrag wurden von den Autoren keine Studien an Menschen oder Tieren durchgeführt. Für die aufgeführten Studien gelten die jeweils dort angegebenen ethischen Richtlinien. Für Bildmaterial oder anderweitige Angaben innerhalb des Manuskripts, über die Patienten zu identifizieren sind, liegt von ihnen und/oder ihren gesetzlichen Vertretern eine schriftliche Einwilligung vor.
About this article
Cite this article
Mautone, L., Skevas, C. & Spitzer, M.S. Therapie der postoperativen Endophthalmitis. Ophthalmologe (2021). https://doi.org/10.1007/s00347-021-01320-9
Schlüsselwörter
Endophthalmitis

Vitrektomie

Intravitreale Antibiose

Kataraktchirurgie

IVOM
Keywords
Endopthalmitis

Vitrectomy

Intravitreal antibiotics

Cataract surgery

IVOM