Zusammenfassung
Hintergrund
Nach Implantation des XEN-Gel-Stents (Allergan, CA, USA) kommt es häufig zu einer Vernarbung der Bindehaut mit einem Anstieg des intraokulären Druckes (IOD). In der vorliegenden Arbeit wird ein Revisionseingriff mit Öffnung der Bindehaut und Entfernung des Narbengewebes beschrieben. Um das Verfahren zu standardisieren, wird der Eingriff in 9 Schritte unterteilt. Diese werden sowohl in einer Bilderfolge als auch im Video dargestellt.
Methoden
Der Eingriff wird in 9 Schritte unterteilt: 1) kornealer Zügelfaden und Applikation von Suprarenin, 2) Öffnen der Konjunktiva am Limbus, 3) Präparation der Konjunktiva jeweils neben dem Stent, 4) Separierung des Stents von der Bindehaut, 5) Feinpräparation des Stents, 6) Entfernung von subkonjunktivalem Narbengewebe, 7) Durchgängigkeit des Stents prüfen, 8) Mitomycin C, 9) Bindehautverschluss Vicryl 9.0.
Ergebnisse
Nach dem Eingriff bildet sich eine diffuse Filterzone. In der Literatur sind Steigerungen der Erfolgsraten auf 90 % (Kriterium: keine weitere Reoperation notwendig) nach offener Bindehautrevision beschrieben worden. Schwere Nebenwirkungen sind nicht zu erwarten. Sie entsprechen denen des Primäreingriffes.
Schlussfolgerungen
Die offene Bindehautrevision nach XEN-Gel-Stent führt zu einer effektiven und andauernden Drucksenkung. Die Revision ist auch nach einem längeren Zeitraum noch durchführbar und kann wieder zur Tropfenfreiheit des Patienten führen. Zur Durchführung der offenen Bindehautrevision sind Erfahrungen in der Filterkissenchirurgie von Vorteil.
Abstract
Background
After implantation of a XEN gel stent scarring of the conjunctiva with elevation of the intraocular pressure (IOP) is a frequent occurrence. This article describes a surgical revision technique with opening of the conjunctiva and removal of scar tissue. In order to standardize the technique the surgical procedure was divided into nine steps. These steps are shown in the video and a series of images.
Methods
Surgery is divided into nine steps: 1) corneal traction suture and topical application of suprarenin, 2) opening of the conjunctiva along the limbus, 3) preparation posteriorly towards the fornix, 4) separation of the stent from the surrounding scar tissue, 5) precise preparation of the stent, 6) removal of additional scar tissue not adhering to the stent, 7) functional testing of the stent, 8) mitomycin C application, 9) closing of the conjunctiva with two corner sutures on the limbus.
Results
After surgery a diffuse filtering bleb is formed. In the literature increased success rates up to 90% (criterion: no further surgery necessary) after open conjunctival revision have been described. Severe side effects are not to be expected and are comparable to those of primary surgery.
Conclusion
Open revision of the conjunctiva after XEN gel stent implantation leads to an effective and enduring lowering of IOP. Revision surgery can be carried out even after a long time period and can keep the patient free of antiglaucomatous drops. Experience in surgery of filtering blebs is advantageous when performing open revision of the conjunctiva.
This is a preview of subscription content, log in to check access.
Access options
Buy single article
Instant access to the full article PDF.
US$ 39.95
Price includes VAT for USA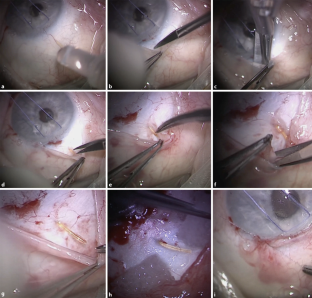 Ethics declarations
Interessenkonflikt
R.A. Widder, C. Rennings und G.F. Rössler geben an, dass kein Interessenkonflikt besteht.
Für diesen Beitrag wurden von den Autoren keine Studien an Menschen oder Tieren durchgeführt. Für die aufgeführten Studien gelten die jeweils dort angegebenen ethischen Richtlinien. Für Bildmaterial oder anderweitige Angaben innerhalb des Manuskripts, über die Patienten zu identifizieren sind, liegt von ihnen und/oder ihren gesetzlichen Vertretern eine schriftliche Einwilligung vor.
Caption Electronic Supplementary Material
Video: Die offene Bindehautrevision nach XEN45-Gel-Stent-Implantation als standardisiertes Verfahren. (Copyright: PD Dr. Randolf Alexander Widder, Düsseldorf)
About this article
Cite this article
Widder, R.A., Rennings, C. & Rössler, G.F. Offene Bindehautrevision nach XEN45-Gel-Stent-Implantation als standardisiertes Verfahren. Ophthalmologe (2020). https://doi.org/10.1007/s00347-020-01127-0
Schlüsselwörter
Video

Revisionseingriff

Erfolgsrate

Drucksenkung

Tropfenfreiheit
Keywords
Video

Revision surgery

Success rates

Pressure reduction

Drop-free