Zusammenfassung
Hintergrund
Die personalisierte Medizin ist mittlerweile Standard in der onkologischen Betreuung von Patienten. Ein Paradebeispiel stellt das Lymphom dar, das durch den intra- und periokulären Befall wesentliche Berührungspunkte mit der Augenheilkunde hat.
Fragestellung
Es erfolgt die Darstellung der aktuellen personalisierten Diagnostik und Therapie beim okulären Lymphom.
Methoden
Dieser Beitrag stellt einen Bezug zwischen den aktuellen Kenntnissen in der Literatur, den Leitlinien und Empfehlungen und den klinischen Erfahrungen beim Lymphom am Auge her. Er zeigt insbesondere die molekulare als auch individuelle Personalisierung von Behandlungskonzepten auf.
Ergebnisse
Aufgrund von klinischen Auffälligkeiten stellt der Augenarzt häufig initial die Verdachtsdiagnose einer lymphatischen oder anderen onkologischen Erkrankung am Auge. Die genaue Diagnosefindung erfolgt dann mittels molekularbiologischer Techniken wie Immunhistologie oder Polymerase-Chain-Reaction-Analyse. Als weiterer Baustein ist ein Staging des Körpers unerlässlich und die Stadieneinteilung nach der Ann-Arbor-Klassifikation für die korrekte Lymphombenennung von klinischer Bedeutung. Aufgrund dieser präzisen Diagnostik erfolgen die individualisierte Therapieauswahl sowie im Anschluss eine personalisierte Nachsorge. Der gesamte Prozess von der Diagnosefindung über die Therapie bis hin zur Nachsorge ist mit dem Angebot der Psychoonkologie zu begleiten.
Schlussfolgerung
Die personalisierte Medizin findet in der Lymphomversorgung am Auge bereits aktiv Anwendung. Der Patient steht im Vordergrund und ist federführend. Durch die Berücksichtigung von Tumorbesonderheiten und Patientenparametern haben sich Lebenserwartung und rezidivfreies Intervall erhöht sowie die Lebensqualität bei vielen Lymphomarten verbessert. Es ist davon auszugehen, dass diese Vorteile auch in der Augenheilkunde greifen.
Abstract
Background
Personalized medicine is nowadays the standard of care for patients with oncological diseases. A prime example is the lymphoma, which has substantial points of contact with ophthalmological care due to the intraocular and periocular involvement.
Objective
This article provides a description of the current personalized diagnostics and treatment of ocular lymphomas.
Methods
This article constructs a relationship between the current knowledge in the literature, guidelines and recommendations and the clinical experience with ocular lymphomas. It explains in particular the molecular and also individual personalized treatment concepts.
Results
The primary suspicion of lymphatic or other ocular oncological diseases is raised by an ophthalmologist based on clinical symptoms. The exact diagnostic procedure is carried out with molecular biological techniques, such as immunohistology and polymerase chain reaction analyses. A staging of the mass is indispensable and the stage classification according to the Ann Arbor criteria for a correct assignment of the lymphoma is of clinical importance. Based on these precise diagnostics an individualized choice of treatment and subsequent personalized follow-up care are carried out. During the complete process from the diagnostic procedure to treatment and aftercare, psycho-oncological support should be offered to the patient.
Conclusion
Personalized medicine is already actively performed in the care of ocular lymphomas. The patient is in the forefront and plays a decisive role. By considering the special features of the tumor and patient parameters, the life expectation and relapse-free interval as well as quality of life have been improved for many types of lymphoma. It must be assumed that these advantages also apply to ophthalmology.
This is a preview of subscription content, log in to check access.
Access options
Buy single article
Instant access to the full article PDF.
US$ 39.95
Price includes VAT for USA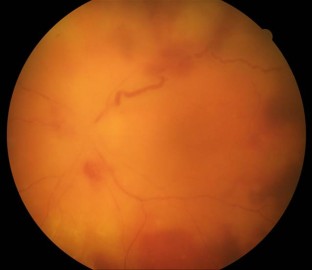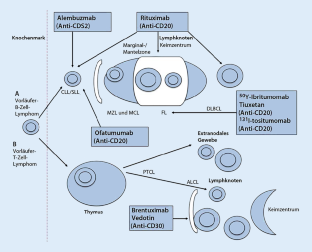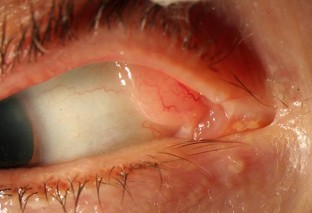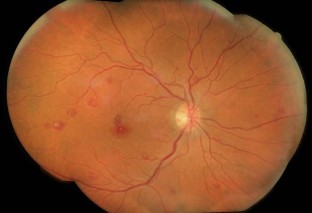 Literatur
1.

Kakkassery V, Stubiger N, Adamietz IA, Tischoff I, Baraniskin A, Wunderlich IM (2015) Lymphoma of the ocular adnexa. Ophthalmologe 112(3):210–216

2.

Stubiger N, Kakkassery V, Gundlach E, Winterhalter S, Pleyer U (2015) Diagnostics and treatment of primary vitreoretinal lymphoma. Ophthalmologe 112(3):223–230

3.

Doycheva D, Zierhut M, Susskind D, Bartz-Schmidt KU, Deuter C (2015) Diagnostics and treatment of choroidal lymphoma. Ophthalmologe 112(3):217–222

4.

Kakkassery V, Wunderlich MI (2016) Ocular Lymphomas. Klin Monbl Augenheilkd 233(10):1175–1191

5.

Coupland SE (2013) Molecular pathology of lymphoma. Eye 27(2):180–189

6.

Coupland SE, Damato B (2006) Lymphomas involving the eye and the ocular adnexa. Curr Opin Ophthalmol 17(6):523–531

7.

Fend F, Ferreri AJ, Coupland SE (2016) How we diagnose and treat vitreoretinal lymphoma. Br J Haematol 173(5):680–692

8.

Davis JL, Miller DM, Ruiz P (2005) Diagnostic testing of vitrectomy specimens. Am J Ophthalmol 140(5):822–829

9.

Wittenberg LA, Maberley DA, Ma PE, Wade NK, Gill H, White VA (2008) Contribution of vitreous cytology to final clinical diagnosis fifteen-year review of vitreous cytology specimens from one institution. Ophthalmology 115(11:1944–1950

10.

Kimura K, Usui Y, Goto H, Japanese Intraocular Lymphoma Study G (2012) Clinical features and diagnostic significance of the intraocular fluid of 217 patients with intraocular lymphoma. Jpn J Ophthalmol 56(4):383–389

11.

Missotten T, Tielemans D, Bromberg JE, van Hagen PM, van Lochem EG, van Dongen JJ et al (2013) Multicolor flowcytometric immunophenotyping is a valuable tool for detection of intraocular lymphoma. Ophthalmology 120(5):991–996

12.

Merle-Beral H, Davi F, Cassoux N, Baudet S, Colin C, Gourdet T et al (2004) Biological diagnosis of primary intraocular lymphoma. Br J Haematol 124(4):469–473

13.

Baehring JM, Androudi S, Longtine JJ, Betensky RA, Sklar J, Foster CS et al (2005) Analysis of clonal immunoglobulin heavy chain rearrangements in ocular lymphoma. Cancer 104(3):591–597

14.

Wang Y, Shen D, Wang VM, Sen HN, Chan CC (2011) Molecular biomarkers for the diagnosis of primary vitreoretinal lymphoma. Int J Mol Sci 12(9):5684–5697

15.

Coupland SE, Hummel M, Muller HH, Stein H (2005) Molecular analysis of immunoglobulin genes in primary intraocular lymphoma. Invest Ophthalmol Vis Sci 46(10):3507–3514

16.

Sugita S, Takase H, Sugamoto Y, Arai A, Miura O, Mochizuki M (2009) Diagnosis of intraocular lymphoma by polymerase chain reaction analysis and cytokine profiling of the vitreous fluid. Jpn J Ophthalmol 53(3):209–214

17.

Bonzheim I, Giese S, Deuter C, Susskind D, Zierhut M, Waizel M et al (2015) High frequency of MYD88 mutations in vitreoretinal B‑cell lymphoma: a valuable tool to improve diagnostic yield of vitreous aspirates. Blood 126(1):76–79

18.

Carreno E et al (2018) Acta Ophthalmol. https://doi.org/10.1111/aos.13808

19.

Hiemcke-Jiwa LS et al (2018) JAMA Ophthalmol. https://doi.org/10.1097/IAE.0000000000002319

20.

Cani AK, Hovelson DH, Demirci H, Johnson MW, Tomlins SA, Rao RC (2016) Next generation sequencing of vitreoretinal lymphomas from small-volume intraocular liquid biopsies: new routes to targeted therapies. Oncotarget. https://doi.org/10.18632/oncotarget.14008

21.

Kakkassery V, Schroers R, Coupland SE, Wunderlich MI, Schargus M, Heinz C et al (2017) Vitreous microRNA levels as diagnostic biomarkers for vitreoretinal lymphoma. Blood 129(23):3130–3133

22.

Fisson S, Ouakrim H, Touitou V, Baudet S, Abdelwahed BR, Donnou S et al (2013) Cytokine profile in human eyes: contribution of a new cytokine combination for differential diagnosis between intraocular lymphoma or uveitis. Plos One 8(2):e52385

23.

Costopoulos M, Touitou V, Golmard JL, Darugar A, Fisson S, Bonnemye P et al (2016) ISOLD: a new highly sensitive interleukin score for intraocular lymphoma diagnosis. Ophthalmology 123(7):1626–1628

24.

Shankland KR, Armitage JO, Hancock BW (2012) Non-Hodgkin lymphoma. Lancet 380:848–857

25.

Sniegowski MC, Roberts D, Bakhoum M, Mc Laughlin P, Yin VT, Turturro F et al (2014) Ocular adnexal lymphoma: validation of American Joint Committee on Cancer seventh edition staging guidelines. Br J Ophthalmol 98:1255–1260

26.

Araujo I, Coupland SE (2017) Primary vitreoretinal lymphoma—a review. Asia Pac J Ophthalmol (Phila) 6(3):283–289

27.

Jaehne D, Coupland SE (2018) Primary vitreoretinal lymphoma. Ophthalmologe 115(4):343–356

28.

Coupland SE, Damato B (2006) Lymphomas involving the eye and the ocular adnexa. Curr Opin Ophthalmol 17:523–531

29.

Sharma T, Grewal J, Gupta S, Murray PI (2004) Ophthalmic manifestations of acute leukaemias: the ophthalmologist's role. Eye 18(7):663–672

30.

Talcott KE, Garg RJ, Garg SJ (2016) Ophthalmic manifestations of leukemia. Curr Opin Ophthalmol 27(6):545–551

31.

Coupland SE, White VA, Rootman J, Damato B, Finger PT (2009) A TNM-based clinical staging system of ocular adnexal lymphomas. Arch Pathol Lab Med 133:1262–1267

32.

Valenzuela AA, Allen C, Grimes D, Wong D, Sullivan TJ (2006) Positron emission tomography in the detection and staging of ocular adnexal lymphoproliferative disease. Ophthalmology 113(12):2331–2337

33.

Roe RH, Finger PT, Kurli M, Tena LB, Iacob CE (2006) Whole-body positron emission tomography/computed tomography imaging and staging of orbital lymphoma. Ophthalmology 113(10):1854–1858

34.

Song W, Xie Y, Deng L, Shi Y, Li X, Zheng W et al (2014) Clinical value of flow cytometry in assessing bone marrow involvement of non-Hodgkin's lymphoma. Zhonghua Yi Xue Za Zhi 94:2996–3000

35.

Prospero Ponce CM, Al Zubidi N, Beaver HA, Lee AG, Huey DA, Chavis PS (2014) HIV and cannot see. Surv Ophthalmol 59:468–473

36.

Ferreri AJM, Viale E, Guidoboni M, Resti AG, De Conciliis C, Politi L et al (2006) Clinical implications of hepatitis C virus infection in MALT-type lymphoma of the ocular adnexa. Ann Oncol 17:769–772

37.

Husain M, Grunebaum E, Naqvi A, Atkinson A, Ngan B‑Y, Aiuti A et al (2007) Burkitt's lymphoma in a patient with adenosine deaminase deficiency-severe combined immunodeficiency treated with polyethylene glycol-adenosine deaminase. J Pediatr 151:93–95

38.

Husain A, Roberts D, Pro B, McLaughlin P, Esmaeli B (2007) Meta-analyses of the association between Chlamydia psittaci and ocular adnexal lymphoma and the response of ocular adnexal lymphoma to antibiotics. Cancer 110:809–815

39.

Ferreri AJM, Ponzoni M, Guidoboni M, Resti AG, Politi LS, Cortelazzo S, Demeter J, Zallio F, Palmas A, Muti G, Dognini GP, Pasini E, Lettini AA, Sacchetti F, Conciliis C de, Doglioni C, Dolcetti R (2006) Bacteria-Eradicating Therapy With Doxycycline in Ocular Adnexal MALT Lymphoma: A Multicenter Prospective Trial. J National Cancer Inst 98(19):1375–1382. https://doi.org/10.1093/jnci/djj373

40.

Rosenberg SA (1977) Validity of the Ann Arbor staging classification for the non-Hodgkin's lymphomas. Cancer Treat Rep 61:1023–1027

41.

The International Non-Hodgkin's Lymphoma Prognostic Factors Project (1993) A predictive model for aggressive non-Hodgkin's lymphoma. N Engl J Med 329:987–994. https://doi.org/10.1056/NEJM199309303291402

42.

Rath S, Connors JM, Dolman PJ, Rootman J, Rootman DB, White VA (2014) Comparison of American Joint Committee on Cancer TNM-based staging system (7th edition) and Ann Arbor classification for predicting outcome in ocular adnexal lymphoma. Orbit 33(1):23–28

43.

Carbone PP, Kaplan HS, Musshoff K, Smithers DW, Tubiana M (1971) Report of the Committee on Hodgkin's Disease Staging Classification. Cancer Res 31(11):1860–1861

44.

Bilsing B, Anger B, Meyer F (2015) Medical rehabilitation in gastrointestinal oncology. Zentralbl Chir 140(4):382–389

45.

Zeissig SR, Singer S, Koch L, Blettner M, Arndt V (2015) Utilisation of psycho-oncological services in hospitals and outpatient counselling centres by survivors of breast, colon and prostate cancer. Psychother Psychosom Med Psychol 65(5):177–182

46.

Singer S, Danker H, Briest S, Dietrich A, Dietz A, Einenkel J et al (2014) Effect of a structured psycho-oncological screening and treatment model on mental health in cancer patients (STEPPED CARE): study protocol for a cluster randomized controlled trial. Trials 15:482
Ethics declarations
Interessenkonflikt
V. Kakkassery hat Vortragshonorare sowie Beratungshonorare von der Firma Roche und der Firma Novartis erhalten. A.M. Jünemann, N.E. Bechrakis, S. Grisanti, M. Ranjbar, M. Zschoche und L.M. Heindl geben an, dass kein Interessenkonflikt besteht.
Für diesen Beitrag wurden von den Autoren keine Studien an Menschen oder Tieren durchgeführt. Für die aufgeführten Studien gelten die jeweils dort angegebenen ethischen Richtlinien. Für Bildmaterial oder anderweitige Angaben innerhalb des Manuskripts, über die Patienten zu identifizieren sind, liegt von ihnen und/oder ihren gesetzlichen Vertretern eine schriftliche Einwilligung vor.
About this article
Cite this article
Kakkassery, V., Jünemann, A.M., Bechrakis, N.E. et al. Lymphom am Auge. Ophthalmologe 117, 499–507 (2020). https://doi.org/10.1007/s00347-019-01020-5
Schlüsselwörter
Onkologie

Augenheilkunde

Behandlungskonzept

Molekularbiologische Analytik

Staging
Keywords
Oncology

Ophthalmology

Treatment concept

Molecular biological analyses

Staging