Zusammenfassung
Die Akanthamöbenkeratitis stellt diagnostisch oft eine klinische Herausforderung dar. Zumeist wird diese primär mit einer Herpeskeratitis verwechselt. Auch eine Koinfektion mit Bakterien oder Pilzen kann zu einer verzögerten Diagnose und Einleitung einer Therapie führen. Wenige Fälle berichten über den Nachweis von Akanthamöben in der Vorderkammer. Im Falle einer Endophthalmitis ohne den Nachweis von Bakterien oder Pilzen sollte daher immer auch an Akanthamöben gedacht werden. Die lokale und systemische Gabe von Voriconazol kann erfolgreich zur Therapie einer Akanthamöbenendophthalmitis eingesetzt werden.
Abstract
Diagnosis of acanthamoeba keratitis is often a clinical challenge. In most cases it is primarily confused with herpes keratitis. A coinfection with bacteria or fungi can also lead to a delayed diagnosis and initiation of treatment. A few cases reported the detection of acanthamoeba in the anterior chamber. In the case of endophthalmitis without the detection of bacteria or fungi acanthamoeba should therefore always be considered as a potential differential diagnosis. The local and systemic administration of voriconazole can be successfully used to treat acanthamoeba endophthalmitis.
This is a preview of subscription content, log in to check access.
Access options
Buy single article
Instant access to the full article PDF.
US$ 39.95
Tax calculation will be finalised during checkout.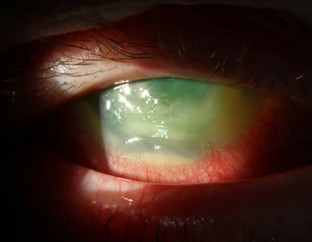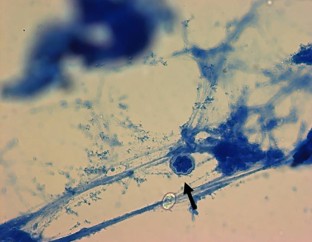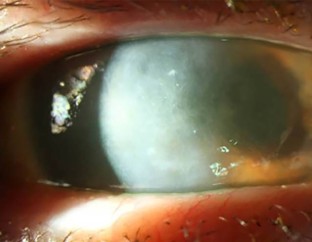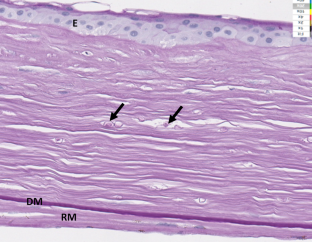 Literatur
1.

Guerriero S, La Tegola MG, Monno R, Apruzzese M, Cantatore A (2009) A case of descemet's membrane rupture in a patient affected by Acanthamoeba keratitis. Eye Contact Lens 35:338–340

2.

Davis MJ, Packo KH, Epstein RJ, Grostern RJ, Cohen JA (2010) Acanthamoeba endophthalmitis following penetrating keratoplasty for Acanthamoeba keratitis. Arch Ophthalmol 128:505–506

3.

Arnalich-Montiel F, Martin-Navarro CM, Alio JL et al (2012) Successful monitoring and treatment of intraocular dissemination of acanthamoeba. Arch Ophthalmol 130:1474–1475

4.

Clarke DW, Niederkorn JY (2006) The pathophysiology of Acanthamoeba keratitis. Trends Parasitol 22:175–180

5.

Szentmary N, Daas L, Matoula P, Goebels S, Seitz B (2013) Acanthamoeba keratitis. Ophthalmologe 110:1203–1210 (quiz 1211)

6.

Meltendorf C, Duncker G (2011) Akanthamöben-Keratitis. Klin Monatsbl Augenheilkd 228:R29–R43

7.

Lorenzo-Morales J, Khan NA, Walochnik J (2015) An update on Acanthamoeba keratitis: diagnosis, pathogenesis and treatment. Parasite 22:10

8.

Daas L, Szentmary N, Eppig T et al (2015) The German Acanthamoeba keratitis register: Initial results of a multicenter study. Ophthalmologe 112:752–763

9.

Kandori M, Inoue T, Shimabukuro M et al (2010) Four cases of Acanthamoeba keratitis treated with phototherapeutic keratectomy. Cornea 29:1199–1202

10.

Dang Burgener NP, Baglivo E, Farpour B et al (2006) Acanthamoeba detection in the anterior chamber. Br J Ophthalmol 90:649–650

11.

Kutner A, Aldrich M, Patel S et al (2018) Acanthamoeba endophthalmitis during treatment for cutaneous disease in a renal transplant patient. Transpl Infect Dis 20:e12843

12.

Arnalich-Montiel F, Reyes-Batlle M, Lopez-Velez R, Lorenzo-Morales J (2018) Treatment of intraocular spread of acanthamoeba after tectonic corneal graft in acanthamoeba keratitis. Eye 32:1286–1287

13.

Moshari A, McLean IW, Dodds MT, Damiano RE, McEvoy PL (2001) Chorioretinitis after keratitis caused by Acanthamoeba: case report and review of the literature. Ophthalmology 108:2232–2236

14.

Tavassoli S, Buckle M, Tole D, Chiodini P, Darcy K (2018) The use of miltefosine in the management of refractory Acanthamoeba keratitis. Cont Lens Anterior Eye 41(4):400–402

15.

Anderson NG, Hamler SE, Duncan LD (2012) Primary subretinal abscess caused by acanthamoeba: clinical and pathologic case report and review of the literature. Retin Cases Brief Rep 6:37–39

16.

Mietz H, Font RL (1997) Acanthamoeba keratitis with granulomatous reaction involving the stroma and anterior chamber. Arch Ophthalmol 115:259–263

17.

Cabello-Vilchez AM, Martin-Navarro CM, Lopez-Arencibia A et al (2014) Voriconazole as a first-line treatment against potentially pathogenic Acanthamoeba strains from Peru. Parasitol Res 113:755–759

18.

Tu EY, Joslin CE, Shoff ME (2010) Successful treatment of chronic stromal acanthamoeba keratitis with oral voriconazole monotherapy. Cornea 29:1066–1068

19.

Talbott M, Cevallos V, Chen MC et al (2019) Synergy testing of antiamoebic agents for Acanthamoeba: antagonistic effect of voriconazole. Cornea 38:1309–1313

20.

Bang S, Edell E, Eghrari AO, Gottsch JD (2010) Treatment with voriconazole in 3 eyes with resistant Acanthamoeba keratitis. Am J Ophthalmol 149:66–69

21.

Laurik KL, Szentmary N, Daas L, Langenbucher A, Seitz B (2019) Early penetrating keratoplasty a chaud may improve outcome in therapy-resistant Acanthamoeba keratitis. Adv Ther 36:2528–2540
Ethics declarations
Interessenkonflikt
J. Pascha, A. Frings, J. Walochnik, E. Wissiak, M. Dirisamer, L. Daas und N. Ardjomand geben an, dass kein Interessenkonflikt besteht.
Für diesen Beitrag wurden von den Autoren keine Studien an Menschen oder Tieren durchgeführt. Für die aufgeführten Studien gelten die jeweils dort angegebenen ethischen Richtlinien. Für Bildmaterial oder anderweitige Angaben innerhalb des Manuskripts, über die Patienten zu identifizieren sind, liegt von ihnen und/oder ihren gesetzlichen Vertretern eine schriftliche Einwilligung vor.
About this article
Cite this article
Pascha, J., Frings, A., Walochnik, J. et al. Akanthamöbenendophthalmitis – Ein Fallbericht. Ophthalmologe 117, 926–929 (2020). https://doi.org/10.1007/s00347-019-01013-4
Schlüsselwörter
Hypopyon

Keratitis

Keratoplastik

PTK

Voriconazol
Keywords
Hypopyon

Keratitis

Keratoplastic

PTK

Voriconazole