Zusammenfassung
Hintergrund
Tumoren des Tränensacks stellen eine insgesamt rare Entität dar. Malignome sind dabei häufig mit einer hohen Mortalitätsrate vergesellschaftet. Nicht selten präsentieren sich Tränensacktumoren als Tränenwegsstenose und Dakryozystitis und werden erst intraoperativ entdeckt. Ziel dieser Arbeit war die retrospektive Analyse aller Fälle mit Tränensacktumoren, die sich mit einer Tränenwegsstenose in den vergangenen 10 Jahren an unserer Augenklinik vorstellten.
Methoden
Alle Patienten, die im Zeitraum von 01/2009–12/2018 an der Universitätsaugenklinik Münster mit einer externen Dakryozystorhinostomie (DCR) versorgt wurden, wurden retrospektiv auf das Vorliegen eines Tränensacktumors analysiert. Erfasst wurden Symptomatik, klinischer und histopathologischer Befund, das diagnostische und therapeutische Vorgehen sowie der Langzeitverlauf.
Ergebnisse
Insgesamt wurden 878 Patienten mit einer externen DCR an der Universitätsaugenklinik Münster in dem genannten Zeitraum behandelt, bei 13 Patienten konnte ein Tränensacktumor diagnostiziert werden. In 9 der 13 Fälle lag ein malignes Lymphom vor, in 2 Fällen ein Plattenepithelkarzinom und in jeweils 1 Fall ein onkozytäres Adenom und Transitionalzellpapillom.
Schlussfolgerung
Neoplasien des Tränensacks können sich als Tränensackstenose bzw. Dakryozystitis maskieren und müssen bei untypischem klinischem Verlauf als Differenzialdiagnose in Betracht gezogen werden. Eine Biopsie im Rahmen einer externen DCR mit histopathologischer Untersuchung ist in solchen Fällen unerlässlich.
Abstract
Background
Tumors of the lacrimal sac are a rare entity. Malignancies are often associated with a high mortality rate. Lacrimal sac tumors often present as lacrimal duct stenosis with dacryocystitis and are often only diagnosed after an intraoperative biopsy. The aim of this study was a retrospective analysis of all cases with lacrimal sac tumors, which presented with a lacrimal duct stenosis at this medical center in the past 10 years.
Methods
All patients who were treated by external dacryocystorhinostomy (DCR) at the University Medical Center Münster during the period January 2009–December 2018 were retrospectively analyzed for the presence of a lacrimal sac tumor. Symptoms, clinical and histopathological findings, diagnostic and therapeutic procedures as well as long-term follow-up were analyzed.
Results
A total number of 878 patients underwent an external DCR at the University Medical Center Münster during the study period. Of these patients 13 were diagnosed with a lacrimal sac tumor and included 9 malignant lymphomas, 2 squamous cell carcinomas, 1 oncocytic adenoma and 1 transitional cell papilloma.
Conclusion
Neoplasms of the lacrimal sac can masquerade as lacrimal duct stenosis or dacryocystitis and must be considered as a differential diagnosis in cases with an atypical clinical course. A lacrimal sac biopsy during an (external) DCR with subsequent histopathological examination is strongly recommended in such cases.
Access options
Buy single article
Instant access to the full article PDF.
US$ 39.95
Tax calculation will be finalised during checkout.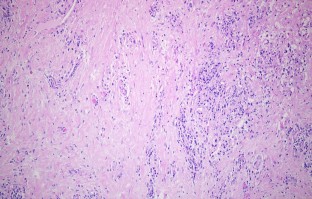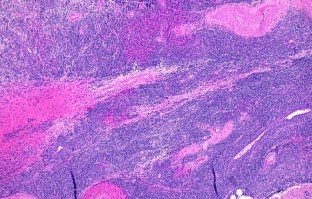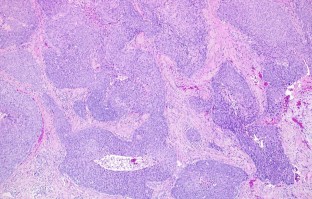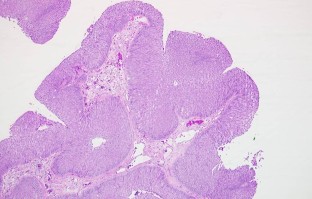 Literatur
1.

Anderson NG, Wojno TH, Grossniklaus HE (2003) Clinicopathologic findingsfrom lacrimal sac biopsy specimens obtained during dacryocystorhinostomy. Ophthal Plast Reconstr Surg 19(3):173–176

2.

Bernardini FP, Moin M, Kersten RC, Reeves D, Kulwin DR (2002) Routinehistopathologic evaluation of the lacrimal sac during dacryocystorhinostomy: how useful is it? Ophthalmology 109(7):1214–1217. https://doi.org/10.1016/S0161-6420(02)01082-5

3.

Bertelmann E, Pahl S, Rieck P (2011) Malignant neoplasms of the lacrimal sac: rarity among tear duct diseases. Ophthalmologe 108(5):440–444. https://doi.org/10.1007/s00347-010-2273-x

4.

Busse H, Promesberger A, Promesberger H (1977) Short and long-term results after external Dacryocystorhinostomy by Kaleff-Hollwich's method (author's transl). Klin Monbl Augenheilkd 171(6):986–989

5.

Coloma-González I, Flores-Preciado J, Ceriotto A, Corredor-Casas S, Salcedo-Casillas G (2014) Lacrimal sac tumors presenting as lacrimal obstruction. Retrospective study in Mexican patients 2007–2012. Arch Soc Esp Oftalmol 89(6):222–225. https://doi.org/10.1016/j.oftal.2014.02.009

6.

Emmerich KH, Busse H, Meyer-Rüsenberg HW (1994) Dacryocystorhinostomia externa. Technique, indications and results. Ophthalmologe 91(3):395–398

7.

Förster W, Peter A, Busse H (1997) Lacrimal duct surgery in childhood. Retrospective study at the Munster University Ophthalmology Clinic. Ophthalmologe 94(8):587–590

8.

Goetze OT, Al-Batran SE, Chevallay M, Mönig SP (2018) Multimodal treatment in locally advanced gastric cancer. Updates Surg 70(2):173–179. https://doi.org/10.1007/s13304-018-0539-z

9.

Heindl LM, Schick B, Kämpgen E, Kruse FE, Holbach LM (2008) Malignant melanoma of the lacrimal sac. Ophthalmologe 105(12):1146–1149. https://doi.org/10.1007/s00347-008-1740-0

10.

Katircioglu YA, Yildiz EH, Kocaoglu FA et al (2007) Basal cell carcinoma in lacrimal sac. Orbit 26:303–307

11.

Koturović Z, Knežević M, Rašić DM (2017) Clinical significance of routine lacrimal sac biopsy during dacryocystorhinostomy: a comprehensive review of literature. Bosn J Basic Med Sci 17(1):1–8. https://doi.org/10.17305/bjbms.2016.1424

12.

Krishna Y, Coupland SE (2018) Lacrimal sac tumors—a review. Asia Pac J Ophthalmol (Phila) 6(2):173–178. https://doi.org/10.22608/APO.201713

13.

Mauriello JA Jr, Palydowycz S, DeLuca J (1992) Clinicopathologic study of lacrimal sac and nasal mucosa in 44 patients with completeacquired nasolacrimal duct obstruction. Ophthal Plast Reconstr Surg 8(1):13–21

14.

Meel R, Surve A, Bakhski S, Kashyap S, Gupta B, Sharma S (2019) A rare case of pediatric lacrimal sac: squamous cell carcinoma. J Pediatr Ophthalmol Strabismus 56:e8–e11. https://doi.org/10.3928/01913913-20181016-01

15.

Meyer-Rüsenberg HW, Vujancevic S, Emmerich KH (2009) Current status of dacryocystorhinostomy. Ophthalmologe 106(3):205–207, 210–216. https://doi.org/10.1007/s00347-008-1904-y

16.

Purser J, Arffa R, Clark D (2019) Sinonasal (Schneiderian) papilloma of the lacrimal sac. Proc (Bayl Univ Med Cent) 32(1):121–123. https://doi.org/10.1080/08998280.2018.1533357

17.

Sjö LD, Ralfkiaer E, Juhl BR (2006) Primary lymphoma of the lacrimal sac: an EORTC ophthalmic oncology task force study. Br J Ophthalmol 90(8):1004–1009

18.

Skinner HD, Garden AS, Rosenthal DI, Ang KK, Morrison WH, Esmaeli B, Pinnix CC, Frank SJ (2011) Outcomes of malignant tumors of the lacrimal apparatus: the University of Texas MD Anderson Cancer Center experience. Cancer 117:2801–2810

19.

Song X, Wang J, Wang S, Wang W, Wang S, Zhu W (2018) Clinical analysis of 90 cases of malignant lacrimal sac tumor. Graefes Arch Clin Exp Ophthalmol 256(7):1333–1338. https://doi.org/10.1007/s00417-018-3962-4

20.

Vahdani K, Coupland SE, Ashdown ME, Garrott H, Ford R (2019) Lacrimal sac sebaceous carcinoma. Ophthalmic Plast Reconstr Surg. https://doi.org/10.1097/IOP.0000000000001386

21.

von Goscinski C, Koch KR, Cursiefen C, Heindl LM (2016) Tumors of the lacrimal drainage system. HNO 64(6):386–393. https://doi.org/10.1007/s00106-016-0162-6

22.

Zhang R, Qian J, Meng F, Yuan Y, Bai M, Bi Y, Xu B, Yuan Y, Hong R (2019) A staged procedure in the treatment of primary lacrimal sac epithelial malignancy: a retrospective cases analysis. Ophthalmic Plast Reconstr Surg 35(2):187–192. https://doi.org/10.1097/IOP.0000000000001206
Ethics declarations
Interessenkonflikt
N. Mihailovic, J. Steenken, S. Elges, R.-L. Merté, U. Grenzebach, N. Eter und M. Alnawaiseh geben an, dass kein Interessenkonflikt besteht.
Für diesen Beitrag wurden von den Autoren keine Studien an Menschen oder Tieren durchgeführt. Für die aufgeführten Studien gelten die jeweils dort angegebenen ethischen Richtlinien.
About this article
Cite this article
Mihailovic, N., Steenken, J., Elges, S. et al. Maskerade Tränenwegsstenose: Prävalenz von Tränensacktumoren. Ophthalmologe 117, 439–444 (2020). https://doi.org/10.1007/s00347-019-00971-z
Schlüsselwörter
Dakryozystitis

Saccus lacrimalis

Lymphom

Plattenepithelkarzinom

Papillom
Keywords
Dacryocystitis

Lacrimal sac

Lymphoma

Squamous cell carcinoma

Papilloma