Zusammenfassung
Wir präsentieren den Fall einer 68-jährigen Patientin, die sich mit beidseitigem progredientem Visusverlust seit 4 Wochen in unserer Klinik vorstellte. Bei der Patientin war ein metastasiertes malignes kutanes Melanom bekannt, welches mit den Immun-Checkpoint-Inhibitoren Nivolumab und Ipilimumab behandelt wurde. Die ophthalmologische Untersuchung zeigte beidseits einen Vorderkammerreiz mit Endothelbeschlägen, Aderhautfalten und eine orangerote Verfärbung der Retina sowie linksseitig eine seröse Netzhaut‑/Aderhautabhebung. Im Verlauf entwickelte die Patientin eine Poliosis und Vitiligo. Unter systemischer und lokaler Steroidtherapie zeigte sich eine deutliche Besserung des Befundes. Eine intravitreale Triamcinolon-Injektion führte bei progressivem Makulaödem zur kompletten Regression desselben. Immun-Checkpoint-Inhibitoren können selten eine Vogt-Koyanagi-Harada-ähnliche Uveitis auslösen. Da sich der okuläre Reizzustand durch lokale und systemische Steroide in der Regel gut kontrollieren lässt, sollte die Checkpoint-Inhibitor-Therapie wenn möglich bei gutem Ansprechen fortgeführt werden. Eine interdisziplinäre Zusammenarbeit mit engmaschigen Kontrollen ist in diesen Fällen dringend erforderlich.
Abstract
This article presents the case of a 68-year-old female patient who reported bilateral progressive visual loss over 4 weeks. The patient had a known metastatic malignant cutaneous melanoma, which was treated with the immune checkpoint inhibitors nivolumab and ipilimumab. The ophthalmological examination revealed a bilateral anterior chamber flare with endothelial precipitates as well as choroidal folds, an orange-red discoloration of the retina and a serous retinal/choroidal detachment in the left eye. In the course of time the patient developed poliosis and vitiligo. Systemic and local steroid treatment resulted in a distinct improvement of the findings. An intravitreal triamcinolone injection led to complete regression of the progressive macular edema. In rare cases immune checkpoint inhibitors can cause Vogt-Koyanagi-Harada-like uveitis. As ocular inflammation can be well controlled by local and systemic steroids, checkpoint inhibitor treatment should be continued in cases with good treatment response whenever possible. Interdisciplinary cooperation with close controls is absolutely necessary in these cases.
Access options
Buy single article
Instant access to the full article PDF.
US$ 39.95
Tax calculation will be finalised during checkout.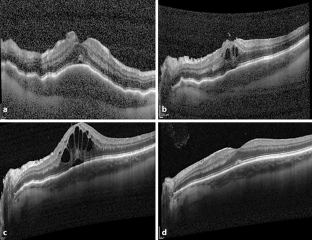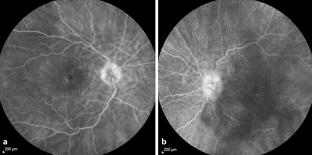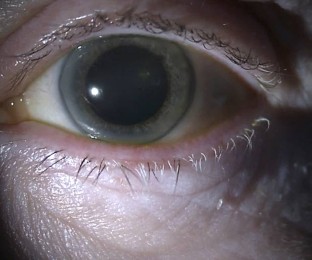 Literatur
1.

Yanoff M, Duker J (2008) Ophthalmology, 3. Aufl. Mosby, St. Louis

2.

Kanski J, Bowling B (2011) Clinical ophthalmology: a systematic approach, 7. Aufl. Elsevier Saunders, New York

3.

Lavezzo MM, Sakata VM, Morita C, Rodriguez EE, Abdallah SF, da Silva FT, Hirata CE, Yamamoto JH (2016) Vogt-Koyanagi-Harada disease: review of a rare autoimmune disease targeting antigens of melanocytes. Orphanet J Rare Dis 11:29. https://doi.org/10.1186/s13023-016-0412-4

4.

Wilky BA (2019) Immune checkpoint inhibitors: the linchpins of modern immunotherapy. Immunol Rev 290(1):6–23. https://doi.org/10.1111/imr.12766

5.

https://www.aerzteblatt.de/nachrichten/70856/Melanom-Adjuvantes-Ipilimumab-erhoeht-Ueberlebenschancen. Zugegriffen: 5. Aug. 2019

6.

https://www.springermedizin.de/eu-zulassung-fuer-nivolumab/16124992. Zugegriffen: 5. Aug. 2019

7.

Friedrich M, Jasinski-Bergner S, Lazaridou MF, Subbarayan K, Massa C, Tretbar S, Mueller A, Handke D, Biehl K, Bukur J, Donia M, Mandelboim O, Seliger B (2019) Tumor-induced escape mechanisms and their association with resistance to checkpoint inhibitor therapy. Cancer Immunol Immunother. https://doi.org/10.1007/s00262-019-02373-1

8.

Heinzerling L, de Toni EN, Schett G, Hundorfean G, Zimmer L (2019) Checkpoint inhibitors. Dtsch Arztebl Int 116(8):119–126. https://doi.org/10.3238/arztebl.2019.0119

9.

Dalvin LA, Shields CL, Orloff M, Sato T, Shields JA (2018) Checkpoint inhibitors immune therapy: systemic indications and ophthalmic side effects. Retina 38(6):1063–1078. https://doi.org/10.1097/IAE.0000000000002181

10.

Witmer MT (2017) Treatment of Ipilimumab-induced Vogt-Koyanagi-Harada syndrome with oral dexamethasone. Ophthalmic Surg Lasers Imaging Retina 48(11):928–931. https://doi.org/10.3928/23258160-20171030-09

11.

Crosson JN, Laird PW, Debiec M, Bergstrom CS, Lawson DH, Yeh S (2015) Vogt-Koyanagi-Harada-like syndrome after CTLA‑4 inhibition with ipilimumab for metastatic melanoma. J Immunother 38(2):80–84. https://doi.org/10.1097/CJI.0000000000000066

12.

Wong RK, Lee JK, Huang JJ (2012) Bilateral drug (ipilimumab)-induced vitritis, choroiditis, and serous retinal detachments suggestive of vogt-koyanagi-harada syndrome. Retin Cases Brief Rep 6(4):423–426. https://doi.org/10.1097/ICB.0b013e31824f7130

13.

Obata S, Saishin Y, Teramura K, Ohji M (2019) Vogt-Koyanagi-Harada disease-like uveitis during nivolumab (anti-PD‑1 antibody) treatment for metastatic cutaneous malignant melanoma. Case Rep Ophthalmol 10(1):67–74. https://doi.org/10.1159/000496682

14.

Fujimura T, Kambayashi Y, Tanita K, Sato Y, Hidaka T, Otsuka A, Tanaka H, Furudate S, Hashimoto A, Aiba S (2018) HLA-DRB1*04:05 in two cases of Vogt-Koyanagi-Harada disease-like uveitis developing from an advanced melanoma patient treated by sequential administration of nivolumab and dabrafenib/trametinib therapy. J Dermatol 45(6):735–737. https://doi.org/10.1111/1346-8138.14273

15.

Matsuo T, Yamasaki O (2017) Vogt-Koyanagi-Harada disease-like posterior uveitis in the course of nivolumab (anti-PD‑1 antibody), interposed by vemurafenib (BRAF inhibitor), for metastatic cutaneous malignant melanoma. Clin Case Rep 5(5):694–700. https://doi.org/10.1002/ccr3.911

16.

Arai T, Harada K, Usui Y, Irisawa R, Tsuboi R (2017) Case of acute anterior uveitis and Vogt-Koyanagi-Harada syndrome-like eruptions induced by nivolumab in a melanoma patient. J Dermatol 44(8):975–976. https://doi.org/10.1111/1346-8138.13612

17.

Andrade RE, Muccioli C, Farah ME, Nussenblatt RB, Belfort R Jr. (2004) Intravitreal triamcinolone in the treatment of serous retinal detachment in Vogt-Koyanagi-Harada syndrome. Am J Ophthalmol 137(3):572–574

18.

Couch SM, Bakri SJ (2009) Intravitreal triamcinolone for intraocular inflammation and associated macular edema. Clin Ophthalmol 3:41–47
Ethics declarations
Interessenkonflikt
N. Mihailovic, J. Dyballa, S. Herz, M. Fluck, M. Alnawaiseh, R.-L. Merté und E. Nicole geben an, dass kein Interessenkonflikt besteht.
Für diesen Beitrag wurden von den Autoren keine Studien an Menschen oder Tieren durchgeführt. Für die aufgeführten Studien gelten die jeweils dort angegebenen ethischen Richtlinien. Für Bildmaterial oder anderweitige Angaben innerhalb des Manuskripts, über die Patienten zu identifizieren sind, liegt von ihnen und/oder ihren gesetzlichen Vertretern eine schriftliche Einwilligung vor.
Additional information
Die Onlineversion dieses Artikels wurde geändert: In dem ursprünglichen Artikel wurde der Name der Autorin Nicole Eter falsch geschrieben.
About this article
Cite this article
Mihailovic, N., Dyballa, J., Herz, S. et al. Vogt-Koyanagi-Harada-artige Uveitis unter Immun-Checkpoint-Inhibitor-Therapie beim metastasierten malignen Melanom. Ophthalmologe 117, 467–471 (2020). https://doi.org/10.1007/s00347-019-00963-z
Schlüsselwörter
Nivolumab

Ipilimumab

Panuveitis

Seröse Amotio

Aderhautamotio
Keywords
Nivolumab

Ipilimumab

Panuveitis

Serous retinal detachment

Choroidal detachment