Abstract
Purpose
Renal cell carcinoma (RCC) incidence has considerably increased during the last decades without any real impact on age-standardized mortality. It questions the relevance of aggressive treatments carrying potential side effects. Conservative management should be considered for frail patients. Comorbidity and frailty assessment in RCC patients is paramount before engaging a treatment.
Methods
Narrative, non-systematic review based on PubMed and EMBASE search with the terms "renal neoplasm", "elderly, frail", "comorbidities", "active surveillance", "metastatic". The selection was restricted to articles written in English.
Results
Comorbidity and frailty assessment go along with the cancer-specific aggressivity and intervention risks assessment. In localized disease, several standardized algorithms offer patient health evaluation to define how suitable the patient would be for curative treatment. The pre-operative American Society of Anesthesiologists and the age-adjusted Charlson's scores are the most widely used. At the metastatic stage, drug combinations based on immunotherapies and targeted therapies improved cancer outcomes at the price of significant toxicities. Frail patients are not always suitable for such strategies. Commonly used scores like the International Metastatic RCC Database Consortium or Memorial Sloan Kettering Cancer Center integrate features to define patients' risk groups, more specifically the Karnofsky Performance Score is an easy way to document the frailty.
Conclusions
Comorbidity and frailty have to be assessed at any stage of the RCC disease based on a standardized scoring system to define the most suitable treatment strategy ranging from surveillance to aggressive treatment.
Access options
Buy single article
Instant access to the full article PDF.
US$ 39.95
Tax calculation will be finalised during checkout.
Subscribe to journal
Immediate online access to all issues from 2019. Subscription will auto renew annually.
US$ 119
Tax calculation will be finalised during checkout.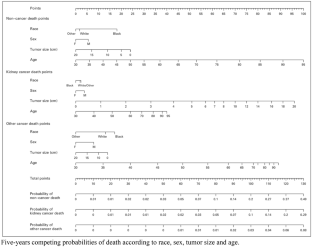 Ethics declarations
Conflict of interest
Jean COURCIER None. Alexandre DE LA TAILLE Intuitive Surgical. Nathalie LASSAU Jazz Pharmaceuticals. Alexandre INGELS Intuitive Surgical, Bristol-Myers Squibb.
Research involving human participants and/or animals
None.
Informed consent
Not applicable.
Additional information
Publisher's Note
Springer Nature remains neutral with regard to jurisdictional claims in published maps and institutional affiliations.
About this article
Cite this article
Courcier, J., De La Taille, A., Lassau, N. et al. Comorbidity and frailty assessment in renal cell carcinoma patients. World J Urol (2021). https://doi.org/10.1007/s00345-021-03632-6
Received:

Accepted:

Published:
Keywords
Renal cell carcinoma

Frailty

Comorbidity

Active surveillance

Adverse events