Abstract
Purpose
To analyze various compositions of urinary stones using revolution spectral CT (rapid kV switching dual-energy CT) in vivo.
Methods
202 patients with urinary stones underwent spectral CT before surgery. Zeff peak, overall scope and CT values were detected. Moreover, water/iodine attenuating material images were obtained. Removed stones were subjected to infrared spectroscopy after surgery. The results of infrared spectroscopy were compared with CT.
Results
28 stones (14.08%) with single composition, 165 stones with two mixed compositions (81.68%), and 9 stones with three mixed compositions (4.46%) were observed. When Zeff peaks of stones with single/mixed compositions were summarized together, 146 peaks of calcium oxalate monohydrate, 119 peaks of calcium oxalate dihydrate, 55 peaks of carbapatite, 38 peaks of urate, 16 peaks of struvite, and 11 peaks of brushite were totally observed. 93.8% of calcium oxalate monohydrate had Zeff peaks between 13.3 and 14.0. 91.6% of calcium oxalate dihydrate had peaks between 12.0 and 13.3. For carbapatite, 90.9% of stones had peaks from 14.0 to 15.0. A total of 94.8% of urate had peaks between 7.0 and 11.0. 93.8% of struvite had peaks between 11.0 and 13.0, and 90.9% of brushite had peaks between 12.0 and 14.0. Moreover, densities of urate, struvite and brushite were low density in iodine-based images and high-density in water-based images.
Conclusion
The in-vivo analysis of spectral CT in urinary stone revealed characteristics of different compositions, especially mixed compositions. An in-vivo predictive model may be constructed to distinguish stone compositions.
Access options
Buy single article
Instant access to the full article PDF.
US$ 39.95
Tax calculation will be finalised during checkout.
Subscribe to journal
Immediate online access to all issues from 2019. Subscription will auto renew annually.
US$ 119
Tax calculation will be finalised during checkout.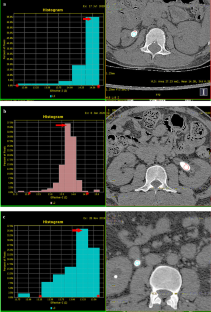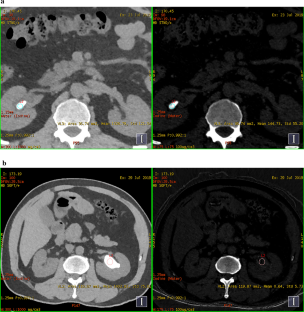 Acknowledgements
We acknowledge Guangdong provincial Science and Technology Plan Project (No. 2017B030314108). We also acknowledge National Natural Science Foundation of China (No. 62071311).
Ethics declarations
Conflict of interest
There aren't potential conflicts of interest.
Research involving Human Participants and/or Animals
Research has appropriate approvals of the hospital and university.
Informed consent
Research has informed consent of all patients and authors.
Additional information
Publisher's Note
Springer Nature remains neutral with regard to jurisdictional claims in published maps and institutional affiliations.
About this article
Cite this article
Li, X., Wang, LP., Ou, LL. et al. Revolution spectral CT for urinary stone with a single/mixed composition in vivo: a large sample analysis. World J Urol (2021). https://doi.org/10.1007/s00345-021-03597-6
Received:

Accepted:

Published:
Keywords
Computerized tomography

Dual energy

Urinary stone

Composition

In vivo