Abstract
Objective
To compare the range of motion and ergonomic characteristics of single-port robotic instruments in the setting of the "floating" versus "flat" docking technique using the GelPOINT® system.
Material and methods
The basic principle of the floating docking technique resides in the GelSeal cap and trocar (s) being 8 cm off the skin level with the Alexis® acting as a conduit between the trocar (s) and the body while preserving insufflation.
In the setting of a dry lab study, we measured the range of motion of one robotic instrument with the "floating" and the "flat" docking technique in two different situations depending on whether the distance between the incision and the target was more or less than 10 cm.
Results
The minimum required distances between the target and the tip of the cannula for activation of the wrist and elbow were 5 and 10 cm, respectively. When the target was near to the cannula (i.e., less than 10 cm), the floating technique was associated with a significant increase in the range of motion of the instrument in all directions. The working space volume of the instrument was increased by more than 390% (from 101 to 497 cm3) when the surgeon switched from flat (standard) to the floating technique in the setting of a target close (i.e., less than 10 cm) to the cannula
Conclusion
The floating docking technique is a simple and effective way to increase the working surgical space, especially in confined and narrow surgical fields with a target closer than 10 cm from the skin.
This is a preview of subscription content, log in to check access.
Access options
Buy single article
Instant access to the full article PDF.
US$ 39.95
Price includes VAT for USA
Subscribe to journal
Immediate online access to all issues from 2019. Subscription will auto renew annually.
US$ 199
This is the net price. Taxes to be calculated in checkout.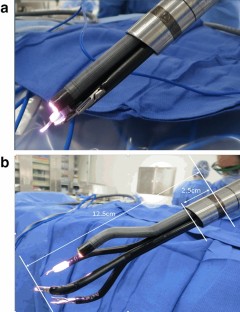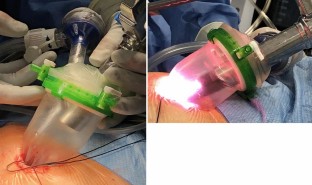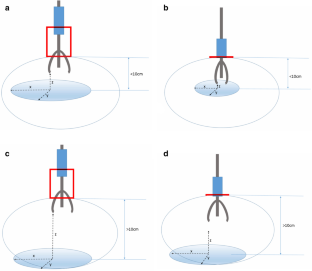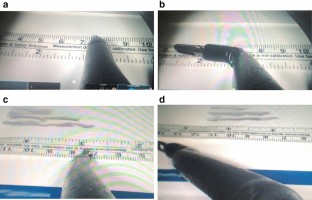 References
1.

Tugcu V, Ilbey YO, Mutlu B et al (2010) Laparoendoscopic single-site surgery versus standard laparoscopic simple nephrectomy: a prospective randomized study. J Endourol 24:1315

2.

McCrory B, Lowndes BR, Wirth LM et al (1884) Ergonomic evaluation of laparoendoscopic single-site surgery ports in a validated laparoscopic training model. Work 41(Suppl 1):2012

3.

Bertolo R, Garisto J, Gettman M et al (2018) Novel system for robotic single-port surgery: feasibility and state of the art in urology. Eur Urol Focus 4:669

4.

Kaouk J, Garisto J, Bertolo R (2019) Robotic urologic surgical interventions performed with the single port dedicated platform: first clinical investigation. Eur Urol 75:684

5.

Froghi F, Sodergren MH, Darzi A et al (2010) Single-incision laparoscopic surgery (Sils) in general surgery: a review of current practice. Surg Laparosc Endosc Percutan Tech 20:191

6.

Brown-Clerk B, de Laveaga AE, LaGrange CA et al (2011) Laparoendoscopic single-site (less) surgery versus conventional laparoscopic surgery: comparison of surgical port performance in a surgical simulator with novices. Surg Endosc 25:2210

7.

Cusati D, Swain JM, Kendrick M et al (2011) Evaluation of commercially available port access devices for single-incision laparoscopy. Surg Laparosc Endosc Percutan Tech 21:e134

8.

Aminsharifi AR, Goshtasbi B, Afsar F (2012) Laparoendoscopic single-site nephrectomy using standard laparoscopic instruments: our initial experience. Urol J 9:657

9.

Garisto JD, Bertolo R, Kaouk J (2018) Technique for docking and port placement using a purpose-built robotic system (Sp1098) in human cadaver. Urology 119:91

10.

Kaouk J, Valero R, Sawczyn G et al (2020) Extraperitoneal single-port robot-assisted radical prostatectomy: initial experience and description of technique. BJU Int 125:182

11.

Khanna R, Autorino R, White MA et al (2010) Laparoendoscopic single-site surgery: current clinical experience. BJU Int 106:897

12.

Merchant AM, Cook MW, White BC et al (2009) Transumbilical gelport access technique for performing single incision laparoscopic surgery (Sils). J Gastrointest Surg 13:159

13.

Matos-Azevedo AM, Martin-Portugues ID-G, Perez-Duarte FJ et al (2014) Comparison of single access devices during cut and suturing tasks on simulator. J Surg Res 192:356

14.

Kaouk JH, Bertolo R (2019) Single-site robotic platform in clinical practice: first cases in the USA. Minerva Urol Nefrol 71:294

15.

Autorino R, Kim FJ, Rane A et al (2011) Low-cost reusable instrumentation for laparoendoscopic single-site nephrectomy: assessment in a porcine model. J Endourol 25:419

16.

Covas Moschovas M, Bhat S, Rogers T et al (2020) Technical modifications necessary to implement the Da Vinci single-port robotic system. Eur Urol. https://doi.org/10.1016/j.eururo.2020.01.005

17.

Agarwal DK, Sharma V, Toussi A, Viers BR, Tollefson MK, Gettman MT et al (2020) Initial experience with Da Vinci single-port robot-assisted radical prostatectomies. Eur Urol 77(3):373–379

18.

Maurice MJ, Kaouk JH (2018) Single-port robot-assisted perineal prostatectomy and pelvic lymphadenectomy: step-by-step technique in a cadaveric model. J Endourol 32:S93

19.

Garisto J, Bertolo R, Wilson CA et al (2019) The evolution and resurgence of perineal prostatectomy in the robotic surgical era. World J Urol 38:821–828

20.

Merseburger AS, Herrmann TR, Shariat SF et al (2013) Eau guidelines on robotic and single-site surgery in urology. Eur Urol 64:277

21.

Janetschek G (2014) Robotics: will they give a new kick to single-site surgery? Eur Urol 66:1044
Ethics declarations
Conflict of interest
Dr. Jihad Kaouk is a speaker with Intuitive Surgical. Louis Lenfant, Soodong Kim, Alireza Aminsharifi, Guilherme Sawczyn have no conflicts of interest or financial ties to disclose.
Research involving human participants, their data or biological material
Yes. This study was approved by our institution IRB and we certify that the study was performed in accordance with the ethical standards as laid down in the 1964 Declaration of Helsinki and its later amendments or comparable ethical standards.
Data availability of data and material
(Data transparency): Yes.
Informed consent
Yes.
Code availability
(Software application or custom code): Not applicable.
Additional information
Publisher's Note
Springer Nature remains neutral with regard to jurisdictional claims in published maps and institutional affiliations.
About this article
Cite this article
Lenfant, L., Kim, S., Aminsharifi, A. et al. Floating docking technique: a simple modification to improve the working space of the instruments during single-port robotic surgery. World J Urol (2020). https://doi.org/10.1007/s00345-020-03307-8
Received:

Accepted:

Published:
Keywords
Single port surgery

Robotic surgery

Docking

Floating technique

Gelport