Abstract
Purpose
To compare functional outcomes of partial nephrectomy (PN) and active surveillance (AS) in oncocytoma.
Methods
Multicenter retrospective analysis of patients with oncocytoma managed with PN or AS (biopsy-confirmed). Primary outcome development of de novo chronic kidney disease (CKD) (eGFR < 60 mL/min/1.73m2). Cox regression Multivariable analysis (MVA) was carried out for predictors of de novo CKD. Linear regression was carried out for factors associated with increasing deltaGFR. Kaplan–Meier Analysis (KMA) was performed to analyze 5-year CKD-free survival.
Results
295 patients were analyzed (224 PN/71 AS, median follow-up 37.4 months). No differences were noted for clinical tumor size (AS 2.6 vs. PN 2.9 cm, p = 0.108), and baseline eGFR (AS 79.6 vs. PN 77, p = 0.9670). Median change in tumor diameter for AS was 0.42 cm. Compared to PN, AS had deltaGFR (−15.3 vs. −6.4 mL/min/1.73m2, p < 0.001) and de novo CKD (28.2% vs. 12.1%, p = 0.002). AS patients who developed CKD had higher RENAL score (p = 0.005) and lower baseline eGFR (73 vs. 91.2 mL/min/1.73m2, p < 0.001) than AS patients who did not. MVA demonstrated increasing age (OR = 1.03, p = 0.025), tumor size (HR = 1.26, p = 0.032) and AS (HR = 4.91, p < 0.001) to be predictive for de novo CKD. Linear regression demonstrated AS was associated with larger decrease in deltaGFR (B = −0.219, p < 0.001). KMA revealed 5-year CKD survival was higher in PN (87%) vs. AS (62%, p < 0.001).
Conclusion
AS was associated with greater functional decline than PN in oncocytoma. PN may be considered to optimalize renal functional preservation in select circumstances. Further investigation into mechanisms of functional decline in oncocytoma is requisite.
This is a preview of subscription content, log in to check access.
Access options
Buy single article
Instant access to the full article PDF.
US$ 39.95
Price includes VAT for USA
Subscribe to journal
Immediate online access to all issues from 2019. Subscription will auto renew annually.
US$ 199
This is the net price. Taxes to be calculated in checkout.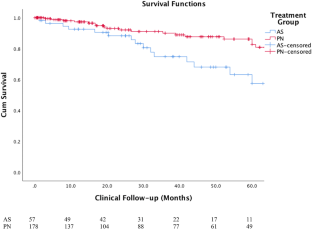 References
1.

Kane CJ, Mallin K, Ritchey J et al (2008) Renal cell cancer state migration: analysis of the National Cancer Data Base. Cancer 113:78–83

2.

Johnson DC, Vukina J, Smith AB et al (2015) Preoperatively misclassified, surgically removed benign renal masses: a systematic review of surgical series and United States population level burden estimate. J Urol 193:30–35

3.

Wu A (2017) Oncocytic renal neoplasms on resections and core biopsies: our approach to this challenging differential diagnosis. Arch Pathol Lab Med 141:1336–1341

4.

Choudhary S, Rajesh A, Mayer NJ et al (2009) Renal oncocytoma: CT features cannot reliably distinguish oncocytoma from other renal neoplasms. Clin Radiol 64:517–522

5.

Campbell S, Uzzo RG, Allaf ME et al (2017) Renal mass and localized renal cancer: aua guideline. J Urol 198:520–529

6.

Mir MC, Capitanio U, Bertolo R et al (2018) Role of active surveillance for localized small renal masses. Eur Urol Oncol 1:177–187

7.

Hamilton ZA, Capitanio U, Lane BR et al (2019) Should partial nephrectomy be considered "elective" in patients with stage 2 chronic kidney disease? A comparative analysis of functional and survival outcomes after radical and partial nephrectomy. World J Urol 37:2429–2437

8.

Lane BR, Samplaski MK, Herts BR et al (2008) Renal mass biopsy—a renaissance? J Urol 179:20–27

9.

Ljungberg B, Albiges L, Abu-Ghanem Y et al (2019) European Association of Urology Guidelines on Renal Cell Carcinoma: the 2019 update. Eur Urol 75:799–810

10.

Donat SM, Diaz M, Bischoff JT et al (2013) Follow-up for clinically localized renal neoplasms: AUA guideline. J Urol 190:407–416

11.

Kutikov A, Uzzo RG (2009) The R.E.N.A.L nephrometry score: a comprehensive standardized system for quantifying renal tumor size, location, and depth. J Urol 182:844–853

12.

Levey AS, Stevens LA, Schmid CH et al (2009) A new equation to estimate glomerular filtration rate. Ann Intern Med 150:604–612

13.

Dindo D, Demartines N, Clavien PA (2004) Classification of surgical complications: a new proposal with evaluation in a cohort of 6336 patients and results of a survey. Ann Surg 240:205–213

14.

Patel HD, Pierorazio PM, Johnson MH et al (2017) Renal functional outcomes after surgery, ablation, and active surveillance of localized renal tumors: a systematic review and meta-analysis. Clin J Am Soc Nephrol 12:1057–1069

15.

Lane BR, Abouassaly R, Gao T et al (2010) Active treatment of localized renal tumors may not impact overall survival in patients aged 75 years or older. Cancer 116:3119–3126

16.

Danzig MR, Ghandour RA, Chang P et al (2015) Active surveillance is superior to radical nephrectomy and equivalent to partial nephrectomy for preserving renal function in patients with small renal masses: results from the DISSRM registry. J Urol 194:903–909

17.

Castaneda CV, Danzig MR, Finkelstein JM et al (2015) The natural history of renal functional decline in patients undergoing surveillance in the DISSRM registry. Urol Oncol 33:166.e17–20

18.

Macintosh AG, Ristau BT, Ruth K et al (2018) Active surveillance for localized renal mass: tumor growth, delayed intervention rates, and >5-yr clinical outcomes. Eur Urol 74:157–164

19.

Ball MW, An JY, Gomella PT et al (2020) Growth rates of genetically defined renal tumors: implications for active surveillance and intervention. J Clin Oncol 38:1146–1153

20.

Richard PO, Jewett MA, Bhatt JR et al (2016) Active surveillance for renal neoplasms with oncocytic features is safe. J Urol 195:581–586

21.

Neuzillet Y, Lechevallier E, Andre M et al (2005) Follow-up for renal oncocytoma diagnosed by percutaneous tumor biopsy. Urology 66:1181–1185

22.

Parker PA, Alba F, Fellman B et al (2013) Illness uncertainty and quality of life of patients with small renal tumors undergoing watchful waiting: a 2-year prospective study. Eur Urol 63:1122–1127

23.

Alam R, Patel HD, Osumah T et al (2019) Comparative effectiveness of management options for patients with small renal masses: a prospective cohort study. BJU Int 123:42–50

24.

Ouzaid I, Autorino R, Fatica R et al (2014) Active surveillance for renal angiomyolipoma: outcomes and factors predictive of delayed intervention. BJU Int 114:412-417

25.

Marconi L, Dabestani S, Lam TB et al (2016) Systematic review and meta-analysis of diagnostic accuracy of percutaneous renal tumour biopsy. Eur Urol 69:660–673

26.

Cacciamani GE, Medina LG, Gill T et al (2018) Impact of surgical factors on robotic partial nephrectomy outcomes: comprehensive systematic review and meta-analysis. J Urol 200:258–274

27.

Bertolo R, Garisto J, Dagenais J et al (2019) cT1a renal masses less than 2 versus 2 cm or greater managed by robotic partial nephrectomy: a propensity score matched comparison of perioperative outcomes. J Urol 201:56–61

28.

Kim M, Choi WS, Jeong CW et al (2015) Differences in peritumoral pseudocapsule characteristics according to clinicopathological factors in clinical T1a renal tumors. Int J Clin Exp Pathol 8:11323–11331

29.

Demirović A, Cesarec S, Marušić Z et al (2014) TGF-β1 expression in chromophobe renal cell carcinoma and renal oncocytoma. Eur J Histochem 58:2265

30.

Yu R, Mao J, Yang Y et al (2015) Protective effects of calcitriol on diabetic nephropathy are mediated by down regulation of TGF-β1 and CIP4 in diabetic nephropathy rat. Int J Clin Exp Pathol 8:3503–3512
Funding
The project was supported by Stephen Weissman Kidney Cancer Research Fund.
Ethics declarations
Availability of data and material
Not available.
Consent to participate
Not applicable given study design and covered by IRB approval.
Consent for publication:
Not applicable.
Code availability
Not available.
Conflict of interest
None of the authors have any conflicts of interest to declare.
Ethics approval
IRB approval at all institutions.
Additional information
Publisher's Note
Springer Nature remains neutral with regard to jurisdictional claims in published maps and institutional affiliations.
About this article
Cite this article
Meagher, M.F., Lane, B.R., Capitanio, U. et al. Comparison of renal functional outcomes of active surveillance and partial nephrectomy in the management of oncocytoma. World J Urol (2020). https://doi.org/10.1007/s00345-020-03299-5
Received:

Accepted:

Published:
Keywords
Active surveillance

Chronic kidney disease

Glomerular filtration rate

Kidney neoplasm

Oncocytoma

Partial nephrectomy