Abstract
Purpose
Satellite cells (SCs) are multipotent skeletal muscle precursor cells, which can lead to muscle regeneration, a crucial process for the treatment of stress urinary incontinence (SUI). The activation of SCs is likely to be caused by inducible nitric oxide synthase (iNOS). This study examines the underlying mechanism of iNOS in SC activation, and the implications of a potential treatment of SUI.
Methods
SCs were isolated from the levator ani muscles of rats, followed by measurement of iNOS, paired box gene 7 (Pax7) and myosin D (MyoD) protein expression. Flow cytometric and cell counting kit-8 assays were conducted to assess SC proliferation, apoptosis, cell cycle distribution. SC myotube formation was observed under a light microscope. A rat model of SUI was established using vaginal dilation and bilateral ovarian castration, followed by assessment of leaking point pressure (LPP) and a sneezing test. The levels of MyoD, Pax7, hepatocyte growth factor (HGF) and p-38 in the levator ani muscles were detected by immunohistochemical and western blot analyses.
Results
SCs successfully isolated from rat levator ani muscles showed increased MyoD and reduced Pax7 expression. Upregulation of iNOS promoted differentiation and myotube formation of SCs. iNOS elevated the expression of HGF, which in turn activated the p38/MAPK signaling pathway, promoting the differentiation of SCs. SCs overexpressing iNOS increased LPP, thus preventing SUI in an in vivo rat model.
Conclusion
Our results show that iNOS could activate the HGF-dependent p38/MAPK signaling pathway to alleviate SUI, potentially providing a novel therapeutic strategy for SUI.
This is a preview of subscription content, log in to check access.
Access options
Buy single article
Instant access to the full article PDF.
US$ 39.95
Price includes VAT for USA
Subscribe to journal
Immediate online access to all issues from 2019. Subscription will auto renew annually.
US$ 199
This is the net price. Taxes to be calculated in checkout.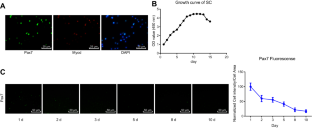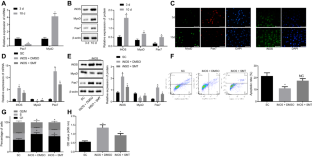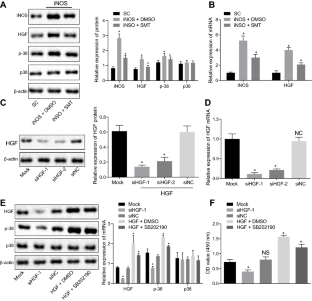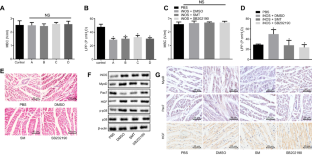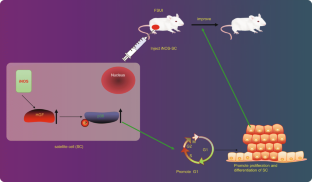 Abbreviations
SUI:

Stress urinary incontinence

NO:

Nitric oxide

iNOS:

Inducible nitric oxide synthase

HGF:

Hepatocyte growth factor

JNK:

Jun amino-terminal kinase

MAPK:

Mitogen-activated protein kinase

SD:

Sprague-Dawley

PBS:

Phosphate-buffered saline

DMEM:

Dulbecco's modified Eagle's medium

FBS:

Fetal bovine serum

PCR:

Polymerase chain reaction

SMT:

S-methylisothiourea

DMSO:

Dimethyl sulfoxide

siRNA:

Small interfering RNA

NC:

Negative control

CCK-8:

Cell counting kit-8

OD:

Optical density

UV:

Ultraviolet

cDNA:

Complementary DNA

RT-qPCR:

Reverse transcription quantitative polymerase chain reaction

GAPDH:

Glyceraldehyde-3-phosphate dehydrogenase

EP:

Eppendorf

p:

Phosphorylated

Pax7:

Paired box gene 7

MyoD:

Myosin D

TBST:

Tris-buffered saline with Tween-20

HRP:

Horseradish peroxidase

ECL:

Enhanced chemiluminescence

IgG:

Immunoglobulin G

HE:

Hematoxylin and eosin

DAPI:

4′,6-Diamidino-2-phenylindole

PBST:

PBS containing 0.1% Tween-20

FITC:

Fluorescein isothiocyanate

PI:

Propidium iodide

MBC:

Maximum bladder capacity

LPP:

Leaking point pressure

ANOVA:

Analysis of variance
References
1.

Vardar E, Vythilingam G, Pinnagoda K, Engelhardt EM, Zambelli PY, Hubbell JA, Lutolf MP, Frey P, Larsson HM (2019) A bioactive injectable bulking material; a potential therapeutic approach for stress urinary incontinence. Biomaterials 206:41–48

2.

El-Hefnawy AS, Wadie BS (2011) Severe stress urinary incontinence: objective analysis of risk factors. Maturitas 68(4):374–377

3.

Saaby ML (2014) The urethral closure function in continent and stress urinary incontinent women assessed by urethral pressure reflectometry. Dan Med J 61(2):B4795

4.

Lecoeur C, Swieb S, Zini L, Riviere C, Combrisson H, Gherardi R, Abbou C, Yiou R (2007) Intraurethral transfer of satellite cells by myofiber implants results in the formation of innervated myotubes exerting tonic contractions. J Urol 178(1):332–337

5.

Wu R, Huang C, Wu Q, Jia X, Liu M, Xue Z, Qiu Y, Niu X, Wang Y (2019) Exosomes secreted by urine-derived stem cells improve stress urinary incontinence by promoting repair of pubococcygeus muscle injury in rats. Stem Cell Res Ther 10(1):80

6.

Lee YC, Juan YS, Liu CC, Bao BY, Wang CJ, Wu WJ, Huang CN, Huang SP (2016) The association of endothelial nitric oxide synthase (eNOS) G894T gene polymorphism with responsiveness to a selective alpha1 -blocker in men with benign prostatic hyperplasia related lower urinary tract symptoms. BJU Int 118(2):313–319

7.

Filippin LI, Cuevas MJ, Lima E, Marroni NP, Gonzalez-Gallego J, Xavier RM (2011) Nitric oxide regulates the repair of injured skeletal muscle. Nitric Oxide 24(1):43–49

8.

Lee M, Choy JC (2013) Positive feedback regulation of human inducible nitric-oxide synthase expression by Ras protein S-nitrosylation. J Biol Chem 288(22):15677–15686

9.

Chen M, Cheng C, Yan M, Niu S, Gao S, Shi S, Liu H, Qin Y, Shen A (2008) Involvement of CAPON and nitric oxide synthases in rat muscle regeneration after peripheral nerve injury. J Mol Neurosci 34(1):89–100

10.

Filippin LI, Moreira AJ, Marroni NP, Xavier RM (2009) Nitric oxide and repair of skeletal muscle injury. Nitric Oxide 21(3–4):157–163

11.

Seale P, Sabourin LA, Girgis-Gabardo A, Mansouri A, Gruss P, Rudnicki MA (2000) Pax7 is required for the specification of myogenic satellite cells. Cell 102(6):777–786

12.

Sambasivan R, Yao R, Kissenpfennig A, Van Wittenberghe L, Paldi A, Gayraud-Morel B, Guenou H, Malissen B, Tajbakhsh S, Galy A (2011) Pax7-expressing satellite cells are indispensable for adult skeletal muscle regeneration. Development 138(17):3647–3656

13.

Zhang K, Sha J, Harter ML (2010) Activation of Cdc6 by MyoD is associated with the expansion of quiescent myogenic satellite cells. J Cell Biol 188(1):39–48

14.

Fajardo-Puerta AB, Mato Prado M, Frampton AE, Jiao LR (2016) Gene of the month: HGF. J Clin Pathol 69(7):575–579

15.

Zhang H, Anderson JE (2014) Satellite cell activation and populations on single muscle-fiber cultures from adult zebrafish (Danio rerio). J Exp Biol 217(Pt 11):1910–1917

16.

Anderson JE (2016) Hepatocyte growth factor and satellite cell activation. Adv Exp Med Biol 900:1–25

17.

Su Y, Xie W, Wang C, Peng L, Zhou X, Ye L (2012) JNK/P38 mitogen-activated protein kinase used for hepatocyte growth factor-induced proliferation, differentiation, and migration in human dental papilla cells. J Endod 38(9):1207–1213

18.

Liang H, Yan X, Pan Y, Wang Y, Wang N, Li L, Liu Y, Chen X, Zhang CY, Gu H, Zen K (2015) MicroRNA-223 delivered by platelet-derived microvesicles promotes lung cancer cell invasion via targeting tumor suppressor EPB41L3. Mol Cancer 14:58

19.

Segales J, Perdiguero E, Munoz-Canoves P (2016) Regulation of muscle stem cell functions: a focus on the p38 MAPK signaling pathway. Front Cell Dev Biol 4:91

20.

Feng A, Zhou G, Yuan X, Huang X, Zhang Z, Zhang T (2013) Inhibitory effect of baicalin on iNOS and NO expression in intestinal mucosa of rats with acute endotoxemia. PLoS one 8(12):e80997

21.

Liu D, Adams MS, Burdette EC, Diederich CJ (2018) Transurethral high-intensity ultrasound for treatment of stress urinary incontinence (SUI): simulation studies with patient-specific models. Int J Hyperthermia 34(8):1236–1247

22.

Aicher WK, Hart ML, Stallkamp J, Klunder M, Ederer M, Sawodny O, Vaegler M, Amend B, Sievert KD, Stenzl A (2014) Towards a treatment of stress urinary incontinence: application of mesenchymal stromal cells for regeneration of the sphincter muscle. J Clin Med 3(1):197–215

23.

Otto A, Collins-Hooper H, Patel A, Dash PR, Patel K (2011) Adult skeletal muscle stem cell migration is mediated by a blebbing/amoeboid mechanism. Rejuvenation Res 14(3):249–260

24.

Ding S, Swennen GNM, Messmer T, Gagliardi M, Molin DGM, Li C, Zhou G, Post MJ (2018) Maintaining bovine satellite cells stemness through p38 pathway. Sci Rep 8(1):10808

25.

Olguin HC, Yang Z, Tapscott SJ, Olwin BB (2007) Reciprocal inhibition between Pax7 and muscle regulatory factors modulates myogenic cell fate determination. J Cell Biol 177(5):769–779

26.

Tatsumi R (2010) Mechano-biology of skeletal muscle hypertrophy and regeneration: possible mechanism of stretch-induced activation of resident myogenic stem cells. Anim Sci J 81(1):11–20

27.

Gill R, Hitchins L, Fletcher F, Dhoot GK (2010) Sulf1A and HGF regulate satellite-cell growth. J Cell Sci 123(Pt 11):1873–1883

28.

Witt R, Weigand A, Boos AM, Cai A, Dippold D, Boccaccini AR, Schubert DW, Hardt M, Lange C, Arkudas A, Horch RE, Beier JP (2017) Mesenchymal stem cells and myoblast differentiation under HGF and IGF-1 stimulation for 3D skeletal muscle tissue engineering. BMC Cell Biol 18(1):15

29.

Lee SJ, Yoo M, Go GY, Hwang J, Lee HG, Kim YK, Seo DW, Baek NI, Ryu JH, Kang JS, Bae GU (2014) Tetrahydropalmatine promotes myoblast differentiation through activation of p38MAPK and MyoD. Biochem Biophys Res Commun 455(3–4):147–152

30.

Lu T, Yang C, Sun H, Lv J, Zhang F, Dong XJ (2014) FGF4 and HGF promote differentiation of mouse bone marrow mesenchymal stem cells into hepatocytes via the MAPK pathway. Genet Mol Res 13(1):415–424

31.

Kuang W, Deng Q, Deng C, Li W, Shu S, Zhou M (2017) Hepatocyte growth factor induces breast cancer cell invasion via the PI3K/Akt and p38 MAPK signaling pathways to up-regulate the expression of COX2. Am J Transl Res 9(8):3816–3826

32.

Aenlle KK, Curtis KM, Roos BA, Howard GA (2014) Hepatocyte growth factor and p38 promote osteogenic differentiation of human mesenchymal stem cells. Mol Endocrinol 28(5):722–730

33.

Shinohara M, Sumino Y, Sato F, Kiyono T, Hashimoto N, Mimata H (2017) Tumor necrosis factor-alpha inhibits differentiation of myogenic cells in human urethral rhabdosphincter. Int J Urol 24(6):461–467

34.

Kim BS, Chun SY, Lee JK, Lim HJ, Bae JS, Chung HY, Atala A, Soker S, Yoo JJ, Kwon TG (2012) Human amniotic fluid stem cell injection therapy for urethral sphincter regeneration in an animal model. BMC Med 10:94

35.

Lin CS, Lue TF (2012) Stem cell therapy for stress urinary incontinence: a critical review. Stem Cells Dev 21(6):834–843
Acknowledgements
The authors would like to acknowledge the helpful comments on this paper received from the reviewers.
Funding
This study was supported by the Yunnan Provincial Science and Technology Department (No. 2015FA007); National Natural Science Foundation of China (81860127); Medical Discipline Leaders of Health and Family Planning Commission of Yunnan Province (D-201615); Young and Middle-Aged Academic and Technical Leaders Reserved Scholar of Yunnan Province (No. 2017HB038); the Engineering and Research Center of Yunnan College and University for Female Pelvic Floor Disease Diagnosis and Treatment.
Ethics declarations
Conflict of interest
The authors declare no conflicts of interest.
Additional information
Publisher's Note
Springer Nature remains neutral with regard to jurisdictional claims in published maps and institutional affiliations.
About this article
Cite this article
Guan, F., Wu, J., Li, J. et al. Inducible nitric oxide synthase promotes differentiation of satellite cells and prevents stress urinary incontinence via HGF-mediated p38/MAPK signaling. World J Urol (2020). https://doi.org/10.1007/s00345-020-03289-7
Received:

Accepted:

Published:
Keywords
Stress urinary incontinence

Inducible nitric oxide synthase

Satellite cells

Hepatocyte growth factor

p38 mitogen-activated protein kinase signaling pathway