Abstract
Purpose
To compare the range of reach of our newly designed omni-directional ureteroscope (URF-Y0016), compared to the commonly used URF-P6, FlexX2s, and LithoVue™ scopes, in the upper, middle, and lower calyces in an ex-vivo pyelocaliceal model.
Methods
We fabricated a three-dimensional pyelocaliceal model of the upper, middle, and lower pole calyces using urethane and acrylic resin. The inner surface of the dome of each calyx was engraved with reference lines along eight directions, set at 10° of latitude from the top to the base of the dome, and at angles of 0–90°, to precisely determine the range of reach of each scope. The main feature of the URF-Y0016 scope is the omni-directional bending of the tip of the flexible ureteroscope, with the control of these four directions integrated into a handgun-type control unit with a joystick. The range of reach within each calyx was measured by four expert surgeons.
Results
The URF-Y0016 scope provided a greater range of reach along all directions in the lower pole calyx compared to URF-P6, FlexX2s, and LithoVue™ scopes (p < 0.001), particularly along the anterior–posterior direction in the lower lobe calyx. However, the URF-Y0016 scope did not influence the improvement of reach range in the upper and middle pole calyx compared to URF-P6, FlexX2s, and LithoVue™ scopes (p = 0.08, p = 0.296).
Conclusion
The novel design of the URF-Y0016 could improve treatment outcomes for calyceal stones in the lower pole in practice.
Access options
Buy single article
Instant access to the full article PDF.
US$ 39.95
Tax calculation will be finalised during checkout.
Subscribe to journal
Immediate online access to all issues from 2019. Subscription will auto renew annually.
US$ 119
Tax calculation will be finalised during checkout.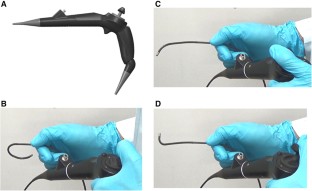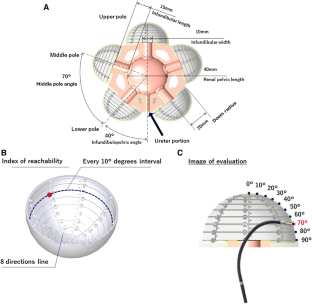 Abbreviations
SWL:

Extracorporeal shockwave lithotripsy

PCNL:

Percutaneous nephrolithotomy

RIRS:

Retrograde intrarenal surgery

EAU:

European Association of Urology

SFR:

Stone-free rate

IPA:

Infundibulopelvic angle

IL:

Infundibular length

IW:

Infundibular width

CPH:

Caliceal pelvic height

TURBT:

Transurethral bladder tumor resection

TURP:

Transurethral prostate resection
References
1.

Turk C, Skolarikos A, Neisius A et al (2019) Treatment algorithm for renal stones in disease management on urolithiasis; EAU guideline. https://uroweb.org/guideline/urolithiasis/#3

2.

Tonyali S, Yilmaz M, Karaaslan M, Ceylan C, Işıkay L (2018) Prediction of stone-free status after single-session retrograde intrarenal surgery for renal stones. Turk J Urol 44:473–477

3.

Inoue T, Murota T, Okada S et al (2015) Influence of pelvicalyceal anatomy on stone clearance after flexible ureteroscopy and holmium laser lithotripsy for large renal stones. J Endourol 29:998–1005

4.

Scotland KB, Chan JYH, Chew BH (2019) Single-use flexible ureteroscopes: how do they compare with reusable ureteroscopes? J Endourol 33:71–78

5.

Lee MH, Lee IJ, Kim TJ et al (2019) The effect of short-term preoperative ureteral stenting on the outcomes of retrograde intrarenal surgery for renal stones. World J Urol 37:1435–1440

6.

Sari S, Ozok HU, Cakici MC et al (2017) A comparison of retrograde intrarenal surgery and percutaneous nephrolithotomy for management of renal stones? 2 cm. Urol J 14:2949–2954

7.

Wang W, Ge Y, Wang Z, Wang L, Li J, Tian Y (2019) Comparing micropercutaneous nephrolithotomy and retrograde intrarenal surgery in treating 1–2 cm solitary renal stones in pediatric patients younger than 3 years. J Pediatr Urol 30:196–192

8.

Zeng G, Zhang T, Agrawal M et al (2018) Super-mini percutaneous nephrolithotomy (SMP) vs retrograde intrarenal surgery for the treatment of 1–2 cm lower pole renal calculi: an international multicenter randomized controlled trial. BJU Int 122:1034–1040

9.

Karim SS, Hanna L, Geraghty R, Somani BK (2019) Role of pelvicalyceal anatomy in the outcomes of retrograde intrarenal surgery (RIRS) for lower pole stones: outcomes with a systematic review of literature. Urolithiasis. https://doi.org/10.1007/s00240-019-01150-0(Epub ahead of print)

10.

Jessen JP, Honeck P, Knoll T, Wendt-Nordahl G (2014) Flexible ureterorenoscopy for lower pole stones; influence of the collecting system's anatomy. J Endourol 28:146–151

11.

Jung GH, Jung JH, Ahn TS et al (2015) Comparison of retrograde intrarenal surgery versus a single-session percutaneous nephrolithotomy for lower-pole stones with a diameter of 15 to 30 mm: a propensity score-matching study. Korean J Urol 56:525–532

12.

Fan J, Zhang T, Zhu W, Gurioli A, Ketegwe IR, Zeng G (2019) The role of super-mini percutaneous nephrolithotomy (SMP) in the treatment of symptomatic lower pole stones (LPSs) after the failure of shockwave lithotripsy (SWL) of retrograde intrarenal surgery (RIRS). Urolithiasis 47:297–301

13.

Junbo L, Yugen L, Guo J, Jing H, Ruichao Y, Tao W (2019) Retrograde intrarenal surgery vs. percutaneous nephrolithotomy vs. extracorporeal shock wave lithotripsy for lower pole renal stone 10–20 mm: a meta-analysis and systematic review. Urol J 16:97–106

14.

Ludwig WW, Lee G, Ziemba JB, Ko JS, Matlaga BR (2017) Evaluating the ergonomics of flexible ureteroscopy. J Endourol 31:1062–1066

15.

Saglam R, Muslumanoglu AY, Tokatli Z et al (2014) A new robot for flexible ureteroscopy: development and early clinical results (IDEAL stage 1–2b). Eur Urol 66:1092–1100

16.

Rassweiler J, Fiedler M, Charalampoqiannis N, Kabakci AS, Saglam R, Klein JT (2018) Robot-assisted flexible ureteroscopy: ab update. Urolithiasis 46:69–77
Ethics declarations
Conflict of interest
Olympus funded, and lent the equipment for this study.
Additional information
Publisher's Note
Springer Nature remains neutral with regard to jurisdictional claims in published maps and institutional affiliations.
About this article
Cite this article
Inoue, T., Okada, S., Hamamoto, S. et al. Evaluation of flexible ureteroscope with an omni-directional bending tip, using a JOYSTICK unit (URF-Y0016): an ex-vivo study. World J Urol 39, 209–215 (2021). https://doi.org/10.1007/s00345-020-03151-w
Received:

Accepted:

Published:

Issue Date:
Keywords
New technology of fURS

Omni-directional bending

Joystick handle

Lower pole access