Abstract
Objectives
To present the three-year experience of the multi-component TURP module at Urology Simulation Bootcamp Course (USBC) and demonstrate trainee's competence progression and satisfaction.
Methods
During the USBC, a 4-h TURP module was developed and consisted of (a) familiarisation and assembly of resectoscope instrument, (b) didactic lecture on TURP operative techniques and postoperative complications, (c) learning hands-on resection on validated simulators [Samed, GmBH, Dresden, Germany; TURP Mentor™, Simbionix, Israel], and (d) practicing clot evacuation using the Ellik bladder Evacuator. Trainee's level of instrument knowledge, operative competence, and confidence were assessed pre- and post-course. Trainee's feedback was also collected.
Results
One hundred thirty trainees participated in the USBC between 2016 and 2018. Eighty-seven percent of trainees scored themselves as 1–3 (low confidence in resection) on a 5-point Likert scale. Trainees significantly improved in their ability to perform resectoscope assembly for resection, coagulation and incision by 33.6% (p < 0.001), 28.1% (p < 0.001) and 34.0% (p < 0.001), respectively. There was a significant improvement in scores in itemised technical skill on the TURP simulator following completion of the TURP module (Mean difference = 3.4 points, 95% CI 2–4, p < 0.001). Ninety-one percent of trainees agreed that the TURP module was useful for their development in urological training.
Conclusion
Our results demonstrated that it is feasible to develop and implement a focussed module for teaching TURP with significant improvement in learning. Trainee feedback suggests that they were highly satisfied with the teaching provided and models used. This style of training can be implemented for other common surgical procedures.
Access options
Buy single article
Instant access to the full article PDF.
US$ 39.95
Tax calculation will be finalised during checkout.
Subscribe to journal
Immediate online access to all issues from 2019. Subscription will auto renew annually.
US$ 119
Tax calculation will be finalised during checkout.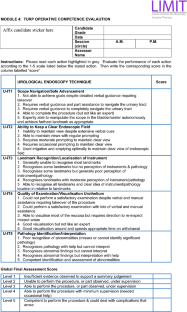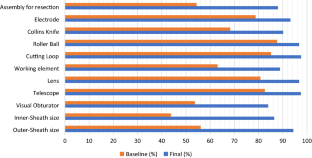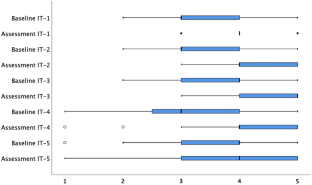 References
1.

Young MJ, Elmussareh M, Morrison T, Wilson JR (2018) The changing practice of transurethral resection of the prostate. Ann R Coll Surg Engl 100(4):326–329

2.

Malaeb BS, Yu X, McBean AM, Elliott SP (2012) National trends in surgical therapy for benign prostatic hyperplasia in the United States (2000–2008). Urology 79(5):1111–1116

3.

Chung ASJ, Woo HH (2018) Update on minimally invasive surgery and benign prostatic hyperplasia. Asian J Urol 5(1):22–27

4.

Bjerrum F, Thomsen ASS, Nayahangan LJ, Konge L (2018) Surgical simulation: current practices and future perspectives for technical skills training. Med Teach 40(7):668–675

5.

Ramirez AG, Hu Y, Kim H, Rasmussen SK (2018) Long-term skills retention following a randomized prospective trial on adaptive procedural training. J Surg Educ 75(6):1589–1597

6.

de Vries AH, Schout BM, van Merrienboer JJ, Pelger RC, Koldewijn EL, Muijtjens AM et al (2017) High educational impact of a national simulation-based urological curriculum including technical and non-technical skills. Surg Endosc 31(2):928–936

7.

Tjiam IM, Berkers CH, Schout BM, Brinkman WM, Witjes JA, Scherpbier AJ et al (2014) Evaluation of the educational value of a virtual reality TURP simulator according to a curriculum-based approach. Simul Healthc 9(5):288–294

8.

Biyani CS, Hanchanale V, Rajpal S, Jain S, Garthwaite M, Cartledge J et al (2017) First urology simulation boot camp in the United Kingdom. Afr J Urol 23(3):258–267

9.

Kailavasan M, Hanchanale V, Rajpal S, Morley R, McLlhenny C, Somani B et al (2019) A method to evaluate trainee progression during simulation training at the urology simulation boot camp (USBC) course. J Surg Educ 76(1):215–222

10.

Young M, Kailavasan M, Taylor J, Cornford P, Colquhoun A, Rochester M et al (2019) The success and evolution of a urological "boot camp" for newly appointed UK urology registrars: incorporating simulation, nontechnical Skills and Assessment. J Surg Educ 76:1425–1432

11.

Programme ISC (2016) Intercollegiate surgical cirriculum for urology surgery

12.

Wiggins GMJ (2001) Undestanding by design: Upper Saddle River

13.

Zevin B, Levy JS, Satava RM, Grantcharov TP (2012) A consensus-based framework for design, validation, and implementation of simulation-based training curricula in surgery. J Am Coll Surg. 215(4):580–586

14.

Marszalek M, Ponholzer A, Pusman M, Berger I, Madersbacher S (2009) Transurethral resection of the prostate. Eur Urol Suppl 8:504–512

15.

Gravenstein D (1997) Transurethral resection of the prostate (TURP) syndrome: a review of the pathophysiology and management. Anesth Analg 84:438–446

16.

Bright E, Vine S, Wilson MR, Masters RS, McGrath JS (2012) Face validity, construct validity and training benefits of a virtual reality TURP simulator. Int J Surg 10(3):163–166

17.

Kishore TA, Beddingfield R, Holden T, Shen Y, Reihsen T, Sweet RM (2009) Task deconstruction facilitates acquisition of transurethral resection of prostate skills on a virtual reality trainer. J Endourol 23(4):665–668

18.

Ebbing J, Schostak M, Steiner U, Stier K, Neymeyer J, Miller K et al (2011) Novel low-cost prostate resection trainer-description and preliminary evaluation. Int J Med Robot 7(3):367–373

19.

Vassiliou MC, Kaneva PA, Poulose BK, Dunkin BJ, Marks JM, Sadik R et al (2010) Global Assessment of Gastrointestinal Endoscopic Skills (GAGES): a valid measurement tool for technical skills in flexible endoscopy. Surg Endosc 24(8):1834–1841

20.

Khan R, Aydin A, Khan MS, Dasgupta P, Ahmed K (2015) Simulation-based training for prostate surgery. BJU Int 116(4):665–674

21.

Hanchanale V, Kailavasan M, Rajpal S, Koenig P, Yiasemidou M, Palit P, Rogawski K, Eardley I, Terry T, Jain S, Myatt M, Biyani CS (2019) Impact of urology simulation boot camp in improving endoscopic instrument knowledge. BMJ Simul Technol Enhanced Learn. https://doi.org/10.1136/bmjstel-2018-000313

22.

Neumann E, Mayer J, Russo GI, Amend B, Rausch S, Deininger S et al (2018) Transurethral resection of bladder tumors: next-generation virtual reality training for surgeons. Eur Urol Focus. 5:906–911

23.

Viswaroop SB, Gopalakrishnan G, Kandasami SV (2015) Role of transurethral resection of the prostate simulators for training in transurethral surgery. Curr Opin Urol 25(2):153–157
Acknowledgements
We would like to thank all participants and module co-faculty for their continued support: Safraz Ahmad, James Armitage, Andreas Bourdoumis, Nick Campain, Ivo Dukic, Ismail E-Mokadem, Paul Halliday, Adrian Joyce, Phil Koenig, Sanjay Rajpal, Karol Rogawski, Tariq Tassadaq, Petros Tsafrakidis, Ross Vint. We could not have done without the excellent support from Joanne Johnson, Jodie Fowler Lesley Wood, MarK Logan, Jack Holmes and Dave Gould Medical Education Team, Leeds Teaching Hospital, Leeds.
Funding
Equipment and sponsorship for the Urology Simulation Boot Camp were provided by: Karl Storz, Cook Medical, Coloplast, Ethicon, Dantec, OKB Medical (Simbionix), MediPlus, Teleflex, European Pharma.
Ethics declarations
Conflict of interest
None.
Research involving Human Participants and/or Animals
Not applicable.
Informed consent
All participants in this study provided written informed consent.
Additional information
Publisher's Note
Springer Nature remains neutral with regard to jurisdictional claims in published maps and institutional affiliations.
About this article
Cite this article
Kailavasan, M., Berridge, C., Athanasiadis, G. et al. Design, implementation, and evaluation of a novel curriculum to teach transurethral resection of the prostate (TURP): a 3-year experience of urology simulation bootcamp course. World J Urol 38, 2899–2906 (2020). https://doi.org/10.1007/s00345-020-03104-3
Received:

Accepted:

Published:

Issue Date:
Keywords
Simulation

Transurethral resection of prostate

Surgical skills

Surgical education