Abstract
Purpose
The challenges in providing urologic care across borders and in resource-constrained settings are poorly understood. We sought to better characterize the impediments to the delivery of urological care in low- and middle-income countries (LMICs) compared to high-income countries (HICs).
Methods
A 70 question online survey in RedCap™ was distributed to urologists who had practiced in countries outside of the United States and Europe categorized by World Bank income groups.
Results
114 urologists from 27 countries completed the survey; 35 (39%) practiced in HICs while 54 (61%) practiced in LMICs. Forty-three percent of urologists received training outside their home country. Most commonly treated conditions were urolithiasis (30%), BPH (15%) and prostate cancer (13%) which did not vary by group. Only 19% of urologists in LMICs reported sufficient urologists in their country. Patients in LMICs were less likely to get urgent drainage for infected obstructing kidney stones or endoscopic treatment for a painful kidney stone or obstructing prostate. Urologists visiting LMICs were more likely to cite deficits in knowledge, inadequate operative facilities and limited access to disposables as the major challenges whereas local LMIC urologists were more likely to cite financial challenges, limited access to diagnostics and support staff as the barriers to care.
Conclusions
LMICs lack enough training opportunities and urologists to care for their population. There is disconnect between the needs identified by local and visiting urologists. International collaborations should target broader interventions in LMICs to address local priorities such as diagnostic studies, support staff and financial support.
Access options
Buy single article
Instant access to the full article PDF.
US$ 39.95
Tax calculation will be finalised during checkout.
Subscribe to journal
Immediate online access to all issues from 2019. Subscription will auto renew annually.
US$ 119
Tax calculation will be finalised during checkout.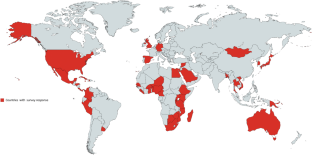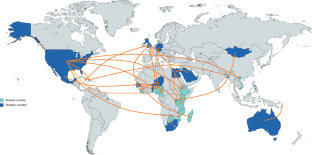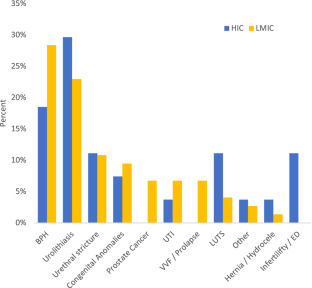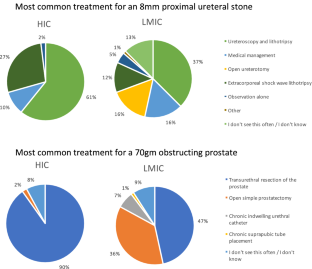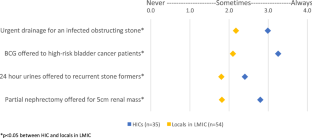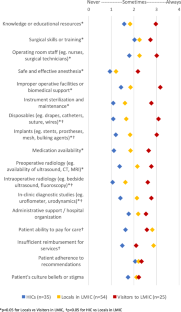 References
1.

Meara JG, Leather AJ, Hagander L et al (2015) Global Surgery 2030: evidence and solutions for achieving health, welfare, and economic development. Lancet 386(9993):569–624

2.

Patel HD, Kushner AL, Allaf ME (2013) Waiting for global access to urologic care. Eur Urol 64(2):344–345

3.

Murray CJ, Vos T, Lozano R et al (2012) Disability-adjusted life years (DALYs) for 291 diseases and injuries in 21 regions, 1990–2010: a systematic analysis for the Global Burden of Disease Study 2010. Lancet 380(9859):2197–2223

4.

Patel HD, Kamara TB, Kushner AL et al (2014) Gross hematuria and urinary retention among men from a nationally representative survey in Sierra Leone. Urology 83(6):1273–1278

5.

Badlani G (2017) International volunteerism and global responsibility. Transl Androl Urol 6(2):258–263

6.

Konety BR (2013) Of albert Schweitzer and global urology. J Urol 189(2):411–412

7.

Jalloh M, Wood JP, Fredley M et al (2015) IVUmed: a nonprofit model for surgical training in low-resource countries. Ann Glob Health 81(2):260–264

8.

"About Urolink". https://www.baus.org.uk/professionals/urolink/about_urolink_2017.aspx. Accessed 11 Nov 2018

9.

Hoyler M, Finlayson SR, McClain CD, Meara JG, Hagander L (2014) Shortage of doctors, shortage of data: a review of the global surgery, obstetrics, and anesthesia workforce literature. World J Surg 38(2):269–280. https://doi.org/10.1007/s00268-013-2324-y

10.

Campain NJ, MacDonagh RP, Mteta KA, McGrath JS, BAUS Urolink (2015) Global surgery—how much of the burden is urological? BJU Int 116(3):314–316
Ethics declarations
Ethical statement
The authors have no disclosures or conflict of interest related to the submitted material. Investigational Review Board designation for this study as exempt was obtained at University of California, San Francisco.
Additional information
Publisher's Note
Springer Nature remains neutral with regard to jurisdictional claims in published maps and institutional affiliations.
About this article
Cite this article
Metzler, I., Bayne, D., Chang, H. et al. Challenges facing the urologist in low- and middle-income countries. World J Urol 38, 2987–2994 (2020). https://doi.org/10.1007/s00345-020-03101-6
Received:

Accepted:

Published:

Issue Date:
Keywords
International

Global

Urology

Low-income countries

Disparities

Access

Socioeconomic

Barriers to care