Abstract
Purpose
In this study, we investigate the effect of trainee involvement on surgical performance, as measured by automated performance metrics (APMs), and outcomes after robot-assisted radical prostatectomy (RARP).
Methods
We compared APMs (instrument tracking, EndoWrist® articulation, and system events data) and clinical outcomes for cases with varying resident involvement. Four of 12 standardized RARP steps were designated critical ("cardinal") steps. Comparison 1: cases where the attending surgeon performed all four cardinal steps (Group A) and cases where a trainee was involved in at least one cardinal step (Group B). Comparison 2, where Group A is split into Groups C and D: cases where attending performs the whole case (Group C) vs. cases where a trainee performed at least one non-cardinal step (Group D). Mann–Whitney U and Chi-squared tests were used for comparisons.
Results
Comparison 1 showed significant differences in APM profiles including camera movement time, third instrument usage, dominant instrument moving time, velocity, articulation, as well as non-dominant instrument moving time and articulation (all favoring Group A p < 0.05). There was a significant difference in re-admission rates (10.9% in Group A vs 0% in Group B, p < 0.02), but not for post-operative outcomes. Comparison 2 demonstrated a significant difference in dominant instrument articulation (p < 0.05) but not in post-operative outcomes.
Conclusions
Trainee involvement in RARP is safe. The degree of trainee involvement does not significantly affect major clinical outcomes. APM profiles are less efficient when trainees perform at least one cardinal step but not during non-cardinal steps.
Access options
Buy single article
Instant access to the full article PDF.
US$ 39.95
Tax calculation will be finalised during checkout.
Subscribe to journal
Immediate online access to all issues from 2019. Subscription will auto renew annually.
US$ 119
Tax calculation will be finalised during checkout.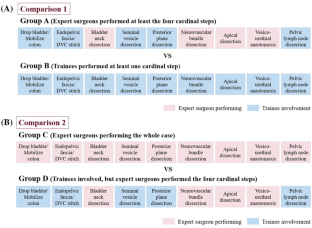 Acknowledgements
Research reported in this publication was supported in part by the National Institute of Biomedical Imaging And Bioengineering of the National Institutes of Health under Award Number K23EB026493 and an Intuitive Surgical Clinical Research Grant. Anthony Jarc and Liheng Guo (Intuitive Surgical, Inc.) assisted with automated performance metric processing.
Ethics declarations
Conflict of interest
The study was supported in part by an Intuitive Surgical, Inc. clinical grant. Intuitive Surgical, Inc. provided the systems events data recorder.
Human and animals rights
All procedures performed in studies involving human participants were in accordance with the ethical standards of the institutional and/or national research committee and with the 1964 Helsinki Declaration and its later amendments or comparable ethical standards. This article does not contain any studies with animals performed by any of the authors.
Informed consent
Informed consent was obtained from all individual participants included in the study.
Additional information
Publisher's Note
Springer Nature remains neutral with regard to jurisdictional claims in published maps and institutional affiliations.
About this article
Cite this article
Chen, A., Ghodoussipour, S., Titus, M.B. et al. Comparison of clinical outcomes and automated performance metrics in robot-assisted radical prostatectomy with and without trainee involvement. World J Urol 38, 1615–1621 (2020). https://doi.org/10.1007/s00345-019-03010-3
Received:

Accepted:

Published:

Issue Date:
Keywords
Automatic performance metrics

Resident surgical training

Surgical education

Robotic surgical procedures

Prostatectomy