Abstract
Purpose
To evaluate overactive bladder (OAB) symptoms in patients undergoing diagnostic cystoscopy. Overall changes in the entire study population were assessed, as well as broken down by various subgroups.
Methods
A prospective multi-center study among consecutive 450 adults undergoing diagnostic cystoscopy was conducted. OAB-symptoms were evaluated with the validated eight-item OAB Screening Awareness Tool (OAB-V8) immediately before and on days 1, 4, and 7 after cystoscopy. Patients were distinguished between being OAB-negative and OAB-positive (< 8 and ≥ 8 sum-score, respectively). Average sum-scores and subdomains were evaluated.
Results
Before cystoscopy, 44.7% of patients were screened OAB-positive and 55.3% OAB-negative. Out of those being screened negative, development of de-novo OAB was noticed in 16.8%, declining to 8.1% on day 7 (p < 0.001).
In patients being OAB-positive before cystoscopy, a decline of OAB-positivity was noted during follow-up (p < 0.001). No statistically significant differences were noted when broken down by gender (p = 0.92), age (p = 0.82) and type cystoscope (rigid vs. flexible, p = 0.38). Average sum-scores declined from 8.68 before cystoscopy to 6.9 during follow-up. Flexible cystoscopy was superior over rigid in four subdomains: uncomfortable urge to urinate (p = 0.04), sudden urge to urinate with little or no warning (p = 0.02), uncontrollable urge to urinate (p = 0.03), and urine loss associated with a strong desire to void (p = 0.009).
Conclusion
OAB-symptoms are common in patients undergoing cystoscopy. Cystoscopy itself can cause de-novo OAB-symptoms. Controversially, a decline of OAB-symptoms was noted after cystoscopy when patients were screened OAB-positive before cystoscopy. Flexible scopes were superior in some subdomains.
Access options
Buy single article
Instant access to the full article PDF.
US$ 39.95
Tax calculation will be finalised during checkout.
Subscribe to journal
Immediate online access to all issues from 2019. Subscription will auto renew annually.
US$ 119
Tax calculation will be finalised during checkout.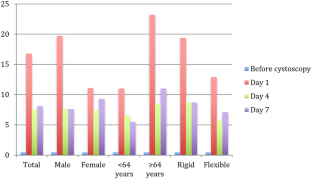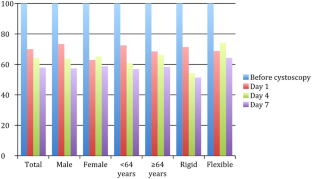 References
1.

Engelsgjerd JS, Deibert CM (2018) Cystoscopy. Treasure Island (FL), StatPearls Publishing. https://www.ncbi.nlm.nih.gov/books/NBK493180/. Accessed 31 Oct 2019

2.

Seklehner S, Remzi M, Fajkovic H, Saratlija-Novakovic Z, Skopek M, Resch I, Duvnjak M, Hruby S, Librenjak D, Hubner W, Breinl E, Riedl C, Engelhardt PF (2015) Prospective multi-institutional study analyzing pain perception of flexible and rigid cystoscopy in men. Urology 85:737–741

3.

Seklehner S, Saratlija-Novakovic Z, Skopek M, Fajkovic H, Remzi M, Duvnjak M, Resch I, Hruby S, Lm HW, Librenjak D, Breinl E, Riedl C, Engelhardt PF (2016) Prospective, multi-institutional pain assessment of 150 women undergoing diagnostic cystoscopy. Minerva Urol Nefrol 68:417–423

4.

Erkal S (2007) Patients' experiences at home after day case cystoscopy. J Clin Nurs 16:1118–1124

5.

Drake MJ (2014) Do we need a new definition of the overactive bladder syndrome? ICI-RS 2013. Neurourol Urodyn 33:622–624

6.

Coyne KS, Zyczynski T, Margolis MK, Elinoff V, Roberts RG (2005) Validation of an overactive bladder awareness tool for use in primary care settings. Adv Ther 22:381–394

7.

Eapen RS, Radomski SB (2016) Review of the epidemiology of overactive bladder. Res Rep Urol 8:71–76

8.

Cheung WW, Blank W, Borawski D, Tran W, Bluth MH (2010) Prevalence of overactive bladder, its under-diagnosis, and risk factors in a male urologic veterans population. Int J Med Sci 7:391–394

9.

Cheung WW, Khan NH, Choi KK, Bluth MH, Vincent MT (2009) Prevalence, evaluation and management of overactive bladder in primary care. BMC Fam Pract 10:8

10.

Casteleijn NF, Vriesema JL, Stomps SP, Van Balen OL, Cornel EB (2017) The effect of office based flexible and rigid cystoscopy on pain experience in female patients. Investig Clin Urol 58:48–53

11.

Gee JR, Waterman BJ, Jarrard DF, Hedican SP, Bruskewitz RC, Nakada SY (2009) Flexible and rigid cystoscopy in women. JSLS 13:135–138

12.

Krajewski W, Zdrojowy R, Wojciechowska J, Koscielska K, Dembowski J, Matuszewski M, Tupikowski K, Malkiewicz B, Kolodziej A (2016) Patient comfort during flexible and rigid cystourethroscopy. Wideochir Inne Tech Maloinwazyjne 11:94–97

13.

Clayman RV, Reddy P, Lange PH (1984) Flexible fiberoptic and rigid-rod lens endoscopy of the lower urinary tract: a prospective controlled comparison. J Urol 131:715–716

14.

Walker L, Liston TG, Lloyddavies RW (1993) Does flexible cystoscopy miss more tumors than rod-lens examination. Br J Urol 72:449–450
Additional information
Publisher's Note
Springer Nature remains neutral with regard to jurisdictional claims in published maps and institutional affiliations.
About this article
Cite this article
Saratlija Novakovic, Z., Puljak, L., Sapunar, D. et al. Overactive bladder symptoms in patients undergoing rigid and flexible cystoscopy. World J Urol 38, 1989–1996 (2020). https://doi.org/10.1007/s00345-019-02993-3
Received:

Accepted:

Published:

Issue Date:
Keywords
Overactive bladder

OAB

LUTS

Cystoscopy