Abstract
Purpose
To report multidimensional outcomes encompassing pain, dyspareunia, and recurrent urinary tract infections (UTIs), following suburethral sling removal (SSR) of synthetic midurethral slings (MUS) placed for female stress urinary incontinence.
Methods
We reviewed a prospectively maintained, IRB-approved database of women undergoing SSR at our institution. Demographic data, type of sling, and symptoms along with Urogenital Distress Inventory-Short Form (UDI-6) scores both before and after SSR were analyzed. Success was defined using several modalities including patient-reported symptoms (ideal outcome) and UDI-6 questionnaire.
Results
From 3/2006–2/2017, 443 women underwent SSR of which 230 met study criteria with median overall follow-up of 23 months (mean 30 months). 180/230 (78%) patients reported 3 or more symptoms at presentation. Median most recent post-SSR total UDI-6 score was 38 vs. 50 at baseline (p < 0.0001). By UDI-6, 53% of patients achieved success post-SSR. An ideal outcome was attained in 22/230 (10%) patients. A modified outcome allowing for one minimally invasive anti-incontinence procedure and excluding sexual activity classified 112/230 (49%) patients as successes.
Conclusions
While patients with MUS present with multiple symptoms, following SSR, there is sustained improvement in multiple symptom domains, including pain and urinary incontinence. Allowing for minimally invasive anti-incontinence procedures (not inclusive of subsequent suburethral sling), the rate of success was 49%, which was comparable to that derived from UDI-6 scores (53%).
Access options
Buy single article
Instant access to the full article PDF.
US$ 39.95
Tax calculation will be finalised during checkout.
Subscribe to journal
Immediate online access to all issues from 2019. Subscription will auto renew annually.
US$ 119
Tax calculation will be finalised during checkout.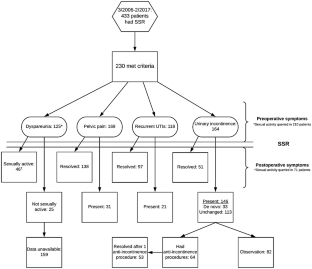 Abbreviations
MUS:

Midurethral sling

SSR:

Sub-urethral midurethral sling removal

UDI-6:

Urogenital Distress Inventory-Short Form

UI:

Urinary incontinence

UTI:

Urinary tract infection
References
1.

Chughtai BI, Elterman DS, Vertosick E, Maschino A, Eastham JA, Sandhu JS (2013) Midurethral sling is the dominant procedure for female stress urinary incontinence: analysis of case logs from certifying American Urologists. Urology. 82(6):1267–1271

2.

Zoorob D, Karram M (2012) Management of mesh complications and vaginal constriction: a urogynecology perspective. Urol Clin North Am. 39(3):413–418

3.

Chapple CR, Raz S, Brubaker L, Zimmern PE (2013) Mesh sling in an era of uncertainty: lessons learned and the way forward. Eur Urol. 64(4):525–529

4.

Leone Roberti Maggiore U, Salvatore S, Sorice P, Ghezzi F, Serati M. Re: 5-year longitudinal follow-up after retropubic and transobturator midurethral slings. Eur Urol. 2015;67(2):348.

5.

Lee D, Bacsu C, Zimmern PE (2015) Meshology: a fast-growing field involving mesh and/or tape removal procedures and their outcomes. Expert Rev Med Dev 12(2):201–216

6.

Nguyen JN, Jakus-Waldman SM, Walter AJ, White T, Menefee SA (2012) Perioperative complications and reoperations after incontinence and prolapse surgeries using prosthetic implants. Obstet Gynecol 119(3):539–546

7.

Agnew G, Dwyer PL, Rosamilia A, Lim Y, Edwards G, Lee JK (2014) Functional outcomes following surgical management of pain, exposure or extrusion following a suburethral tape insertion for urinary stress incontinence. Int Urogynecol J 25(2):235–239

8.

Hou JC, Alhalabi F, Lemack GE, Zimmern PE (2014) Outcome of transvaginal mesh and tape removed for pain only. J Urol 192(3):856–860

9.

Singla N, Aggarwal H, Foster J, Alhalabi F, Lemack GE, Zimmern PE (2017) Management of urinary incontinence following suburethral sling removal. J Urol 198(3):644–649

10.

Chai TC (2017) Mesh sling removals: why, when, how and consequences. J Urol 198(3):496–497

11.

Shakir NA, Wang C, Singla N, Alhalabi F, Christie A, Lemack GE et al (2018) Challenges of multidimensional outcome reporting after suburethral midurethral sling removal. J Urol

12.

Dillon BE, Gurbuz C, Zimmern PE (2012) Long term results after complication of "prophylactic" suburethral tape placement. Can J Urol 19(5):6424–6430

13.

Dason S, Dason JT, Kapoor A (2011) Guidelines for the diagnosis and management of recurrent urinary tract infection in women. Can Urol Assoc J 5(5):316–322

14.

Haylen BT, de Ridder D, Freeman RM, Swift SE, Berghmans B, Lee J et al (2010) An International Urogynecological Association (IUGA)/International Continence Society (ICS) joint report on the terminology for female pelvic floor dysfunction. Neurourol Urodyn 29(1):4–20

15.

Coskun B, Lavelle RS, Alhalabi F, Lemack GE, Zimmern PE (2015) Mini-slings can cause complications. Int Urogynecol J 26(4):557–562

16.

Hussain SA, Alhalabi F, Zimmern PE (2015) Long-term efficacy of fulguration of trigonitis for recurrent urinary tract infections in women. Urol Sci 26(3):197–201

17.

Uebersax JS, Wyman JF, Shumaker SA, McClish DK, Fantl JA (1995) Short forms to assess life quality and symptom distress for urinary incontinence in women: the Incontinence Impact Questionnaire and the Urogenital Distress Inventory. Continence Program for Women Research Group. Neurourol Urodyn 14(2):131–139

18.

Crescenze IM, Abraham N, Li J, Goldman HB, Vasavada S (2016) Urgency incontinence before and after revision of a synthetic mid urethral sling. J Urol. 196(2):478–483

19.

Misrai V, Roupret M, Xylinas E, Cour F, Vaessen C, Haertig A et al (2009) Surgical resection for suburethral sling complications after treatment for stress urinary incontinence. J Urol 181(5):2198–202; discussion 203.

20.

Zimmern P, Kobashi K, Lemack G (2010) Outcome measure for stress urinary incontinence treatment (OMIT): results of two society of urodynamics and female urology (SUFU) surveys. Neurourol Urodyn. 29(5):715–718

21.

Straus SE, Holroyd-Leduc J, Orr MS (2010) Validation of electronic urinary incontinence questionnaires. Can J Urol 17(3):5195–5199

22.

Murphy M, Culligan PJ, Arce CM, Graham CA, Blackwell L, Heit MH (2006) Construct validity of the incontinence severity index. Neurourol Urodyn 25(5):418–423

23.

Mengerink BB, Van Leijsen SA, Vierhout ME, Inthout J, Mol BW, Milani AL et al (2016) The impact of midurethral sling surgery on sexual activity and function in women with stress urinary incontinence. J Sex Med 13(10):1498–1507

24.

Ulrich D, Bjelic-Radisic V, Hollein A, Trutnovsky G, Tamussino K, Aigmuller T (2017) Quality of life and objective outcome assessment in women with tape division after surgery for stress urinary incontinence. PLoS ONE 12(3):e0174628

25.

Hammett J, Lukman R, Oakes M, Whitcomb EL (2016) Recurrent urinary tract infection after midurethral sling: a retrospective study. Female Pelvic Med Reconstr Surg 22(6):438–441
Ethics declarations
Conflict of interest
The authors declare that they have no conflict of interest.
Ethical approval
All the procedures performed in studies involving human participants were in accordance with the ethical standards of the institutional research committee (IRB protocol # 072015-079) and with the 1964 Helsinki Declaration and its later amendments or comparable ethical standards.
Informed consent
Informed consent was obtained from all individual participants included in the study.
Additional information
Publisher's Note
Springer Nature remains neutral with regard to jurisdictional claims in published maps and institutional affiliations.
About this article
Cite this article
Shakir, N.A., Wang, C., Singla, N. et al. Multidimensional outcomes of suburethral synthetic midurethral sling removal. World J Urol 38, 2005–2012 (2020). https://doi.org/10.1007/s00345-019-02987-1
Received:

Accepted:

Published:

Issue Date:
Keywords
Midurethral sling

Sling excision

Complication of sling

Outcome measure

UDI-6