Abstract
Purpose
Conflicting evidence exists on the complication rates after cystectomy following previous radiation (pRTC) with only a few available series. We aim to assess the complication rate of pRTC for abdominal–pelvic malignancies.
Methods
Patients treated with radical cystectomy following any previous history of RT and with available information on complications for a minimum of 1 year were included. Univariable and multivariable logistic regression models were used to assess the relationship between the variable parameters and the risk of any complication.
Results
682 patients underwent pRTC after a previous RT (80.5% EBRT) for prostate, bladder (BC), gynecological or other cancers in 49.1%, 27.4%, 9.8% and 12.9%, respectively. Overall, 512 (75.1%) had at least one post-surgical complication, classified as Clavien ≥ 3 in 29.6% and Clavien V in 2.9%. At least one surgical complication occurred in 350 (51.3%), including bowel leakage in 6.2% and ureteric stricture in 9.4%. A medical complication was observed in 359 (52.6%) patients, with UTI/pyelonephritis being the most common (19%), followed by renal failure (12%). The majority of patients (86%) received an incontinent urinary diversion. In multivariable analysis adjusted for age, gender and type of RT, patients treated with RT for bladder cancer had a 1.7 times increased relative risk of experiencing any complication after RC compared to those with RT for prostate cancer (p = 0.023). The type of diversion (continent vs non-continent) did not influence the risk of complications.
Conclusion
pRTC carries a high rate of major complications that dramatically exceeds the rates reported in RT-naïve RCs.
Access options
Buy single article
Instant access to the full article PDF.
US$ 39.95
Tax calculation will be finalised during checkout.
Subscribe to journal
Immediate online access to all issues from 2019. Subscription will auto renew annually.
US$ 119
Tax calculation will be finalised during checkout.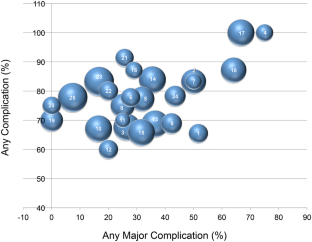 References
1.

Stein JP, Lieskovsky G, Cote R et al (2001) Radical cystectomy in the treatment of invasive bladder cancer: long-term results in 1,054 patients. J Clin Oncol 19(3):666–675. https://doi.org/10.1200/jco.2001.19.3.666

2.

Novara G, De Marco V, Aragona M et al (2009) Complications and mortality after radical cystectomy for bladder transitional cell cancer. J Urol 182:914–921. https://doi.org/10.1016/j.juro.2009.05.032

3.

Shabsigh A, Korets R, Vora KC et al (2009) Defining early morbidity of radical cystectomy for patients with bladder cancer using a standardized reporting methodology. Eur Urol 55(1):164–176. https://doi.org/10.1016/j.eururo.2008.07.031

4.

Chang SS, Alberts GL, Smith JA, Cookson MS (2004) Ileal conduit urinary diversion in patients with previous history of abdominal/pelvic irradiation. World J Urol 22(4):272–276. https://doi.org/10.1007/s00345-004-0446-4

5.

Eisenberg MS, Dorin RP, Bartsch G, Cai J, Miranda G, Skinner EC (2010) Early complications of cystectomy after high dose pelvic radiation. J Urol 184(6):2264–2269. https://doi.org/10.1016/j.juro.2010.08.007

6.

Eswara JR, Efstathiou JA, Heney NM et al (2012) Complications and long-term results of salvage cystectomy after failed bladder sparing therapy for muscle invasive bladder cancer. J Urol 187(2):463–468. https://doi.org/10.1016/j.juro.2011.09.159

7.

Nguyen DP, Awamlh Al Hussein Al, Faltas BM et al (2015) Radical cystectomy for bladder cancer in patients with and without a history of pelvic irradiation: survival outcomes and diversion-related complications. Urology 86(1):99–107. https://doi.org/10.1016/j.urology.2015.02.061

8.

Ramani VAC, Maddineni SB, Grey BR, Clarke NW (2010) Differential complication rates following radical cystectomy in the irradiated and nonirradiated pelvis. Eur Urol 57(6):1058–1063. https://doi.org/10.1016/j.eururo.2009.12.002

9.

Yee DS, Shariat SF, Lowrance WT et al (2010) Impact of previous radiotherapy for prostate cancer on clinical outcomes of patients with bladder cancer. J Urol 183(5):1751–1756. https://doi.org/10.1016/j.juro.2010.01.014

10.

Nieuwenhuijzen JA, Horenblas S, Meinhardt W, van Tinteren H, Moonen LMF (2004) Salvage cystectomy after failure of interstitial radiotherapy and external beam radiotherapy for bladder cancer. BJU Int 94(6):793–797. https://doi.org/10.1111/j.1464-410X.2004.05034.x

11.

Edsmyr F, Moberger G, Wadström L (1971) Carcinoma of the bladder. Cystectomy after supervoltage therapy. Scand J Urol Nephrol 5(3):215–221. http://www.ncbi.nlm.nih.gov/pubmed/4998747. Accessed 12 Jan 2018

12.

Lund F (1980) Cystectomy following full course irradiation. Bladder tumors and other topics in urological oncology. Springer, Boston, pp 287–289. https://doi.org/10.1007/978-1-4613-3030-1_56

13.

Mitropoulos D, Artibani W, Graefen M et al (2012) Reporting and grading of complications after urologic surgical procedures: an ad hoc EAU guidelines panel assessment and recommendations. Eur Urol 61(2):341–349. https://doi.org/10.1016/j.eururo.2011.10.033

14.

Dindo D, Demartines N, Clavien P-A (2004) Classification of surgical complications: a new proposal with evaluation in a cohort of 6336 patients and results of a survey. Ann Surg 240(2):205–213. http://www.ncbi.nlm.nih.gov/pubmed/15273542. Accessed 15 Jan 2018

15.

Jayram G, Katz MH, Steinberg GD (2010) Radical cystectomy in patients previously treated for localized prostate cancer. Urology 76(6):1430–1433. https://doi.org/10.1016/j.urology.2010.01.048

16.

Vetterlein MW, Klemm J, Gild P et al (2019) Improving estimates of perioperative morbidity after radical cystectomy using the European Association of urology quality criteria for standardized reporting and introducing the comprehensive complication index. Eur Urol S0302–2838(19):30655

17.

Aziz A, May M, Burger M et al (2014) Prediction of 90-day mortality after radical cystectomy for bladder cancer in a prospective European multicenter cohort. Eur Urol 66(1):156–163

18.

Waingankar N, Mallin K, Smaldone M et al (2017) Assessing the relative influence of hospital and surgeon volume on short-term mortality after radical cystectomy. BJU Int 120(2):239–245
Acknowledgements
The members of the Young Academic Urologists Urothelial Carcinoma Group of the European Association of Urology are: Evangelous Xylinas and Michael Rink. The authors declare that the development of the manuscript was not supported by an honorarium, a grant, or any other sources of support, including sponsorship or any material sources of support.
Ethics declarations
Conflict of interest
The authors declare that they have no conflict of interest.
Research involving human participants and/or animals
The study has been performed in accordance with the ethical standards laid down in the 1964 Declaration of Helsinki and its later amendments.
Informed consent
For this type of study, informed consent is not required.
Additional information
Publisher's Note
Springer Nature remains neutral with regard to jurisdictional claims in published maps and institutional affiliations.
The members of the Young Academic Urologists Urothelial Carcinoma Group of the European Association of Urology are listed in Acknowledgements section.
Electronic supplementary material
Below is the link to the electronic supplementary material.
About this article
Cite this article
Gontero, P., Pisano, F., Palou, J. et al. Complication rate after cystectomy following pelvic radiotherapy: an international, multicenter, retrospective series of 682 cases. World J Urol 38, 1959–1968 (2020). https://doi.org/10.1007/s00345-019-02982-6
Received:

Accepted:

Published:

Issue Date:
Keywords
Bladder cancer

Radical cystectomy

Radiation therapy

Urinary diversion

Complications