Abstract
Introduction
Retroperitoneal lymph node dissection (RPLND) is a standard treatment in the management of metastatic testicular cancer. Due to modified treatment algorithms, it is becoming less frequent.
Materials and methods
We analyzed data from the nationwide German hospital billing database covering 2006–2015. Cases with a testicular cancer diagnosis combined with RPLND were included. We assessed the length of hospital stay (LOS), blood transfusion, and in-hospital mortality stratified for surgical approach, hospital characteristics, and annual caseload. Annual hospital caseload categories were defined as low (< 4), medium (4–10), and high (> 10). We supplemented tumor incidence and staging data from the German cancer registry (60% of population).
Results
4926 cases were included with decreasing annual caseload numbers from 623 in 2006 to 382 in 2015. The incidence of testicular cancer and higher tumor stages remained stable. High-volume hospitals performed 19.4%, medium-volume hospitals 43.7%, and low-volume hospitals 36.8% RPLNDs. Low- abd medium-volume hospitals declined, while high-volume hospitals (n = 5) maintained their annual caseload. Overall in-hospital mortality was 0.47%. Blood transfusion rates were higher in high-volume centers assumedly due to selection of more complex cases. However, high-volume hospitals showed a shorter LOS with 10.5 vs. 11.2 (medium volume), and 12.7 days (low volume).
Conclusion
Total numbers of RPLND have declined from 2006 to 2015, while tumor incidences and stages remained fairly stable. Constant reduction of indication in guidelines contributes to this finding. High-volume hospitals achieve shorter hospital stays in spite of assumedly more complex and extensive cases. There is a modest trend towards unregulated centralization.
Access options
Buy single article
Instant access to the full article PDF.
US$ 39.95
Tax calculation will be finalised during checkout.
Subscribe to journal
Immediate online access to all issues from 2019. Subscription will auto renew annually.
US$ 119
Tax calculation will be finalised during checkout.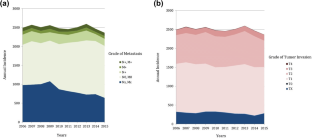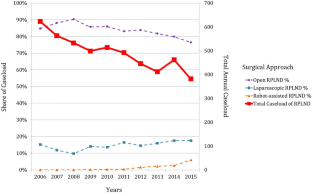 Abbreviations
CS:

Clinical stage

CM:

Case mix

G-DRG:

German diagnosis-related groups

ICD:

International classification of diseases

LRPLND:

Laparoscopic retroperitoneal lymph node dissection

NSGCT:

Non-seminomatous germ cell tumor

OPS:

Operationen und Prozedurenschluessel = Classification of Operations and procedures

ORPLND:

Open retroperitoneal lymph node dissection

RARPLND:

Robot-assisted retroperitoneal lymph node dissection

RPLND:

Retroperitoneal lymph node dissection
References
1.

Bericht zum Krebsgeschehen in Deutschland (2016)

2.

Znaor A, Lortet-Tieulent J, Laversanne M, Jemal A, Bray F (2015) International testicular cancer incidence trends: generational transitions in 38 countries 1900-1990. Cancer Causes Control 26(1):151–158

3.

Mano R, Di Natale R, Sheinfeld J (2019) Current controversies on the role of retroperitoneal lymphadenectomy for testicular cancer. Urol Oncol 37(3):209–218

4.

Znaor A, Lortet-Tieulent J, Jemal A, Bray F (2014) International variations and trends in testicular cancer incidence and mortality. Eur Urol 65(6):1095–1106

5.

Albers P, Siener R, Kliesch S, Weissbach L, Krege S, Sparwasser C et al (2003) Risk factors for relapse in clinical stage I nonseminomatous testicular germ cell tumors: results of the German Testicular Cancer Study Group Trial. J Clin Oncol 21(8):1505–1512

6.

Guidelines on Testicular Cancer (2019)

7.

Albers P, Siener R, Krege S, Schmelz HU, Dieckmann KP, Heidenreich A et al (2008) Randomized phase III trial comparing retroperitoneal lymph node dissection with one course of bleomycin and etoposide plus cisplatin chemotherapy in the adjuvant treatment of clinical stage I Nonseminomatous testicular germ cell tumors: AUO trial AH 01/94 by the German Testicular Cancer Study Group. J Clin Oncol 26(18):2966–2972

8.

Hugen CM, Hu B, Jeldres C, Burton C, Nichols CR, Porter CR et al (2016) Utilization of retroperitoneal lymph node dissection for testicular cancer in the United States: Results from the National Cancer Database (1998-2011). Urol Oncol 34(11):487e7–487e11

9.

Patel HD, Joice GA, Schwen ZR, Semerjian A, Alam R, Srivastava A et al (2018) Retroperitoneal lymph node dissection for testicular seminomas: population-based practice and survival outcomes. World J Urol 36(1):73–78

10.

Heidenreich A, Haidl F, Paffenholz P, Pape C, Neumann U, Pfister D (2017) Surgical management of complex residual masses following systemic chemotherapy for metastatic testicular germ cell tumours. Ann Oncol 28(2):362–367

11.

Groeben C, Koch R, Baunacke M, Wirth MP, Huber J (2016) Robots drive the German radical prostatectomy market: a total population analysis from 2006 to 2013. Prostate Cancer Prostatic Dis 19(4):412–416

12.

Hager B, Kraywinkel K, Keck B, Katalinic A, Meyer M, Zeissig SR et al (2015) Integrated prostate cancer centers might cause an overutilization of radiotherapy for low-risk prostate cancer: A comparison of treatment trends in the United States and Germany from 2004 to 2011. Radiother Oncol 115(1):90–95

13.

Benchimol EI, Smeeth L, Guttmann A, Harron K, Moher D, Petersen I et al (2015) The REporting of studies Conducted using Observational Routinely-collected health Data (RECORD) statement. PLoS Med 12(10):e1001885

14.

Ylonen O, Jyrkkio S, Pukkala E, Syvanen K, Bostrom PJ (2018) Time trends and occupational variation in the incidence of testicular cancer in the Nordic countries. BJU Int 122(3):384–393

15.

Palumbo C, Mistretta FA, Mazzone E, Knipper S, Tian Z, Perrotte P et al (2019) Contemporary incidence and mortality rates in patients with testicular germ cell tumors. Clin Genitourin Cancer 17(5):e1026–e1035

16.

Guidelines on Testicular Cancer (2005)

17.

Guidelines on Testicular Cancer (2009)

18.

Nestler T, Baunacke M, Drager D, von Landenberg N, Groeben C, Huber J (2019) Testicular cancer guideline adherence and patterns of care in Germany: a nationwide survey. Eur J Cancer Care (Engl) 28(1):e12917

19.

Capitanio U, Jeldres C, Perrotte P, Isbarn H, Crepel M, Cloutier V et al (2009) Population-based study of perioperative mortality after retroperitoneal lymphadenectomy for nonseminomatous testicular germ cell tumors. Urology 74(2):373–377

20.

Flechon A, Tavernier E, Boyle H, Meeus P, Rivoire M, Droz JP (2010) Long-term oncological outcome after post-chemotherapy retroperitoneal lymph node dissection in men with metastatic nonseminomatous germ cell tumour. BJU Int 106(6):779–785

21.

Groeben C, Koch R, Baunacke M, Borkowetz A, Wirth MP, Huber J (2019) In-hospital outcomes after radical cystectomy for bladder cancer: comparing national trends in the United States and Germany from 2006 to 2014. Urol Int 102(3):284–292

22.

Peschke D, Nimptsch U, Mansky T (2014) Achieving minimum caseload requirements—an analysis of hospital discharge data from 2005–2011. Dtsch Arztebl Int 111(33–34):556–563

23.

Barocas DA, Mitchell R, Chang SS, Cookson MS (2010) Impact of surgeon and hospital volume on outcomes of radical prostatectomy. Urol Oncol 28(3):243–250

24.

Goossens-Laan CA, Gooiker GA, van Gijn W, Post PN, Bosch JL, Kil PJ et al (2011) A systematic review and meta-analysis of the relationship between hospital/surgeon volume and outcome for radical cystectomy: an update for the ongoing debate. Eur Urol 59(5):775–783

25.

Groeben C, Koch R, Baunacke M, Wirth MP, Huber J (2017) High volume is the key for improving in-hospital outcomes after radical prostatectomy: a total population analysis in Germany from 2006 to 2013. World J Urol 35(7):1045–1053

26.

Mayer EK, Bottle A, Darzi AW, Athanasiou T, Vale JA (2010) The volume-mortality relation for radical cystectomy in England: retrospective analysis of hospital episode statistics. BMJ 19(340):c1128

27.

Winter C, Pfister D, Busch J, Bingol C, Ranft U, Schrader M et al (2012) Residual tumor size and IGCCCG risk classification predict additional vascular procedures in patients with germ cell tumors and residual tumor resection: a multicenter analysis of the German Testicular Cancer Study Group. Eur Urol 61(2):403–409

28.

Nicolai N, Cattaneo F, Biasoni D, Catanzaro M, Torelli T, Zazzara M et al (2016) Laparoscopic postchemotherapy retroperitoneal lymph-node dissection can be a standard option in defined nonseminomatous germ cell tumor patients. J Endourol 30(10):1112–1119

29.

Pearce SM, Golan S, Gorin MA, Luckenbaugh AN, Williams SB, Ward JF et al (2017) Safety and early oncologic effectiveness of primary robotic retroperitoneal lymph node dissection for nonseminomatous germ cell testicular cancer. Eur Urol 71(3):476–482
Acknowledgements
Data source: German research data center of the federal statistical office, DRG statistics 2006–2015, German "National Centre for Cancer Registry Data" (Robert Koch Institute, Berlin), own calculations. We thank Melanie Scheller for supporting data retrieval. Part of this study was presented at the Annual Meetings of the European Association of Urology and the American Urological Association in 2018.
Funding
Med-Drive Grant of the medical faculty Carl Gustav Carus TU Dresden. (Grant number: 60.356).
Ethics declarations
Conflict of interest
Dr. Huber reports personal fees from Amgen and Janssen, grants and non-financial support from Intuitive Surgical and Takeda, outside the submitted work. All authors declare that there is no conflict of interest.
Ethical approval
This study was conducted in accordance with the Declaration of Helsinki in its latest version. This article does not contain any studies with animals performed by any of the authors. Analyzed data were completely anonymized and derived from established databases with rigorous data protection measures. Hence, informed consent was not required.
Additional information
Publisher's Note
Springer Nature remains neutral with regard to jurisdictional claims in published maps and institutional affiliations.
Electronic supplementary material
Below is the link to the electronic supplementary material.
About this article
Cite this article
Groeben, C., Koch, R., Nestler, T. et al. Centralization tendencies of retroperitoneal lymph node dissection for testicular cancer in Germany? A total population-based analysis from 2006 to 2015. World J Urol 38, 1765–1772 (2020). https://doi.org/10.1007/s00345-019-02972-8
Received:

Accepted:

Published:

Issue Date:
Keywords
Retroperitoneal lymph node dissection

Testicular cancer

Population-based analysis

Centralization

Health services research