Abstract
Purpose
The recent rise in migration from Africa through the Mediterranean basin into Europe has resulted in an increased incidence of uncommon diseases such as schistosomiasis and genito-urinary tuberculosis, which were previously largely unknown in this region. This study aimed to evaluate the insight of European urologists into diagnosing and managing these disease conditions and to determine whether they were adequately prepared to deal with the changing disease spectrum in their countries.
Methods
A survey including specific questions about the diagnosis and management of 'tropical' urological diseases was distributed among urologists working in Europe and Africa. Multivariate logistic regression models were performed to detect the continent (African or European) effect on knowledge of and insight into tropical urological diseases.
Results
A total of 312 surveys were administered. African and European respondents accounted for 109 (36.09%) and 193 (63.91%) respondents, respectively. The multivariate logistic regression analysis demonstrated a significant deficiency in the knowledge of tropical urological diseases in the European cohort compared with the African cohort (p < 0.05). Moreover, in the European cohort, markedly superior knowledge of tropical urological diseases was observed for respondents who had previously worked in a developing country.
Conclusions
Though European urologists are not required to have the same insight as African urologists, they showed a very unsatisfactory knowledge of tropical urological diseases. The experience of working in a developing country could improve the knowledge of European urologists regarding tropical urological diseases.
This is a preview of subscription content, log in to check access.
Access options
Buy single article
Instant access to the full article PDF.
US$ 39.95
Tax calculation will be finalised during checkout.
Subscribe to journal
Immediate online access to all issues from 2019. Subscription will auto renew annually.
US$ 199
Tax calculation will be finalised during checkout.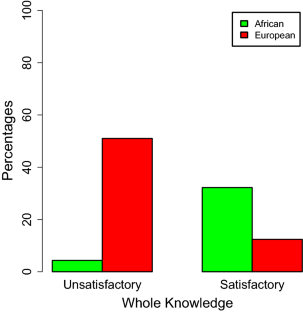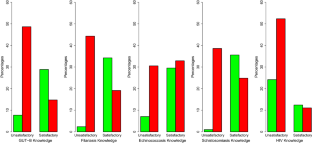 References
1.

Italian National Institute of Statistics. https://www.istat.it/en/archive/193774. Accessed 20 Feb 2019

2.

Riccardi N, Nosenzo F, Peraldo F et al (2017) Increasing prevalence of genitourinary schistosomiasis in Europe in the migrant era: neglected no more? PLoS Negl Trop Dis 11(3):e0005237

3.

Tavares AM, Fronteira I, Couto I et al (2017) HIV and tuberculosis co-infection among migrants in Europe: a systematic review on the prevalence, incidence and mortality. PLoS One 12(9):e0185526

4.

Lingscheid T, Kurth F, Clerinx J et al (2017) Schistosomiasis in European travellers and migrants: analysis of 14 years TropNet surveillance data. Am J Trop Med Hyg 97(2):567–574

5.

Carballo M, Hargreaves S, Gudumac I, Maclean EC (2017) Evolving migrant crisis in Europe: implications for health systems. Lancet Glob Health 5(3):e252–e253

6.

Schilling T, Rauscher S, Menzel C et al (2017) Migrants and refugees in Europe: challenges, experiences and contributions. Visc Med 33(4):295–300

7.

González-García A, Fortún J, Elorza Navas E et al (2017) The changing epidemiology of tuberculosis in a Spanish tertiary hospital (1995–2013). Medicine 96(26):e7219

8.

Eysenbach G (2004) Improving the quality of web surveys: the Checklist for Reporting Results of Internet E-Surveys (CHERRIES). J Med Internet Res 6(3):e34

9.

United Nations Statistics Division—Standard Country and Area Codes Classifications. http://unstats.un.org/unsd/methods/m49/m49.htm

10.

R Core Team (2018) R: a language and environment for statistical computing. R Foundation for Statistical Computing, Vienna. https://www.R-project.org. Consulted 20 Feb 2019

11.

Poddighe D, Castelli L, Pulcrano G et al (2016) Urinary schistosomiasis in an adolescent refugee from Africa: an uncommon cause of hematuria and an emerging infectious disease in Europe. J Immigr Minor Health 18(5):1237–1240

12.

Villasante Ferrer A, Iranzo Tatay A, Aznar Oroval E, Mollar Maseres J (2018) Study of the current status of Schistosoma haematobium infection in the European Union. An approach to the possible risk in Spain. Rev Esp Salud Publica 13:92

13.

Lionis C, Petelos E, Mechili EA et al (2018) Assessing refugee healthcare needs in Europe and implementing educational interventions in primary care: a focus on methods. BMC Int Health Hum Rights 18(1):11

14.

Credé SH, Such E, Mason S (2018) International migrants' use of emergency departments in Europe compared with non-migrants' use: a systematic review. Eur J Public Health 28(1):61–73

15.

Berry A, Moné H, Iriart X et al (2014) Schistosomiasis haematobium, Corsica, France. Emerg Infect Dis 20(9):1595–1597

16.

European Centre for Disease Prevention and Control (2015) Rapid risk assessment: local transmission of Schistosoma haematobium in Corsica, France. First update 23 July 2015. ECDC, Stockholm

17.

Gautret P, Mockenhaupt FP, Bottieau E, Parola P, Schlagenhauf P (2015) Schistosomiasis in Corsica and the pivotal role of travellers. Lancet Infect Dis 15(12):1378–1379

18.

Boissier J, Moné H, Mitta G, Bargues MD, Molyneux D, Mas-Coma S (2015) Schistosomiases reaches Europe. Lancet Infect Dis 15(7):757–758

19.

Boissier J, Grech-Angelini S, Webster BL et al (2016) Outbreak of urogenital schistosomiasis in Corsica (France): an epidemiological case study. Lancet Infect Dis 16(8):971–979

20.

Calvo-Cano A, Cnops L, Huyse T et al (2015) A case of urogenital human schistosomiasis from a non-endemic area. PLoS Negl Trop Dis 9(11):e0004053

21.

Kincaid-Smith J, Rey O, Toulza E, Berry A, Boissier J (2017) Emerging schistosomiasis in Europe: a need to quantify the risks. Trends Parasitol 33(8):600–609

22.

Zamarrón Fuertes P, Pérez-Ayala A, Pérez Molina JA et al (2010) Clinical and epidemiological characteristics of imported infectious diseases in Spanish travellers. J Travel Med 17(5):303–309

23.

Camoni L, Regine V, Stanecki K, Salfa MC, Raimondo M, Suligoi B (2014) Estimates of the number of people living with HIV in Italy. Biomed Res Int 2014:209619

24.

Cowan SA, Gerstoft J, Haff J, Christiansen AH, Nielsen J, Obel N (2012) Stable incidence of HIV diagnoses among Danish MSM despite increased engagement in unsafe sex. J Acquir Immune Defic Syndr 61(1):106–111

25.

Alvarez-Del Arco D, Fakoya I, Thomadakis C, Advancing Migrant Access to Health Services in Europe (aMASE) study team et al (2017) High levels of postmigration HIV acquisition within nine European countries. AIDS 31(14):1979–1988

26.

Heyns CF, Smit SG, Van der Merwe A, Zarrabi AD (2013) Urological aspects of HIV and AIDS. Nat Rev Urol 10(12):713–722

27.

Figueiredo AA, Lucon AM (2008) Urogenital tuberculosis: update and review of 8961 cases from the world literature. Rev Urol 10(3):207–217

28.

Walker NF, Chiodini PL (2018) Liver lesions in the returning traveller. Medicine 46(1):16–19

29.

Develoux M, Hennequin C, Le Loup G et al (2017) Imported filariasis in Europe: a series of 31 cases from metropolitan France. Eur J Intern Med 37:e37–e39
Acknowledgements
We sincerely thank Dr Heidi van Deventer and the Writing Lab of the University of Stellenbosch for the editing of the manuscript.
Ethics declarations
Conflict of interest
The authors declare that they have no conflicts of interest.
Additional information
Publisher's Note
Springer Nature remains neutral with regard to jurisdictional claims in published maps and institutional affiliations.
Electronic supplementary material
Below is the link to the electronic supplementary material.
About this article
Cite this article
Mantica, G., Van der Merwe, A., Terrone, C. et al. Awareness of European practitioners toward uncommon tropical diseases: are we prepared to deal with mass migration? Results of an international survey. World J Urol 38, 1773–1786 (2020). https://doi.org/10.1007/s00345-019-02957-7
Received:

Accepted:

Published:

Issue Date:
Keywords
Schistosomiasis

Squamous bladder cancer

HIV

Tuberculosis

Training