Abstract
Purpose
To compare the perioperative and functional outcomes of holmium laser enucleation of the prostate (HoLEP) and thulium laser enucleation of the prostate (ThuLEP) for the treatment of large-volume benign prostatic hyperplasia (BPH) (> 80 ml).
Methods
A total of 116 consecutive patients with BPH were randomized to be treated surgically with either HoLEP (n = 58) or ThuLEP (n = 58), following the classical three-lobe enucleation technique. Follow-up was assessed at 1, 3, 6, 12 and 18 months after surgery.
Results
At 18 months, the lower urinary tract symptom index was improved significantly in both groups compared with the baseline values. The operative time (78.4 ± 8.0 vs. 71.4 ± 6.4 min) and enucleation time (61.2 ± 5.4 vs. 56.4 ± 8.4 min) were significantly shorter for ThuLEP compared to HoLEP (both p < 0.001). There were no significant differences between the two groups regarding morcellation time, resected weight, hemoglobin decrease, catheter time and hospital stay (p > 0.05). The HoLEP and ThuLEP groups had equivalent International Prostate Symptom Scores (3 [3–3] vs. 3 [3–3], p = 0.776), quality of life (1 [1–2] vs. 2 [1–2], p = 0.809), Qmax (25.3 ± 4.8 ml/s vs. 24.7 ± 4.4 ml/s, p = 0.470), postvoid residual urine (PVR) (6.1 [2.6–20.8] vs. 7.7 [3.1–22.8] ml, p = 0.449) and PSA (0.84 ± 0.32 vs. 0.90 ± 0.34 ml, p = 0.309) at 18 months postoperatively.
Conclusion
Both HoLEP and ThuLEP relieve lower urinary tract symptoms in a comparable way with high efficacy and safety. ThuLEP was statistically superior to HoLEP in operation time and enucleation time, although the differences were clinically negligible.
Access options
Buy single article
Instant access to the full article PDF.
US$ 39.95
Tax calculation will be finalised during checkout.
Subscribe to journal
Immediate online access to all issues from 2019. Subscription will auto renew annually.
US$ 119
Tax calculation will be finalised during checkout.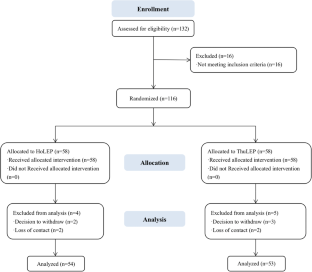 Acknowledgements
The authors would like to thank all the staff at Xiangya Hospital of Central South University for their support in generating this manuscript. The authors would like to give particular thanks to the 116 patients who agreed to this study and completed the follow-up survey. Finally, the authors would like to thank National Natural Science Foundation of China for its support.
Funding
This research was funded by National Natural Science Foundation of China 81770758 (to L.W.).
Ethics declarations
Conflict of interest
The authors declare no conflict of interest.
Ethical approval
All procedures performed in studies involving human participants/or animals were in accordance with the ethical standards of the institutional and national research committee and with the 1964 Helsinki declaration and its later amendments or comparable ethical standards. Institutional Review Board approval for this study was obtained from the Ethical Committee of Xiangya Hospital Central South University on 31 January 2016.
Informed consent
Informed consent was obtained from all individual participants included in the study.
Additional information
Publisher's Note
Springer Nature remains neutral with regard to jurisdictional claims in published maps and institutional affiliations.
About this article
Cite this article
Zhang, J., Ou, Z., Zhang, X. et al. Holmium laser enucleation of the prostate versus thulium laser enucleation of the prostate for the treatment of large-volume prostates > 80 ml: 18-month follow-up results. World J Urol 38, 1555–1562 (2020). https://doi.org/10.1007/s00345-019-02945-x
Received:

Accepted:

Published:

Issue Date:
Keywords
HoLEP

ThuLEP

Benign prostatic hyperplasia (BPH)

Large-volume prostate

Randomized controlled trial (RCT)