Abstract
Purpose
To review the current status of robotic-assisted laparoscopic surgical techniques for bladder neck procedures in children with incontinence secondary to neurogenic bladder.
Methods
A comprehensive review of the literature on robotic-assisted bladder neck procedures was conducted, with a focus on articles published in the last 25 years. These data were subsequently compared to published series of open bladder neck procedures and published results from robotic-assisted bladder neck reconstruction series completed at our institution.
Results
The principle bladder neck procedures for incontinence in pediatric patients with neurogenic bladder include: Artificial Urinary Sphincter, Bladder Neck Sling, Bladder Neck Closure, and Bladder Neck Reconstruction. Continence rates range from 60 to 100% with a lack of expert consensus on the preferred procedure (or combination of procedures). Robotic-assisted approaches are associated with longer operative times, especially early in the surgical experience, but demonstrate equivalent continence rates with potential benefits including low interoperative blood loss, improved cosmesis, and decreased intra-abdominal adhesion formation.
Conclusions
Robotic-assisted procedures of the bladder neck are safe, feasible, follow the same steps and principles as those of open surgery and produce equivalent continence rates. Robotic-assisted techniques can be adapted to a variety of bladder neck procedures and safely expanded to selected patients with the previous open abdominal surgery.
This is a preview of subscription content, log in to check access.
Access options
Buy single article
Instant access to the full article PDF.
US$ 39.95
Tax calculation will be finalised during checkout.
Subscribe to journal
Immediate online access to all issues from 2019. Subscription will auto renew annually.
US$ 199
Tax calculation will be finalised during checkout.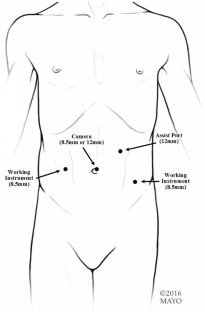 Abbreviations
APV:

Appendicovesicostomy

AUS:

Artificial Urinary Sphincter

BNC:

Bladder Neck Closure

BNR:

Bladder Neck Reconstruction

BNS:

Bladder Neck Sling

CIC:

Clean Intermittent Catheterization

LM:

Leadbetter/Mitchell

PAS:

Previous open abdominal surgery

RAL-AUS:

Robotic-assisted laparoscopic artificial urinary sphincter

RALS:

Robotic-assisted laparoscopic surgery
References
1.

Bauer SB, Labib KB, Dieppa RA, Retik AB (1977) Urodynamic evaluation of boy with myelodysplasia and incontinence stuart. Urology 10(4):354–362

2.

Lais A, Kasabian NG, Dyro FM et al (1993) Neurosurgical implications of continuous neuro-urological surveillance of children with myelodysplasia. J Urol 150:1879–1883

3.

Snodgrass WT, Elmore J, Adams R (2007) Bladder neck sling and appendicovesicostomy without augmentation for neurogenic incontinence in children. J Urol 177(4):1510–1515

4.

Abrams P (2002) The standardization of terminology of lower urinary tract function: report from the Standardization Sub-committee of the International Continence Society. Neurourol Urodyn 21(2):167–178

5.

Gargollo PC, Granberg C, Gong E, Tu D, Whittam B, Dajusta D (2018) Complex robotic lower urinary tract surgeries in patients with previous open surgery. J Urol. https://doi.org/10.1016/j.juro.2018.06.017

6.

Gargollo Patricio C (2015) Robotic-assisted bladder neck repair: feasibility and outcomes. Urol Clin 42(1):111–120

7.

Bagrodia A, Gargollo P (2011) Robot-assisted bladder neck reconstruction, bladder neck sling, and appendicovesicostomy in children: description of technique and initial results. J Endourol 25:1299

8.

Freilich DA, Penna FJ, Nelson CP et al (2010) Parental satisfaction after open versus robot assisted laparoscopic pyeloplasty: results from modified Glasgow Children's Benefit Inventory Survey. J Urol 183:704

9.

Pattaras JG, Moore RG, Landman J et al (2002) Incidence of postoperative adhesion formation after transperitoneal genitourinary laparoscopic surgery. Urology 59:37

10.

Grimsby Gwen M, Jacobs Micah A, Gargollo Patricio C (2015) Comparison of complications of robot-assisted laparoscopic and open appendicovesicostomy in children. J Urol 194(3):772–776

11.

Bauer SB (2008) Long-term efficacy of artificial urinary sphincters in children. J Urol 180(2):441

12.

Simeoni J, Guys JM, Mollard P, Buzelin JM, Moscovici J, Bondonny JM et al (1996) Artificial urinary sphincter implantation for neurogenic bladder: a multi-institutional study in 107 children. Br J Urol 78(2):287–293

13.

Catti M, Lortat-Jacob S, Morineau M, Lottmann H (2008) Artificial urinary sphincter in children—voiding or emptying? An evaluation of functional results in 44 patients. J Urol 180(2):690–693

14.

Herndon CA, Rink RC, Shaw MB, Simmons GR, Cain MP, Kaefer M, Casale AJ (2003) The Indiana experience with artificial urinary sphincters in children and young adults. J Urol 169(2):650–654

15.

Levesque PE et al (1996) Ten-year experience with the artificial urinary sphincter in children. J Urol 156(2):625–628

16.

Spiess PE, Capolicchio JP, Kiruluta G, Salle JP, Berardinucci G, Corcos J (2002) Is an artificial sphincter the best choice for incontinent boys with Spina Bifida? Review of our long term experience with the AS-800 artificial sphincter. Can J Urol 9(2):1486–1491

17.

Castera R et al (2001) 10-Year experience with artificial urinary sphincter in children and adolescents. J Urol 165(6):2373–2376

18.

Moscardi PRM et al (2017) Robotic-assisted laparoscopic artificial urinary sphincter and MACE procedure on a pediatric patient. J Pediatr Urol 13(5):527–528

19.

Kryger JV, Gonzalez R, Barthold JS (2000) Surgical management of urinary incontinence in children with neurogenic sphincteric incompetence. J Urol 163(1):256–263

20.

Snodgrass W, Barber T (2010) Comparison of bladder outlet procedures without augmentation in children with neurogenic incontinence. J Urol 184(4):1775–1780

21.

Grimsby GM, Menon V, Schlomer BJ, Baker LA, Adams R, Gargollo PC, Jacobs MA (2016) Long-term outcomes of bladder neck reconstruction without augmentation cystoplasty in children. J Urol 195(1):155–161

22.

Liard A (2001) The Mitrofanoff procedure: 20 years later. J Urol 165(6 Pt 2):2394–2398

23.

Hoebeke P, De Kuyper P, Goeminne H et al (2000) Bladder neck closure for treating pediatric incontinence. Eur Urol 38(4):453–456

24.

Kavanagh A et al (2012) Bladder neck closure in conjunction with enterocystoplasty and Mitrofanoff diversion for complex incontinence: closing the door for good. J Urol 188(4):1561–1566

25.

Gundeti MS et al (2016) A multi-institutional study of perioperative and functional outcomes for pediatric robotic-assisted laparoscopic Mitrofanoff appendicovesicostomy. J Pediatr Urol 12(6):386.e1–386.e5

26.

Murthy P et al (2015) Robot-assisted laparoscopic augmentation ileocystoplasty and Mitrofanoff appendicovesicostomy in children: updated interim results. Eur Urol 68(6):1069–1075

27.

Cole EE, Adams MC, Brock JW 3rd et al (2003) Outcome of continence procedures in the pediatric patient: a single institutional experience. J Urol 170(2 Pt 1):560–563 (discussion: 563)

28.

Jawaheer G, Rangecroft L (1999) The Pippi Salle procedure for neurogenic urinary incontinence in childhood: a three-year experience. Eur J Pediatr Surg 9(Suppl 1):9–11

29.

Grimsby GM et al (2016) Perioperative and short-term outcomes of robotic vs open bladder neck procedures for neurogenic incontinence. J Urol 195(4):1088–1092
Ethics declarations
Conflict of interest
The authors declare that they have no conflict of interest.
Research involving human participants and/or animals
All procedures performed in studies involving human participants were in accordance with the ethical standards of the institutional and/or national research committee and with the 1964 Helsinki Declaration and its later amendments or comparable ethical standards. This article does not contain any studies with animals performed by any of the authors.
Informed consent
Informed consent was obtained from all individual participants included in the study.
Additional information
Publisher's Note
Springer Nature remains neutral with regard to jurisdictional claims in published maps and institutional affiliations.
About this article
Cite this article
Gargollo, P.C., White, L.A. Robotic-assisted bladder neck procedures in children with neurogenic bladder. World J Urol 38, 1855–1864 (2020). https://doi.org/10.1007/s00345-019-02912-6
Received:

Accepted:

Published:

Issue Date:
Keywords
Neurogenic bladder

Robotic-assisted surgery

Bladder neck reconstruction

Artificial urinary sphincter

Bladder neck sling

Bladder neck closure