Abstract
Purpose
Retrocaval ureter (RCU) is a rare congenital anomaly and published data on pediatric laparoscopic management are poor. The aim of this study was to report our experience of retroperitoneal laparoscopic approach for management of RCU in children.
Methods
A retrospective review of data from patients treated for RCU between 2002 and 2018 in our institution was performed. All patients were positioned in a flank position and underwent a three-port (5-mm optical trocar and two 3-mm trocars) laparoscopic retroperitoneal ureteroureterostomy. Anastomosis was made by 6/0 absorbable sutures. A JJ stent was always inserted.
Results
Five patients with a median age of 94 months (5–152) were operated on and followed up for a median time of 103 months (46–201). Median operating time was 200 min (160–270). No conversion and no transfusion occurred. Median hospital stay was 2 days (1–4). Ureteral stent was removed after 52 days (47–82). Complications included pyelonephretis (N = 1). In all cases, hydronephrosis decreased postoperatively.
Conclusions
Retroperitoneal laparoscopic approach for RCU is safe and effective in children. Our video demonstrates different patients with specific surgical details to show how to manage these children. The global vision of the upper tract by laparoscopy leads to optimal management of these children even if the anomaly was not detected preoperatively.
This is a preview of subscription content, log in to check access.
Access options
Buy single article
Instant access to the full article PDF.
US$ 39.95
Price includes VAT for USA
Subscribe to journal
Immediate online access to all issues from 2019. Subscription will auto renew annually.
US$ 199
This is the net price. Taxes to be calculated in checkout.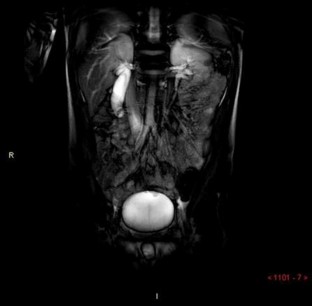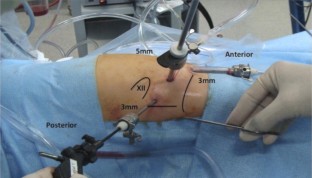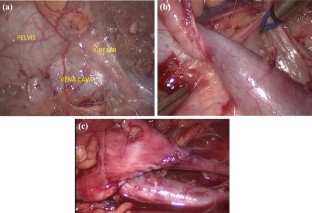 Abbreviations
ANT:

Antenatal diagnosis

CT:

Computerized tomography

Diag:

Diagnosis

DRF:

Differential renal function

F:

Female

FU:

Follow-up

GV:

Gonadal vein

Hem.:

Hematuria

Int.:

Interrupted sutures

IVC:

Inferior vena cava

IVP:

Intravenous pyelography

kg:

Kilogram

LOS:

Length of stay

Lith:

Lithiasis

M:

Male

MAG3:

Mercaptoacetyltriglycine

Mg dL−1 :

Milligram per deciliter

mm:

Millimeter

MRI:

Magnetic resonance imaging

N:

Number

ND:

Not described

OT:

Operative time

Postop:

Postoperative

PP:

Pyelopyelostomy

Preop:

Preoperative

PU:

Pyeloureterostomy

PUJ(O):

Pelvi-ureteric junction (obstruction)

RCU:

Retrocaval ureter

RGP:

Retrograde pyelography

RP:

Retroperitoneal laparoscopic

Run:

Running suture

RUS:

Renal ultrasonography

Sympt:

Symptoms

TP:

Transperitoneal laparoscopic

UTI:

Urinary tract infection

UU:

Ureteroureterostomy
References
1.

Pienkny AJ, Herts B, Streem SB (1999) Contemporary diagnosis of retrocaval ureter. J Endourol 13:721–722

2.

Goodwin WE, Burke DE, Muller WH (1957) Retrocaval ureter. Surg Gynecol Obstet 104:337–345

3.

Soundappan SVS, Barker AP (2004) Retrocaval ureter in children: a report of two cases. Pediatr Surg Int 20:158–160. https://doi.org/10.1007/s00383-003-1038-x

4.

El-Ghoneimi A, Valla JS, Steyaert H, Aigrain Y (1998) Laparoscopic renal surgery via a retroperitoneal approach in children. J Urol 160:1138–1141

5.

El-Ghoneimi A, Farhat W, Bolduc S, Bagli D, McLorie G, Aigrain Y et al (2003) Laparoscopic dismembered pyeloplasty by a retroperitoneal approach in children. BJU Int 92:104–108 (discussion 108)

6.

Blanc T, Muller C, Abdoul H, Peev S, Paye-Jaouen A, Peycelon M et al (2013) Retroperitoneal laparoscopic pyeloplasty in children: long-term outcome and critical analysis of 10-year experience in a teaching center. Eur Urol 63:565–572. https://doi.org/10.1016/j.eururo.2012.07.051

7.

Baba S, Oya M, Miyahara M, Deguchi N, Tazaki H (1994) Laparoscopic surgical correction of circumcaval ureter. Urology 44:122–126

8.

Salomon L, Hoznek A, Balian C, Gasman D, Chopin DK, Abbou CC (1999) Retroperitoneal laparoscopy of a retrocaval ureter. BJU Int 84:181–182

9.

Ramalingam M, Selvarajan K (2003) Laparoscopic transperitoneal repair of retrocaval ureter: report of two cases. J Endourol 17:85–87. https://doi.org/10.1089/08927790360587397

10.

Simforoosh N, Nouri-Mahdavi K, Tabibi A (2006) Laparoscopic pyelopyelostomy for retrocaval ureter without excision of the retrocaval segment: first report of 6 cases. J Urol 175:2166–2169. https://doi.org/10.1016/s0022-5347(06)00269-2(discussion 2169)

11.

Chung BI, Gill IS (2008) Laparoscopic dismembered pyeloplasty of a retrocaval ureter: case report and review of the literature. Eur Urol 54:1433–1436. https://doi.org/10.1016/j.eururo.2008.09.010

12.

Baldwin DD, Dunbar JA, Wells N, McDougall EM (2003) Single-center comparison of laparoscopic pyeloplasty, acucise endopyelotomy, and open pyeloplasty. J Endourol 17:155–160. https://doi.org/10.1089/089277903321618716

13.

Uthappa MC, Anthony D, Allen C (2002) Case report: retrocaval ureter: MR appearances. Br J Radiol 75:177–179. https://doi.org/10.1259/bjr.75.890.750177

14.

Salonia A, Maccagnano C, Lesma A, Naspro R, Suardi N, Guazzoni G et al (2006) Diagnosis and treatment of the circumcaval ureter. Eur Urol Suppl 5:449–462. https://doi.org/10.1016/j.eursup.2006.02.009

15.

Muthusami P, Ramesh A (2013) Appearances of the circumcaval ureter on excretory urography and MR urography: a single-center case series. Indian J Radiol Imaging 23:81–85. https://doi.org/10.4103/0971-3026.113621

16.

Claudon M, Durand E, Grenier N, Prigent A, Balvay D, Chaumet-Riffaud P et al (2014) Chronic urinary obstruction: evaluation of dynamic contrast-enhanced MR urography for measurement of split renal function. Radiology 273:801–812. https://doi.org/10.1148/radiol.14131819

17.

Ratkal JM, Jadhav R, Naique Dessai RR (2016) Circumcaval ureter—the paradigm shift in diagnosis and management. Indian J Surg 78:37–40. https://doi.org/10.1007/s12262-015-1352-2

18.

Bateson EM, Atkinson D (1969) Circumcaval ureter: a new classification. Clin Radiol 20:173–177

19.

Dogan HS, Oktay B, Vuruskan H, Yavascaoglu I (2010) Treatment of retrocaval ureter by pure laparoscopic pyelopyelostomy: experience on 4 patients. Urology 75:1343–1347. https://doi.org/10.1016/j.urology.2009.09.040

20.

Gundeti MS, Duffy PG, Mushtaq I (2006) Robotic-assisted laparoscopic correction of pediatric retrocaval ureter. J Laparoendosc Adv Surg Tech A 16:422–424. https://doi.org/10.1089/lap.2006.16.422

21.

Miyazato M, Kimura T, Ohyama C, Hatano T, Miyazato T, Ogawa Y (2002) Retroperitoneoscopic ureteroureterostomy for retrocaval ureter. Hinyokika Kiyo 48:25–28

22.

Lu L, Bi Y, Wang X, Ruan S (2017) Laparoscopic resection and end-to-end ureteroureterostomy for midureteral obstruction in children. J Laparoendosc Adv Surg Tech A 27:197–202. https://doi.org/10.1089/lap.2016.0222

23.

Tamhankar AS, Savalia AJ, Sawant AS, Pawar PW, Kasat GV, Patil SR (2017) Transperitoneal laparoscopic repair of retrocaval ureter: our experience and review of literature. Urol Ann 9:324–329. https://doi.org/10.4103/UA.UA_52_17

24.

Fernández-Fernández JA, Pachano-Arenas FE (2008) Laparoscopic-assisted correction of a retrocaval ureter. J Pediatr Surg 43:1560–1562. https://doi.org/10.1016/j.jpedsurg.2008.05.002

25.

Li H-Z, Ma X, Qi L, Shi T-P, Wang B-J, Zhang X (2010) Retroperitoneal laparoscopic ureteroureterostomy for retrocaval ureter: report of 10 cases and literature review. Urology 76:873–876. https://doi.org/10.1016/j.urology.2009.12.056

26.

Chen S, Xu B, Liu J, Ren Q, Hu X, Yang Y et al (2012) Retroperitoneal laparoscopic reconstruction for retrocaval ureter: experience and literature review. J Endourol 26:1147–1152. https://doi.org/10.1089/end.2012.0076

27.

Bass JE, Redwine MD, Kramer LA, Huynh PT, Harris JH (2000) Spectrum of congenital anomalies of the inferior vena cava: cross-sectional imaging findings. Radiographics 20:639–652. https://doi.org/10.1148/radiographics.20.3.g00ma09639

28.

Kokubo T, Okada Y, Yashiro N, Itai Y, Iio M (1990) CT diagnosis of retrocaval ureter associated with double inferior vena cava: report of a case. Radiat Med 8:96–98

29.

El-Ghoneimi A, Abou-Hashim H, Bonnard A, Verkauskas G, Macher M-A, Huot O et al (2006) Retroperitoneal laparoscopic nephrectomy in children: at last the gold standard? J Pediatr Urol 2:357–363. https://doi.org/10.1016/j.jpurol.2006.04.005

30.

El-Ghoneimi A (2004) Laparoscopic management of hydronephrosis in children. World J Urol 22:415–417. https://doi.org/10.1007/s00345-004-0458-0
Ethics declarations
Ethical approval
This study had received Robert-Debré University Hospital review board approval. No help or financial support from any industrial firm has been declared. We have received a signed release form from the patient's families authorizing this publication.
Conflict of interest
All authors declare the following: Payment/services info: all authors have declared that no financial support was received from any organization for the submitted work. Financial relationships: All authors have declared that they have no financial relationships at present or within the previous 3 years with any organizations that might have an interest in the submitted work. Other relationships: all authors have declared that there are no other relationships or activities that could appear to have influenced the submitted work.
Additional information
Publisher's Note
Springer Nature remains neutral with regard to jurisdictional claims in published maps and institutional affiliations.
Electronic supplementary material
Below is the link to the electronic supplementary material.
Supplementary material 1 (M4V 139146 kb)
About this article
Cite this article
Peycelon, M., Rembeyo, G., Tanase, A. et al. Laparoscopic retroperitoneal approach for retrocaval ureter in children. World J Urol 38, 2055–2062 (2020). https://doi.org/10.1007/s00345-019-02849-w
Received:

Accepted:

Published:

Issue Date:
Keywords
Retrocaval ureter

Hydronephrosis

Multimodal imaging

Retroperitoneal space

Laparoscopy

Child