Abstract
Purpose
The aim of this review is to present an anesthesiological overview on surgical safety for radical cystectomy implementing the cornerstones of today's rapidly evolving field of perioperative medicine.
Methods
This is a narrative review of current perioperative medicine and surgical safety concepts for major surgery in general with special focus on radical cystectomy.
Results
The tendency for perioperative care and surgical safety is to consider it a continuous proactive pathway rather than a single surgical intervention. It starts at indication for surgery and lasts until full functional recovery. Preoperative optimization leads to superior outcome by mobilizing and/or increasing physiological reserve. Multidisciplinary teamwork involving all the relevant parties from the beginning of the pathway is crucial for outcome rather than an isolated specialist approach. This fact has gained importance in times of an ageing frail population and rising health care cost. We also present our 2019 Cystectomy Enhanced Recovery Approach for optimization of perioperative care for open radical cystectomy in a high caseload center.
Conclusions
With the implementation of in itself simple but crucial steps in perioperative medicine such as multimodal prehabilitation, safety checks, better perioperative monitoring and enhanced recovery concepts, even complex surgical procedures such as radical cystectomy can be performed safer. Emphasis has to be laid on a more global view of the patients' path through the perioperative process than on the surgical procedure alone.
This is a preview of subscription content, log in to check access.
Access options
Buy single article
Instant access to the full article PDF.
US$ 39.95
Price includes VAT for USA
Subscribe to journal
Immediate online access to all issues from 2019. Subscription will auto renew annually.
US$ 199
This is the net price. Taxes to be calculated in checkout.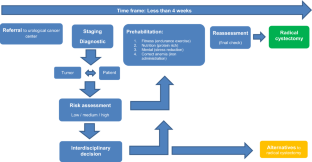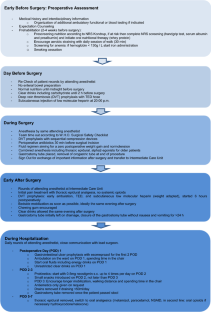 References
1.

Grocott MP, Pearse RM (2012) Perioperative medicine: the future of anaesthesia? Br J Anaesth 108(5):723–726. https://doi.org/10.1093/bja/aes124

2.

Kehlet H, Delaney CP, Hill AG (2015) Perioperative medicine—the second round will need a change of tactics. Br J Anaesth 115(1):13–14. https://doi.org/10.1093/bja/aev098

3.

Grocott MPW, Edwards M, Mythen MG, Aronson S (2019) Peri-operative care pathways: re-engineering care to achieve the 'triple aim'. Anaesthesia 74(Suppl 1):90–99. https://doi.org/10.1111/anae.14513

4.

Mythen M, Berry C, Drake S, Griffiths R, Grocott M, Larsen S, Mahajan R, Pearse R (2015) Perioperative medicine: the pathway to better surgical care. Royal College of Anaesthetists, London

5.

Leow JJ, Bedke J, Chamie K, Collins JW, Daneshmand S, Grivas P, Heidenreich A, Messing EM, Royce TJ, Sankin AI, Schoenberg MP, Shipley WU, Villers A, Efstathiou JA, Bellmunt J, Stenzl A (2019) SIU-ICUD consultation on bladder cancer: treatment of muscle-invasive bladder cancer. World J Urol 37(1):61–83. https://doi.org/10.1007/s00345-018-2606-y

6.

Levy N, Grocott MPW, Carli F (2019) Patient optimisation before surgery: a clear and present challenge in peri-operative care. Anaesthesia 74(Suppl 1):3–6. https://doi.org/10.1111/anae.14502

7.

Weller JM, Merry AF (2013) I. Best practice and patient safety in anaesthesia. Br J Anaesth 110(5):671–673. https://doi.org/10.1093/bja/aet011

8.

Porter ME, Kaplan RS (2016) How to pay for health care. Harv Bus Rev 94(7–8):88–98, 100, 134

9.

Siddiqi A, White PB, Mistry JB, Gwam CU, Nace J, Mont MA, Delanois RE (2017) Effect of bundled payments and health care reform as alternative payment models in total joint arthroplasty: a clinical review. J Arthroplasty 32(8):2590–2597. https://doi.org/10.1016/j.arth.2017.03.027

10.

Lucas DJ, Pawlik TM (2014) Quality improvement in gastrointestinal surgical oncology with American College of Surgeons National Surgical Quality Improvement Program. Surgery 155(4):593–601. https://doi.org/10.1016/j.surg.2013.12.001

11.

Djaladat H, Katebian B, Bazargani ST, Miranda G, Cai J, Schuckman AK, Daneshmand S (2017) 90-day complication rate in patients undergoing radical cystectomy with enhanced recovery protocol: a prospective cohort study. World J Urol 35(6):907–911. https://doi.org/10.1007/s00345-016-1950-z

12.

Burnside WS, Snowden C (2014) Preoperative assessment and investigation. Surgery (Oxford) 32(2):63–68. https://doi.org/10.1016/j.mpsur.2013.12.001

13.

Kaiser H, Zurron N, Beilstein C, Vetter C, Rieder H (2018) Präoperative kardiale Risikoevaluation vor elektiven nicht-herzchirurgischen. Eingriffen Swiss Med Forum 18(36):725–732. https://doi.org/10.4414/smf.2018.03329

14.

Verma R, Kee M, Hartle A, Alladi V, Rollin A-M, Meakin G, Struthers R, Carlisle J, Johnston P, Rivett K, Hurley C (2010) Pre-operative assessment and patient preparation—the role of the anaesthetist. The Association of Anaesthetists of Great Britain and Ireland, London

15.

Qaseem A, Snow V, Fitterman N, Hornbake ER, Lawrence VA, Smetana GW, Weiss K, Owens DK, Aronson M, Barry P, Casey DE Jr, Cross JT Jr, Fitterman N, Sherif KD, Weiss KB (2006) Risk assessment for and strategies to reduce perioperative pulmonary complications for patients undergoing noncardiothoracic surgery: a guideline from the American College of Physicians. Ann Intern Med 144(8):575–580

16.

Kohl BA, Schwartz S (2009) Surgery in the patient with endocrine dysfunction. Med Clin N Am 93(5):1031–1047. https://doi.org/10.1016/j.mcna.2009.05.003

17.

Kristensen SD, Knuuti J, Saraste A, Anker S, Botker HE, Hert SD, Ford I, Gonzalez-Juanatey JR, Gorenek B, Heyndrickx GR, Hoeft A, Huber K, Iung B, Kjeldsen KP, Longrois D, Luscher TF, Pierard L, Pocock S, Price S, Roffi M, Sirnes PA, Sousa-Uva M, Voudris V, Funck-Brentano C (2014) 2014 ESC/ESA Guidelines on non-cardiac surgery: cardiovascular assessment and management: the Joint Task Force on non-cardiac surgery: cardiovascular assessment and management of the European Society of Cardiology (ESC) and the European Society of Anaesthesiology (ESA). Eur Heart J 35(35):2383–2431. https://doi.org/10.1093/eurheartj/ehu282

18.

NICE Guidelines (NG 45) (2016) Routine preoperative tests for elective surgery. National Institute for Health and Care Exellence, London

19.

Moran J, Wilson F, Guinan E, McCormick P, Hussey J, Moriarty J (2016) Role of cardiopulmonary exercise testing as a risk-assessment method in patients undergoing intra-abdominal surgery: a systematic review. Br J Anaesth 116(2):177–191. https://doi.org/10.1093/bja/aev454

20.

Lawrence VA, Hazuda HP, Cornell JE, Pederson T, Bradshaw PT, Mulrow CD, Page CP (2004) Functional independence after major abdominal surgery in the elderly. J Am Coll Surg 199(5):762–772. https://doi.org/10.1016/j.jamcollsurg.2004.05.280

21.

Nicholson A, Lowe MC, Parker J, Lewis SR, Alderson P, Smith AF (2014) Systematic review and meta-analysis of enhanced recovery programmes in surgical patients. Br J Surg 101(3):172–188. https://doi.org/10.1002/bjs.9394

22.

Grocott MP, Mythen MG (2015) Perioperative medicine: the value proposition for anesthesia?: a UK perspective on delivering value from anesthesiology. Anesthesiol Cli 33(4):617–628. https://doi.org/10.1016/j.anclin.2015.07.003

23.

Scheede-Bergdahl C, Minnella EM, Carli F (2019) Multi-modal prehabilitation: addressing the why, when, what, how, who and where next? Anaesthesia 74(Suppl 1):20–26. https://doi.org/10.1111/anae.14505

24.

Santa Mina D, Clarke H, Ritvo P, Leung YW, Matthew AG, Katz J, Trachtenberg J, Alibhai SM (2014) Effect of total-body prehabilitation on postoperative outcomes: a systematic review and meta-analysis. Physiotherapy 100(3):196–207. https://doi.org/10.1016/j.physio.2013.08.008

25.

Moran J, Guinan E, McCormick P, Larkin J, Mockler D, Hussey J, Moriarty J, Wilson F (2016) The ability of prehabilitation to influence postoperative outcome after intra-abdominal operation: a systematic review and meta-analysis. Surgery 160(5):1189–1201. https://doi.org/10.1016/j.surg.2016.05.014

26.

Howard R, Yin YS, McCandless L, Wang S, Englesbe M, Machado-Aranda D (2019) Taking control of your surgery: impact of a prehabilitation program on major abdominal surgery. J Am Coll Surg 228(1):72–80. https://doi.org/10.1016/j.jamcollsurg.2018.09.018

27.

Gillis C, Buhler K, Bresee L, Carli F, Gramlich L, Culos-Reed N, Sajobi TT, Fenton TR (2018) Effects of nutritional prehabilitation, with and without exercise, on outcomes of patients who undergo colorectal surgery: a systematic review and meta-analysis. Gastroenterology 155(2):391–410.e394. https://doi.org/10.1053/j.gastro.2018.05.012

28.

Rammant E, Decaestecker K, Bultijnck R, Sundahl N, Ost P, Pauwels NS, Deforche B, Pieters R, Fonteyne V (2018) A systematic review of exercise and psychosocial rehabilitation interventions to improve health-related outcomes in patients with bladder cancer undergoing radical cystectomy. Clin Rehabil 32(5):594–606. https://doi.org/10.1177/0269215517746472

29.

Aubrun F, Gazon M, Schoeffler M, Benyoub K (2012) Evaluation of perioperative risk in elderly patients. Miner Anestesiol 78(5):605–618

30.

Monson K, Litvak DA, Bold RJ (2003) Surgery in the aged population: surgical oncology. Arch Surg (Chicago, Ill: 1960) 138(10):1061–1067. https://doi.org/10.1001/archsurg.138.10.1061

31.

Leung JM, Dzankic S (2001) Relative importance of preoperative health status versus intraoperative factors in predicting postoperative adverse outcomes in geriatric surgical patients. J Am Geriatr Soc 49(8):1080–1085

32.

Bettelli G (2011) Preoperative evaluation in geriatric surgery: comorbidity, functional status and pharmacological history. Miner Anestesiol 77(6):637–646

33.

Lascano D, Pak JS, Kates M, Finkelstein JB, Silva M, Hagen E, RoyChoudhury A, Bivalacqua TJ, DeCastro GJ, Benson MC, McKiernan JM (2015) Validation of a frailty index in patients undergoing curative surgery for urologic malignancy and comparison with other risk stratification tools. Urol Oncol 33(10):426 e421412. https://doi.org/10.1016/j.urolonc.2015.06.002

34.

Palmer RM (2009) Perioperative care of the elderly patient: an update. Clevel Clin J Med 76(Suppl 4):S16–21. https://doi.org/10.3949/ccjm.76.s4.03

35.

Dasgupta M, Dumbrell AC (2006) Preoperative risk assessment for delirium after noncardiac surgery: a systematic review. J Am Geriatr Soc 54(10):1578–1589. https://doi.org/10.1111/j.1532-5415.2006.00893.x

36.

Mohanty S, Rosenthal R, Russell M, Neuman M, Ko C, Esnaola N (2016) Optimal perioperative management of the geriatric patient: best practice guideline from ACS/NSQIP/American Geriatrics Society American College of Surgeons. https://www.facs.org/~/media/files/quality%20programs/geriatric/acs%20nsqip%20geriatric%202016%20guidelines.ashx.

37.

Marcantonio ER, Flacker JM, Wright RJ, Resnick NM (2001) Reducing delirium after hip fracture: a randomized trial. J Am Geriatr Soc 49(5):516–522

38.

McClave SA, Kozar R, Martindale RG, Heyland DK, Braga M, Carli F, Drover JW, Flum D, Gramlich L, Herndon DN, Ko C, Kudsk KA, Lawson CM, Miller KR, Taylor B, Wischmeyer PE (2013) Summary points and consensus recommendations from the North American Surgical Nutrition Summit. J Parenter Enteral Nutr 37(5 Suppl):99s–105s. https://doi.org/10.1177/0148607113495892

39.

Braude P, Goodman A, Elias T, Babic-Illman G, Challacombe B, Harari D, Dhesi JK (2017) Evaluation and establishment of a ward-based geriatric liaison service for older urological surgical patients: proactive care of Older People undergoing Surgery (POPS)-Urology. BJU Int 120(1):123–129. https://doi.org/10.1111/bju.13526

40.

Sury MR, Palmer JH, Cook TM, Pandit JJ (2014) The state of UK anaesthesia: a survey of National Health Service activity in 2013. Br J Anaesth 113(4):575–584. https://doi.org/10.1093/bja/aeu292

41.

Bion JF, Abrusci T, Hibbert P (2010) Human factors in the management of the critically ill patient. Br J Anaesth 105(1):26–33. https://doi.org/10.1093/bja/aeq126

42.

Perrow C (1984) Normal accidents—living with high risk technologies. Basic Books, New York

43.

Reason J (1995) Understanding adverse events: human factors. Qual Health Care 4(2):80–89

44.

Gaba DM, Maxwell M, DeAnda A (1987) Anesthetic mishaps: breaking the chain of accident evolution. Anesthesiology 66(5):670–676

45.

Cooper JB, Long CD, Newbower RS, Philip JH (1982) Critical incidents associated with intraoperative exchanges of anesthesia personnel. Anesthesiology 56(6):456–461

46.

Bagian JP, Gosbee J, Lee CZ, Williams L, McKnight SD, Mannos DM (2002) The veterans Affairs root cause analysis system in action. Jt Comm J Qual Improv 28(10):531–545

47.

Nanji KC, Patel A, Shaikh S, Seger DL, Bates DW (2016) Evaluation of perioperative medication errors and adverse drug events. Anesthesiology 124(1):25–34. https://doi.org/10.1097/aln.0000000000000904

48.

Jensen LS, Merry AF, Webster CS, Weller J, Larsson L (2004) Evidence-based strategies for preventing drug administration errors during anaesthesia. Anaesthesia 59(5):493–504. https://doi.org/10.1111/j.1365-2044.2004.03670.x

49.

Wahr JA, Abernathy JH 3rd, Lazarra EH, Keebler JR, Wall MH, Lynch I, Wolfe R, Cooper RL (2017) Medication safety in the operating room: literature and expert-based recommendations. Br J Anaesth 118(1):32–43. https://doi.org/10.1093/bja/aew379

50.

Haynes AB, Weiser TG, Berry WR, Lipsitz SR, Breizat AH, Dellinger EP, Herbosa T, Joseph S, Kibatala PL, Lapitan MC, Merry AF, Moorthy K, Reznick RK, Taylor B, Gawande AA (2009) A surgical safety checklist to reduce morbidity and mortality in a global population. N Engl J Med 360(5):491–499. https://doi.org/10.1056/NEJMsa0810119

51.

Salas E, DiazGranados D, Weaver SJ, King H (2008) Does team training work? Principles for health care. Acad Emerg Med 15(11):1002–1009. https://doi.org/10.1111/j.1553-2712.2008.00254.x

52.

Lingard L, Espin S, Whyte S, Regehr G, Baker GR, Reznick R, Bohnen J, Orser B, Doran D, Grober E (2004) Communication failures in the operating room: an observational classification of recurrent types and effects. Qual Saf Health Care 13(5):330–334. https://doi.org/10.1136/qhc.13.5.330

53.

Schwilk B, Gravenstein N, Blessing S, Friesdorf W (1994) Postoperative information transfer: a study comparing two university hospitals. Int J Clin Monit Comput 11(3):145–149

54.

Mazzocco K, Petitti DB, Fong KT, Bonacum D, Brookey J, Graham S, Lasky RE, Sexton JB, Thomas EJ (2009) Surgical team behaviors and patient outcomes. Am J Surg 197(5):678–685. https://doi.org/10.1016/j.amjsurg.2008.03.002

55.

Künzle B, Kolbe M, Grote G (2010) Ensuring patient safety through effective leadership behaviour: a literature review. Saf Sci 48(1):1–17. https://doi.org/10.1016/j.ssci.2009.06.004

56.

Chewning B, Bylund CL, Shah B, Arora NK, Gueguen JA, Makoul G (2012) Patient preferences for shared decisions: a systematic review. Patient Educ Couns 86(1):9–18. https://doi.org/10.1016/j.pec.2011.02.004

57.

Sturgess J, Clapp JT, Fleisher LA (2019) Shared decision-making in peri-operative medicine: a narrative review. Anaesthesia 74(Suppl 1):13–19. https://doi.org/10.1111/anae.14504

58.

Clapp JT, Arriaga AF, Murthy S, Raper SE, Schwartz JS, Barg FK, Fleisher LA (2019) Surgical consultation as social process: implications for shared decision making. Ann Surg 269(3):446–452. https://doi.org/10.1097/sla.0000000000002610

59.

Prentis JM, Trenell MI, Vasdev N, French R, Dines G, Thorpe A, Snowden CP (2013) Impaired cardiopulmonary reserve in an elderly population is related to postoperative morbidity and length of hospital stay after radical cystectomy. BJU Int 112(2):E13–19. https://doi.org/10.1111/bju.12219

60.

Wuethrich PY, Burkhard FC, Thalmann GN, Stueber F, Studer UE (2014) Restrictive deferred hydration combined with preemptive norepinephrine infusion during radical cystectomy reduces postoperative complications and hospitalization time: a randomized clinical trial. Anesthesiology 120(2):365–377. https://doi.org/10.1097/ALN.0b013e3182a44440

61.

Brandstrup B, Tonnesen H, Beier-Holgersen R, Hjortso E, Ording H, Lindorff-Larsen K, Rasmussen MS, Lanng C, Wallin L, Iversen LH, Gramkow CS, Okholm M, Blemmer T, Svendsen PE, Rottensten HH, Thage B, Riis J, Jeppesen IS, Teilum D, Christensen AM, Graungaard B, Pott F, Danish Study Group on Perioperative Fluid T (2003) Effects of intravenous fluid restriction on postoperative complications: comparison of two perioperative fluid regimens: a randomized assessor-blinded multicenter trial. Ann Surg 238(5):641–648. https://doi.org/10.1097/01.sla.0000094387.50865.23

62.

Feldheiser A, Aziz O, Baldini G, Cox BP, Fearon KC, Feldman LS, Gan TJ, Kennedy RH, Ljungqvist O, Lobo DN, Miller T, Radtke FF, Ruiz Garces T, Schricker T, Scott MJ, Thacker JK, Ytrebo LM, Carli F (2016) Enhanced Recovery After Surgery (ERAS) for gastrointestinal surgery, part 2: consensus statement for anaesthesia practice. Acta Anaesthesiol Scand 60(3):289–334. https://doi.org/10.1111/aas.12651

63.

Myles PS, Bellomo R, Corcoran T, Forbes A, Peyton P, Story D, Christophi C, Leslie K, McGuinness S, Parke R, Serpell J, Chan MTV, Painter T, McCluskey S, Minto G, Wallace S (2018) Restrictive versus liberal fluid therapy for major abdominal surgery. N Engl J Med 378(24):2263–2274. https://doi.org/10.1056/NEJMoa1801601

64.

Wuethrich PY, Burkhard FC (2015) New perioperative fluid and pharmacologic management protocol results in reduced blood loss, faster return of bowel function, and overall recovery. Curr Urol Rep 16(4):17. https://doi.org/10.1007/s11934-015-0490-1

65.

Pillai P, McEleavy I, Gaughan M, Snowden C, Nesbitt I, Durkan G, Johnson M, Cosgrove J, Thorpe A (2011) A double-blind randomized controlled clinical trial to assess the effect of Doppler optimized intraoperative fluid management on outcome following radical cystectomy. J Urol 186(6):2201–2206. https://doi.org/10.1016/j.juro.2011.07.093

66.

Rasmussen KC, Secher NH, Pedersen T (2016) Effect of perioperative crystalloid or colloid fluid therapy on hemorrhage, coagulation competence, and outcome: a systematic review and stratified meta-analysis. Medicine 95(31):e4498. https://doi.org/10.1097/MD.0000000000004498

67.

Kammerer T, Brettner F, Hilferink S, Hulde N, Klug F, Pagel J, Karl A, Crispin A, Hofmann-Kiefer K, Conzen P, Rehm M (2018) No differences in renal function between balanced 6% hydroxyethyl starch (130/0.4) and 5% albumin for volume replacement therapy in patients undergoing cystectomy: a randomized controlled trial. Anesthesiology 128(1):67–78. https://doi.org/10.1097/ALN.0000000000001927

68.

Khademi H, Kamangar F, Brennan P, Malekzadeh R (2016) Opioid therapy and its side effects: a review. Arch Iran Med 19(12):870–876

69.

Winer AG, Sfakianos JP, Puttanniah VG, Bochner BH (2015) Comparison of perioperative outcomes for epidural versus intravenous patient-controlled analgesia after radical cystectomy. Reg Anesth Pain Med 40(3):239–244. https://doi.org/10.1097/AAP.0000000000000219

70.

Weiss R, Popping DM (2018) Is epidural analgesia still a viable option for enhanced recovery after abdominal surgery. Curr Opin Anaesthesiol 31(5):622–629. https://doi.org/10.1097/aco.0000000000000640

71.

Vukovic N, Dinic L (2018) Enhanced recovery after surgery protocols in major urologic surgery. Front Med 5:93. https://doi.org/10.3389/fmed.2018.00093

72.

Audenet F, Attalla K, Giordano M, Pfail J, Lubin MA, Waingankar N, Gainsburg D, Badani KK, Sim A, Sfakianos JP (2019) Prospective implementation of a nonopioid protocol for patients undergoing robot-assisted radical cystectomy with extracorporeal urinary diversion. Urol Oncol 37(5):300.e317–300.e323. https://doi.org/10.1016/j.urolonc.2019.02.002

73.

Gabriel RA, Swisher MW, Sztain JF, Furnish TJ, Ilfeld BM, Said ET (2019) State of the art opioid-sparing strategies for post-operative pain in adult surgical patients. Expert Opin Pharmacother 20(8):949–961. https://doi.org/10.1080/14656566.2019.1583743

74.

Ahmad T, Bouwman RA, Grigoras I, Aldecoa C, Hofer C, Hoeft A, Holt P, Fleisher LA, Buhre W, Pearse RM (2017) Use of failure-to-rescue to identify international variation in postoperative care in low-, middle- and high-income countries: a 7-day cohort study of elective surgery. Br J Anaesth 119(2):258–266. https://doi.org/10.1093/bja/aex185

75.

Loffel LM, Kleeb B, Burkhard FC, Wuethrich PY (2014) Perioperative use of crystalloids in patients undergoing open radical cystectomy: balanced Ringer's maleate versus a glucose 5%/potassium-based balanced solution: study protocol for a randomized controlled trial. Trials 15:276. https://doi.org/10.1186/1745-6215-15-276
Ethics declarations
Conflict of interest
The authors declare that they have no conflict of interest.
Research involving human participants and/or animals
This is a review article not directly involving human participants or animals.
Informed consent
Not applicable.
Additional information
Publisher's Note
Springer Nature remains neutral with regard to jurisdictional claims in published maps and institutional affiliations.
About this article
Cite this article
Engel, D., Furrer, M.A., Wuethrich, P.Y. et al. Surgical safety in radical cystectomy: the anesthetist's point of view—how to make a safe procedure safer. World J Urol 38, 1359–1368 (2020). https://doi.org/10.1007/s00345-019-02839-y
Received:

Accepted:

Published:

Issue Date:
Keywords
Perioperative medicine

Patient safety

Radical cystectomy