Abstract
Purpose
To describe the clinical characteristics of struvite stones and determine the preoperative predictors of sepsis in struvite patients undergoing percutaneous nephrolithotomy (PCNL).
Methods
A retrospective study of patients who underwent PCNL between April 2011 and March 2018 was performed. The data of the struvite stones and non-struvite stones groups were compared following propensity score matching. Subsequently, the struvite stones group was sub-divided for further analysis according to the Sepsis-3 definition: non-sepsis and sepsis groups.
Results
After matching based on age, gender, BMI, and number of access tracts, the comparative analysis showed that staghorn calculi and higher Guy's stone score were more frequently observed in non-struvite stone patients (n = 97), while a history of urolithiasis surgery (56.70%), preoperative broad-spectrum antibiotic therapy (53.61%), positive preoperative urine culture (55.67%), and sepsis (35.05%) after surgery were more common in patients (n = 97) with struvite stones (all P values < 0.05). Eighteen (18.56%) patients presented with multidrug-resistant (MDR) bacteriuria. Multivariate analysis demonstrated that the preoperative presence of MDR bacteriuria (OR = 3.203; P = 0.043) and increased serum creatinine (OR = 3.963; P = 0.010) were independent risk predictors of sepsis. The two factors were used to construct a nomogram to predict the probability of sepsis. The nomogram was well calibrated and had moderate discriminative ability (concordance index: 0.711).
Conclusion
Our study revealed that patients with struvite stones were associated with a significantly high risk of calculi recurrence and sepsis after surgery. The presence of MDR bacteriuria preoperatively was a reliable factor to predict sepsis.
This is a preview of subscription content, log in to check access.
Access options
Buy single article
Instant access to the full article PDF.
US$ 39.95
Price includes VAT for USA
Subscribe to journal
Immediate online access to all issues from 2019. Subscription will auto renew annually.
US$ 199
This is the net price. Taxes to be calculated in checkout.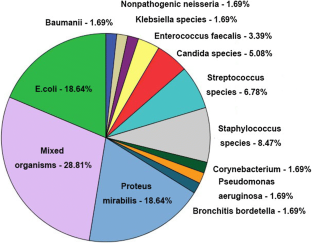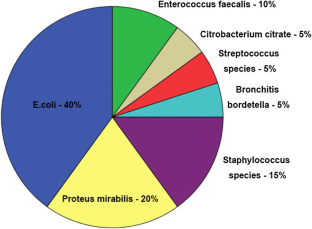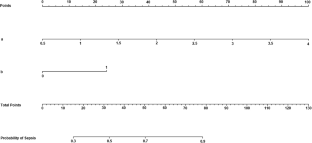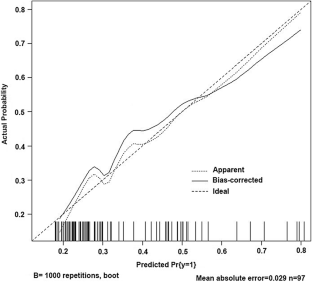 References
1.

Flannigan R, Choy WH, Chew B, Lange D (2014) Renal struvite stones—pathogenesis, microbiology, and management strategies. Nat Rev Urol 11(6):333–341. https://doi.org/10.1038/nrurol.2014.99

2.

McAleer IM, Kaplan GW, Bradley JS, Carroll SF, Griffith DP (2003) Endotoxin content in renal calculi. J Urol 169(5):1813–1814. https://doi.org/10.1097/01.ju.0000061965.51478.79

3.

Shafi H, Shahandeh Z, Heidari B, Sedigiani F, Ramaji AA, Pasha YR, Kassaeian AA, Pasha AA, Mir MM (2013) Bacteriological study and structural composition of staghorn stones removed by the anatrophic nephrolithotomic procedure. Saudi J Kidney Dis Transplant 24(2):418–423

4.

Rivera M, Viers B, Cockerill P, Agarwal D, Mehta R, Krambeck A (2016) Pre- and postoperative predictors of infection-related complications in patients undergoing percutaneous nephrolithotomy. J Endourol 30(9):982–986. https://doi.org/10.1089/end.2016.0191

5.

Olvera-Posada D, Ali SN, Dion M, Alenezi H, Denstedt JD, Razvi H (2016) Natural history of residual fragments after percutaneous nephrolithotomy: evaluation of factors related to clinical events and intervention. Urology 97:46–50. https://doi.org/10.1016/j.urology.2016.06.049

6.

Zhong W, Leto G, Wang L, Zeng G (2015) Systemic inflammatory response syndrome after flexible ureteroscopic lithotripsy: a study of risk factors. J Endourol 29(1):25–28. https://doi.org/10.1089/end.2014.0409

7.

Rao PN, Dube DA, Weightman NC, Oppenheim BA, Morris J (1991) Prediction of septicemia following endourological manipulation for stones in the upper urinary tract. J Urol 146(4):955–960

8.

O'Keeffe NK, Mortimer AJ, Sambrook PA, Rao PN (1993) Severe sepsis following percutaneous or endoscopic procedures for urinary tract stones. Br J Urol 72(3):277–283

9.

Singer M, Deutschman CS, Seymour CW, Shankar-Hari M, Annane D, Bauer M, Bellomo R, Bernard GR, Chiche JD, Coopersmith CM, Hotchkiss RS, Levy MM, Marshall JC, Martin GS, Opal SM, Rubenfeld GD, van der Poll T, Vincent JL, Angus DC (2016) The third international consensus definitions for sepsis and septic shock (Sepsis-3). JAMA 315(8):801–810. https://doi.org/10.1001/jama.2016.0287

10.

Magiorakos AP, Srinivasan A, Carey RB, Carmeli Y, Falagas ME, Giske CG, Harbarth S, Hindler JF, Kahlmeter G, Olsson-Liljequist B, Paterson DL, Rice LB, Stelling J, Struelens MJ, Vatopoulos A, Weber JT, Monnet DL (2012) Multidrug-resistant, extensively drug-resistant and pandrug-resistant bacteria: an international expert proposal for interim standard definitions for acquired resistance. Clin Microbiol Infect 18(3):268–281. https://doi.org/10.1111/j.1469-0691.2011.03570.x

11.

Harrell FE Jr, Lee KL, Mark DB (1996) Multivariable prognostic models: issues in developing models, evaluating assumptions and adequacy, and measuring and reducing errors. Stat Med 15(4):361–387. https://doi.org/10.1002/(sici)1097-0258(19960229)15:4%3c361:aid-sim168%3e3.0.co;2-4

12.

Huitzil-Melendez FD, Capanu M, O'Reilly EM, Duffy A, Gansukh B, Saltz LL, Abou-Alfa GK (2010) Advanced hepatocellular carcinoma: which staging systems best predict prognosis? J Clin Oncol 28(17):2889–2895. https://doi.org/10.1200/jco.2009.25.9895

13.

Troxel SA, Low RK (2002) Renal intrapelvic pressure during percutaneous nephrolithotomy and its correlation with the development of postoperative fever. J Urol 168(4 Pt 1):1348–1351. https://doi.org/10.1097/01.ju.0000030996.64339.f1

14.

Liu V, Escobar GJ, Greene JD, Soule J, Whippy A, Angus DC, Iwashyna TJ (2014) Hospital deaths in patients with sepsis from 2 independent cohorts. JAMA 312(1):90–92. https://doi.org/10.1001/jama.2014.5804

15.

Kwan A, Hubank M, Rashid A, Klein N, Peters MJ (2013) Transcriptional instability during evolving sepsis may limit biomarker based risk stratification. PLoS One 8(3):e60501. https://doi.org/10.1371/journal.pone.0060501

16.

Churpek MM, Zadravecz FJ, Winslow C, Howell MD, Edelson DP (2015) Incidence and prognostic value of the systemic inflammatory response syndrome and organ dysfunctions in ward patients. Am J Respir Crit Care Med 192(8):958–964. https://doi.org/10.1164/rccm.201502-0275OC

17.

Kaukonen KM, Bailey M, Pilcher D, Cooper DJ, Bellomo R (2015) Systemic inflammatory response syndrome criteria in defining severe sepsis. N Engl J Med 372(17):1629–1638. https://doi.org/10.1056/NEJMoa1415236

18.

Levy MM, Fink MP, Marshall JC, Abraham E, Angus D, Cook D, Cohen J, Opal SM, Vincent JL, Ramsay G (2003) 2001 SCCM/ESICM/ACCP/ATS/SIS international Sepsis definitions conference. Intensive Care Med 29(4):530–538. https://doi.org/10.1007/s00134-003-1662-x

19.

Bone RC, Balk RA, Cerra FB, Dellinger RP, Fein AM, Knaus WA, Schein RM, Sibbald WJ (1992) Definitions for sepsis and organ failure and guidelines for the use of innovative therapies in sepsis. The ACCP/SCCM Consensus Conference Committee. American College of Chest Physicians/Society of Critical Care Medicine. Chest 101(6):1644–1655

20.

Nemoy NJ, Staney TA (1971) Surgical, bacteriological, and biochemical management of "infection stones". JAMA 215(9):1470–1476

21.

Vincent JL, Rello J, Marshall J, Silva E, Anzueto A, Martin CD, Moreno R, Lipman J, Gomersall C, Sakr Y, Reinhart K (2009) International study of the prevalence and outcomes of infection in intensive care units. JAMA 302(21):2323–2329. https://doi.org/10.1001/jama.2009.1754

22.

Centers for disease control and prevention (2018). Biggest threats and data. Available from: https://www.cdc.gov/drugresistance/biggest_threats.html. Accessed 1 Jan 2019

23.

Vardakas KZ, Rafailidis PI, Konstantelias AA, Falagas ME (2013) Predictors of mortality in patients with infections due to multi-drug resistant gram negative bacteria: the study, the patient, the bug or the drug? J Infect 66(5):401–414. https://doi.org/10.1016/j.jinf.2012.10.028

24.

Patel N, Shi W, Liss M, Raheem O, Wenzler D, Schallhorn C, Kiyama L, Lakin C, Ritter M, Sur RL (2015) Multidrug resistant bacteriuria before percutaneous nephrolithotomy predicts for postoperative infectious complications. J Endourol 29(5):531–536. https://doi.org/10.1089/end.2014.0776

25.

Kaye KS, Pogue JM (2015) Infections caused by resistant gram-negative bacteria: epidemiology and management. Pharmacotherapy 35(10):949–962. https://doi.org/10.1002/phar.1636

26.

Chen D, Jiang C, Liang X, Zhong F, Huang J, Lin Y, Zhao Z (2018) Early and rapid prediction of postoperative infections following percutaneous nephrolithotomy in patients with complex kidney stones. BJU Int. https://doi.org/10.1111/bju.14484

27.

Sen V, Bozkurt IH, Aydogdu O, Yonguc T, Yarimoglu S, Sen P, Koras O, Degirmenci T (2016) Significance of preoperative neutrophil–lymphocyte count ratio on predicting postoperative sepsis after percutaneous nephrolithotomy. The Kaohsiung J Med Sci 32(10):507–513. https://doi.org/10.1016/j.kjms.2016.08.008

28.

Zahorec R (2001) Ratio of neutrophil to lymphocyte counts-rapid and simple parameter of systemic inflammation and stress in critically ill. Bratisl Lek Listy 102(1):5–14

29.

Mostafavi MR, Ernst RD, Saltzman B (1998) Accurate determination of chemical composition of urinary calculi by spiral computerized tomography. J Urol 159(3):673–675
Acknowledgements
This study was supported by the National Natural Science Foundation of China (81670642, Xiaofeng Gao), 2017 Shanghai Outstanding Young Medical Talent training subsidy Scheme (second batch, Xiaofeng Gao), and National Key R&D Program of China (2017YFB1302800, Xiaofeng Gao).
Funding
The authors declare that they have no relevant financial interest.
Ethics declarations
Conflict of interest
The authors declare that they have no conflict of interest.
Ethical approval
All procedures performed in the study were in accordance with the ethical standards of the local research committee and with the 1964 Helsinki Declaration and its later amendments.
Informed consent
For this retrospective study formal consent was not required.
Additional information
Publisher's Note
Springer Nature remains neutral with regard to jurisdictional claims in published maps and institutional affiliations.
About this article
Cite this article
Gao, X., Lu, C., Xie, F. et al. Risk factors for sepsis in patients with struvite stones following percutaneous nephrolithotomy. World J Urol 38, 219–229 (2020). https://doi.org/10.1007/s00345-019-02748-0
Received:

Accepted:

Published:

Issue Date:
Keywords
Percutaneous nephrolithotomy

Struvite

Renal calculi

Multidrug resistant