Abstract
Purpose
Age is an important prognostic factor for functional and oncological outcomes after radical prostatectomy (RP). Considering the long life-expectancy of young patients (≤ 45 years), it remains important to examine their outcomes.
Methods
Of 16.049 patients who underwent RP between 01/2006 and 12/2014 at the Martini-Klinik Prostate Cancer Center, 119 (0.7%) were ≤ 45. Known prognosticators were compared according to patient age at RP (categorical as ≤ 45, > 45 and ≤ 65, > 65 years). Kaplan–Meier plots and Cox-regressions analyzed oncological outcomes [biochemical recurrence (BCR)-free survival and metastasis-free survival (MFS)]. Logistic regressions were used for functional outcome. Urinary continence (UC) was defined as the use of 0 or 1 safety pad/day and potency as an IIEF-5 score of ≥ 18.
Results
Compared to their older counterparts, patients ≤ 45 years had more favorable tumor characteristics. Of all patients aged ≤ 45 years, 89% underwent bilateral and 9.3% unilateral nerve-sparing procedure. Five year BCR-free survival and MFS were 80.2% and 98.7% for patients ≤ 45 years, 72.8% and 95.0% for patients > 45 and ≤ 65 years and 70.5% and 94.9% for patients > 65 years. For the same groups, 1-year UC-rates were 97.4%, 89.4%, and 84.7% while 1.3%, 8.2%, and 11.6% used 1–2 pads/24 h. At 1-year, 75.6%, 58.6%, and 45.3% of preoperatively potent patients who underwent bilateral nerve-sparing were considered potent. Younger age was an independent predictor of favorable functional outcome also in multivariable analysis.
Conclusions
Patients aged ≤ 45 years had more favorable tumor characteristics and oncological outcomes. Moreover, younger patients should be counseled about the excellent postoperative continence and potency rates.
This is a preview of subscription content, log in to check access.
Access options
Buy single article
Instant access to the full article PDF.
US$ 39.95
Price includes VAT for USA
Subscribe to journal
Immediate online access to all issues from 2019. Subscription will auto renew annually.
US$ 199
This is the net price. Taxes to be calculated in checkout.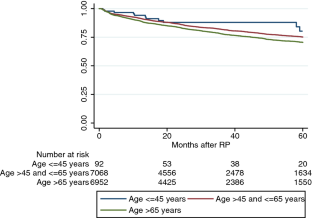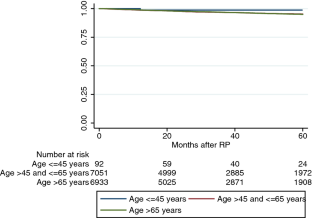 References
1.

Arnold M, Karim-Kos H, Coebergh J et al (2013) Recent trends in incidence of five common cancers in 26 European countries since 1988: analysis of the European Cancer Observatory. Eur J Concer 10:25. https://doi.org/10.1016/j.ejca.2013.09.002

2.

WHO (2012) I. GLOBACON 2012: estimated cancer incidence, mortality, and prevalence worldwide in 2012. Available from: http://globocan.iarc.fr. Accessed 18 Mar 2018

3.

Basu S, Singh SK, Singh U (2016) A study of age distribution of prostate cancer detection. J Data Sci 14:539–552

4.

Herget KA et al (2016) Recent decline in prostate cancer incidence in the United States, by age, stage, and Gleason score. Cancer Med 5(1):136–141

5.

Becker A et al (2014) Functional and oncological outcomes of patients aged < 50 years treated with radical prostatectomy for localised prostate cancer in a European population. BJU Int 114(1):38–45

6.

Mottet N, van den Bergh RCN, Briers E et al (2019) EAU - EANM - ESTRO - ESUR - SIOG guidelines on prostate cancer. European Association of Urology 2019, EAU Guidelines Office, Arnhem, The Netherlands

7.

Mohler J, Kantoff P, Armstrong A et al (2014) Prostate cancer, Version 2.2014. J Natl Compr Canc Netw 12:686–718

8.

Sanda MG, Chen RC, Crispino T et al (2017) Clinically localized prostate cancer: AUA/ASTRO/SUO guideline, American Urological Association 2017

9.

Mandel P, Graefen M, Michl U et al (2015) The effect of age on functional outcomes after radical prostatectomy. Urol Oncol 33:e11–e18

10.

Mandel P et al (2016) Tumor characteristics and oncologic outcome after radical prostatectomy in men 75 years old or older. J Urol 196(1):89–94

11.

Gandaglia G et al (2014) The effect of age at diagnosis on prostate cancer mortality: a grade-for-grade and stage-for-stage analysis. Eur J Surg Oncol 40(12):1706–1715

12.

Labanaris A, Vahudin Z, Witt J (2012) Robotic-assisted radical prostatectomy in men ≤ 50 years of age. Surgical, oncological and functional outcomes. Anticancer Res 32:2097–2101

13.

Rouprêt M et al (2006) Outcome after radical prostatectomy in young men with or without a family history of prostate cancer. Urology 67(5):1028–1032

14.

Moses KA et al (2014) Black and White men younger than 50 years of age demonstrate similar outcomes after radical prostatectomy. BMC Urol 14(1):98

15.

Loeb S et al (2008) Progression after radical prostatectomy for men in their thirties compared to older men. BJU Int 101(12):1503–1506

16.

Freedland SJ et al (2004) Do younger men have better biochemical outcomes after radical prostatectomy? Urology 63(3):518–522

17.

Hospital, O.S.U.C.C.C.J.C. and S.R. Institute (2007) Prostate cancer early detection. J Natl Compr Cancer Netw 5(7):714

18.

Budaus L, Isbarn H, Schlomm T et al (2009) Current technique of open intrafascial nerve-sparing retropubic prostatectomy. Eur Urol 56:317–324

19.

Gleason D, Mellinger G (1974) Prediction of prognosis for prostatic adenocarcinoma by combined histological grading and clinical staging. J Urol 111:58–64

20.

Epstein JI et al (2016) The 2014 International Society of Urological Pathology (ISUP) consensus conference on Gleason grading of prostatic carcinoma: definition of grading patterns and proposal for a new grading system. Am J Surg Pathol 40(2):244–252

21.

Greco K, Meeks J, Wu S et al (2009) Robot-assisted radical prostatectomy in men aged ≥ 70 years. BJU Int 104:1492–1495

22.

Labanaris A, Witt J, Zugor V (2012) Robotic-assisted radical prostatectomy in men ≥ 75 years of age. Surgical, oncological and functional outcomes. Anticancer Res 35:2085–2089

23.

Lin DW, Porter M, Montgomery B (2009) Treatment and survival outcomes in young men diagnosed with prostate cancer. Cancer 115(13):2863–2871

24.

Hong SK et al (2011) Younger patients have poorer biochemical outcome after radical prostatectomy in high-risk prostate cancer. Asian J Androl 13:719–723

25.

Pompe RS et al (2018) Tumor characteristics, treatments, and oncological outcomes of prostate cancer in men aged ≤ 50 years: a population-based study. Prostate Cancer Prostate Dis 21(1):71–77

26.

Samadi DB et al (2017) Clinicopathological, functional, and immediate oncologic outcome assessment in men aged ≤ 50 years with prostate cancer after robotic prostatectomy. Urol Oncol Seminar Original Investig 35(1):30.e17–30.e24

27.

Tan L et al (2018) Survival outcomes of younger men (< 55 years) undergoing radical prostatectomy. Prostate Int 6(1):31–35

28.

Gielchinsky I et al (2018) Prostate cancer in 432 men aged < 50 years in the prostate-specific antigen era: a new outlook. BJU Int 122(S5):35–41

29.

Suardi N, Moschini M, Gallina A et al (2013) Nerve-sparing approach during radical prostatectomy is strongly associated with the rate of postoperative urinary continence recovery. BJU Int 111:717–722

30.

Michl U et al (2016) Nerve-sparing surgery technique, not the preservation of the neurovascular bundles, leads to improved long-term continence rates after radical prostatectomy. Eur Urol 69(4):584–589

31.

Schlomm T et al (2012) Neurovascular structure-adjacent Frozen-section examination (NeuroSAFE) increases nerve-sparing frequency and reduces positive surgical margins in open and robot-assisted laparoscopic radical prostatectomy: experience after 11 069 consecutive patients. Eur Urol 62(2):333–340

32.

Adam M et al (2017) Functional outcomes and quality of life after radical prostatectomy only versus a combination of prostatectomy with radiation and hormonal therapy. Eur Urol 71(3):330–336
Ethics declarations
Conflict of interest
The authors declare that they have no conflict of interest.
Research involving human participants and/or animals
The retrospective study was approved by our institutional review-board.
Informed consent
Informed consent was obtained from all individual participants included in the study.
Additional information
Publisher's Note
Springer Nature remains neutral with regard to jurisdictional claims in published maps and institutional affiliations.
About this article
Cite this article
Tilki, D., Maurer, V., Pompe, R.S. et al. Tumor characteristics, oncological and functional outcomes after radical prostatectomy in very young men ≤ 45 years of age. World J Urol 38, 95–101 (2020). https://doi.org/10.1007/s00345-019-02740-8
Received:

Accepted:

Published:

Issue Date:
Keywords
Prostate cancer

Radical prostatectomy

Oncological outcome

Age