Abstract
Purpose
Limited data exist on the characteristics, risk factors, and management of blunt trauma pelvic fractures causing genitourinary (GU) and lower gastrointestinal (GI) injury. We sought to determine these parameters and elucidate independent risk factors.
Methods
The National Trauma Data Bank for years 2010–2014 was queried for pelvic fractures by ICD-9-CM codes. Exclusion criteria included age ≤ 17 years, penetrating injury, or incomplete records. Patients were divided into three cohorts: pelvic fracture, pelvic fracture with GU injury, and pelvic fracture with GU and GI injury. Between-group comparisons were made using stratified analysis. Multivariable logistic regression was used to determine independent risk factors for concomitant GI injury.
Results
In total, 180,931 pelvic fractures were found, 3.3% had GU, and 0.15% had GU and GI injury. Most common mechanism was vehicular collision. Injury severity score, pelvic AIS, and mortality were higher with combined injury (p < 0.001), leading to longer hospital and ICU stays and ventilator days (p < 0.001) with more frequent discharges to acute rehabilitation (p < 0.01). Surgical management of concomitant injuries involved both urinary (62%) and rectal repairs (81%) or diversions (29% and 46%, respectively). Male gender (OR = 2.42), disruption of the pelvic circle (OR = 6.04), pubis fracture (OR = 2.07), innominate fracture (OR = 1.84), and SBP < 90 mmgh (OR = 1.59) were the strongest independent predictors of combined injury (p < 0.01).
Conclusion
Pelvic fractures with lower GU and GI injury represent < 1% of pelvic fractures. They are associated with more severe injuries and increased hospital resource utilization. Strongest independent predictors are disruption of the pelvic circle, male gender, innominate fracture, and SBP < 90mm Hg.
This is a preview of subscription content, log in to check access.
Access options
Buy single article
Instant access to the full article PDF.
US$ 39.95
Price includes VAT for USA
Subscribe to journal
Immediate online access to all issues from 2019. Subscription will auto renew annually.
US$ 199
This is the net price. Taxes to be calculated in checkout.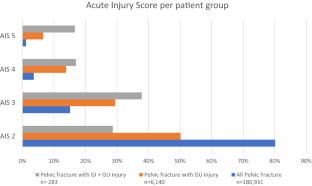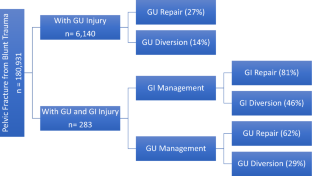 References
1.

Grotz MRW et al (2005) Open pelvic fractures: epidemiology, current concepts of management and outcome. Injury 36:1–13

2.

Demetriades D et al (2002) Pelvic fractures: epidemiology and predictors of associated abdominal injuries and outcomes. J Am Coll Surg 195:1–10

3.

Poole GV et al (1991) Pelvic fracture from major blunt trauma. Outcome is determined by associated injuries. Ann Surg 213:532–538 (discussion 538–539)

4.

Bjurlin MA et al (2009) Genitourinary injuries in pelvic fracture morbidity and mortality using the National Trauma Data Bank. J Trauma 67:1033–1039

5.

Brandes S, Borrelli J (2001) Pelvic fracture and associated urologic injuries. World J Surg 25:1578–1587

6.

Kahn CA, Gotschall CS (2015) The economic and societal impact of motor vehicle crashes, 2010 (Revised). Ann Emerg Med 66:194–196

7.

Basta AM, Blackmore CC, Wessells H (2007) Predicting urethral injury from pelvic fracture patterns in male patients with blunt trauma. J Urol 177:571–575

8.

Hammad F et al (2010) Genitourinary injuries following road traffic collisions: a population-based study from the Middle East Karayolu trafik kazalarına bağlı genitoüriner yaralanmalar: Orta Doğu'dan nüfusa dayalı bir çalışma. Turk J Trauma Emerg Surg 16:449–452

9.

Aihara R et al (2002) Fracture locations influence the likelihood of rectal and lower urinary tract injuries in patients sustaining pelvic fractures. J Trauma Injury Infect Crit Care 52:205–209

10.

Matlock KA et al (2013) Blunt traumatic bladder rupture: a 10-year perspective. Am Surgeon 79:589–593

11.

Andrich DE, Day AC, Mundy AR (2007) Proposed mechanisms of lower urinary tract injury in fractures of the pelvic ring. BJU Int 100:567–573

12.

Koraitim MM (1999) Pelvic fracture urethral injuries: the unresolved controversy. J Urol 161:1433–1441

13.

Lunsjo K, Abu-Zidan FM (2006) Does colostomy prevent infection in open blunt pelvic fractures? A systematic review. J Trauma 60:1145–1148

14.

Melton LJ et al (1981) Epidemiologic features of pelvic fractures. Clin Orthop Relat Res 155:43–47

15.

Cannada LK et al (2013) The Jones-Powell Classification of open pelvic fractures: a multicenter study evaluating mortality rates. J Trauma Acute Care Surg 74:901–906

16.

Aprato A et al (2016) Direct and indirect costs of surgically treated pelvic fractures. Arch Orthop Trauma Surg 136:325–330

17.

Velmahos GC et al (2000) Operative management of civilian rectal gunshot wounds: simpler is better. World J Surg 24:114–118

18.

Franko ER, Ivatury RR, Schwalb DM (1993) Combined penetrating rectal and genitourinary injuries: a challenge in management. J Trauma 34:347–353

19.

Pereira BM et al (2014) Penetrating bladder trauma: a high risk factor for associated rectal injury. Adv Urol 2014:386280

20.

Crispen PL et al (2007) Immediate postoperative complications of combined penetrating rectal and bladder injuries. J Trauma 62:325–329

21.

Chu CH et al (2016) Trends in the management of pelvic fractures, 2008–2010. J Surg Res 202:335–340

22.

Bolorunduro OB et al (2013) Disparities in trauma care: are fewer diagnostic tests conducted for uninsured patients with pelvic fracture? Am J Surg 205:365–370

23.

Bjurlin MA et al (2014) The impact of seat belts and airbags on high grade renal injuries and nephrectomy rate in motor vehicle collisions. J Urol 192:1131–1136
Acknowledgements
Committee on Trauma, American College of Surgeons, NTDB version, Chicago, IL, 2015. The content reproduced from the NTDB remains the full and exclusive copyrighter property of the American College of Surgeons. The American College of Surgeons is not responsible for any claims arising from works based on the original data, text, tables, or figures.
Ethics declarations
Conflict of interest
The authors declare that they have no conflict of interest.
Ethical approval
This is a retrospective study, conducted on already available data. It did not necessitate IRB approval at our institution. Separate informed consent was not necessary as data are obtained from a national repository in a de-identified manner. The authors attest that this article does not contain any studies with human participants or animals performed by any of the authors.
Additional information
Publisher's Note
Springer Nature remains neutral with regard to jurisdictional claims in published maps and institutional affiliations.
Electronic supplementary material
Below is the link to the electronic supplementary material.
About this article
Cite this article
Velazquez, N., Fantus, R.J., Fantus, R.J. et al. Blunt trauma pelvic fracture-associated genitourinary and concomitant lower gastrointestinal injury: incidence, morbidity, and mortality. World J Urol 38, 231–238 (2020). https://doi.org/10.1007/s00345-019-02725-7
Received:

Accepted:

Published:

Issue Date:
Keywords