Abstract
Purpose
To assess the functional Queryoutcome of patients with cystoscopic recurrence of stricture post-urethroplasty and to evaluate the role of cystoscopy as initial screening tool to predict future failure.
Methods
Cases with cystoscopy data after anterior urethroplasty in a multi-institutional database were retrospectively studied. Based on cystoscopic evaluation, performed within 3-months post-urethroplasty, patients were categorized as small-caliber (SC) stricture recurrence: stricture unable to be passed by standard cystoscope, large-caliber (LC) stricture accommodating a cystoscope, and no recurrence. We assessed the cumulative probability of intervention and the quality of life scores in association with cystoscopic recurrence 1-year post-urethroplasty. Patients with history of hypospadias, perineal urethrostomy, urethral fistula, and meatal pathology were excluded.
Results
From a total of 2630 men in our cohort, 1054 patients met the inclusion criteria: normal (n = 740), LC recurrence (n = 178), and SC recurrence (n = 136) based on the first cystoscopic evaluation performed at median 111 days postoperatively. Median follow-up was 350 days (IQR 121–617) after urethroplasty. Cystoscopic recurrence was significantly associated with secondary interventions (2.7%, 6.2%, 33.8% in normal, LC, and SC groups, respectively). Quality of life variables were not statistically significantly different among the three study groups.
Conclusions
Many patients with cystoscopic recurrence do not need an intervention after initial urethroplasty. Despite good negative predictive value, cystoscopy alone may be a poor screening test for stricture recurrence defined by patient symptoms and need for secondary interventions.
Access options
Buy single article
Instant access to the full article PDF.
US$ 39.95
Tax calculation will be finalised during checkout.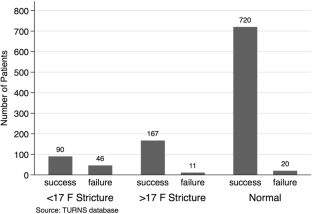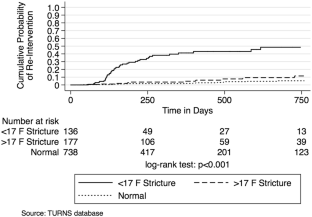 References
1.

Santucci RA, Joyce GF, Wise M (2007) Male urethral stricture disease. J Urol 177:1667–1674. https://doi.org/10.1016/j.juro.2007.01.041

2.

Liu JS, Hofer MD, Oberlin DT et al (2015) Practice patterns in the treatment of urethral stricture among American urologists: a paradigm change? Urology 86:830–834. https://doi.org/10.1016/j.urology.2015.07.020

3.

Wessells H, Angermeier KW, Elliott S et al (2017) Male urethral stricture: American Urological Association guideline. J Urol 197:182–190. https://doi.org/10.1016/j.juro.2016.07.087

4.

Erickson BA, Ghareeb GM (2017) Definition of successful treatment and optimal follow-up after urethral reconstruction for urethral stricture diseaes. Urol Clin North Am 44:1–9. https://doi.org/10.1016/j.ucl.2016.08.001

5.

Voelzke BB (2013) Critical review of existing patient reported outcome measures after male anterior urethroplasty. J Urol 189:182–188. https://doi.org/10.1016/j.juro.2012.08.096

6.

Hampson LA, Lin TK, Wilson L et al (2017) Understanding patients' preferences for surgical management of urethral stricture disease. World J Urol 35:1799–1805. https://doi.org/10.1007/s00345-017-2066-9

7.

Breyer BN, Edwards TC, Patrick DL, Voelzke BB (2017) Comprehensive qualitative assessment of urethral stricture disease: toward the development of a patient centered outcome measure. J Urol 198:1113–1118. https://doi.org/10.1016/j.juro.2017.05.077

8.

Jackson MJ, Sciberras J, Mangera A et al (2011) Defining a patient-reported outcome measure for urethral stricture surgery. Eur Urol 60:60–68. https://doi.org/10.1016/j.eururo.2011.03.003

9.

Zaid UB, Hawkins M, Wilson L et al (2015) The cost of surveillance after urethroplasty. Urology 85:1195–1199. https://doi.org/10.1016/j.urology.2014.12.047

10.

Erickson BA, Elliott SP, Voelzke BB et al (2014) Multi-institutional 1-year bulbar urethroplasty outcomes using a standardized prospective cystoscopic follow-up protocol. Urology 84:213–216. https://doi.org/10.1016/j.urology.2014.01.054

11.

Smith JC (1968) Urethral resistance to micturition. Br J Urol 40:125–156

12.

Meeks JJ, Erickson BA, Granieri MA, Gonzalez CM (2009) stricture recurrence after urethroplasty: a systematic review. J Urol 182:1266–1270

13.

Tam CA, Elliott SP, Voelzke BB et al (2016) The international prostate symptom score (IPSS) is an inadequate tool to screen for urethral stricture recurrence after anterior urethroplasty. Urology 95:197–201. https://doi.org/10.1016/j.urology.2016.04.006

14.

Tam CA, Voelzke BB, Elliott SP et al (2016) Critical analysis of the use of uroflowmetry for urethral stricture disease surveillance. Urology 91:197–201. https://doi.org/10.1016/j.urology.2015.12.070

15.

Jackson MJ, Chaudhury I, Mangera A et al (2013) A prospective patient-centred evaluation of urethroplasty for anterior urethral stricture using a validated patient-reported outcome measure. Eur Urol 64:777–782. https://doi.org/10.1016/j.eururo.2013.04.037
Ethics declarations
Conflict of interest
The Authors report no conflict of interest pertinent to this study.
Ethical statement
Research has been approved by institutional IRB of all the involved institutions. All participants have either consented to retrospective data collection or waived need for consent per institutional policy.
Additional information
Publisher's Note
Springer Nature remains neutral with regard to jurisdictional claims in published maps and institutional affiliations.
About this article
Cite this article
Baradaran, N., Fergus, K.B., Moses, R.A. et al. Clinical significance of cystoscopic urethral stricture recurrence after anterior urethroplasty: a multi-institution analysis from Trauma and Urologic Reconstructive Network of Surgeons (TURNS). World J Urol 37, 2763–2768 (2019). https://doi.org/10.1007/s00345-019-02653-6
Received:

Accepted:

Published:

Issue Date:
Keywords
Urethra

Lower urinary tract symptoms

Urethral stricture

Cystoscopy

Self report

Treatment outcome