Abstract
'Huangjinya' is a novel light-sensitive albino tea cultivar. Previously we have found that the leaves exhibit varying degrees of yellow coloration after being exposed to different light qualities, including red light (RL), blue light (BL), red + blue light (RB) and white light (WL). To understand the transcriptional response of different light qualities in leaf coloration of 'Huangjinya', RNA-seq analysis with three biological replicates was performed to identify differentially expressed genes (DEGs) involved in pigment metabolism pathways. With regard to porphyrin and chlorophyll metabolism, the protochlorophyllide oxidoreductase (POR) was upregulated and chlorophyllase (Chlase) was downregulated under RL compared with WL, which contributed to high chlorophyll content in 'Huangjinya'. The upregulated POR and magnesium chelatase H subunit (CHLH) were identified under RB. BL significantly promoted carotenoid biosynthesis, accompanied by the related upregulated genes. However, upregulated xanthoxin dehydrogenase (ABA2) reduced carotenoid content under BL. Zeaxanthin epoxidase (ZEP) was upregulated and ABA2 was downregulated under RB, resulting in high accumulation of carotenoid content. BL and RL upregulated expressions of genes involved in flavonoid biosynthesis in 'Huangjinya'. Differential expressions of genes involved in flavonoid biosynthesis was considered as the results of leaf color change. In addition, the genes related to photosynthesis were downregulated under RL, whereas these were upregulated under BL when compared with WL. In conclusion, the effect of light quality on the leaf coloration of 'Huangjinya' was mainly dependent on chlorophyll content by altering corresponding genes expressions. RL may promote the accumulation of chlorophyll in 'Huangjinya' leaves by upregulating the expression of genes related to chlorophyll synthesis (e.g., POR) and downregulating expression of genes related to chlorophyll degradation (e.g., Chlase). BL could upregulate the expression of genes related to both biosynthesis (e.g., POR, hemA) and degradation (e.g., Chlase) of chlorophyll, resulting in little change in leaf color of 'Huangjinya' under blue light when compared with white light. Upregulated genes involved in chlorophyll biosynthesis (e.g., POR, CHLH) induced greener color of 'Huangjinya' treated with RB.
Access options
Buy single article
Instant access to the full article PDF.
US$ 39.95
Tax calculation will be finalised during checkout.
Subscribe to journal
Immediate online access to all issues from 2019. Subscription will auto renew annually.
US$ 79
Tax calculation will be finalised during checkout.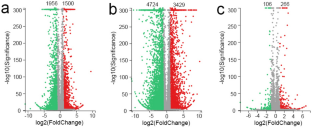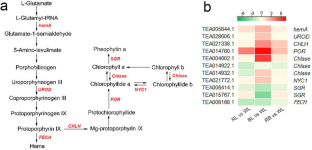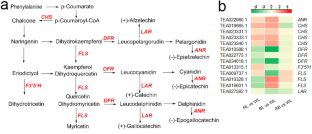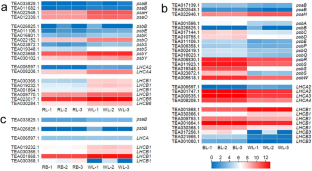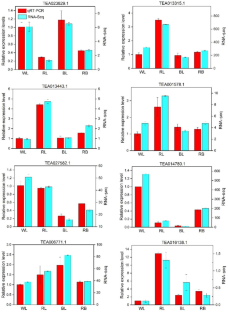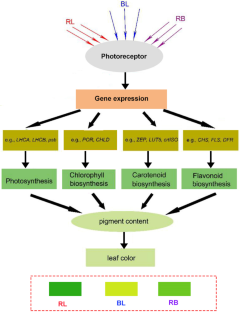 References
Agati G, Brunetti C, Di Ferdinando M, Ferrini F, Pollastri S, Tattini M (2013) Functional roles of flavonoids in photoprotection: New evidence, lessons from the past. Plant Physiol Bioch 72:35–45

Alrifai O, Hao X, Marcone FM, Tsao R (2019) Current review of the modulatory effects of LED lights on photosynthesis of secondary metabolites and future perspectives of microgreen vegetables. J Agric Food Chem 67:6075–6090

Barnes SA, Quaggio RB, Whitelam GC, Chua NH (1997) fhy1 defines a branch point in phytochrome A signal transduction for gene expression. Plant J 10(6):1155–1161

Beggs CJ, Kuhn K, Wellmann RB (1987) Phytochrome-induced flavonoid biosynthesis in mustard (Sinapis alba L.) cotyledons. Enzymic control and differential regulation of anthocyanin and quercetin formation. Planta 172(1):121–126

Bolger AM, Lohse M, Usadel B (2014) Trimmomatic: a flexible trimmer for Illumina sequence data. Bioinformatics 30:2114–2120

Buhr F, Lahroussi A, Springer A, Rustgi S, Wettstein DV, Reinbothe C, Reinbothe S (2017) NADPH: protochlorophyllide oxidoreductase B (PORB) action in Arabidopsis thaliana revisited through transgenic expression of engineered barley PORB mutant proteins. Plant Mol Biol 94:45–59

Chen L, Li L, Dai Y, Wang X, Duan Y, Yang G (2015) De novo transcriptome analysis of Osmanthus serrulatus Rehd. flowers and leaves by Illumina sequencing. Biochem Syst Ecol 61:531–540

Chen L, Zhou Z, Yang Y (2007) Genetic improvement and breeding of tea plant (Camellia sinensis) in China: from individual selection to hybridization and molecular breeding. Euphytica 154:239–248

Conesa A, Götz S, García-Gómez JM, Terol J, Talón M, Robles M (2005) Blast2GO: a universal tool for annotation, visualization and analysis in functional genomics research. Bioinformatics 21:3674–3676

Cope KR, Bugbee B (2013) Spectral effects of three types of white light-emitting diodes on plant growth and development: absolute versus relative amounts of blue light. HortScience 48(4):504–509

Fan Y, Zhao X, Wang H, Tian Y, Xiang Q, Zhang L (2019) Effects of light intensity on metabolism of light-harvesting pigment and photosynthetic system in Camellia sinensis L. cultivar 'Huangjinya'. Environ Exp Bot 166:103796

Feng L, Gao M, Hou R, Hu X, Zhang L, Wan X, Wei S (2014) Determination of quality constituents in the young leaves of albino tea cultivars. Food Chem 155:98–104

Fu B, Ji X, Zhao M, He F, Wang X, Wang Y, Liu P, Niu L (2016) The influence of light quality on the accumulation of flavonoids in tobacco (Nicotiana tabacum L.) leaves. J Photochem Photobiol B 162:544–549

Fu W, Ye X, Ren J, Li Q, Du J, Hou A, Wei F, Feng H, Liu Z (2019) Fine mapping of lcm1, a gene conferring chlorophyll-deficient golden leaf in Chinese cabbage (Brassica rapa ssp. pekinensis). Mol Breeding 39: 52

Gerotto C, Franchin C, Arrigoni G, Morosinotto T (2015) In vivo identification of photosystem II light harvesting complexes interacting with PHOTOSYSTEM II SUBUNIT S. Plant Physiol 168:1747–1761

González-Guzmán M, Apostolova N, Bellés JM, Barrero JM, Piqueras P, Ponce MR, Micol JL, Serrano R, Rodríguez PL (2002) The short-chain alcohol dehydrogenase ABA2 catalyzes the conversion of Xanthoxin to Abscisic aldehyde. Plant Cell 14(8):1833–1846

Grotewold E (2006) The genetics and biochemistry of floral pigments. Annu Rev Plant Biol 57:761–780

Gupta SD, Pradhan S (2017) Regulation of gene expression by LED lighting, light emitting diodes for agriculture: 237–258.

Guyer L, Salinger K, Krugel U, Hörtensteiner (2017) Catalytic and structural properties of pheophytinase, the phytol esterase involved in chlorophyll breakdown. J Exp Bot 69(4):879–889

Hamdani S, Khan N, Perveen S, Qu M, Jiang J, Govindjee ZhuXG (2018) Changes in the photosynthesis properties and photoprotection capacity in rice (Oryza sativa) grown under red, blue, or white light. Photosynth Res 139(18):107–121

Hasperué JH, Guardianelli L, Rodoni LM, Chaves AR, Martínez GA (2016) Continuous white–blue LED light exposition delays postharvest senescence of broccoli. LWT Food Sci Technol 65:495–502

Huang DJ, Yao MZ, Ma CL, Chen L (2016) Biochemical and transcriptomic analyses reveal different metabolite biosynthesis profiles among three color and developmental stages in 'Anji Baicha' (Camellia sinensis). BMC Plant Biol 16:195

Kasim MU, Kasim R (2017) While continuous white LED lighting increases chlorophyll content (SPAD), green led light reduces the infection rate of lettuce during storage and shelf-life conditions. J Food Process Preserv 41:13266

Kim EY, Park SA, Park BJ, Lee Y, Oh MM (2014) Growth and antioxidant phenolic compounds in cherry tomato seedlings grown under monochromatic light-emitting diodes. Hortic Environ Biote 55:506–513

Kim J, Della PD (2006) Defining the primary route for lutein synthesis in plants: The role of Arabidopsis carotenoid β-ring hydroxylase CYP97A3[J]. P Natl Acad Sci USA 103(9):3474–3479

Kim J, Lee WJ, Vu TT, Jeong CY, Hong SW, Lee H (2017) High accumulation of anthocyanins via the ectopic expression of AtDFR confers significant salt stress tolerance in Brassica napus L. Plant Cell Rep 36:1215–1224

Kouril R, Nosek L, Bartos J, Boekema EJ, Ilik P (2016) Evolutionary loss of light-harvesting proteins Lhcb6 and Lhcb3 in major land plant groups—break-up of current dogma. New Phytol 210:808–814

Lambert DH, Bryant DA, Stirewalt VL, Dubbs JM, Stevens SE, Porter RD (1985) Gene map for the Cyanophora paradoxa cyanelle genome. J Bacteriol 164:659–664

Landi M, Zivcak M, Sytar O, Brestic M, Allakhverdiev SI (2020) Plasticity of photosynthetic processes and the accumulation of secondary metabolites in plants in response to monochromatic light environments: a review. BBA-Bioenergetics 1861(2):148131.

Langmead B, Salzberg SL (2012) Fast gapped-read alignment with Bowtie 2. Nat Methods 9:357–359

Lee E, Heng RI, Pilon I (2013) Spectral optical properties of selected photosynthetic microalgae producing biofuels. J Quant Spectrosc Ra 114(1):122–135

Lee SH, Tewari RK, Hahn EJ, Paek KY (2007) Photon flux density and light quality induce changes in growth, stomatal development, photosynthesis and transpiration of Withania Somnifera (L.) Dunal. Plantlets. Plant Cell Tissue Org 90(2):141–151

Li CX, Xu ZG, Dong RQ, Chang SX, Wang LZ, Muhammad KUR, Tao JM (2017) An RNA-Seq analysis of grape plantlets grown in vitro reveals different responses to blue, green, red LED light, and white fluorescent light. Front Plant Sci 8:78

Li H, Wang Y, Liu H, Lin SJ, Han MH, Zhuang J (2020) Genomic analyses of the crosstalk between gibberellins and brassinosteroids metabolisms in tea plant (Camellia sinensis (L.) O. Kuntze). Sci Hortic 268:109368

Li MM, Xue JY, Wen YL, Guo HS, Sun XQ, Zhang YM, Hang YY (2015) Transcriptomic analysis of Camellia ptilophylla and identification of genes associated with flavonoid and caffeine biosynthesis. Genet Mol Res 14:18731–18742

Li N, Yang Y, Ye J, Lu J, Zheng X, Liang Y (2016) Effects of sunlight on gene expression and chemical composition of light-sensitive albino tea plant. Plant Growth Regul 78(2):253–262

Liu X, Chen M, Wen B, Fu X, Li D, Chen X, Gao D, Li L, Xiao W (2019) Transcriptome analysis of peach (Prunus persica) fruit skin and differential expression of related pigment genes. Sci Hortic 250:271–277

Liu Y, Fang S, Yang W, Shang X, Fu X (2018) Light quality affects flavonoid production and related gene expression in Cyclocarya paliurus. J Photochem Photobiol B 179:66–73

Llorente B, Martinez-Garcia JF, Stange C, Rodriguez-Concepcion M (2017) Illuminating colors: regulation of carotenoid biosynthesis and accumulation by light. Curr Opin Plant Biol 37:49–55

Luo F, Cheng SC, Cai JH, Wei BD, Zhou X, Zhou Q, Zhao YB, Ji SJ (2016) Chlorophyll degradation and carotenoid biosynthetic pathways: gene expression and pigment content in broccoli during yellowing. Food Chem 297:124964

Luo J, Shi Q, Niu L, Zhang Y (2017) Transcriptomic analysis of leaf in tree peony reveals differentially expressed pigments genes. Molecules 22:324

Ma G, Zhang L, Kato M, Yamawaki K, Kiriiwa Y, Yahata M, Ikoma Y, Matsumoto H (2015) Effect of the combination of ethylene and red LED light irradiation on carotenoid accumulation and carotenogenic gene expression in the flavedo of citrus fruit. Postharvest Biol Technol 99:99–104

Ma G, Zhang L, Setiawan CK, Yamawaki K, Asai T, Nishikawa F (2014) Effect of red and blue LED light irradiation on ascorbate content and expression of genes related ascorbate metabolism in postharvest broccoli. Postharvest Biol Tec 94:97–103

Ma R, Thomas-Hall SR, Chua ET, Alsenani F, Eltanahy E, Netzeld ME, Netzeld G, Lu Y, Schenk PM (2018) Gene expression profiling of astaxanthin and fatty acid pathways in Haematococcus pluvialis in response to different LED lighting conditions. Bioresource Technol 250:591–602

Martina L, Vania CL, Francesca F, Silvana DL, Teresa MC, Nicola A, Costantino P, Mulè G (2019) Effect of different light-emitting diode (LED) irradiation on the shelf life and phytonutrient content of broccoli (Brassica oleracea L. var. italica). Food Chem 283:206–214

Masuda T, Fusada N, Oosawa N, Takamatsu K, Yamamoto YY, Ohto M, Nakamura K, Goto K, Shibata D, Shirano Y, Hayashi H, Kato T, Tabata S, Shimada H, Ohta H, Takamiya K (2003) Functional analysis of isoforms of NADPH: protochlorophyllide oxidoreductase (POR), PORB and PORC, in Arabidopsis thaliana. Plant Cell Physiol 44:963–974

Miao LX, Zhang YC, Yang XF, Xiao JP, Zhang HQ, Zhang ZF, Wang YZ, Jiang GH (2016) Colored light-quality selective plastic films affect anthocyanin content, enzyme activities, and the expression of flavonoid genes in strawberry (Fragaria × ananassa) fruit. Food Chem 207:93–100

Moriya Y, Itoh M, Okuda S, Yoshizawa AC, Kanehisa M (2007) KAAS: an automatic genome annotation and pathway reconstruction server. Nucleic Acids Res 35:182–185

Ohmiya A, Sasaki K, Nashima K, Oda-Yamamizo C, Hirashima M, Sumitomo K (2017) Transcriptome analysis in petals and leaves of chrysanthemums with different chlorophyll levels. BMC Plant Biol 17(1):202

Ouzounis T, Heuvelink E, Ji Y, Schouten HJ, Visser RGF, Marcelis LFM (2016) Blue and red LED lighting effects on plant biomass, stomatal conductance, and metabolite content in nine tomato genotypes. Acta Hortic 1134:251–258

Pedroso RCN, Branquinho NAA, Hara ACB, Costa AC, Silva FG, Pimenta LP, Silva MLA, Cunh WR, Pauletti PM, Januario AH (2017) Impact of light quality on flavonoid production and growth of Hyptis marrubioides seedlings cultivated in vitro. Rev Bras Farmacogn 27(4):466–470

Pola W, Sugaya S, Songsin P (2020) Color development and phytochemical changes in mature green chili (Capsicum annuum L.) exposed to red and blue light-emitting diodes. J Agr Food Chem 68(1):59–66

Qian H, Li J, Pan X, Sun Z, Ye C, Jin G, Fu Z (2012) Effects of streptomycin on growth of algae Chlorella vulgaris and Microcystis aeruginosa. Environ Toxicol 27:229–237

Qian H, Liu T, Deng M, Miao H, Cai C, Shen W, Wang Q (2016) Effects of light quality on main health-promoting compounds and antioxidant capacity of Chinese kale sprouts. Food Chem 196:1232–1238

Ravichandran R (2002) Carotenoid composition, distribution and degradation to flavour volatiles during black tea manufacture and the effect of carotenoid supplementation on tea quality and aroma. Food Chem 78:23–28

Sakuraba Y, Rahman ML, Cho SH, Kim YS, Koh HJ, Yoo SC, Paek NC (2013) The rice faded green leaf, locus encodes protochlorophyllide oxidoreductase B and is essential for chlorophyll synthesis under high light conditions. Plant J 74:122–133

Sakuraba Y, Schelbert S, Park SY, Han SH, Lee BD, Andre CB, Kessler F, Stefan HS, Paeka NC (2012) STAY-GREEN and chlorophyll catabolic enzymes interact at light-harvesting Complex II for chlorophyll detoxification during leaf senescence in Arabidopsis. Plant Cell 24(2):507–518

Sato T, Shimoda Y, Matsuda K, Tanaka A, Ito H (2018) Mg-dechelation of chlorophyll, a, by Stay-Green activates chlorophyll, b, degradation through expressing Non-Yellow Coloring 1 in Arabidopsis thaliana. J Plant Physiol 222:94–102

Schijlen EG, Vos CHRD, Tunen AJV, Bovy AG (2004) Modification of flavonoid biosynthesis in crop plants. Phytochemistry 65(19):2631–2648

Schmittgen TD, Livak KJ (2008) Analyzing real-time PCR data by the comparative CT method. Nat Protoc 3:1101–1108

Song L, Ma Q, Zou Z, Sun K, Yao Y, Tao J (2017) Molecular link between leaf coloration and gene expression of flavonoid and carotenoid biosynthesis in Camellia sinensis Cultivar 'Huangjinya.' Front Plant Sci 8:803

Streatfield SJ, Weber A, Kinsman EA, Häusler RE, Li J, Post-Beittenmiller D, Kaiser WM, Pyke KA, Flügge U, Chory J (1999) The phosphoenolpyruvate/phosphate translocator is required for phenolic metabolism, palisade cell development, and plastid-dependent nuclear gene expression. Plant Cell 11:1609–1621

Tanaka Y, Sasaki N, Ohmiya A (2008) Biosynthesis of plant pigments: Anthocyanin, betalains and carotenoid. Plant J 54:733–749

Taulavuori K, Hyöky V, Oksanen J, Taulavuori E, Julkunen-Tiitto R (2015) Species-specific differences in synthesis of flavonoids and phenolic acids under increasing periods of enhanced blue light. Environ Exp Bot 121:145–150

Thwe AA, Kim YB, Li X, Seo JM, Kim SJ, Suzuki T, Chung SO, Park SU (2014) Effects of light-emitting diodes on expression of phenylpropanoid biosynthetic genes and accumulation of phenylpropanoids in Fagopyrum tataricum sprouts. J Agric Food Chem 62(21):4839

Tian Y, Wang H, Sun P, Fan Y, Qiao M, Zhang L, Zhang Z (2019) Response of leaf color and the expression of photoreceptor genes of Camellia sinensis cv. Huangjinya to different light quality conditions. Sci Hortic 251:225–232

Vavilin DV, Vermaas WFJ (2002) Regulation of the tetrapyrrole biosynthetic pathway leading to heme and chlorophyll in plants and cyanobacteria. Physiol Plantarum 115:9–24

Wang L, Yue C, Cao H, Zhou Y, Zeng J, Yang Y, Wang X (2014) Biochemical and transcriptome analyses of a novel chlorophyll-deficient chlorina tea plant cultivar. BMC Plant Biol 14:352

Wang S, Chen W, Yang C, Yao J, Xiao W, Xin Y (2016) Comparative proteomic analysis reveals alterations in development and photosynthesis-related proteins in diploid and triploid rice. BMC Plant Biol 16(1):199

Wu H, Shi N, An X, Liu C, Fu H, Cao L, Feng Y, Sun D, Zhang L (2018) Candidate genes for yellow leaf color in common wheat (Triticum aestivum L.) and major related metabolic pathways according to transcriptome profiling. Int J Mol Sci 19:1594

Wu Z, Zhang X, He B, Li D, Sheng S, Wang J, Guo X, Su N, Wang L, Jiang L, Wang C, Zhai H, Wan J (2007) A Chlorophyll-deficient rice mutant with impaired chlorophyllide esterification in chlorophyll biosynthesis. Plant physiol 145:29–40

Xie C, Mao X, Huang J, Ding Y, Wu J, Dong S, Kong L, Gao G, Li CY, Wei L (2011) KOBAS 2.0: a web server for annotation and identification of enriched pathways and diseases. Nucleic Acids Res 39:316–322

Yadav KNS, Semchonok DA, Nosek L, Kouril R, Fucile G, Boekema E, Eichacker LA (2017) Supercomplexes of plant photosystem I with cytochrome b6f, light-harvesting complex II and NDH. BBA Bioenergetics 1858:12–20

Yang HY, Xia XW, Fang W, Fu Y, An MM, Zhou MB (2015) Identification of genes involved in spontaneous leaf color variation in Pseudosasa japonica. Genet Mol Res 14:11827–11840

Yang J, Worley E, Udvardi M (2014) A NAP-AAO3 regulatory module promotes chlorophyll degradation via ABA biosynthesis in Arabidopsis leaves. Plant Cell 26:4862–4874

Ye J, Zhang Y, Cui H, Liu J, Wu Y, Cheng Y, Xu H, Huang X, Li S, Zhou A, Zhang X, Bolund L, Chen Q, Wang J, Yang H, Fang L, Shi C (2018) WEGO 2.0: a web tool for analyzing and plotting GO annotations. Nucleic Acids Res 46:71–75

Young MD, Wakefield MJ, Smyth GK, Oshlack A (2010) Gene ontology analysis for RNA-seq: Accounting for selection bias. Genome Biol 11:14

Yu WW, Liu Y, Song LL, Jacobs DF, Du XH, Ying YQ (2016) Effect of differential light quality on morphology, photosynthesis, and antioxidant enzyme activity in Camptotheca acuminata seedlings. J Plant Growth Regul 36(1):148–160

Yuan Z, Deng L, Yin B, Yao S, Zeng K (2017) Effects of blue LED light irradiation on pigment metabolism of ethephon-degreened mandarin fruit. Postharvest Biol Technol 134:45–54

Zhang K, Liu Z, Shan X, Li C, Tang X, Chi M, Feng H (2017) Physiological properties and chlorophyll biosynthesis in a Pak-choi (Brassica rapaL. ssp.chinensis) yellow leaf mutant, pylm. Acta Physiol Plant 39: 22.

Zhang L, Ma G, Yamawaki K, Ikoma Y, Matsumoto H, Yoshioka T, Ohta S, Kato M (2015) Effect of blue LED light intensity on carotenoid accumulation in citrus juice sacs. J Plant Physiol 188:58–63

Zhang QF, Liu MY, Ruan JY (2017) Metabolomics analysis reveals the metabolic and functional roles of flavonoids in light-sensitive tea leaves. BMC Plant Biol 17:64

Zhang Y, Huang J, Wang F, Blackburn GA, Zhang HK, Wang X, Wei C, Zhang K, Wei C (2017) An extended PROSPECT: Advance in the leaf optical properties model separating total chlorophylls into chlorophyll a and b. Sci Rep 7:6429

Zhang Y, Zhu X, Chen X, Song C, Zou Z, Wang Y, Wang M, Fang W, Li X (2014) Identification and characterization of cold-responsive microRNAs in tea plant (Camellia sinensis) and their targets using high-throughput sequencing and degradome analysis. BMC Plant Biol 14:271

Zheng L, Van LMC (2017) Chrysanthemum morphology, photosynthetic efficiency and antioxidant capacity are differentially modified by light quality. J Plant Physiol 213:66–74

Zhou FH, Zuo JH, Xu DY, Gao LP, Wang Q, Jiang A (2020). Low intensity white light-emitting diodes (LED) application to delay senescence and maintain quality of postharvest pakchoi (Brassica campestris L. ssp. chinensis (L.) Makino var. communis Tsen et Lee). Sci Hortic 262:109060

Zhou S, Hu Z, Zhu M, Zhang B, Deng L, Pan Y, Chen G (2013) Biochemical and molecular analysis of a temperature-sensitive albino mutant in kale named "White Dove." Plant Growth Regul 71:281–294

Zoratti L, Sarala M, Carvalho E, Karppinen K, Martens S, Giongo L, Häggman H, Jaakola L (2014) Monochromatic light increases anthocyanin content during fruit development in bilberry. BMC Plant Biol 14(1):377
Acknowledgments
This work was supported by the Funds of Shandong 'Double Tops' Program (SYL2017YY03).
Ethics declarations
Conflict of interest
The authors declare no conflict of interest.
Additional information
Publisher's Note
Springer Nature remains neutral with regard to jurisdictional claims in published maps and institutional affiliations.
Handling Editor: Rhonda peavy.
Supplementary Information
Below is the link to the electronic supplementary material.
About this article
Cite this article
Tian, Y., Wang, H., Zhang, Z. et al. An RNA-seq Analysis Reveals Differential Transcriptional Responses to Different Light Qualities in Leaf Color of Camellia sinensis cv. Huangjinya. J Plant Growth Regul (2021). https://doi.org/10.1007/s00344-021-10325-2
Received:

Accepted:

Published:
Keywords
RNA-seq

Light quality

Leaf color

Pigment

Camellia sinensis