Abstract
The identity of the floral organs is defined by a small group of transcriptional regulators, and the activities of these proteins can specify the feature of the different whorls in flowers. In the last thirty years, formation of the floral organs remained as the main research subject in plant, especially in Arabidopsis thaliana. By using A. thaliana as material, relevant research works have established a basic architecture for the development of floral organs in higher plants, and it was named as the ABCDE model. In accordance with this model, the identity of the different floral organs can be confirmed by the specific combinations of A-, B-, C-, D-, or E-class floral homeotic genes. SEP-like genes encode MADS transcription factors required for the development of all the four whorls of floral organs and for the determinacy of the floral meristems. In ABCDE model, these genes are defined as E-class floral homeotic genes. A great deal of studies have shown that the proteins encoding by these genes are the main regulators of flower development and act pivotal parts not only in organ identification but also in organ morphogenesis. In this paper, the functions of the E-class floral homeotic genes in dicotyledons are reviewed, and the progress that has been made in characterization of the floral organ identity factors in A. thaliana and other dicotyledons is discussed.
Access options
Buy single article
Instant access to the full article PDF.
US$ 39.95
Tax calculation will be finalised during checkout.
Subscribe to journal
Immediate online access to all issues from 2019. Subscription will auto renew annually.
US$ 79
Tax calculation will be finalised during checkout.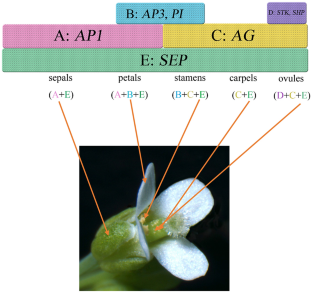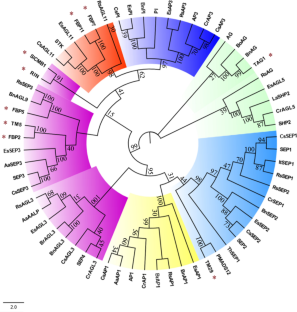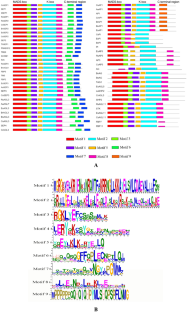 Acknowledgements
This work was supported by the National Natural Science Foundation of China (30870194, J1210063), the Research Project of Provincial Key Laboratory of Shaanxi (15JS111), Graduate Research Project of Northwest University (YZZ15066), and the Opening Foundation of Key Laboratory of Resource Biology and Biotechnology in Western China (Northwest University), Ministry of Education.
Ethics declarations
Conflict of interest
The authors declare that they have no conflict of interest.
Additional information
Publisher's Note
Springer Nature remains neutral with regard to jurisdictional claims in published maps and institutional affiliations.
Handling Editor: Rhonda Peavy.
Supplementary Information
Below is the link to the electronic supplementary material.
About this article
Cite this article
Pu, ZQ., Xu, ZQ. Functions of the E-class Floral Homeotic Genes in Several Common Dicotyledons. J Plant Growth Regul (2021). https://doi.org/10.1007/s00344-021-10318-1
Received:

Accepted:

Published:
Keywords
ABCDE model

Floral organ

E-class floral homeotic genes

Dicotyledons