Abstract
DNA methylation is an epigenetic modification that plays important roles in flower development through regulation of gene expression. Taihangia rupestris is an andromonoecious plant species, which can produce staminate and perfect flowers within the same individual. In this study, we employed methylation-sensitive amplified polymorphism (MSAP) to investigate cytosine methylation patterns in staminate and perfect flowers within the andromonoecious T. rupestris. Our data showed the cytosine methylation patterns varied in staminate and perfect flowers at early and late developmental stages. The level of cytosine methylation was slightly higher in perfect flowers than in staminate flowers, and an increase of cytosine methylation levels was found alongside developmental stages in both staminate and perfect flowers. Based on MSAP profiles, a total of 116 differentially methylated fragments (DMFs) were obtained and sequenced. Of these obtained DMFs, 42 fragments showed sequence similarity to functional genes involved in a wide range of biological processes such as flower development, signal transduction, and cell proliferation, and transcription regulation. By integrative analysis of MSAP and transcriptome data, we found transcript levels correlated with cytosine methylation patterns for majority of DMF-associated genes. This study revealed that DNA methylation could play important roles in regulation of gene expression during establishment and development of staminate and perfect flower within andromonoecious T. rupestris and would be helpful to shed light on the underlying molecular mechanisms responsible for flower formation at epigenetic scale in andromonoecious sexual system.
Access options
Buy single article
Instant access to the full article PDF.
US$ 39.95
Tax calculation will be finalised during checkout.
Subscribe to journal
Immediate online access to all issues from 2019. Subscription will auto renew annually.
US$ 79
Tax calculation will be finalised during checkout.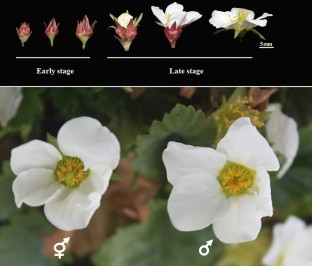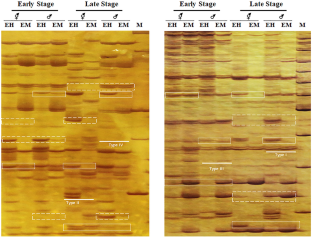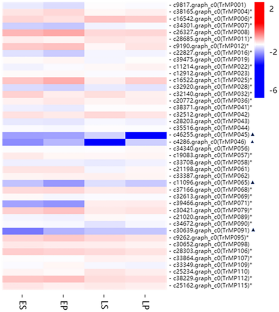 References
Abid G, Mingeot D, Muhovski Y, Mergeai G, Aouida M, Abdelkarim S, Aroua I, El Ayed M, M'hamdi M, Sassi K, Jebara M (2017) Analysis of DNA methylation patterns associated with drought stress response in faba bean (Vicia faba L.) using methylation-sensitive amplification polymorphism (MSAP). Environ Exp Bot 142:34–44. https://doi.org/10.1016/j.envexpbot.2017.08.004

Airoldi CA, Rovere FD, Falasca G, Marino G, Kooiker M, Altamura MM, Citterio S, Kater MM (2010) The Arabidopsis BET bromodomain factor GTE4 is involved in maintenance of the mitotic cell cycle during plant development. Plant Physiol 152:1320–1334. https://doi.org/10.1104/pp.109.150631

Andres-Robin A, Reymond MC, Dupire A, Battu V, Dubrulle N, Mouille G, Lefebvre V, Pelloux J, Boudaoud A, Traas J, Scutt CP, Monéger F (2018) Evidence for the regulation of gynoecium morphogenesis by ETTIN via cell wall dynamics. Plant Physiol 178:1222–1232. https://doi.org/10.1104/pp.18.00745

Barrett SCH (2002) The evolution of plant sexual diversity. Nat Rev Genet 3:274–284. https://doi.org/10.1038/nrg776

Barrett SCH (2010) Understanding plant reproductive diversity. Philos T R Soc B 365:99–109. https://doi.org/10.1098/rstb.2009.0199

Bi Z, Li X, Huang H, Hua Y (2016) Identification, functional study, and promoter analysis of HbMFT1, a homolog of MFT from rubber tree (Hevea brasiliensis). Int J Mol Sci 17:247. https://doi.org/10.3390/ijms17030247

Cheng Y, Wang J, Liu J, Zhao Y, Geng W, Zhang H (2015) Analysis of ovary DNA methylation during delayed fertilization in hazel using the methylation-sensitive amplification technique. Acta Physiol Plant 37:231. https://doi.org/10.1007/s11738-015-1984-7

Chwialkowska K, Nowakowska U, Mroziewicz A, Szarejko I, Kwasniewski M (2016) Water-deficiency conditions differently modulate the methylome of roots and leaves in barley (Hordeum vulgare L.). J Exp Bot 67:1109–1121. https://doi.org/10.1093/jxb/erv552

Coen ES, Meyerowitz EM (1991) The war of the whorls: genetic interactions controlling flower development. Nature 353:31–37. https://doi.org/10.1038/353031a0

Colicchio JM, Miura F, Kelly JK, Ito T, Hileman LC (2015) DNA methylation and gene expression in Mimulus guttatus. BMC Genomics 16:507. https://doi.org/10.1186/s12864-015-1668-0

Cubas P, Vincent C, Coen E (1999) An epigenetic mutation responsible for natural variation in floral symmetry. Nature 401:157–161. https://doi.org/10.1038/43657

Finnegan EJ, Peacock WJ, Dennis ES (1996) Reduced DNA methylation in Arabidopsis thaliana results in abnormal plant development. P Natl Acad Sci USA 93:8449–8454. https://doi.org/10.1073/pnas.93.16.8449

Jang S, Lee B, Kim C, Kim S-J, Yim J, Han J-J, Lee S, Kim S-R, An G (2003) The OsFOR1 gene encodes a polygalacturonase-inhibiting protein (PGIP) that regulates floral organ number in rice. Plant Mol Biol 53:357–372. https://doi.org/10.1023/B:PLAN.0000006940.89955.f1

Janoušek B, Široký J, Vyskot B (1996) Epigenetic control of sexual phenotype in a dioecious plant, Melandrium album. Mol General Genet 250:483–490. https://doi.org/10.1007/BF02174037

Ji G, Zhang J, Zhang H, Sun H, Gong G, Shi J, Tian S, Guo S, Ren Y, Shen H, Gao J, Xu Y (2016) Mutation in the gene encoding 1-aminocyclopropane-1-carboxylate synthase 4 (CitACS4) led to andromonoecy in watermelon. J Integr Plant Biol 58:762–765. https://doi.org/10.1111/jipb.12466

Khadka J, Yadav NS, Guy M, Grafi G, Golan-Goldhirsh A (2019) Epigenetic aspects of floral homeotic genes in relation to sexual dimorphism in the dioecious plant Mercurialis annua. J Exp Bot 70:6245–6259. https://doi.org/10.1093/jxb/erz379

Komivi D, Marie AM, Rong Z, Qi Z, Mei Y, Ndiaga C, Diaga D, Linhai W, Xiurong Z (2018) The contrasting response to drought and waterlogging is underpinned by divergent DNA methylation programs associated with transcript accumulation in sesame. Plant Sci 277:207–217. https://doi.org/10.1016/j.plantsci.2018.09.012

Kumar G, Rattan UK, Singh AK (2016) Chilling-mediated DNA methylation changes during dormancy and its release reveal the importance of epigenetic regulation during winter dormancy in apple (Malus x domestica Borkh). PLoS ONE 11:e0149934. https://doi.org/10.1371/journal.pone.0149934

Lai Y, Zhang X, Zhang W, Shen D, Wang H, Xia Y, Qiu Y, Song J, Wang C, Li X (2017) The association of changes in DNA methylation with temperature-dependent sex determination in cucumber. J Exp Bot 68:2899–2912. https://doi.org/10.1093/jxb/erx144

Lai Y, Shen D, Zhang W, Zhang X, Qiu Y, Wang H, Dou X, Li S, Wu Y, Song J, Ji G, Li X (2018) Temperature and photoperiod changes affect cucumber sex expression by different epigenetic regulations. BMC Plant Biol 18:268. https://doi.org/10.1186/s12870-018-1490-3

Law JA, Jacobsen SE (2010) Establishing, maintaining and modifying DNA methylation patterns in plants and animals. Nat Rev Genet 11:204–220. https://doi.org/10.1038/nrg2719

Li W, Chen W, Qi X, Wang Q, Chen J (2013) Variation of cytosine methylation in response to water availability in two contrasting growth types of an amphibious plant Alternanthera philoxeroides. Biochem Syst Ecol 50:175–181. https://doi.org/10.1016/j.bse.2013.03.053

Li W, Zhang L, Ding Z, Wang G, Zhang Y, Gong H, Chang T, Zhang Y (2017a) De novo sequencing and comparative transcriptome analysis of the male and hermaphroditic flowers provide insights into the regulation of flower formation in andromonoecious Taihangia rupestris. BMC Plant Biol 17:54. https://doi.org/10.1186/s12870-017-0990-x

Li W, Zhang L, Zhang Y, Wang G, Song D, Zhang Y (2017b) Selection and validation of appropriate reference genes for quantitative real-time PCR normalization in staminate and perfect flowers of andromonoecious Taihangia rupestris. Fronti Plant Sci 8:729. https://doi.org/10.3389/fpls.2017.00729

Li Z, Jiang D, He Y (2018) FRIGIDA establishes a local chromosomal environment for FLOWERING LOCUS C mRNA production. Nat Plants 4:836–846. https://doi.org/10.1038/s41477-018-0250-6

Li Y, Zhao F, Yang X, Zhong S, Li F, Lin C, Wu H, Guo W, Liao F (2019) Cytosine methylation analysis of Pinus elliottii × Pinus caribaea var. hondurensis and their parental lines. J Plant Growth Regul 38:30–38. https://doi.org/10.1007/s00344-018-9804-0

Lin Z, Liu M, Damaris NR, Nyong'a MT, Cao D, Ou K, Yang P (2019) Genome-wide DNA methylation profiling in the Lotus (Nelumbo nucifera) flower showing its contribution to the stamen petaloid. Plants 8:135. https://doi.org/10.3390/plants8050135

Liu J, Chatham L, Aryal R, Yu Q, Ming R (2018) Differential methylation and expression of HUA1 ortholog in three sex types of papaya. Plant Sci 272:99–106. https://doi.org/10.1016/j.plantsci.2018.04.001

Livak KJ, Schmittgen TD (2001) Analysis of relative gene expression data using real-time quantitative PCR and the 2−ΔΔCT method. Methods 25:402–408. https://doi.org/10.1006/meth.2001.1262

Lü S, Du X, Lu W, Chong K, Meng Z (2007) Two AGAMOUS-like MADS-box genes from Taihangia rupestris (Rosaceae) reveal independent trajectories in the evolution of class C and class D floral homeotic functions. Evol Dev 9:92–104. https://doi.org/10.1111/j.1525-142X.2006.00140.x

Lü S, Fan Y, Liu L, Liu S, Zhang W, Meng Z (2010) Ectopic expression of TrPI, a Taihangia rupestris (Rosaceae) PI ortholog, causes modifications of vegetative architecture inArabidopsis. J Plant Physiol 167:1613–1621. https://doi.org/10.1016/j.jplph.2010.06.028

Martin A, Troadec C, Boualem A, Rajab M, Fernandez R, Morin H, Pitrat M, Dogimont C, Bendahmane A (2009) A transposon-induced epigenetic change leads to sex determination in melon. Nature 461:1135–1138. https://doi.org/10.1038/nature08498

Murphy E, De Smet I (2014) Understanding the RALF family: a tale of many species. Trends Plant Sci 19:664–671. https://doi.org/10.1016/j.tplants.2014.06.005

Niederhuth CE, Bewick AJ, Ji L, Alabady MS, Kim KD, Li Q, Rohr NA, Rambani A, Burke JM, Udall JA, Egesi C, Schmutz J, Grimwood J, Jackson SA, Springer NM, Schmitz RJ (2016) Widespread natural variation of DNA methylation within angiosperms. Genome Biol 17:194. https://doi.org/10.1186/s13059-016-1059-0

Orlowska R, Bednarek PT (2020) Precise evaluation of tissue culture-induced variation during optimisation of in vitro regeneration regime in barley. Plant Mol Biol 103:33–50. https://doi.org/10.1007/s11103-020-00973-5

Park SY, Murthy HN, Chakrabarthy D, Paek KY (2009) Detection of epigenetic variation in tissue-culture-derived plants of Doritaenopsis by methylation-sensitive amplification polymorphism (MSAP) analysis. Vitro Cell Dev-PL 45:104–108. https://doi.org/10.1007/s11627-008-9166-6

Reuther K, Claßen-Bockhoff R (2013) Andromonoecy and developmental plasticity in Chaerophyllum bulbosum (Apiaceae–Apioideae). Ann Bot 112:1495–1503. https://doi.org/10.1093/aob/mct073

Rodríguez Lorenzo JL, Hobza R, Vyskot B (2018) DNA methylation and genetic degeneration of the Y chromosome in the dioecious plant Silene latifolia. BMC Genomics 19:540. https://doi.org/10.1186/s12864-018-4936-y

Song Y, Ma K, Bo W, Zhang Z, Zhang D (2012) Sex-specific DNA methylation and gene expression in andromonoecious poplar. Plant Cell Rep 31:1393–1405. https://doi.org/10.1007/s00299-012-1255-7

Song Y, Ma K, Ci D, Chen Q, Tian J, Zhang D (2013) Sexual dimorphic floral development in dioecious plants revealed by transcriptome, phytohormone, and DNA methylation analysis in Populus tomentosa. Plant Mol Biol 83:559–576. https://doi.org/10.1007/s11103-013-0108-2

Takeshima R, Nishio T, Komatsu S, Kurauchi N, Matsui K (2019) Identification of a gene encoding polygalacturonase expressed specifically in short styles in distylous common buckwheat (Fagopyrum esculentum). Heredity (Edinb) 123:492–502. https://doi.org/10.1038/s41437-019-0227-x

Theißen G, Melzer R, Rümpler F (2016) MADS-domain transcription factors and the floral quartet model of flower development: linking plant development and evolution. Development 143:3259. https://doi.org/10.1242/dev.134080

Wang Y, Zhao M, Xu Z, Qi S, Yu X, Han X (2019) MSAP analysis of epigenetic changes reveals the mechanism of bicolor petal formation in Paeonia suffruticosa 'Shima Nishiki.' 3 Biotech 9:313. https://doi.org/10.1007/s13205-019-1844-z

Xi W, Liu C, Hou X, Yu H (2010) MOTHER OF FT AND TFL1 regulatesseed germination through a negative feedback loop modulating ABA signaling in Arabidopsis. Plant Cell 22:1733–1748. https://doi.org/10.1105/tpc.109.073072

Xiong LZ, Xu CG, Saghai Maroof MA, Zhang Q (1999) Patterns of cytosine methylation in an elite rice hybrid and its parental lines, detected by a methylation-sensitive amplification polymorphism technique. Mol General Genet 261:439–446. https://doi.org/10.1007/s004380050986

Yaish MW, Colasanti J, Rothstein SJ (2011) The role of epigenetic processes in controlling flowering time in plants exposed to stress. J Exp Bot 62:3727–3735. https://doi.org/10.1093/jxb/err177

Yang H, Chang F, You C, Cui J, Zhu G, Wang L, Zheng Y, Qi J, Ma H (2015) Whole-genome DNA methylation patterns and complex associations with gene structure and expression during flower development in Arabidopsis. Plant J 81:268–281. https://doi.org/10.1111/tpj.12726

Yu T, Li C (1980) Taihangia- a new genus of Rosaceae from China. Acta Phytotaxon Sinica 18:469–472

Zang L, Zheng T, Chu Y, Ding C, Zhang W, Huang Q, Su X (2015) Genome-wide analysis of the Fasciclin-Like Arabinogalactan protein gene family reveals differential expression patterns, localization, and salt stress response in Populus. Front Plant Sci 6:1140. https://doi.org/10.3389/fpls.2015.01140

Zhang H, Lang Z, Zhu J (2018) Dynamics and function of DNA methylation in plants. Nat Rev Mol Cell Biol 19:489–506. https://doi.org/10.1038/s41580-018-0016-z

Zhou Q, Cai Q, Zheng Y, Wu Z, Mao J (2019) Floral development and the formation of functionally unisexual flowers in Xanthoceras sorbifolium (Sapindaceae), a morphologically andromonoecious tree endemic to northern China. Trees 33:1571–1582. https://doi.org/10.1007/s00468-019-01879-6

Zhou P, Zhang X, Fatima M, Ma X, Fang H, Yan H, Ming R (2020) DNA methylome and transcriptome landscapes revealed differential characteristics of dioecious flowers in papaya. Horticulture Research 7:81. https://doi.org/10.1038/s41438-020-0298-0

Zilberman D, Gehring M, Tran RK, Ballinger T, Henikoff S (2007) Genome-wide analysis of Arabidopsis thaliana DNA methylation uncovers an interdependence between methylation and transcription. Nat Genet 39:61–69. https://doi.org/10.1038/ng1929
Acknowledgements
The authors are grateful to Ms Shangtong Jiang and Mr Yiming Dong for assistance in experiment. The financial supports of this study were from the National Natural Science Foundation of China (31370434 and U1704241), and the Plan for Scientific Innovation Talent of Henan Province (194200510010).
Ethics declarations
Conflict of interest
The authors declare no conflict of interest.
Additional information
Publisher's Note
Springer Nature remains neutral with regard to jurisdictional claims in published maps and institutional affiliations.
Handling Editor: Hagai Yasuor.
Supplementary Information
Below is the link to the electronic supplementary material.
About this article
Cite this article
Li, W., Ma, Y., Zheng, C. et al. Variations of Cytosine Methylation Patterns between Staminate and Perfect Flowers within Andromonoecious Taihangia rupestris (Rosaceae) Revealed by Methylation-Sensitive Amplification Polymorphism. J Plant Growth Regul (2021). https://doi.org/10.1007/s00344-021-10308-3
Received:

Accepted:

Published:
Keywords
DNA methylation pattern

MSAP

Staminate flower

Perfect flower

Taihangia rupestris

Gene expression