Abstract
This study aimed to explore the physiological, epigenetic, and transcriptional responses of Datura stramonium, a stress-resistant plant, to long-time exposure to zinc oxide nanoparticles (nZnO; 0, 100, and 500 mg l−1). The results of the study illustrate that the nZnO100 promoted biomass accumulation and growth indices, whereas nZnO500 caused severe phytotoxicity. Unlike nZnO500 treatment which reduced leaf K (34.7%) and Fe (16.2%), implying impaired nutrition, the nZnO100-treated seedlings encompassed higher concentrations of K (20.8%) and Fe (21.7%) than the control. Moreover, the nZnO displayed a higher efficacy to improve Zn bioaccumulation than the bulk counterpart, and the supplements induced phenylalanine ammonia-lyase, catalase, and peroxidase activities. Besides, nZnO500 treatment enhanced leaf proline concentration. The nZnO treatments also led to variations in the expression of histone deacetylase (HDA3), indicating an epigenetic modification. The nZnO treatments transcriptionally stimulated the WRKY1 transcription factor by an average of 9.5-fold. With increasing the concentration of nZnO, transcriptions of AREB and bZIP transcription factors were induced by averages of 4.3- and 8.7-fold, respectively. The supplements transcriptionally upregulated proteinase inhibitor II (PI-II). While nZnO500 was associated with a drastic induction (11.28-fold) in hyoscyamine 6 beta-hydroxylase (H6H), the nZnO100 treatment slightly (3.2-fold) induced transcription of H6H. The upregulations in the expression of tropinone reductase I (TRI) resulted from the nZnO treatments. Ultimately, positive correlations were found among transcription factors (AREB, bZIP, and WRKY1), H6H, TRI, and PI-II. This study provides deeper insights into the nZnO-associated molecular responses in transcription factors, epigenetics, secondary metabolism, and defense-related genes in resistant plant species.
Access options
Buy single article
Instant access to the full article PDF.
US$ 39.95
Tax calculation will be finalised during checkout.
Subscribe to journal
Immediate online access to all issues from 2019. Subscription will auto renew annually.
US$ 79
Tax calculation will be finalised during checkout.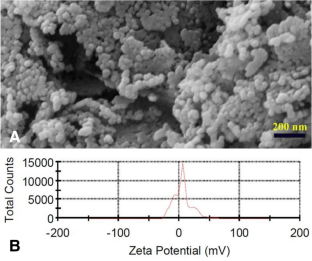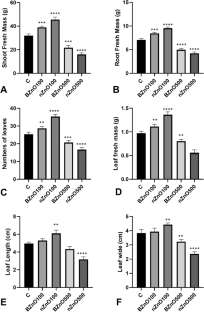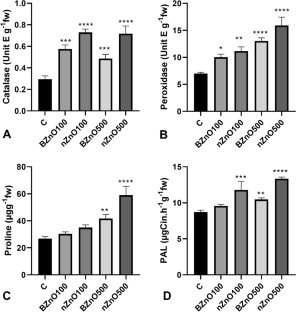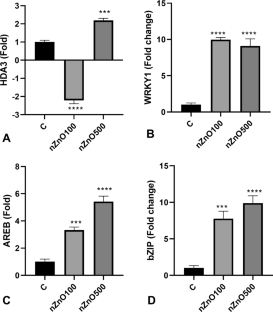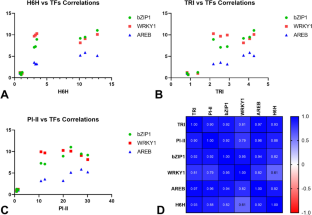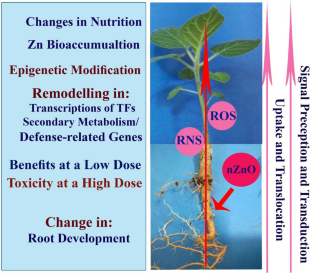 References
Babajani A, Iranbakhsh A, Ardebili ZO, Eslami B (2019) Differential growth, nutrition, physiology, and gene expression in Melissa officinalis mediated by zinc oxide and elemental selenium nanoparticles. Environ Sci Pollut Res 26:24430. https://doi.org/10.1007/s11356-019-05676-z

Bandyopadhyay S, Plascencia-Villa G, Mukherjee A, Rico CM, José-Yacamán M, Peralta-Videa JR, Gardea-Torresdey JL (2015) Comparative phytotoxicity of ZnO NPs, bulk ZnO, and ionic zinc onto the alfalfa plants symbiotically associated with Sinorhizobium meliloti in soil. Sci Total Environ 515:60–69

Bates LS, Waldren RP, Teare ID (1973) Rapid determination of free proline for water-stress studies. Plant Soil 39(1):205–207

Beaudoin-Eagan LD, Thorpe TA (1985) Tyrosine and phenylalanine ammonia lyase activities during shoot initiation in tobacco callus cultures. Plant Physiol 78:438–441

Bradfield SJ, Kumar P, White JC, Ebbs SD (2017) Zinc, copper, or cerium accumulation from metal oxide nanoparticles or ions in sweet potato: yield effects and projected dietary intake from consumption. Plant Physiol Biochem 110:128–137

Faizan M, Faraz A, Yusuf M, Khan ST, Hayat S (2018) Zinc oxide nanoparticle-mediated changes in photosynthetic efficiency and antioxidant system of tomato plants. Photosynthetica 56:678–686

Faizan M, Hayat S, Pichtel J (2020) Effects of zinc oxide nanoparticles on crop plants: a perspective analysis. Sustain Agric 41:83–99

Ghasempour M, Iranbakhsh A, Ebadi M, Ardebili ZO (2019) Multi-walled carbon nanotubes improved growth, anatomy, physiology, secondary metabolism, and callus performance in Catharanthus roseus: an in vitro study. 3 Biotech 9(11):404

Ghosh M, Jana A, Sinha S, Jothiramajayam M, Nag A, Chakraborty A, Mukherjee A, Mukherjee A (2016) Effects of ZnO nanoparticles in plants: cytotoxicity, genotoxicity, deregulation of antioxidant defenses, and cell-cycle arrest. Mutat Res Genet Toxicol Environ Mutagen 807:25–32

Hamza R, Pérez-Hedo M, Urbaneja A, Rambla JL, Granell A, Gaddour K, Beltrán JP, Cañas LA (2018) Expression of two barley proteinase inhibitors in tomato promotes endogenous defensive response and enhances resistance to Tuta absoluta. BMC Plant Biol 18:24

Iranbakhsh A, Oshaghi M, Majd A (2006) Distribution of atropine and scopolamine in different organs and stages of development in Datura stramonium L. (Solanaceae). Structure and ultrastructure of biosynthesizing cells. Acta Biol Crac Bot 48(1):13–18

Iranbakhsh A, Ardebili ZO, Ardebili NO, Ghoranneviss M, Safari N (2018) Cold plasma relieved toxicity signs of nano zinc oxide in Capsicum annuum cayenne via modifying growth, differentiation, and physiology. Acta Physiol Plant 40:154

Iranbakhsh A, Ardebili ZO, Molaei H, Ardebili NO, Amini M (2020a) Cold plasma up-regulated expressions of WRKY1 transcription factor and genes involved in biosynthesis of cannabinoids in Hemp (Cannabis sativa L.). Plasma Chem Plasma Process 40:527–537

Iranbakhsh A, Oraghi Ardebili Z, Oraghi Ardebili N (2020b) Synthesis and characterization of zinc oxide nanoparticles and their impact on plants. In: Singh VP, Singh S, Prasad SM, Chauhan DK, Tripathi DK (eds) Chapter 3 in Plant responses to nanomaterials: recent interventions, and physiological and biochemical responses. Springer International Publishing

Kumari M, Khan SS, Pakrashi S, Mukherjee A, Chandrasekaran N (2011) Cytogenetic and genotoxic effects of zinc oxide nanoparticles on root cells of Allium cepa. J Hazard Mater 190:613–621

Li S, Lin YCJ, Wang P, Zhang B, Li M, Chen S, Shi R, Tunlaya-Anukit S, Liu X, Wang Z, Dai X (2019) The AREB1 transcription factor influences histone acetylation to regulate drought responses and tolerance in Populus trichocarpa. Plant Cell 31:663–686

Moghanloo M, Iranbakhsh A, Ebadi M, Ardebili ZO (2019a) Differential physiology and expression of phenylalanine ammonia lyase (PAL) and universal stress protein (USP) in the endangered species Astragalus fridae following seed priming with cold plasma and manipulation of culture medium with silica nanoparticles. 3 Biotech 9:288

Moghanloo M, Iranbakhsh A, Ebadi M, Satari TN, Ardebili ZO (2019b) Seed priming with cold plasma and supplementation of culture medium with silicon nanoparticle modified growth, physiology, and anatomy in Astragalus fridae as an endangered species. Acta Physiol Plant 41:54

Nair PMG, Chung IM (2017) Regulation of morphological, molecular and nutrient status in Arabidopsis thaliana seedlings in response to ZnO nanoparticles and Zn ion exposure. Sci Total Environ 575:187–198

Nandhini M, Rajini SB, Udayashankar AC, Niranjana SR, Lund OS, Shetty HS, Prakash HS (2019) Biofabricated zinc oxide nanoparticles as an eco-friendly alternative for growth promotion and management of downy mildew of pearl millet. Crop Prot 121:103–112

Nazerieh H, Ardebili ZO, Iranbakhsh A (2018) Potential benefits and toxicity of nanoselenium and nitric oxide in peppermint. Acta Agric Slov 111:357–368

Pandey AS, Sharma E, Jain N, Singh B, Burman N, Khurana JP (2018) A rice bZIP transcription factor, OsbZIP6, regulates abiotic stress tolerance when over-expressed in Arabidopsis. J Plant Biochem Biotechnol 27:393–400

Qiang W, Hou YL, Li X, Xia K, Liao ZH (2015) Cloning and expression of the key enzyme hyoscyamine 6 beta-hydroxylase gene (DaH6H) in scopolamine biosynthesis of Datura arborea. Acta Pharm Sin 50:1346–1355

Rajaee S, Iranbakhsh A, Ebadi M, Majd A, Ardebili ZO (2020) Red elemental selenium nanoparticles mediated substantial variations in growth, tissue differentiation, metabolism, gene transcription, epigenetic cytosine DNA methylation, and callogenesis in bitter melon (Momordica charantia); an invitro experiment. PLoS One 15(7):e0235556

Rajput VD, Minkina TM, Behal A, Sushkova SN, Mandzhieva S, Singh R, Gorovtsov A, Tsitsuashvili VS, Purvis WO, Ghazaryan KA, Movsesyan HS (2018) Effects of zinc-oxide nanoparticles on soil, plants, animals and soil organisms: a review. Environ Nanotechnol Monit Manag 9:76–84

Rehman S, Jorgensen B, Rasmussen SK, Aziz E, Akhtar W, Mahmood T (2018) Expression analysis of proteinase inhibitor-II under OsRGLP2 promoter in response to wounding and signaling molecules in transgenic Nicotiana benthamiana. 3 Biotech 8:51

Rizwan M, Ali S, Ali B, Adrees M, Arshad M, Hussain A, ur Rehman MZ, Waris AA (2019) Zinc and iron oxide nanoparticles improved the plant growth and reduced the oxidative stress and cadmium concentration in wheat. Chemosphere 214:269–277

Safari M, Ardebili ZO, Iranbakhsh A (2018) Selenium nano-particle induced alterations in expression patterns of heat shock factor A4A (HSFA4A), and high molecular weight glutenin subunit 1Bx (Glu-1Bx) and enhanced nitrate reductase activity in wheat (Triticum aestivum L.). Acta Physiol Plant 40:117

Salama DM, Osman SA, El-Aziz MA, Elwahed MSA, Shaaban EA (2019) Effect of zinc oxide nanoparticles on the growth, genomic DNA, production and the quality of common dry bean (Phaseolus vulgaris). Biocatal Agric Biotechnol 807:25–32

Savić J, Nikolić R, Banjac N, Zdravković-Korać S, Stupar S, Cingel A, Ćosić T, Raspor M, Smigocki A, Ninković S (2019) Beneficial implications of sugar beet proteinase inhibitor BvSTI on plant architecture and salt stress tolerance in Lotus corniculatus L. J Plant Physiol 243:153055

Seddighinia F, Iranbakhsh A, OraghiArdebili Z, NejadSatari T, Soleimanpour S (2020) Seed priming with cold plasma and multi-walled carbon nanotubes modified growth, tissue differentiation, anatomy, and yield in Bitter melon (Momordica charantia). J Plant Growth Regul 39:87–98. https://doi.org/10.1007/s00344-019-09965-2

Sheteiwy MS, Yajing G, Dongdong C, Jie L, Aamir N, Qijuan H, Weimin H, Mingyu N, Jin H (2015) Seed priming with polyethylene glycol regulating the physiological and molecular mechanism in rice (Oryza sativa L.) under nano-ZnO stress. Sci Rep 5:14278

Sheteiwy MS, Fu Y, Hu Q, Nawaz A, Guan Y, Li Z, Huang Y, Hu J (2016) Seed priming with polyethylene glycol induces antioxidative defense and metabolic regulation of rice under nano-ZnO stress. Environ Sci Pollut Res 23:19989–20002

Sheteiwy MS, Dong Q, An J, Song W, Guan Y, He F, Huang Y, Hu J (2017) Regulation of ZnO nanoparticles-induced physiological and molecular changes by seed priming with humic acid in Oryza sativa seedlings. Plant Growth Regul 83:27–41

Shirkhani Z, Rad AC, Gholami M, Mohsenzadeh F (2018) Phytoremediation of Cd-contaminated soils by Datura stramonium L. Toxicol Environ Health Sci 10(3):168–178

Soni P, Siddiqui AA, Dwivedi J, Soni V (2012) Pharmacological properties of Datura stramonium L. as a potential medicinal tree: an overview. Asian Pac J Trop Biomed 2(12):1002–1008

Sotoodehnia-Korani S, Iranbakhsh A, Ebadi M, Majd A, Ardebili ZO (2020) Selenium nanoparticles induced variations in growth, morphology, anatomy, biochemistry, gene expression, and epigenetic DNA methylation in Capsicum annuum; an in vitro study. Environ Pollut 5:114727. https://doi.org/10.1016/j.envpol.2020.114727

Tanpure RS, Barbole RS, Dawkar VV, Waichal YA, Joshi RS, Giri AP, Gupta VS (2017) Improved tolerance against Helicoverpa armigera in transgenic tomato over-expressing multi-domain proteinase inhibitor gene from Capsicum annuum. Physiol Mol Biol Plants 23:597–604

Tripathi DK, Mishra RK, Singh S, Singh S, Vishwakarma K, Sharma S, Singh VP, Singh PK, Prasad SM, Dubey NK, Pandey AC (2017) Nitric oxide ameliorates zinc oxide nanoparticles phytotoxicity in wheat seedlings: implication of the ascorbate–glutathione cycle. Front Plant Sci 8:1

Venkatachalam P, Jayaraj M, Manikandan R, Geetha N, Rene ER, Sharma NC, Sahi SV (2017) Zinc oxide nanoparticles (ZnONPs) alleviate heavy metal-induced toxicity in Leucaena leucocephala seedlings: a physiochemical analysis. Plant Physiol Biochem 110:59–69

Wang Z, Yan L, Wan L, Huai D, Kang Y, Shi L, Jiang H, Lei Y, Liao B (2019) Genome-wide systematic characterization of bZIP transcription factors and their expression profiles during seed development and in response to salt stress in peanut. BMC Genomics 20:1–14

Zhang Y, Xu Z, Ji A, Luo H, Song J (2018) Genomic survey of bZIP transcription factor genes related to tanshinone biosynthesis in Salvia miltiorrhiza. Acta Pharm Sin B 8:295–305
Acknowledgements
The authors would like to thank Dr. N. Oraghi Ardebili, Dr. K. Khosraviani, and Dr. S. Beh-Afarin for their benevolent and professional collaborations in the research procedure and language editing.
Ethics declarations
Conflict of interest
The authors declare that they have no conflicts of interest.
Additional information
Publisher's Note
Springer Nature remains neutral with regard to jurisdictional claims in published maps and institutional affiliations.
Handling Editor: Durgesh Kumar Tripathi.
About this article
Cite this article
Vafaie Moghadam, A., Iranbakhsh, A., Saadatmand, S. et al. New Insights into the Transcriptional, Epigenetic, and Physiological Responses to Zinc Oxide Nanoparticles in Datura stramonium; Potential Species for Phytoremediation. J Plant Growth Regul (2021). https://doi.org/10.1007/s00344-021-10305-6
Received:

Accepted:

Published:
Keywords
Epigenetic

Metal oxide

Nanoparticles

Toxicity

Transcription factors

Zinc oxide