Abstract
Postharvest pericarp browning (PB) drastically affects acceptability and marketability of litchi fruits. This study was aimed to assess the effect of vacuum infiltrated hydrogen sulfide (H2S) (1 and 2 mM) on pericarp browning associated metabolism and overall quality of litchi fruit during cold storage. Results revealed that H2S (2 mM) significantly minimized the accumulation of quinone and MDA content with reduced weight loss, pericarp browning, disease occurrence during storage. The H2S-treated fruits maintained higher anthocyanin, total phenols, and antioxidant activity. Moreover, H2S infiltration significantly inhibited accumulation of reactive oxygen species (superoxide and hydrogen peroxide) and membrane leakage, which coincided with higher phenylalanine ammonia lyase activity and suppressed activity of polyphenol oxidase and peroxidase resulting in lower PB in litchi during storage of 16-d. H2S infiltration also prevented loss of TSS, acidity, and ascorbic acid as compared to control fruit indicating effectiveness of H2S in delaying metabolic activity. Therefore, postharvest vacuum infiltration of H2S (2 mM) could be suggested to downregulate oxidative damage and PB resulting in extended shelf life during cold storage.
Access options
Buy single article
Instant access to the full article PDF.
US$ 39.95
Tax calculation will be finalised during checkout.
Subscribe to journal
Immediate online access to all issues from 2019. Subscription will auto renew annually.
US$ 79
Tax calculation will be finalised during checkout.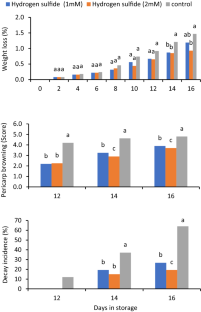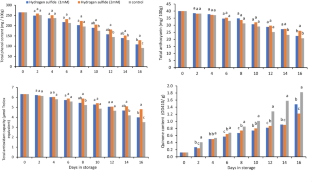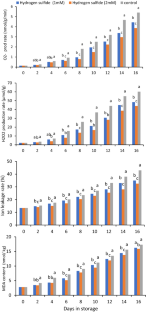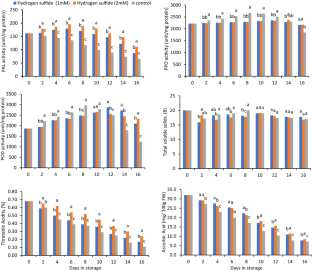 References
Aghdam MS, Mahmoudi R, Razavi F, Rabiei V, Soleimani A (2018) Hydrogen sulfide treatment confers chilling tolerance in hawthorn fruit during cold storage by triggering endogenous H2S accumulation, enhancing antioxidant enzymes activity and promoting phenols accumulation. Sci Hortic 238:264–271

Al Ubeed HMS, Wills RBH, Bowyer MC, Golding JB (2019) Interaction of the hydrogen sulphide inhibitor, propargylglycine (PAG), with hydrogen sulphide on postharvest changes of the green leafy vegetable, pak choy. Postharvest Biol Technol 147:54–58

Alhassan N, Wills RB, Bowyer MC, Golding JB, Pristijono P (2020) Pre-storage fumigation with hydrogen sulphide inhibits postharvest senescence of Valencia and Navel oranges and 'Afourer'mandarins. J Hortic Sci Biotechnol. https://doi.org/10.1080/14620316.2020.1749138

Ali S, Nawaz A, Ejaz S, Haider STA, Alam MW, Javed HU (2019) Effects of hydrogen sulfide on postharvest physiology of fruits and vegetables: An overview. Sci Hortic 243:290–299

AOAC (2000) Official methods of analysis. Association of official analytical chemists, Gaithersburg

Apak R, Güclü K, Özyürek M, Celik SE (2008) Mechanism of antioxidant capacity assays and the CUPRAC (cupric ion reducing antioxidant capacity) assay. Microchim Acta 160(4):413–419

Azam K, Mir H, Ranjan T, Pal AK, Rani R (2019) Expression Profiling of Candidate Genes for Insight to Pericarp Browning in Litchi (Litchi chinensis Sonn.). Current Journal of Applied Science and Technology 33:1–10

Chen, H. B., & Huang, X. M. (2012, December). Overview of litchi production in the world with specific reference to China. In IV International Symposium on Lychee, Longan and Other Sapindaceae Fruits 1029 (pp. 25–33).

Chongchatuporn U, Ketsa S, van Doorn WG (2013) Chilling injury in mango (Mangifera indica) fruit peel: Relationship with ascorbic acid concentrations and antioxidant enzyme activities. Postharvest Biol Technol 86:409–417

Davey MW, Montagu MV, Inze D, Sanmartin M, Kanellis A, Smirnoff N, Fletcher J (2000) Plant L-ascorbic acid: chemistry, function, metabolism, bioavailability and effects of processing. J Sci Food Agric 80(7):825–860

Degl'Innocenti E, Pardossi A, Tognoni F, Guidi L (2007) Physiological basis of sensitivity to enzymatic browning in 'lettuce', 'escarole'and 'rocket salad'when stored as fresh-cut products. Food Chem 104(1):209–215

Deshi V, Siddiqui MW, Homa F, Singh JP (2020) Postharvest hydrogen sulfide infiltration modulates antioxidative metabolism and increases shelf life of litchi. Acta Physiol Plant. https://doi.org/10.1007/s11738-020-03056-6

Duan JL, Ma XL, Meng GT, Xu JG (2014) Changes in Chemical Compositions and Enzymatic Activities During Fruit Ripening in Hawthorn (Crataegus Pinnatifida). Asian Journal of Agriculture and Food Sciences 2(5):397–402

Gao SP, Hu KD, Hu LY, Li YH, Han Y, Wang HL, Zhang H (2013) Hydrogen sulfide delays postharvest senescence and plays an antioxidative role in fresh-cut kiwifruit. HortScience 48(11):1385–1392

Ge Y, Hu KD, Wang SS, Hu LY, Chen XY, Li YH, Zhang H (2017) Hydrogen sulfide alleviates postharvest ripening and senescence of banana by antagonizing the effect of ethylene. PLoS ONE 12(6):e0180113

Hu H, Shen W, Li P (2014a) Effects of hydrogen sulphide on quality and antioxidant capacity of mulberry fruit. Int J Food Sci Technol 49(2):399–409

Hu KD, Wang Q, Hu LY, Gao SP, Wu J, Li YH, Zhang H (2014b) Hydrogen sulfide prolongs postharvest storage of fresh-cut pears (Pyrus pyrifolia) by alleviation of oxidative damage and inhibition of fungal growth. PLoS ONE 9(1):e85524

Hu KD, Zhang XY, Wang SS, Tang J, Yang F, Huang ZQ, Yao GF (2019) Hydrogen sulfide inhibits fruit softening by regulating ethylene synthesis and signaling pathway in tomato (Solanum lycopersicum). HortScience 54(10):1824–1830

Jiang YM, Fu JR (1999) Biochemical and physiological changes involved in browning of litchi fruit caused by water loss. J Hortic Sci Biotechnol 74(1):43–46

Jones E, Hughes RE (1983) Foliar ascorbic acid in some angiosperms. Phytochemistry 22(11):2493–2499

Kumar S, Mishra BB, Saxena S, Bandyopadhyay N, More V, Wadhawan S, Sharma A (2012) Inhibition of pericarp browning and shelf life extension of litchi by combination dip treatment and radiation processing. Food Chem 131(4):1223–1232

Li HS (2000) Principles and techniques of plant physiological biochemical experiment. Higher Education Press, Beijing, pp 260–263

Li SP, Hu KD, Hu LY, Li YH, Jiang AM, Xiao F, Zhang H (2014) Hydrogen sulfide alleviates postharvest senescence of broccoli by modulating antioxidant defense and senescence-related gene expression. Journal of Agricultural and Food Chemistry 62(5):1119–1129

Li D, Limwachiranon J, Li L, Du R, Luo Z (2016) Involvement of energy metabolism to chilling tolerance induced by hydrogen sulfide in cold-stored banana fruit. Food Chem 208:272–278

Li TT, Li ZR, Hu KD, Hu LY, Chen XY, Li YH, Zhang H (2017) Hydrogen sulfide alleviates kiwifruit ripening and senescence by antagonizing effect of ethylene. HortScience 52(11):1556–1562

Lin X, Yang R, Dou Y, Zhang W, Du H, Zhu L, Chen J (2020) Transcriptome analysis reveals delaying of the ripening and cell-wall degradation of kiwifruit by hydrogen sulfide. J Sci Food Agric 100(5):2280–2287

Luo Z, Li D, Du R, Mou W (2015) Hydrogen sulfide alleviates chilling injury of banana fruit by enhanced antioxidant system and proline content. Sci Hortic 183:144–151

Ni ZJ, Hu KD, Song CB, Ma RH, Li ZR, Zheng JL, Zhang H (2016) Hydrogen sulfide alleviates postharvest senescence of grape by modulating the antioxidant defenses. Oxidative medicine and cellular longevity. https://doi.org/10.1155/2016/4715651

Paul S, Roychoudhury A (2020) Regulation of physiological aspects in plants by hydrogen sulfide and nitric oxide under challenging environment. Physiol Plant 168(2):374–393

Singleton VL, Orthofer R, Lamuela-Raventós RM (1999) [14] Analysis of total phenols and other oxidation substrates and antioxidants by means of folin-ciocalteu reagent. Methods in enzymology Academic Press 299:152–178

Sun Y, Zhang W, Zeng T, Nie Q, Zhang F, Zhu L (2015) Hydrogen sulfide inhibits enzymatic browning of fresh-cut lotus root slices by regulating phenolic metabolism. Food Chem 177:376–381

Talukder FU, Rahman MS, Hassan MK (2020) Effects of Polypropylene Bag on Storage Properties of Litchi (Litchi Chinensis Sonn.). Agric Sci 2(1):144–153

Velikova V, Yordanov I, Edreva A (2000) Oxidative stress and some antioxidant systems in acid rain-treated bean plants: protective role of exogenous polyamines. Plant Sci 151(1):59–66

Wang C, Fang H, Gong T, Zhang J, Niu L, Huang D, Liao W (2020) Hydrogen gas alleviates postharvest senescence of cut rose 'Movie star'by antagonizing ethylene. Plant Mol Biol 102(3):271–285

Xiao L, Li T, Jiang G, John A, Zhang D, Jin W, Jiang Y (2019) Effects of dry fog humidification on pericarp browning and quality of litchi fruit stored at low temperature. International Journal of Agricultural and Biological Engineering 12(4):192–196

Yao GF, Wei ZZ, Li TT, Tang J, Huang ZQ, Yang F, Hu KD (2018) Modulation of enhanced antioxidant activity by hydrogen sulfide antagonization of ethylene in tomato fruit ripening. Journal of Agricultural and Food Chemistry 66(40):10380–10387

Yao GF, Li C, Sun KK, Tang J, Huang ZQ, Yang F, Zhang H (2020) Hydrogen Sulfide Maintained the Good Appearance and Nutrition in Post-harvest Tomato Fruits by Antagonizing the Effect of Ethylene. Frontiers in Plant Science 11:584

Zhao L, He J, Wang X, Zhang L (2008) Nitric oxide protects against polyethylene glycol-induced oxidative damage in two ecotypes of reed suspension cultures. J Plant Physiol 165(2):182–191

Zhao ZC, Hu GB, Hu FC, Wang HC, Yang ZY, Lai B (2012) The UDP glucose: flavonoid-3-O-glucosyltransferase (UFGT) gene regulates anthocyanin biosynthesis in litchi (Litchi Chinesis Sonn.) during fruit coloration. Mol Biol Rep 39(6):6409–6415

Zheng JL, Hu LY, Hu KD, Wu J, Yang F, Zhang H (2016) Hydrogen sulfide alleviates senescence of fresh-cut apple by regulating antioxidant defense system and senescence-related gene expression. HortScience 51(2):152–158

Zhi H, Dong Y (2018) Effect of hydrogen sulfide on surface pitting and related cell wall metabolism in sweet cherry during cold storage. Journal of Applied Botany and Food Quality. https://doi.org/10.5073/JABFQ.2018.091.015

Zhu L, Wang W, Shi J, Zhang W, Shen Y, Du H, Wu S (2014) Hydrogen sulfide extends the postharvest life and enhances antioxidant activity of kiwifruit during storage. J Sci Food Agric 94(13):2699–2704
Acknowledgement
The financial support of Bihar Agricultural University, Sabour, India is duly acknowledged. This article bears a BAU COMMUNICATION NO. 911/201222.
Ethics declarations
Conflict of interest
On behalf of all authors, the corresponding author states that there is no conflict of interest.
Additional information
Publisher's Note
Springer Nature remains neutral with regard to jurisdictional claims in published maps and institutional affiliations.
Handling Editor: M. Naeem.
About this article
Cite this article
Siddiqui, M.W., Deshi, V., Homa, F. et al. Inhibitory Effects of Hydrogen Sulfide on Oxidative Damage and Pericarp Browning in Harvested Litchi. J Plant Growth Regul (2021). https://doi.org/10.1007/s00344-021-10300-x
Received:

Accepted:

Published:
Keywords
Litchi chinensis

Pericarp browning

Oxidative metabolism

Vacuum infiltration

Hydrogen sulfide