Abstract
In some agricultural practices, application of plant growth regulators is very useful as an efficient means to modulate olive tree vigour to optimize fruit production. However, the physiological mechanisms underlying these effects are still poorly understood. Here, we evaluated the effectiveness of paclobutrazol, chlormequat and prohexadione on the modulation of vegetative growth and fruit set, with a special emphasis on the underlying effects exerted by phytohormones, in one-year-old olive trees (Olea europea cv. Arbosana). Paclobutrazol and chlormequat were tested using both foliar spraying and soil irrigation, while prohexadione was applied by foliar spraying only, and all treatments were compared to a control. Among treatments, paclobutrazol and chlormequat were the most effective in promoting vegetative growth retardation, when applied through foliar spray. Growth retardation by foliar application of paclobutrazol was associated with proline accumulation and reduced gibberellin contents in leaves. Furthermore, hormonal profiling revealed that not only all treatments were effective in reducing the endogenous contents of gibberellins, but also that the entire hormonal profiling was altered upon treatments. It is concluded that (i) various plant growth regulators can be effectively used to control olive tree growth, and (ii) paclobutrazol seems to be more efficient on vegetative growth retardation than the other tested treatments, being foliar application more effective than soil treatment.
Access options
Buy single article
Instant access to the full article PDF.
US$ 39.95
Tax calculation will be finalised during checkout.
Subscribe to journal
Immediate online access to all issues from 2019. Subscription will auto renew annually.
US$ 79
Tax calculation will be finalised during checkout.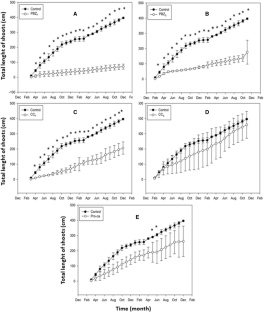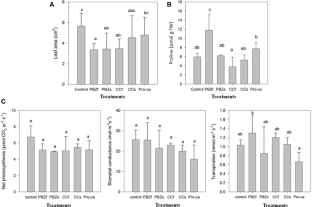 Abbreviations
ABA:

Abscisic acid

CC:

Chloride of chlormequat

GA:

Gibberellins

PBZ:

Paclobutrazol

PGRs:

Plant growth regulators

Pro-ca:

Prohexadione calcium
References
Antognozzi E, Preziosi P (1986) Effects of paclobutrazol (PP333) on nursery trees of olive. Acta Hortic 179:583–586

Asin L, Alegre S, Montserrat R (2007) Effects of paclobutrazol, prohexadione-Ca, deficit irrigation, summer pruning and root pruning on shoot growth, yield and return bloom in a 'Blanquilla' pear orchard. Sci Hortic 113:142–148

Abdel Rahim AOS, Elamin OM, Bangerth FK (2011) Effects of paclobutrazol (PBZ) on floral induction and associated hormonal and metabolic changes of biennially bearing mango (Mangifera indica L.) cultivars during off year. ARPN J Agric Biol Sci 6:55–67

Aragües R, Guillen M, Royo A (2010) Five-year growth and yield response of two olive cultivars (Olea europaea L., cvs. Arbequina and Empeltre) to soil salinity. Plant Soil 334:423–432

Avidan B, Birger R, Abed-El-Hadi F, Salmon O, Hekster O, Friedman Y, Lavee S (2011) Adopting vigorous olive cultivars to high density hedgerow cultivation by soil applications of uniconazol, a gibberellin synthesis inhibitor. Spanish J Agric Res 9:821–830

Bahloul N, Boudhrioua NM, Kechaou N (2008) Moisture desorption-adsorption isotherms and isosteric heats of sorption of Tunisian olive leaves (Olea europaea L.). Ind Crop Prod 28:162–176

Bates LS, Waldren RP, Teare IK (1973) Rapid determination of free proline for water stress studies. Plant Soil 39:205–208

Dag A, Avidan B, Birger R, Lavee S (2006) High-density olive orchards in Israel. Olivebioteq, vol 2. Marsala, Italy, pp 31–36

De la Rosa R, Rallo L, León L, Diego B (2007) Preliminary results of an olive cultivar trial at high density. Aust J Agric Res 58:392–395

Erel R, Dag A, Ben-Gal A, Schwartz A, Yermiyahu U (2008) Flowering and fruit-set of young olive (Olea europea L. cv. Barnea) trees in response to nitrogen, phosphorus and potassium. J Am Soc Hort Sci 133:639–647

Fernández-Escobar RE, Benlloch M, Navarro C, Martin GC (1992) The time of floral induction in the olive. HortScience 117:304–307

Greene DW (1991) Reduced rates and multiple sprays of paclobutrazol control growth and improve fruit quality of 'Delicous' apples. HortScience 116:807–812

Hauser C, Kwiatkowski J, Rademacher W, Grossman K (1990) Regulation of endogenous abscisic acid levels and transpiration in oilseed rape by plant growth retardants. J Plant Physiol 137:201–207

Hegazi ES, El-Motaium RA, Yehia TA, Hashim ME (2015) Effect of boron foliar application on olive (Olea europea L.) trees. Vegetative growth, flowering, fruit set, yield and fruit quality. J Hortic Sci Ornam 7:48–55

Hoagland DR, Arnon DI (1938) The water-culture method for growing plants without soil. Calif Agr Expt Sta Circ 347:32

Kulkarni VJ (1988) Chemical control of tree vigour and the promotion of flowering and fruiting in mango (Mangifera indica L.) using paclobutrazol. J Hortic Sci 63:557–566

Lavee S, Haskal A (1993) Partial fruiting regulation of olive trees (Olea europaea L.) with paclobutrazol and gibberellic acid in the orchard. HortScience 71:83–86

Larbi A, Ayadi M, Dhiab AB, Msallem M, Caballero J (2011) Tunisian and foreign olive cultivars suitability to high density orchards. Spanish J Agric Res 9:1279–1286

Meilan R (1997) Floral induction in woody angiosperms. New Forest 14:179–202

Moriana A, Orgaz F, Pastor M, Fereres E (2003) Yield responses of a mature olive orchard to water deficits. J Am Soc Hort Sci 128:425–431

Müller M, Munné-Bosch S (2011) Rapid and sensitive hormonal profiling of complex plant samples by liquid chromatography coupled to electrospray ionization tandem mass spectrometry. Plant Methods 7:37

Murti GSR, Upreti KK (2000) Plant hormones. In: Hemantaranjan A (ed) Advances in Plant Physiology, vol 3. Jodhpur, pp 09–148

Murti GSR, Upreti KK, Kurian RM, Reddy YTN (2001) Paclobutrazol modifies tree vigour and flowering in mango cv Alphonso. Indian J Plant Physiol 6:355–360

Navarro C, Benlloch M, Fernández-Escobar R (1989) Effect of paclobutrazol on growth of rooted olive cuttings. Acta Hortic 239:265–268

Palese AM, Nuzzo V, Favati F, Pietrafesa A, Celano G, Xiloyannisa C (2010) Effects of water deficit on the vegetative response, yield and oil quality of olive trees (Olea europaea L. cv. Coratina) grown under intensive cultivation. Sci Hortic 125:222–229

Panelli G, Volpe D, Preziosi P, Famiani F (1994) Comparison of the vegetative and reproductive characteristics of traditional olive cultivars and selected low–vigorous accessions in central Italy. Acta Hortic 356:123–126

Proietti P, Nasini L, Ilarioni L (2012) Photosynthetic behavior of Spanish Arbequina and Italian Maurino olive (Olea europaea L.) cultivars under super-intensive grove conditions. Photosynthetica 50:239–246

Proietti P, Tombesi A (1996) Effects of gibberellic acid, asparagines and glutamine on flower bud induction in olive. J Hortic Sci 71:383–388

Pastor M, Garcia-Vila M, Soriano MA, Vega V, Fereres E (2007) Productivity of olive orchards in response to tree density. J Hortic Sci Biotechnol 82:555–562

Petridis A, Therios I, Samouris G, Tananaki C (2012) Salinity-induced changes in phenolic compounds in leaves and roots of four olive cultivars (Olea europaea L.) and their relationship to antioxidant activity. Environ Exp Bot 79:37–43

Rai N, Bist LD (1992) Effect of soil- and foliar-applied paclobutrazol on vegetative growth, flowering, fruit set and yield of oriental pear (Pyrus pyrifolia). Sci Hortic 50:153–158

Rademacher W (2000) Growth retardants: Effects on gibberellins biosynthesis and other metabolic pathways. Annu Rev Plant Physiol Plant Mol Biol 51:501–531

Rademacher W (2018) Chemical regulators of gibberellin status and their application in plant production. Ann Plant Rev 49:359–403

Ross JJ, O'Neill DP, Rathbone DA (2003) Auxin-gibberellin interactions in pea: Integrating the old with the new. J Plant Growth Regul 22:99–108

Rallo L, Barranco D, De la Rosa R, Leon L (2008) 'Chiquitita' olive. HortScience 43:529–531

Stern RA, Doron I (2009) Performance of 'Coscia' pear (Pyrus communis) on nine rootstocks in the north of Israel. Sci Hortic 119:252–256

Tous J, Romero A, Plana J, Hermoso JF (2008) Olive oil cultivars suitable for very-high density planting conditions. Acta Hortic 791:403–408

Trifilio P, Lo Gullo MA, Nardini A, Pernice F, Salleo S (2007) Rootstock effects on xylem conduit dimensions and vulnerability in cavitation of Olea europaea L. Trees 21:549–556

Upreti KK, Reddy YTN, Shivu Prasad SR, Bindu GV, Jayaram HL, Rajan S (2013) Hormonal changes in response to paclobutrazol induced early flowering in mango cv Totapuri. Sci Hortic 150:414–418

Webster AD (2001) Rootstock for temperate fruit crops: current uses, future potential and alternative strategies. Acta Hortic 557:25–34

Wiesman Z, Lavee S (1994) Vegetative growth retardation, improved rooting and viability of olive cuttings in responsebto application of growth retardants. Plant Growth Regul 14:83–90

Wolstenholme BN, Whiley AW, Saranah JB (1990) Manipulating vegetative: reproductive growth in avocado (Persea americana Mill.) with paclobutrazol foliar sprays. Sci Hortic 41:315–327

Yeshitela T, Robbertse PJ, Stassen PJC (2004) Paclobutrazol suppressed vegetative growth and improved yield as well as fruit quality of 'Tommy Atkins' mango (Mangifera indica) in Ethiopia. NZ J Crop Hortic Sci 32:281–293
Acknowledgements
This work was supported by grants from LPOI (LR16 IO03-SERS-Tunisia). The authors wish to thank AGRIPROTEC Tunisia for providing the PGRs products.
Ethics declarations
Conflict of interest
On behalf of all authors, the corresponding author states that there is no conflict of interest.
Additional information
Publisher's Note
Springer Nature remains neutral with regard to jurisdictional claims in published maps and institutional affiliations.
Electronic supplementary material
Below is the link to the electronic supplementary material.
About this article
Cite this article
Ajmi, A., Larbi, A., Morales, M. et al. Foliar Paclobutrazol Application Suppresses Olive Tree Growth While Promoting Fruit Set. J Plant Growth Regul 39, 1638–1646 (2020). https://doi.org/10.1007/s00344-020-10188-z
Received:

Accepted:

Published:

Issue Date:
Keywords
Fruit production

Fruit set

Hormonal profiling

Olea europaea L

Phytohormones

Vigour