Abstract
Isatis indigotica Fort. is a popular herb in traditional Chinese medicine. It possesses pharmacological activities against various diseases, particularly leukemia. Indigoid alkaloids are its main bioactive ingredients. A relatively low nitrogen supply increases indigoid content in I. indigotica leaves, yet the mechanisms that regulate indigoid biosynthesis are unknown. To uncover regulatory mechanisms, we performed transcriptome sequencing of leaf samples from I. indigotica exposed to deficient (0 mM), low (7.5 mM), and high (15 mM) concentrations of NO3−. We generated 38,990 unigenes with an N50 value of 1923 bp, of which 33,007 unigenes (84.65%) were annotated in at least one database. In comparison with deficient N, we identified 6911 and 4845 differentially expressed genes (DEGs) in high N and low N. Cluster analysis of these DEGs showed a unique expression pattern in the N-supplied compared with the N-free condition. Twenty-one genes related to nitrogen uptake, transport, and assimilation were highly expressed in N-deficient conditions. Further, 63 putative genes that encode for enzymes involved in indigoid biosynthesis in I. indigotica leaf were identified and analyzed. Thirteen genes involved in indole modification were expressed more highly in low N; their high expression level may explain the increase in indigoid alkaloids in low N. Notably, phylogenetic analysis showed that IiTSA3 may relate to genes involved in indole heterocycle biosynthesis. Additionally, 491 differentially expressed TFs were also identified. Our findings will enrich gene resources for elucidating the molecular mechanisms of indigoid alkaloid biosynthesis in I. indigotica leaves under different nitrogen supplies.
This is a preview of subscription content, log in to check access.
Access options
Buy single article
Instant access to the full article PDF.
US$ 39.95
Price includes VAT for USA
Subscribe to journal
Immediate online access to all issues from 2019. Subscription will auto renew annually.
US$ 99
This is the net price. Taxes to be calculated in checkout.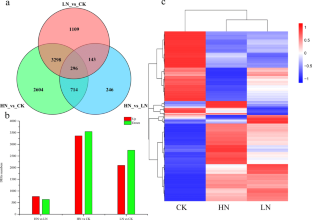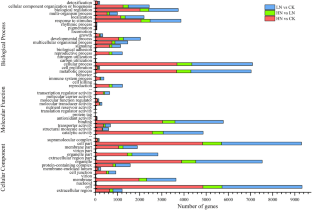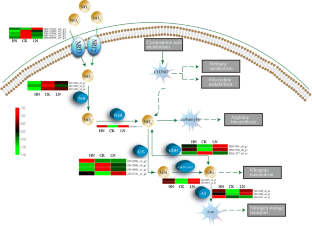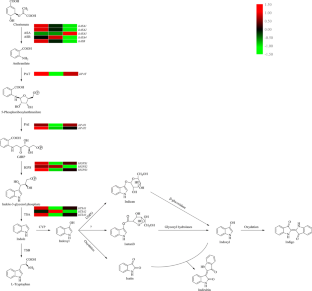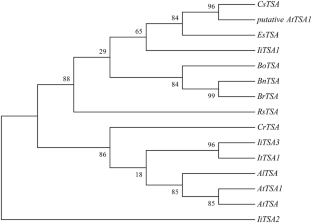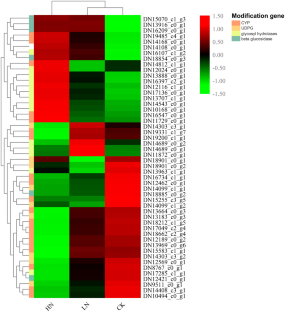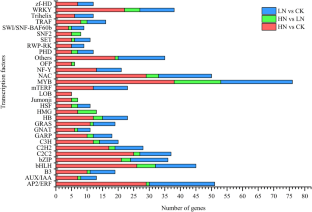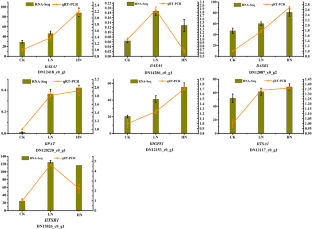 References
Al-Shehbaz IA, Beilstein MA, Kellogg EA (2006) Systematics and phylogeny of the Brassicaceae (Cruciferae): an overview. Plant Syst Evol 259:89–120. https://doi.org/10.1007/s00606-006-0415-z

Altschul SF, Madden TL, Schäffer AA, Zhang J, Zhang Z, Miller W, Lipman DJ (1997) Gapped BLAST and PSI-BLAST: a new generation of protein database search programs. Nucleic Acids Res 25:3389–3402

Bokulich NA, Subramanian S, Faith JJ, Gevers D, Gordon JI, Knight R, Mills DA, Caporaso JG (2012) Quality-filtering vastly improves diversity estimates from Illumina amplicon sequencing. Nat Methods 10:57. https://doi.org/10.1038/nmeth.2276

Bryant JP, Chapin FS, Klein DR (1983) Carbon/nutrient balance of boreal plants in relation to vertebrate herbivory. Oikos 40:357–368. https://doi.org/10.2307/3544308

Canales J, Moyano T, Villarroel E, Gutiérrez R (2014) Systems analysis of transcriptome data provides new hypotheses about Arabidopsis root response to nitrate treatments. Front Plant Sci. https://doi.org/10.3389/fpls.2014.00022

Chang H-N, Huang S-T, Yeh Y-C, Wang H-S, Wang T-H, Wu Y-H, Pang J-HS (2015) Indigo naturalis and its component tryptanthrin exert anti-angiogenic effect by arresting cell cycle and inhibiting Akt and FAK signaling in human vascular endothelial cells. J Ethnopharmacol 174:474–481. https://doi.org/10.1016/j.jep.2015.08.050

Chen J, Dong X, Li Q, Zhou X, Gao S, Chen R, Sun L, Zhang L, Chen W (2013) Biosynthesis of the active compounds of Isatis indigotica based on transcriptome sequencing and metabolites profiling. BMC Genomics 14:857. https://doi.org/10.1186/1471-2164-14-857

Chen S, Zhu Z, Ma H, Yang J, Guo Q (2014) DNA barcodes for discriminating the medicinal plant Isatis indigotica Fort. (Cruciferae) and its adulterants. Biochem Syst Ecol 57:287–292. https://doi.org/10.1016/j.bse.2014.08.007

Chen G, Li X, Chen Q, Wang L, Qi K, Yin H, Qiao X, Wang P, Zhang S, Wu J (2018) Dynamic transcriptome analysis of root nitrate starvation and re-supply provides insights into nitrogen metabolism in pear (Pyrus bretschneideri). Plant Sci 277:322–333

Davison EK, Hume PA, Sperry J (2018) Total synthesis of an Isatis indigotica-derived alkaloid using a biomimetic Thio-Diels–Alder reaction. Org Lett 20:3545–3548. https://doi.org/10.1021/acs.orglett.8b01321

Ding Q, Wang X, Hu L, Qi X, Ge L, Xu W, Xu Z, Zhou Y, Jia G, Diao X (2018) MYB-like transcription factor SiMYB42 from foxtail millet (Setaria italica L.) enhances Arabidopsis tolerance to low-nitrogen stress. Hereditas 40:327–338

Epstein E, Nabors MW, Stowe BB (1967) Origin of indigo of woad. Nature 216:547–549. https://doi.org/10.1038/216547a0

Eulgem T, Rushton PJ, Robatzek S, Somssich IE (2000) The WRKY superfamily of plant transcription factors. Trends Plant Sci 5:199–206. https://doi.org/10.1016/S1360-1385(00)01600-9

Fan X, Naz M, Fan X, Xuan W, Miller AJ, Xu G (2017) Plant nitrate transporters: from gene function to application. J Exp Bot 68:2463–2475

Faure JD, Vincentz M, Kronenberger J, Caboche M (1991) Co-regulated expression of nitrate and nitrite reductases. Plant J 1:107–113

Fräbel S, Wagner B, Krischke M, Schmidts V, Thiele CM, Staniek A, Warzecha H (2018) Engineering of new-to-nature halogenated indigo precursors in plants. Metab Eng 46:20–27. https://doi.org/10.1016/j.ymben.2018.02.003

Gai Q-Y, Jiao J, Mu P-S, Wang W, Luo M, Li C-Y, Zu Y-G, Wei F-Y, Fu Y-J (2013) Microwave-assisted aqueous enzymatic extraction of oil from Isatis indigotica seeds and its evaluation of physicochemical properties, fatty acid compositions and antioxidant activities. Ind Crop Prod 45:303–311. https://doi.org/10.1016/j.indcrop.2012.12.050

Gillam EMJ, Notley LM, Cai H, De Voss JJ, Guengerich FP (2000) Oxidation of indole by cytochrome P450 enzymes. Biochemistry 39:13817–13824. https://doi.org/10.1021/bi001229u

Götz S, García-Gómez JM, Terol J, Williams TD, Nagaraj SH, Nueda MJ, Robles M, Talón M, Dopazo J, Conesa A (2008) High-throughput functional annotation and data mining with the Blast2GO suite. Nucleic Acids Res 36:3420–3435

Grabherr MG, Haas BJ, Yassour M, Levin JZ, Thompson DA, Amit I, Adiconis X, Fan L, Raychowdhury R, Zeng Q, Chen Z, Mauceli E, Hacohen N, Gnirke A, Rhind N, di Palma F, Birren BW, Nusbaum C, Lindblad-Toh K, Friedman N, Regev A (2011) Full-length transcriptome assembly from RNA-Seq data without a reference genome. Nat Biotechnol 29:644. https://doi.org/10.1038/nbt.1883

Guengerich FP (2008) Cytochrome P450 and chemical toxicology. Chem Res Toxicol 21:70–83. https://doi.org/10.1021/tx700079z

Gutterson N, Reuber TL (2004) Regulation of disease resistance pathways by AP2/ERF transcription factors. Curr Opin Plant Biol 7:465–471

Hoessel R, Leclerc S, Endicott JA, Nobel MEM, Lawrie A, Tunnah P, Leost M, Damiens E, Marie D, Marko D, Niederberger E, Tang W, Eisenbrand G, Meijer L (1999) Indirubin, the active constituent of a Chinese antileukaemia medicine, inhibits cyclin-dependent kinases. Nat Cell Biol 1:60. https://doi.org/10.1038/9035

Höft M, Verpoorte R, Beck E (1996) Growth and alkaloid contents in leaves of Tabernaemontana pachysiphon Stapf (Apocynaceae) as influenced by light intensity, water and nutrient supply. Oecologia 107:160–169. https://doi.org/10.1007/BF00327899

Jiali G, Gang W, Mentui Z, Xiaoqing T (2019) Effect of different nitrogen supply level on the growth of isatis indigotica and quality of medicinal metarials. J Nucl Agric Sci 2077–2085.

Kanehisa M, Araki M, Goto S, Hattori M, Hirakawa M, Itoh M, Katayama T, Kawashima S, Okuda S, Tokimatsu T (2007) KEGG for linking genomes to life and the environment. Nucleic Acids Res 36:D480–D484

Kiba T, Feria-Bourrellier A-B, Lafouge F, Lezhneva L, Boutet-Mercey S, Orsel M, Bréhaut V, Miller A, Daniel-Vedele F, Sakakibara H (2012) The Arabidopsis nitrate transporter NRT2. 4 plays a double role in roots and shoots of nitrogen-starved plants. Plant Cell 24:245–258

Koeslin-Findeklee F, Rizi VS, Becker MA, Parra-Londono S, Arif M, Balazadeh S, Mueller-Roeber B, Kunze R, Horst WJ (2015) Transcriptomic analysis of nitrogen starvation-and cultivar-specific leaf senescence in winter oilseed rape (Brassica napus L.). Plant Sci 233:174–185

Krapp A (2015) Plant nitrogen assimilation and its regulation: a complex puzzle with missing pieces. Curr Opin Plant Biol 25:115–122

Langmead B, Salzberg SL (2012) Fast gapped-read alignment with Bowtie 2. Nat Methods 9:357–359

Latchman DS (1997) Transcription factors: an overview. Int J Biochem Cell Biol 29:1305–1312. https://doi.org/10.1016/S1357-2725(97)00085-X

Lea PJ, Sodek L, Parry MA, Shewry PR, Halford NG (2007a) Asparagine in plants. Ann Appl Biol 150:1–26

Lea US, Slimestad R, Smedvig P, Lillo C (2007b) Nitrogen deficiency enhances expression of specific MYB and bHLH transcription factors and accumulation of end products in the flavonoid pathway. Planta 225:1245–1253. https://doi.org/10.1007/s00425-006-0414-x

Lejay L, Tillard P, Lepetit M, Olive FD, Filleur S, Daniel-Vedele F, Gojon A (1999) Molecular and functional regulation of two NO3–uptake systems by N-and C-status of Arabidopsis plants. Plant J 18:509–519

Léran S, Varala K, Boyer J-C, Chiurazzi M, Crawford N, Daniel-Vedele F, David L, Dickstein R, Fernandez E, Forde B (2014) A unified nomenclature of nitrate transporter 1/peptide transporter family members in plants. Trends Plant Sci 19:5–9

Li B, Dewey CN (2011) RSEM: accurate transcript quantification from RNA-Seq data with or without a reference genome. BMC Bioinformatics 12:323

Li J, Zhou B, Li C, Chen Q, Wang Y, Li Z, Chen T, Yang C, Jiang Z, Zhong N, Yang Z, Chen R (2015) Lariciresinol-4-O-β-D-glucopyranoside from the root of Isatis indigotica inhibits influenza A virus-induced pro-inflammatory response. J Ethnopharmacol 174:379–386. https://doi.org/10.1016/j.jep.2015.08.037

Liau B-C, Jong T-T, Lee M-R, Chen S-S (2007) LC-APCI-MS method for detection and analysis of tryptanthrin, indigo, and indirubin in Daqingye and Banlangen. J Pharm Biomed Anal 43:346–351. https://doi.org/10.1016/j.jpba.2006.06.029

Lin Y-K, Leu Y-L, Huang T-H, Wu Y-H, Chung P-J, Su Pang J-H, Hwang T-L (2009) Anti-inflammatory effects of the extract of indigo naturalis in human neutrophils. J Ethnopharmacol 125:51–58. https://doi.org/10.1016/j.jep.2009.06.014

Love MI, Huber W, Anders S (2014) Moderated estimation of fold change and dispersion for RNA-seq data with DESeq2. Genome Biol 15:550

Maeda H, Dudareva N (2012) The shikimate pathway and aromatic amino acid biosynthesis in plants. Annu Rev Plant Biol 63:73–105. https://doi.org/10.1146/annurev-arplant-042811-105439

Marcinek H, Weyler W, Deus-Neumann B, Zenk MH (2000) Indoxyl-UDPG-glucosyltransferase from Baphicacanthus cusia. Phytochemistry 53:201–207. https://doi.org/10.1016/S0031-9422(99)00430-6

Marko D, Schätzle S, Friedel A, Genzlinger A, Zankl H, Meijer L, Eisenbrand G (2001) Inhibition of cyclin-dependent kinase 1 (CDK1) by indirubin derivatives in human tumour cells. Br J Cancer 84:283. https://doi.org/10.1054/bjoc.2000.1546

Masclaux-Daubresse C, Daniel-Vedele F, Dechorgnat J, Chardon F, Gaufichon L, Suzuki A (2010) Nitrogen uptake, assimilation and remobilization in plants: challenges for sustainable and productive agriculture. Ann Bot 105:1141–1157

Maugard T, Enaud E, Choisy P, Legoy MD (2001) Identification of an indigo precursor from leaves of Isatis tinctoria (Woad). Phytochemistry 58:897–904. https://doi.org/10.1016/S0031-9422(01)00335-1

Meng L, Guo Q, Chen M, Jiang J, Li Y, Shi J (2018) Isatindolignanoside A, a glucosidic indole-lignan conjugate from an aqueous extract of the Isatis indigotica roots. Chin Chem Lett 29:1257–1260. https://doi.org/10.1016/j.cclet.2017.12.001

Meunier B, de Visser SP, Shaik S (2004) Mechanism of oxidation reactions catalyzed by cytochrome P450 enzymes. Chem Rev 104:3947–3980. https://doi.org/10.1021/cr020443g

Miller AJ, Fan X, Orsel M, Smith SJ, Wells DM (2007) Nitrate transport and signalling. J Exp Bot 58:2297–2306

Minami Y, Shigeta Y, Tokumoto U, Tanaka Y, Yonekura-Sakakibara K, Oh-oka H, Matsubara H (1999) Cloning, sequencing, characterization, and expression of a β-glucosidase cDNA from the indigo plant. Plant Sci 142:219–226. https://doi.org/10.1016/S0168-9452(99)00015-1

Minami Y, Nishimura O, Hara-Nishimura I, Nishimura M, Matsubara H (2000) Tissue and intracellular localization of indican and the purification and characterization of indican synthase from indigo plants. Plant Cell Physiol 41:218–225. https://doi.org/10.1093/pcp/41.2.218

Minami Y, Sarangi Bijaya K, Thul Sanjog T (2015) Transcriptome analysis for identification of indigo biosynthesis pathway genes in Polygonum tinctorium. Biologia.

Mohn T, Plitzko I, Hamburger M (2009) A comprehensive metabolite profiling of Isatis tinctoria leaf extracts. Phytochemistry 70:924–934. https://doi.org/10.1016/j.phytochem.2009.04.019

Morant M, Bak S, Møller BL, Werck-Reichhart D (2003) Plant cytochromes P450: tools for pharmacology, plant protection and phytoremediation. Curr Opin Biotechnol 14:151–162. https://doi.org/10.1016/S0958-1669(03)00024-7

Mucha S, Walther D, Müller TM, Hincha DK, Glawischnig E (2015) Substantial reprogramming of the Eutrema salsugineum (Thellungiella salsuginea) transcriptome in response to UV and silver nitrate challenge. BMC Plant Biol 15:137. https://doi.org/10.1186/s12870-015-0506-5

Niyogi KK, Last RL, Fink GR, Keith B (1993) Suppressors of trp1 fluorescence identify a new arabidopsis gene, TRP4, encoding the anthranilate synthase beta subunit. Plant Cell 5:1011–1027. https://doi.org/10.1105/tpc.5.9.1011

Nowacki E, Jurzysta M, Gorski P, Nowacka D, Waller G (1976) Effect of nitrogen nutrition on alkaloid metabolism in plants. Biochem Physiol Pflanz 169:231–240

Olsen AN, Ernst HA, Leggio LL, Skriver K (2005) NAC transcription factors: structurally distinct, functionally diverse. Trends Plant Sci 10:79–87

Ouyang J, Shao X, Li J (2000) Indole-3-glycerol phosphate, a branchpoint of indole-3-acetic acid biosynthesis from the tryptophan biosynthetic pathway in Arabidopsis thaliana. Plant J 24:327–334. https://doi.org/10.1046/j.1365-313x.2000.00883.x

Qu R, Miao Y, Cui Y, Cao Y, Zhou Y, Tang X, Yang J, Wang F (2019) Selection of reference genes for the quantitative real-time PCR normalization of gene expression in Isatis indigotica fortune. BMC Mol Biol 20:9

Rose AB, Casselman AL, Last RL (1992) A Phosphoribosylanthranilate transferase gene is defective in blue fluorescent Arabidopsis thaliana tryptophan mutants. Plant Physiol 100:582–592. https://doi.org/10.1104/pp.100.2.582

Rushton PJ, Somssich IE, Ringler P, Shen QJ (2010) WRKY transcription factors. Trends Plant Sci 15:247–258

Salvini M, Boccardi TM, Sani E, Bernardi R, Tozzi S, Pugliesi C, Durante M (2008) Alpha-tryptophan synthase of Isatis tinctoria: gene cloning and expression. Plant Physiol Biochem 46:715–723. https://doi.org/10.1016/j.plaphy.2008.04.002

Shamovsky I, Nudler E (2008) New insights into the mechanism of heat shock response activation. Cell Mol Life Sci 65:855–861. https://doi.org/10.1007/s00018-008-7458-y

Sivasankar S, Oaks A (1995) Regulation of nitrate reductase during early seedling growth (a role for asparagine and glutamine). Plant Physiol 107:1225–1231. https://doi.org/10.1104/pp.107.4.1225

Tang X, Xiao Y, Zhao X, Zhou H, Li Z, Lin Z, Yang Y (2014) Effect of different nitrogen forms and their proportion on biological characteristics of Isatis indigotica fort. J Plant Nutr Fertil 20:129–138

Vaidya K, Ghosh A, Kumar V, Chaudhary S, Srivastava N, Katudia K, Tiwari T, Chikara SK (2013) De Novo transcriptome sequencing in trigonella foenum-graecum L. to identify genes involved in the biosynthesis of diosgenin. Plant Genome. https://doi.org/10.3835/plantgenome2012.08.0021

Vincentz M, Moureaux T, Leydecker M-T, Vaucheret H, Caboche M (1993) Regulation of nitrate and nitrite reductase expression in Nicotiana plumbaginifolia leaves by nitrogen and carbon metabolites. Plant J 3:315–324. https://doi.org/10.1111/j.1365-313X.1993.tb00183.x

Warzecha H, Frank A, Peer M, Gillam EMJ, Guengerich FP, Unger M (2007) Formation of the indigo precursor indican in genetically engineered tobacco plants and cell cultures. Plant Biotechnol J 5:185–191. https://doi.org/10.1111/j.1467-7652.2006.00231.x

Wilkinson JQ, Crawford NM (1993) Identification and characterization of a chlorate-resistant mutant of Arabidopsis thaliana with mutations in both nitrate reductase structural genes NIA1 and NIA2. Mol General Genet MGG 239:289–297

Wu X, Liu Y, Sheng W, Sun J, Qin G (1997a) Chemical constituents of Isatis indigotica. Planta Med 63:55–57. https://doi.org/10.1055/s-2006-957604

Wu X, Qin G, Cheung KK, Cheng KF (1997b) New alkaloids from Isatis indigotica. Tetrahedron 53:13323–13328. https://doi.org/10.1016/S0040-4020(97)00846-6

Xiao Y-H, Zhao X-L, Wang K-C, Shi X-M, Tang X-Q (2013a) Effect of different nitrogen forms and concentrations on biomass and alkaloids of isatidis folium. China J Chin Mater Med 38:2755–2760

Xiao Y, Zhao X, Wang K, Shi X, Tang X (2013b) Effect of different nitrogen forms and concentrations on biomass and alkaloids of Isatidis Folium. China J Chin Mater Med 38:2755–2760

Xin W, Zhang L, Zhang W, Gao J, Yi J, Zhen X, Li Z, Zhao Y, Peng C, Zhao C (2019) An integrated analysis of the rice transcriptome and metabolome reveals differential regulation of carbon and nitrogen metabolism in response to nitrogen availability. Int J Mol Sci. https://doi.org/10.3390/ijms20092349

Xu T, Zhang L, Sun X, Zhang H, Tang K (2004) Production and analysis of organic acids in hairy-root cultures of Isatis indigotica Fort. (indigo woad). Biotechnol Appl Biochem 39:123–128. https://doi.org/10.1042/BA20030085

Yang W, Yoon J, Choi H, Fan Y, Chen R, An G (2015) Transcriptome analysis of nitrogen-starvation-responsive genes in rice. BMC Plant Biol 15:31

Zhang L, Chen J, Li Q, Chen W (2016) Transcriptome-wide analysis of basic helix-loop-helix transcription factors in Isatis indigotica and their methyl jasmonate responsive expression profiling. Gene 576:150–159. https://doi.org/10.1016/j.gene.2015.09.083

Zhou Y, Kang L, Liao S, Pan Q, Ge X, Li Z (2015) Transcriptomic analysis reveals differential gene expressions for cell growth and functional secondary metabolites in induced autotetraploid of Chinese woad (Isatis indigotica Fort.). PLoS ONE 10:e0116392. https://doi.org/10.1371/journal.pone.0116392

Ziegler J, Facchini PJ (2008) Alkaloid biosynthesis: metabolism and trafficking. Annu Rev Plant Biol 59:735–769. https://doi.org/10.1146/annurev.arplant.59.032607.092730
Acknowledgements
The authors are grateful to the Institute of Food Crops, Jiangsu Academy Agriculture sciences, China for providing lab facilities and experimental support. The authors thank AiMi Academic Services (www.aimieditor.com) for English language editing and review services.
Funding
This research was funded by a Special subsidy for TCM public health services in 2018 "National traditional Chinese medicine resources survey project" (caise [2018] No.43), National Natural Science Foundation of China (No. 31171486), and Zhenjiang Jinshan Talents in Jiangsu Province of China Modern Agricultural Leaders (Innovation) Project (2018).
Ethics declarations
Conflict of interest
The authors declare no conflict of interest.
Additional information
Publisher's Note
Springer Nature remains neutral with regard to jurisdictional claims in published maps and institutional affiliations.
Electronic Supplementary Material
Below is the link to the electronic supplementary material.
About this article
Cite this article
Qu, R., Cao, Y., Zhang, H. et al. Transcriptome Analysis of Nitrogen Metabolism, Transcription Factors, and Indigoid Biosynthesis in Isatis indigotica Fort. Response to Nitrogen Availability. J Plant Growth Regul (2020). https://doi.org/10.1007/s00344-020-10178-1
Received:

Accepted:

Published:
Keywords
Isatis indigotica

Transcriptome

Nitrogen metabolism

Indigoid biosynthesis